What is It
Centurion Running One Slam is a virtual event which takes place over a two month period: 1st February - 31st March 2021. There are four distances - 100 miles, 200 miles, 400 miles and 600 miles and have between 0001 GMT on 1st Feb and 2359 on the 31st March to complete their distance. The event is for everybody, anywhere in the world, of any age, but the limits on each category are as follows:
100 Mile: Under 18 only. The 100 mile has two categories - on foot or on bike/ scooter.
200/400/600 Miles: Over 18s only
All you have to do is run when you like then submit your data - your distance and time. The system will then calculate your total distance and time and update both the results table and your position on our virtual map. It will add together your cumulative run distance run time only.
The results for each event will show in order of cumulative distance only. We will record and display your cumulative run time too, but the primary objective is to complete the challenge you set for yourself and to engage with your friends, family and the Centurion Community by sharing your journey.
Under 18s are welcome to enter the 100 mile and 200 mile distances but you must be over 18 to enter the 400 and 600 mile Slams. Adults can enter the 200, 400 or 600 mile distances.
Beyond the results/ leaderboard this is about community engagement. We want you to share your runs and journey to your own finish line via any and all channels. You can tag us on facebook, twitter or instagram under the hashtag #centurioncommunity. Photos are strongly encouraged! We will share what we can and award spot prizes to the best uploads and engagements over the course of the race.
As always, we also need everyone to make sure they are adhering to government guidelines every step of the way. Please check the local or national guidelines for the area you are in, if you are in doubt please contact us via email.
What You Get
Personal Bib Number - downloadable at the start of race week by clicking on your race number on the Entrants page here
Live updates to your progress throughout the event via an interactive map covering all of our race routes as well as a regular results table
Centurion designed medal sent to you in the post once you complete your event - this will be a large metal medal, with the event logo. The ribbon will be a blue woven ribbon with, your chosen race distance, our logo and the year on it. As soon as we have pictures we will share them with you! You can opt out of receiving the medal during the registration process, in favour of planting a tree with trees not tees
Spot prizes for best posts/ photos/ interactions via social media/ email and the hashtag #centurioncommunity
10% of all entries will go to charity. 5% to MIND (Charity no. 219830) and 5% to NHS Charities Together (Charity no. 1186569.) Well over £15,000 was donated to charity over the three virtual events in 2020.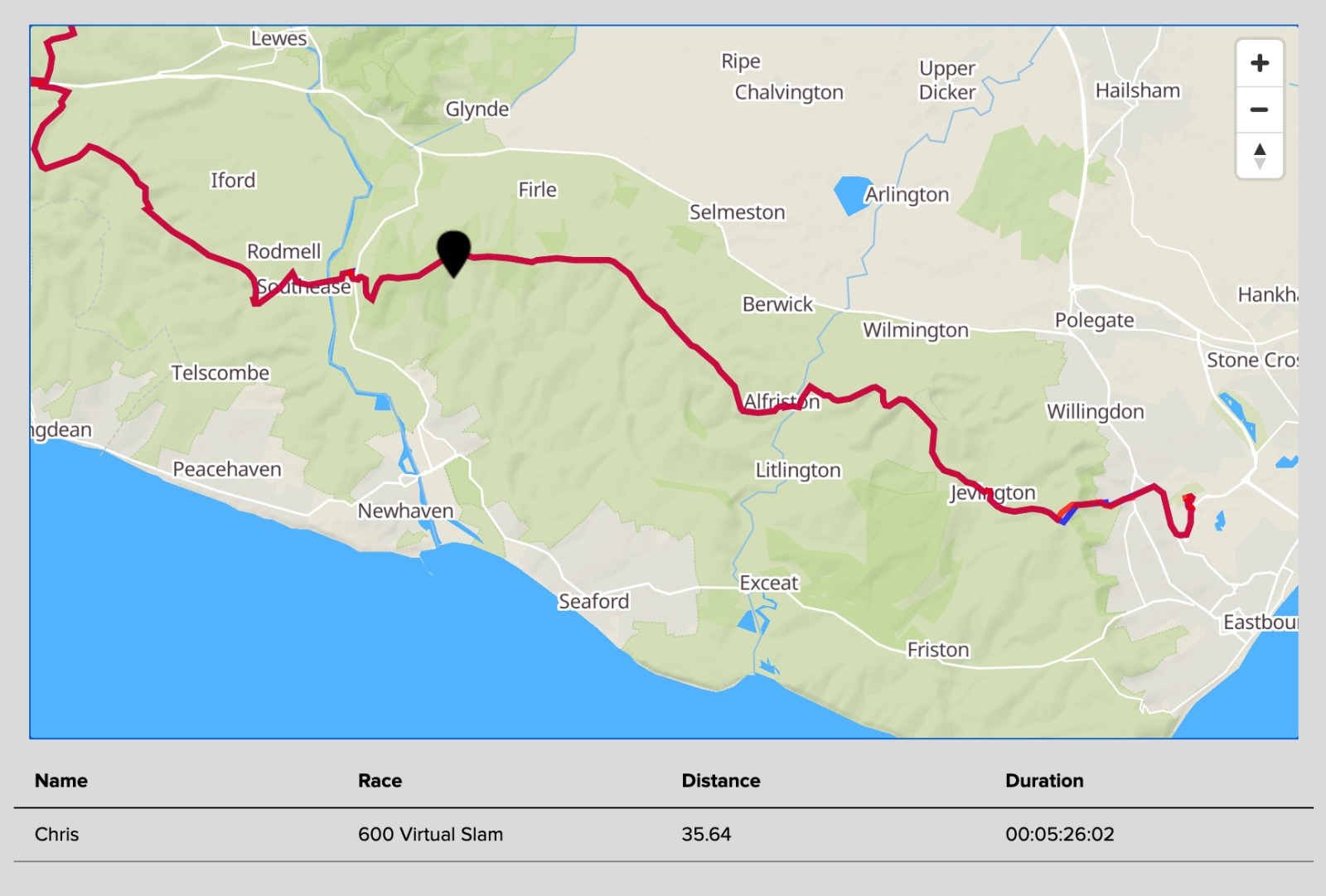 How to Register
You can register by clicking on the button linked at the top of this page. Registrations are open until the final minutes of the last day, so you can join in at any time and count any mileage you have already accumulated from February 1st.
During registration you are able to register for just you, or an extended group of family or friends as you wish.
The event is open to everybody no matter your location. We hope to see many international runners taking part.
You can also register for the canicross event - Simply select 'yes' during registration to 'running with a dog?' and you will appear in your age group but also the canicross category.
When you sign up you will need to include a shipping address. We will then post out your medal to you when you submit your result.
How do I upload my results
Simply head to the submit results button at the top of the page (this will open shortly), and add your details for each run. The system will automatically calculate your cumulative distance and display your result on the leaderboard.
You can run anywhere, anytime. Outside on road, trail, on the treadmill, round your garden, anywhere you like. But please only count sessions where you have actively gone out to add to your distance, not simply steps around the house or as part of your normal day to day movement.
This is an honour based system. If you have a GPX file, link to strava or other training platform then you are welcome to upload them. But you may just enter your result manually too, without having to submit a link.
Costs
100 Mile - £20
200/400 or 600 Mile - £40