(All Photos courtesy of Stuart March - see link left for full gallery)
Our eigth and final event of 2017, the second edition of the Wendover Woods 50 brought us a spectacular day in a whole host of ways.
The week leading up to the race had been wet and windy, but race morning dawned bright and icy cold with runners greeted to race registration by 0 degree temperatures.
242 runners joined us and got underway on their journey of five, ten mile loops around the trail network of Wendover Woods at 0800. The final cut off of 15 hours loomed large in the minds of many including some of the Grand Slammers coming in to this event with 150/150 miles completed so far in 2017. For four of our runners, Calvin Hemmings, James Bennett, Ian Lang and Tracey Watson, the day was about completing 8 out of 8 events with us in 2017 for the double Slam of 600 miles.
Up the front of the field, we welcomed some of the best runners of 2017 back, with a host of new faces who would go on to make it a classic race in both the mens and womens events.
For the men, Jon Ellis came in off of the back of winning the first three of our 50 milers this year, hoping to complete an unprecedented clean sweep. Ry Webb came in to this fourth event, with three podiums from the first three fifty milers of his slam.
Alongside these regular, incredibly consistent performers were notable new faces. Francis Bowen travelled from Iten in Kenya to take part in his first ultra. He is the fastest marathoner we've ever seen run an ultra in the UK and possibly any trail ultra anywhere - with a PB of 2:08. Who could guess what he might be capable of. Stuart Leaney the 50km Treadmill World Record Holder who had also had a good run out at the Mont Blanc Marathon earlier in the year seemed like he had potential but was also a big unknown trying his first ultra. Finally, Neil Kirby came in with huge results from 2016 but issues in 2017 which seemingly could be behind him after a good result at Beachy Head Marathon a few weeks before hand.
In the ladies field, Cat Simpson - course record holder at the GUCR - was making her debut in the Centurion Ultra Team yellow tee. Gemma Carter, winner of this years SDW50 was coming in off of the back of a great year with lots of very solid runs at the 50km distance. Amy White winner of this years Race to the King was running her first Centurion event and was clearly capable of pushing Cat and Gemma. Charley Jennings was also in contention after a second place at this years CW50 - and led the 50 mile Slam on course for a new ladies record across the four events. Her desire for a good run would also be huge.
From the start, all of the main mens protagonists ran loosely as a group. No doubt the idea of loops four and five and the 10,000ft of climb and descent, tempered most of the tempation to go hard right from the gun. Notably, Francis positioned himself behind of Jon and Neil as he got to know the course, get a feel for the shape of it and work out what might be feasible. He was clearly bitterly cold but also completely aerobically unchallenged by the effort. The same could not be said for some of those in the chase pack who were clearly pushing very hard early on. But most in control were certainly Jon, Neil, Stuart and Ry together with Francis. The first loop disappeared in around 1:22 with Stuart, Francis, Jon and Neil altogether.
As loop two began, Francis obviously felt some confidence to run off of the front a little and through the second go around he led the field by two minutes, with Stuart Leaney and Neil Kirby in second and third. Jon sat back a few minutes and looked like he could be struggling a little but it was still very early and as per 2016, loop three was to be crucial in the overall shape of the race.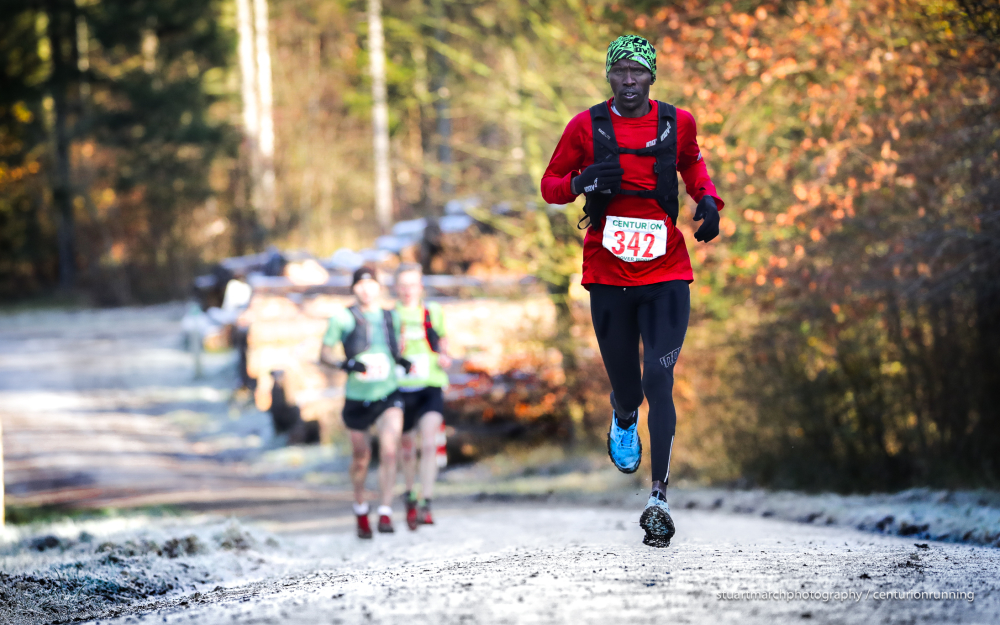 Francis Bowen leads through Mile 15
Out on loop three, Francis had finally warmed up a bit and looked relieved that he could finally feel his feet. However although he emerged back at the end of that loop out in front by over two minutes, he immediately came in and sat down, complaining of sore toes. It seemed as though the trail shoes he was not used to wearing were causing discomfort and he was wary of damaging his body. He looked as fresh as he had at the start physically, but mentally he was immedately out of contention and dropped from the race there. Behind Francis, Neil Kirby also succumbed to the cramping issues he's suffered routinely this year and also had to drop.
That left Stuart Leaney out ahead of Jon in what now seemed to be a straight two way battle between the unknown Stuart, and Jon looking to make it four wins out of four. At the end of Loop four, Stuart still looked strong, took a few seconds to get sorted and pushed on, whereas Jon ran straight through the check point and out on to loop five. The gap was just six minutes. Out on that final loop, however, Stuart found pace and strength anew and flew down the trail to a resounding final sprint across the line in a time of 7:33:59, a new course record by 5 minutes. Jon slowing only significantly in the final 5 miles finished second in 7:49. Third place was taken by the ever consistent Ry Webb who now has four podium finishes to his name in 2017, in a time of 8:08.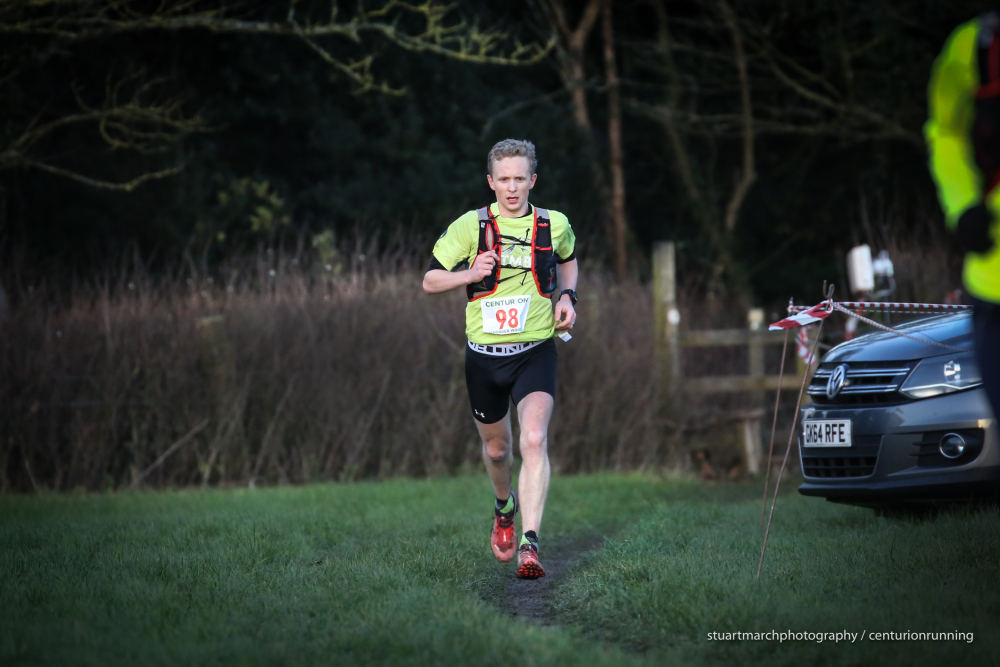 Stuart Leaney strides down the final field to victory
Stuart throroughly deserved his victory and with this being his first ultra it will be exciting to watch his progress in the future. The 2:28 marathon pace he brought in translated well to the trails and hills. Jon has had the most exceptional year, with 3 of 4 victories and a second at the final race, it's possible we may never see such consistency again. Ry Webb also deserves credit for the way he has paced himself in each race and throughout the year.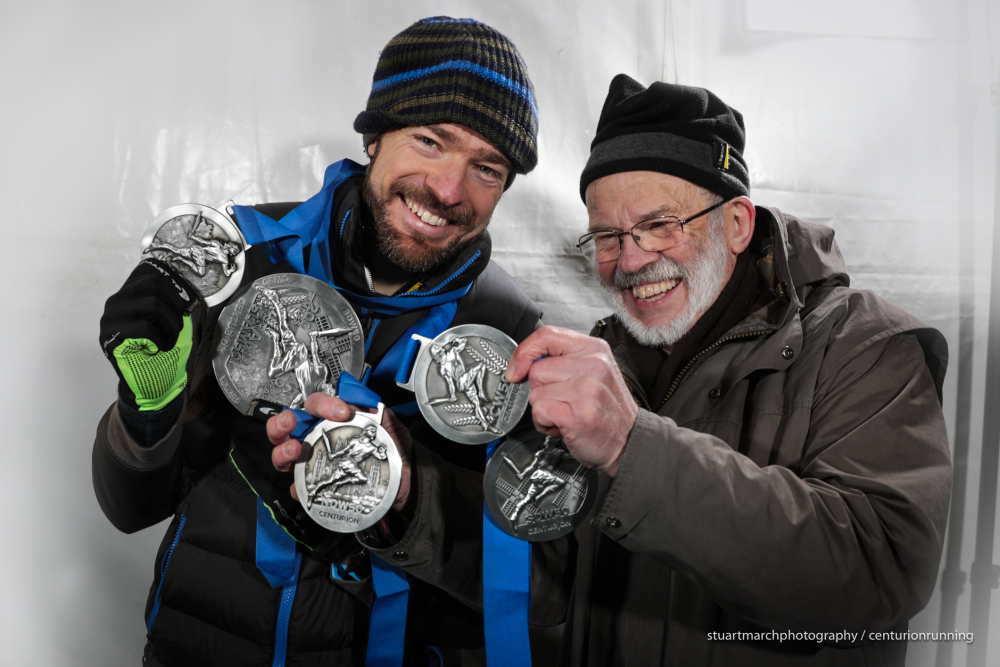 Jon with an exceptional years medal haul. He also took home three trophies in 2017.
In the womens race, the battle was just as tight as the mens, if not closer at times. Loop 1 saw Amy White pushing hardest and she took a 90 second lead out on to loop two over Cat Simpson. Both Gemma and Charley were within two minutes of Cat. All four came in focused, wasting no time in taking what they needed and pushing straight out on to loop two.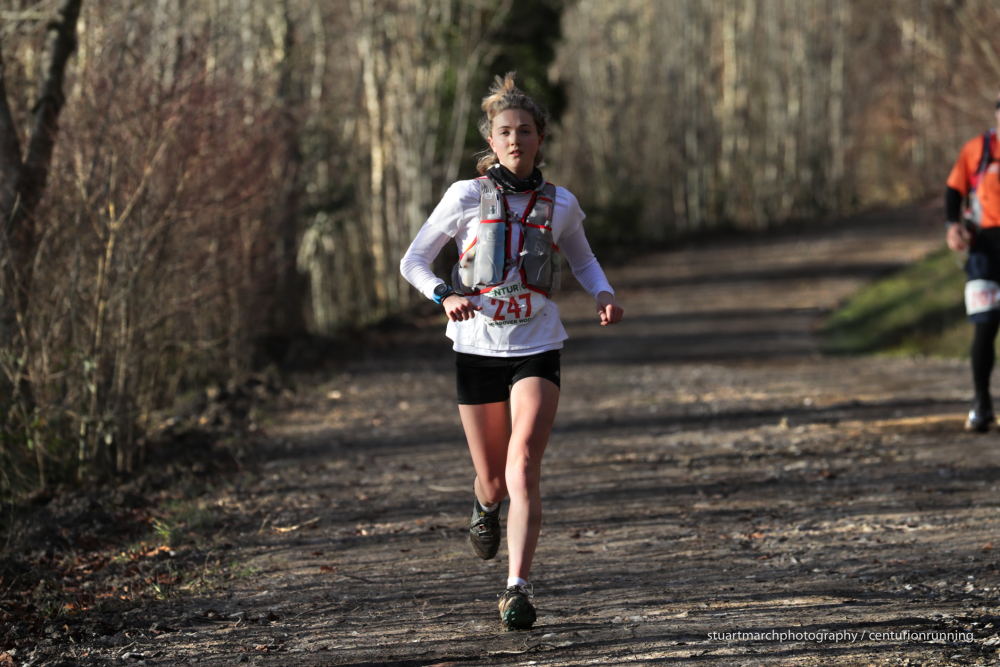 Amy White leading the race early on
Cat overturned the 90 second defecit in to a 30 second advantage at the Hale Lane Check point half way around Loop two and now looked to build a lead from the front. In at the end of loop two, Cat had a minute over Amy and six over Gemma. Charley a further ten minutes back looked to be secure in her bid for a slam record but the win was down to the front three.
Cat Simpson negotiating a descent mid way through the loop
Throughout the final three loops, Cat very gradually extended her lead and out on to Loop four her advantage of eight minutes in a time of 6:57 left her tantalisingly close to her first Centurion Trophy and the course record.
Eventually running home in 8:57, Cat was just six minutes outside of Sam Amend's mark from 2016 but was good enough for the win. Amy came home in 9:11 for second and Gemma third in 9:28. Three absolutely fantastic runs.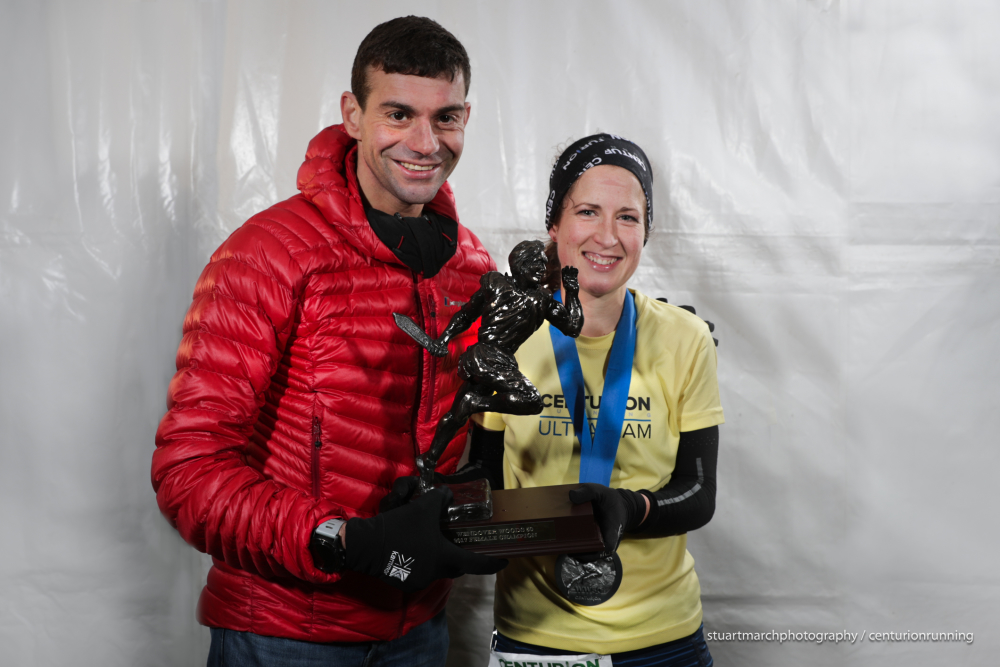 Cat receiving her winners trophy from Vassos Alexander
Charley Jennings shattered the existing womens 50 mile Grand Slam record, followed by the ever consistent Sarah Cooke who has had a fine year for second in the Slam.
This race held our highest ever percentage of female runners - 21% of the registered field and that is fantastic to see. The level of racing made the womens race just as exciting as the mens race. Long may the trend continue of increasing women participant numbers in this sport.
The stories of the Slammers and the mid-back back runners were in many ways even more exciting and poignant than those at the sharp end of the field.
Darla Crispin came in off Loop 4 with just 7 minutes to get out on to Loop 5 in her quest for the Slam. Having been a regular runner of ours for many years, Darla battled through chemotherapy in 2016 and put herself in for the Slam as a way to get back to health and to prove to herself that she could be the runner post cancer that she had been before. The first three 50s were a huge undertaking, but she made her way to the finish of each, with 35, 20 and then 16 minutes respectively, to spare under each of the cut offs. She knew this would be tight but she would give it her all. She nearly didn't go out on the fifth loop, but she preferred to be beaten by the course giving everything she had rather than drop out and accept defeat. Out she went and fought valiantly all the way to Hale Lane at mile 45.5, where she missed the cut off by just two minutes. As heart breaking as that was, Darla came back to HQ and thanked everybody profusely for all of their help in getting her that far, for a wonderful year and with gratiutude for how far she had proved she could go. A total inspiration to everybody from a very special person.
With 15 minutes to go to the 15 hour final cut off, 9 runners were still out on course. They came trickling in until 14:49 elapsed at which point things went very quiet. One feature of the finish at this event is that the supporters and volunteers can see runners make the final 2-3 minute run around the perimeter of the field on trail before they climb the stile in to the final finish sprint over the line. With just 3 minutes to go and two runners still out on course, both of them Grand Slammers, we spotted the first lamp and just behind, the second. Staff, volunteers and most prominently Vassos Alexander who abandoned his post of handing out awards, made their way out to bring home these final two warriors.
Tim Cooke turned in to the field with 2 minutes to go and crossed the line in 14:59:04 to complete his Slam.
The final runner Jack Mortassagne is no stranger to a tight finish. Jack has been a long standing runner of ours and has 30 Comrades finishes to his name including one just 122 seconds inside the cut off. He was going to be much closer than that here. People who've witnessed him finish before will remember his signature sprint finish, be as he is a prop forward for his local rugby club let's just say you do not want to stand in this mans way when he can smell that finish line, he will give every ounce to get there. As he climbed the stile with less than a minute to go I was pretty sure he wouldn't make it, by about 10 seconds. I was wrong. With 16 seconds left to spare in his journey to the Grand Slam, he charged over the line in emphatic style. The most fantastic of moments to end a truly memorable season.
The final standings for the 2017 50 Mile Grand Slam can be found by clicking here.
Thank you to all of you, runners, volunteers, crews and supporters for making it a truly memorable one.
See you in April 2018 for the South Downs Way 50.