A blue sky day, evolving in to a blazing sunset, followed by a clear night, full moon and finally the sea mist rolling over the downs in the dying hours of the race, made for a brilliantly atmospheric weekend of running on the South Downs Way. A record 297 runners arrived in Winchester over Friday night and Saturday morning ready to start at 0600 on their maximum alloted 30 hour quest to reach Eastbourne, the entire length of The Downs away. But not before 20 kids aged between 2 and 12 showed them what pure running really is in the annual SDW 1 mile around the fields at Chilcomb! This event is definitely the highlight of the weekend and we are still crossing our fingers that one day, one of the kids from the 1 mile eventually graduates to the 100.
We were anticipating a close race in both the mens and womens fields and that is exactly what we got. Some fascinating and ultimately very exciting racing. On to that first.
Right from the gun we saw a closely bunched group out front with James Poole, Steve Lord and James Bennett leading the way together. With a small gap over clusters of 10-15 runners moving well together.
Through CP1 at Beachonhill at mile 9.8, James Bennett came through first in a relatively pedestrian (compared to usual!) 1:18 with a gap of less than a minute over the others. The next section down to QECP is a long 12 miles and is our first real indicator of who is forging the pace. James Poole led the way in to there in just over 3 hours, with the top 7 all within 8 minutes of him. Noticeably Steve Lord looked very comfortable in second in 3:02, determined not to get sucked in to the hard and heavy over racing early on at the TP100 six weeks ago.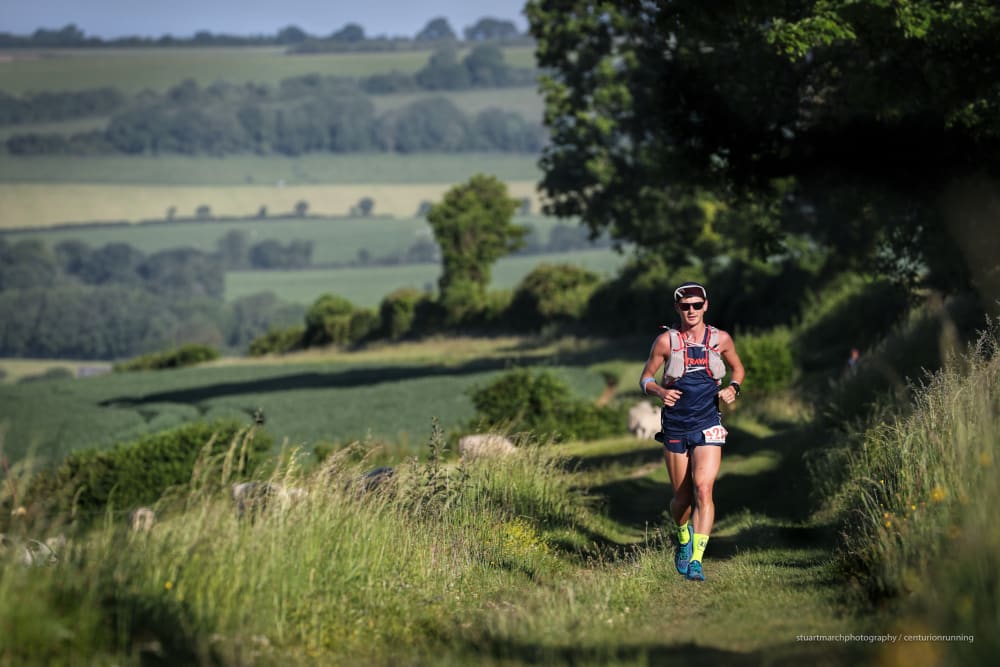 By Harting Downs just 5 miles later it was all change however, as James Poole withdrew with a hamstring issue and Steve found himself in the lead. The gaps remained very tight, Steve extending to 7 minutes over James Bennett at Cocking mile 35, coming through in 4:58. But the heat of the day took a massive toll and it was as usual those that had run within themselves early on that went on to reap the rewards. Steve Lord eventually pulled the pin at mile 50 and handed the lead over to Steve Speirs who had travelled over from Virginia Beach USA to run with us. His wife Ally taking part in her first 100 miler also on the day. Steve is a very experienced customer and that showed as he continued to run within himself, despite pressure from three runners literally within sight of him for much of the next 20 miles through Washington and then Botolphs at mile 61.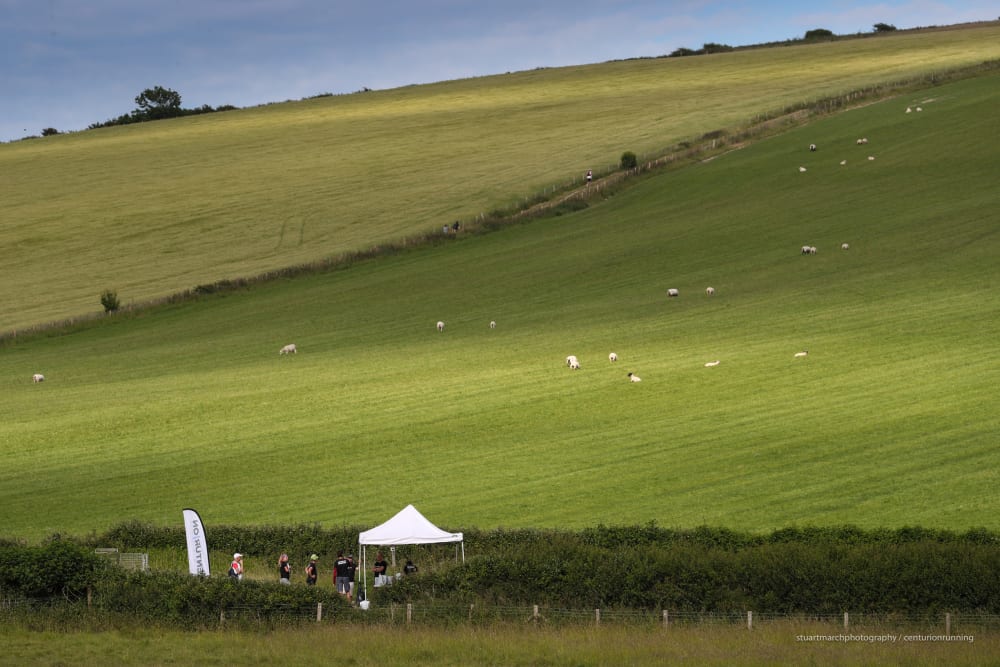 In to second at that point, Adrien Prigent however was clearly having a stellar day. He'd looked strongest on the climbs early on and it looked like the cream was rising to the top for a race between Adrien and Steve Speirs over the final third. In the end, Steve stayed consistent but Adrien went on to a dominating final thirty miles as he crushed everything through to the track to come home in 15:43 for a break through win. His margin an eventual 55 minutes over Steve who held on to second in 16:37. Performances both were elated with.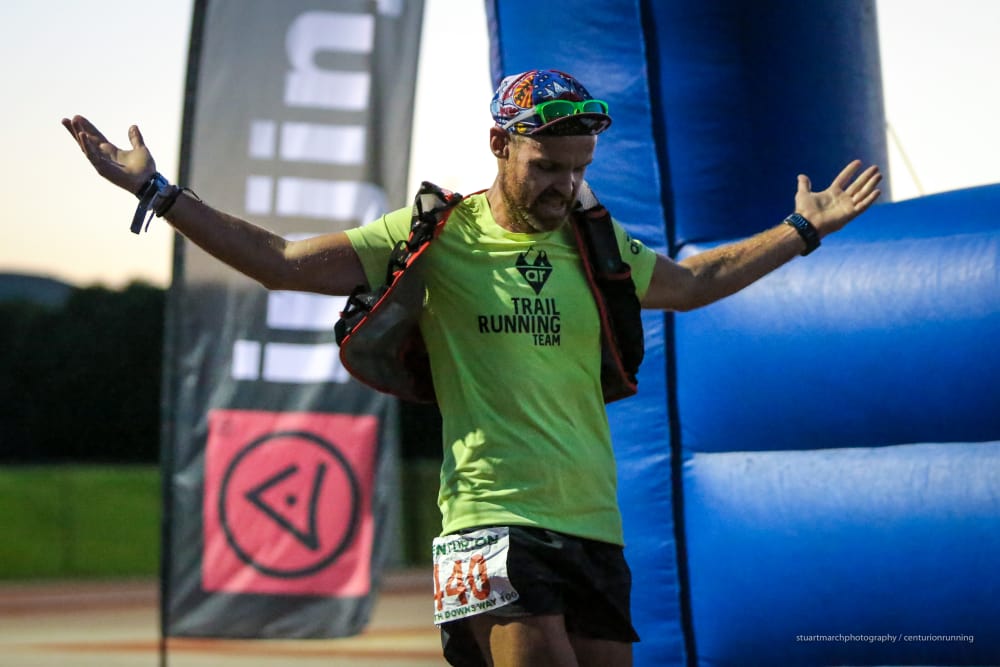 Adrien Prigent, 2017 SDW100 Champion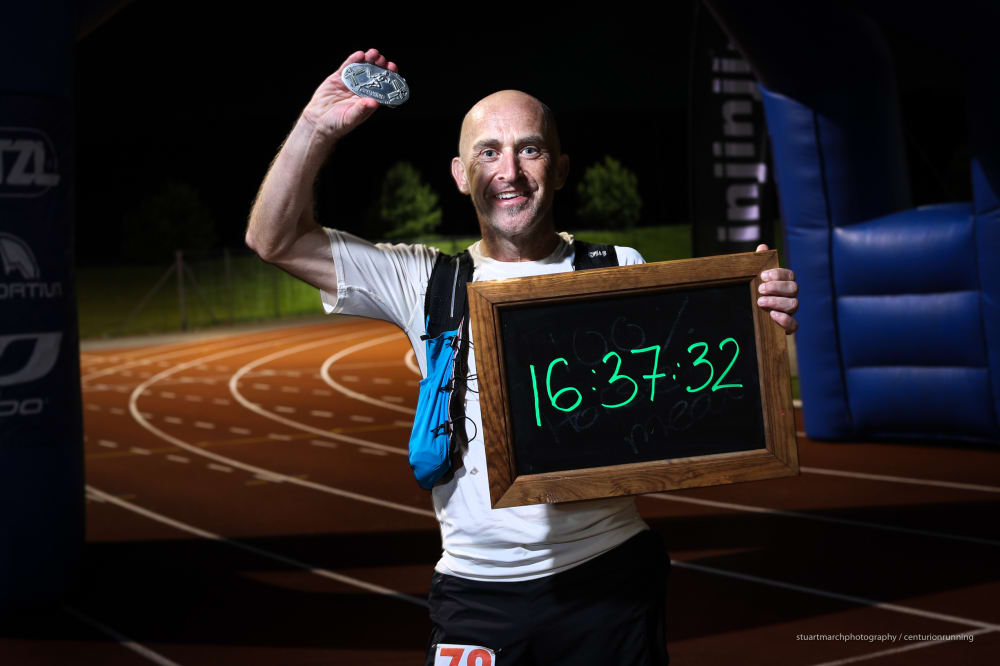 2017 SDW100 Runner Up Steve Speirs
Third place went to the ever popular Matibini Matibini. Mati looked done at mile 44, struggling in the heat but he is a tough cookie and found some of his strongest miles towards the end of the race. With each 100 that passes, it looks increasingly as if he could one day step up to take home an overall win.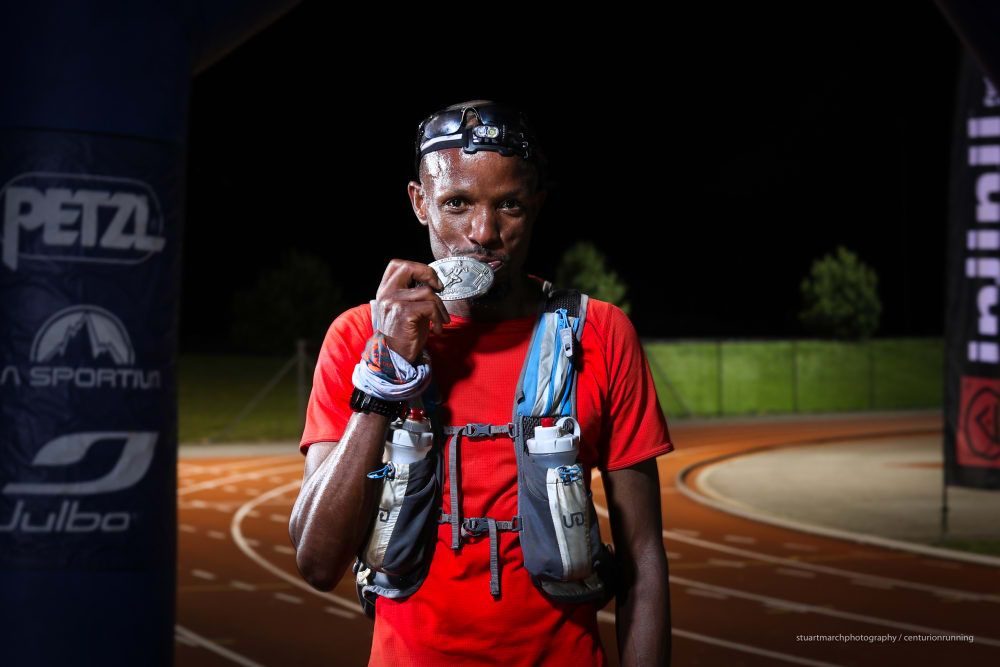 Mati taking third
But Mati's race was intertwined with another for third. As the men faded futher and further, Sarah Burns-Morwood ran herself through the top 10 and in to the overall podium positions. Hers is quite the story and perhaps worthy of a focus in more detail than we have time for here.... the ladies race was a fascinating one.
Sarah initially ran with and slightly behind of reigning TP100 champion from six weeks ago - Mari Mauland - over from Norway for the second part of her assault on the Grand Slam record. Both looked to be struggling with the heat between miles 35 and 54 but seemed to be doing just enough to maintain rhythm and continue to gradually overhaul the men to move up from 9th/ 10th to 6th/ 7th at Washington mile 54.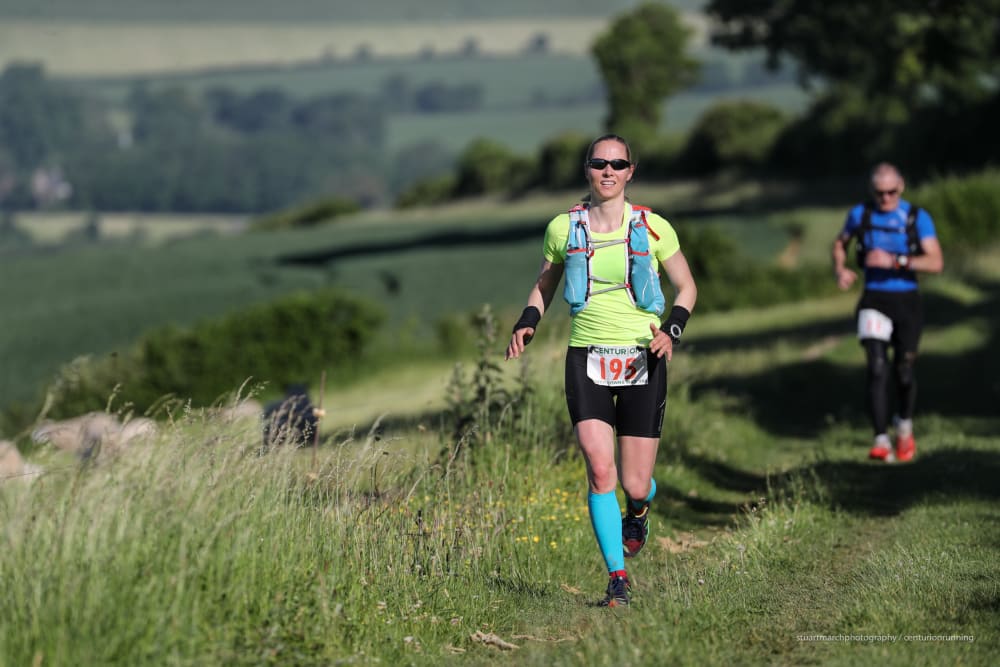 Mari moving well in the early stages
By Botolphs at mile 61 however, Sarah had maintained her pace whilst Mari had dropped back suffering from some stomach issues. Sarah was our 2015 SDW100 champ. In fact she's also won the TP100 and W100 in the past. But that was all before a major bike crash in early 2016 which left her with a fractured patella. Numerous operations and months of intensive rehab later, she began light running 6 months later in defiance of the initial prognosis that she may never run again. Nobody really knew if she could get back to completing let alone competing, least of all Sarah but the determination to try was incredibly strong.
Improvements came gradually but not without many set backs and in December 2016, she reached a point where the pain from the metal in her knee was so bad she simply could not go any further. A January operation followed and a rewind back to rehab with advice from the doctors to stop running completely. Sarah wanted to be fit to race, not run but race, the SDW100 in June. Four months later, in late May, she showed up to a Trail marathon and the following weekend the final test of her knee, she won the Eco Trail Oslo 80km. She was ready, but would her knee let her go the extra 50 miles?
Through the last 40 miles of this years SDW100 she ran strong and steady. The physical issues she suffered are all knock on effects from the knee, but she is one of the most determined runners out there and smiles her way through everything.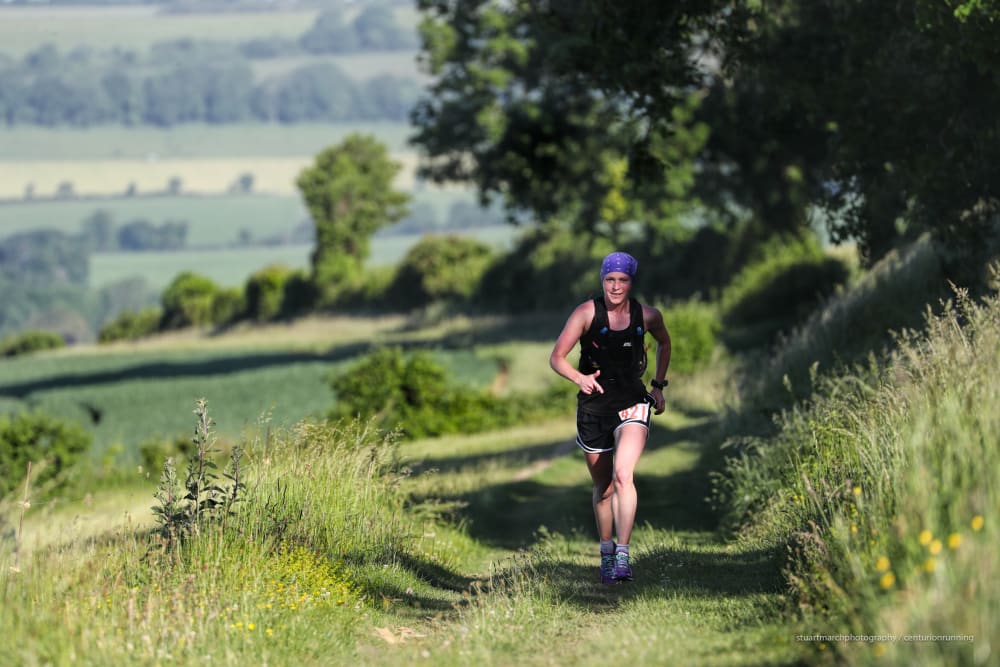 Sarah enjoying being back at her favourite distance
Without a watch, she had no idea when she reached the tarmac in Eastbourne at mile 98 what kind of time she was on for. She crossed the line in 17:30 for the win and most important of all, a time that was six minutes under her winning time of 17:36 from 2015. That is much more significant, because it shows she's back to where she was before and she can now focus on putting herself firmly back on the map doing what she loves most, without fear that her knee will collapse.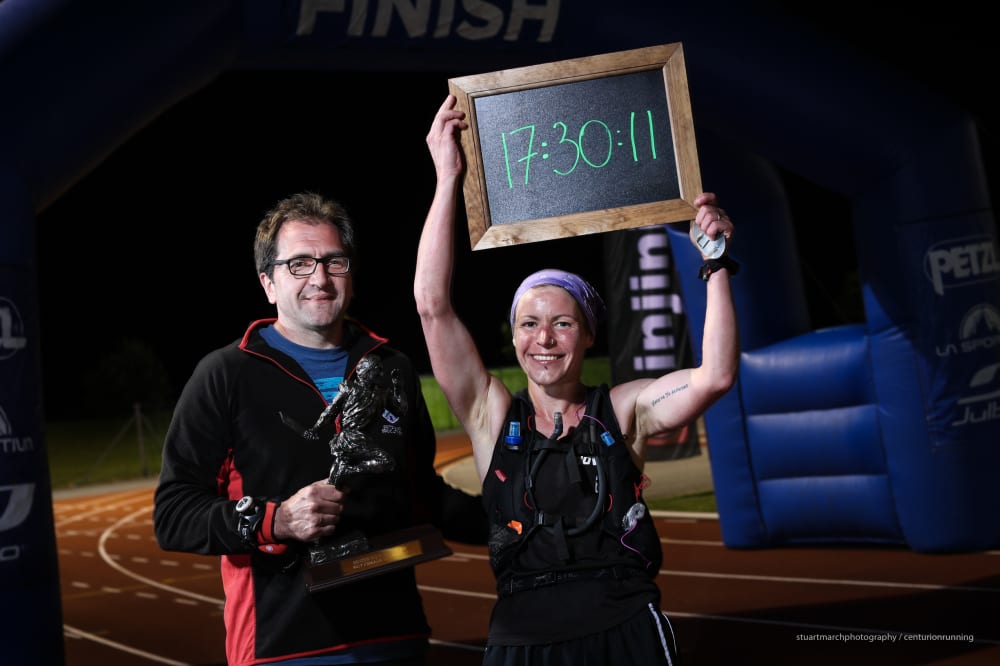 Sarah and husband Jason after her second SDW100 victory
Behind Sarah in second, the super experienced and ever steady Annabelle Stearns overhauled a 20 minute defecit at Southease with 16 miles to go, to come home second a scant eight minutes ahead of Rachel Fawcett who ran home a brave third. Both just under the 19 hour barrier. Mari held on to fourth in 19:11 and keeps her Grand Slam dreams alive after a very gutsy performance when things did not go her way.
A few interesting facts and stand out efforts from the remainder of the field:
- Ken Fancett at 67, finished his 64th 100 miler this weekend. His time was 20:40 for 30th overall. On his way to his fifth Grand Slam. Ken has the 5 fastest finisher times in his age group at the SDW100, from 5 starts. All five performances are between 20:30 and 21:10. Take what you will as the mind-blowing element of those stats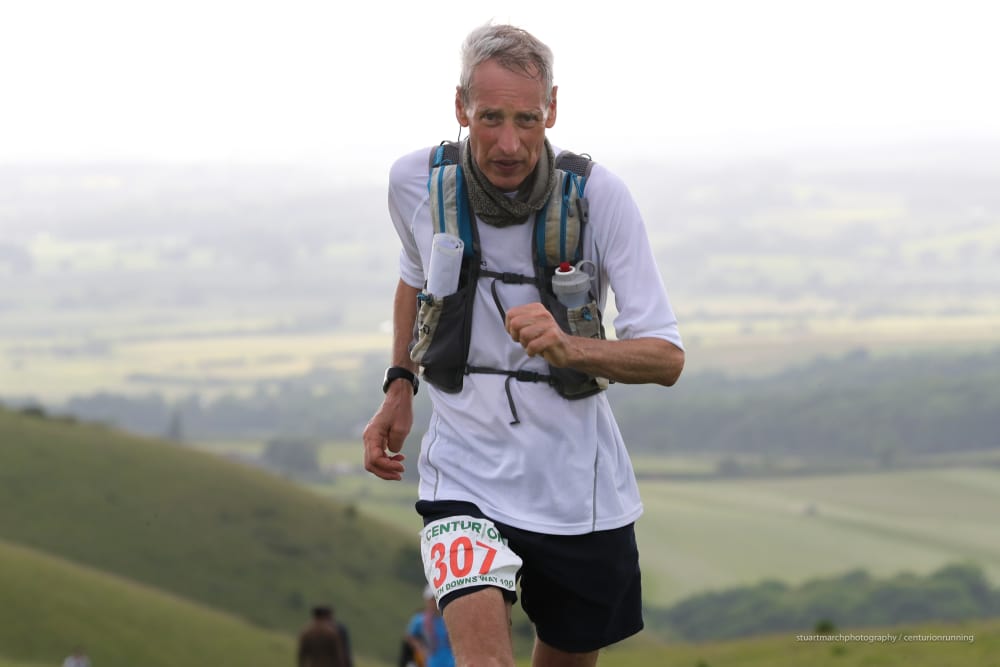 The indomitable Ken
- 297 runners made the starting field 33 greater than 2016 and our biggest ever SDW100. 220 finishers was our record. A finish rate of 74%, one of the highest we've ever had.
- The final finisher, Diane Aldritt, was our final finisher in 2013, her last run here. In 2013 she crossed the line in 29:50:54. This year she finished just 44 seconds slower.
Diane Aldritt
- 112 volunteers and 14 Staff made the race happen this weekend, a ratio of just under 3 runners for every 1 volunteer!
A huge thank you to those volunteers, to all of our sponsors and particularly to the South Downs Way National Park for continuing to allow this race to grow and evolve.