A bright, cold morning awaited runners at the fourth edition of the 50 mile at Wendover. The previous two weeks had seen a monumental amount of rain fall on the course, the organisers were stressed about the state of the already carved up field but everyone was parked up and ready to go in plenty of time thanks to the efforts of our tremendous volunteers.
At 0930, an intrepid group set out to complete the 50 miles with circa 10,000ft of climb. Amongst the myriad of stories and ambitions across the starting field, there were some key ones that we were excited to follow to their outcomes. 52 Grand Slammers were attempting to finish the fourth and final race in the series. 4 Double Grand Slammers were hoping to complete their 600th mile of 2019. Jon Ellis was looking to become the first person to win all four of our 50 mile events, with victories at the SDW50, NDW50 and CW50 in his past and Rachel Fawcett was looking to set a new Grand Slam 50 mile record.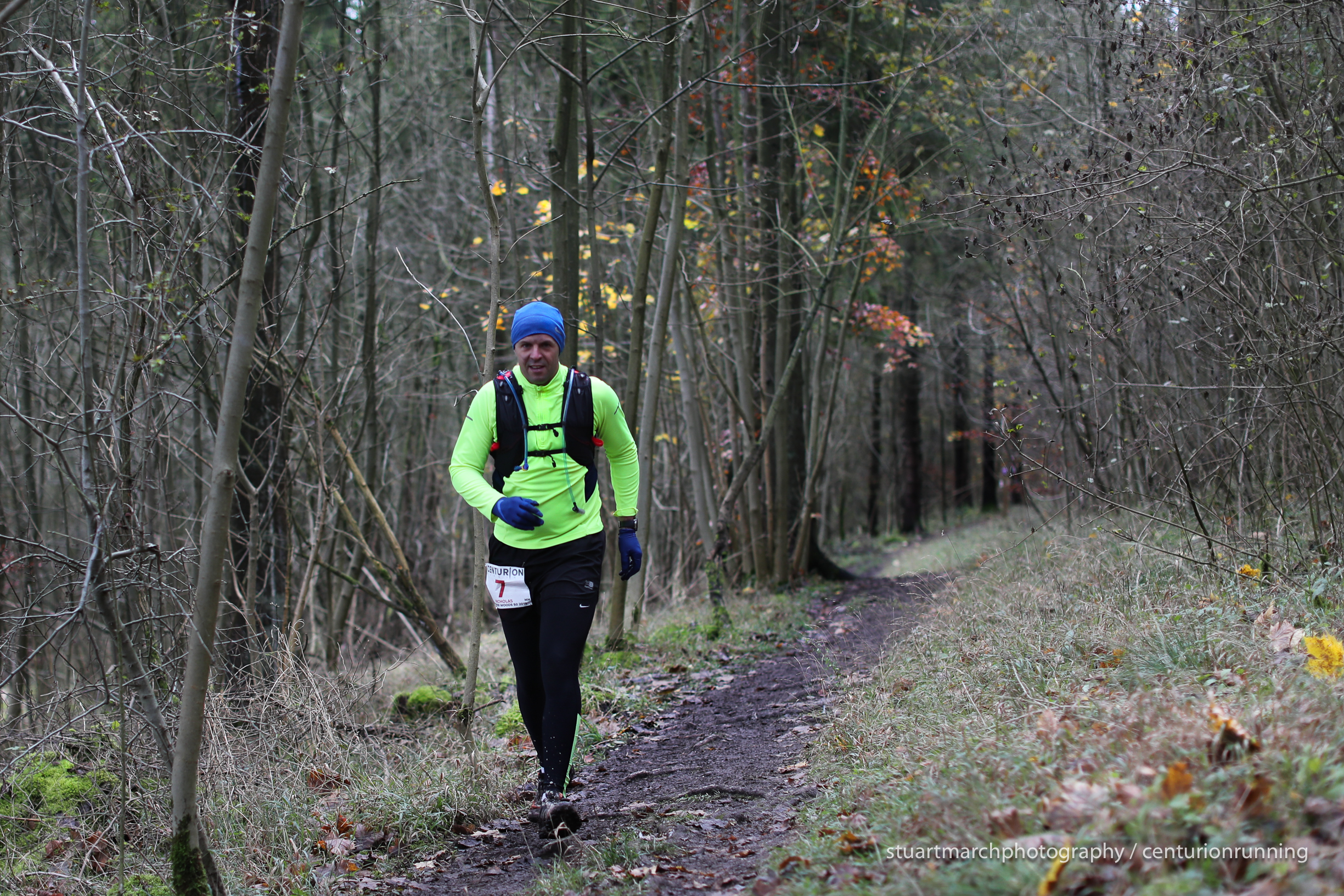 The front of both the mens and womens races made for some of the most exciting racing we've seen all year. In the ladies race, it was pre-race favourite and Centurion Coach Sophie Grant who led the way, closely followed by Rachel Fawcett, fresh off of a victory at Septembers Chiltern Wonderland 50. Both looked comfortable and running well paced races, saving strength and energy, hiking hard where appropriate and running the many faster sections of the 10 mile loop. The race seemed to be between the two from the outset, with third place being held by Charley Jennings, challenged by Karin Voller and Beth Rainbow in fourth and fifth.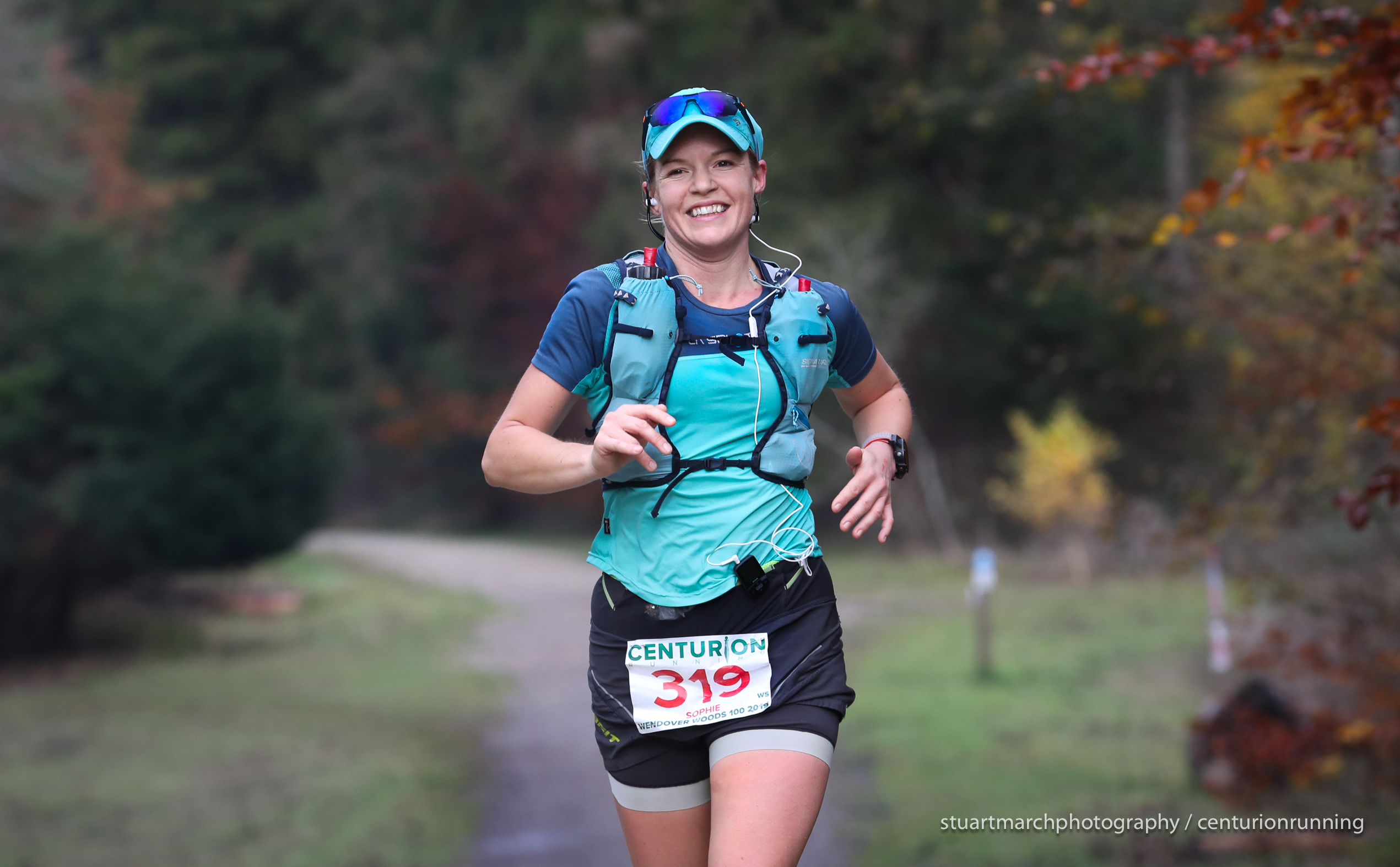 Sophie Grant
Each check point would see Sophie come in and transition very quickly, with Rachel arriving just behind, leaving slightly further back and then catching back up again. As the day and the loops ticked by, the gap remained the same, usually within 30 seconds of one another, Rachel always just behind. It was clearly a battle that would go to the wire, but one that was fought with class as both runners struck up encouraging words at times. Both seemed to thrive from running with and against someone who could push them all the way.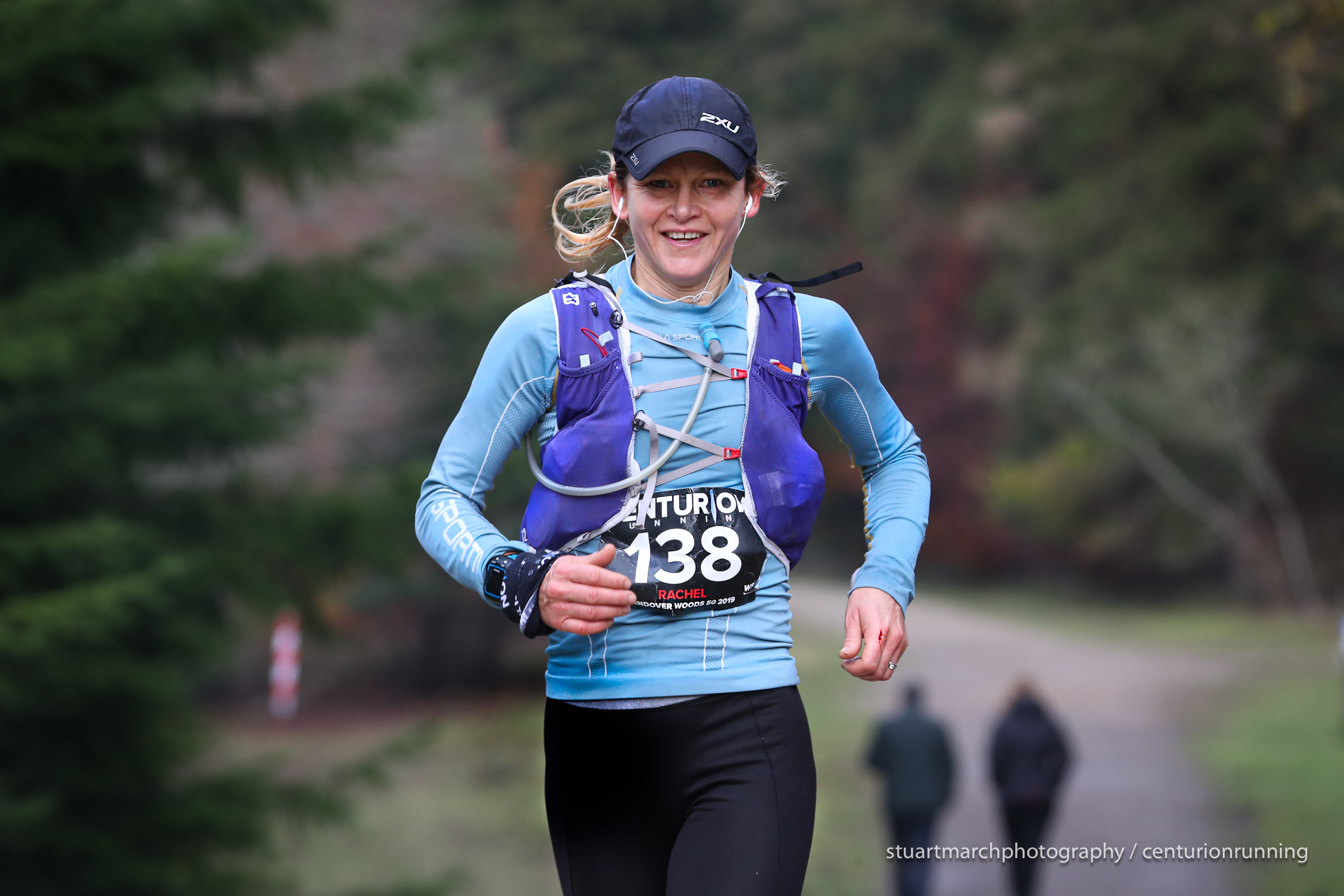 Rachel Fawcett
Out onto loop 5 and the gap between the two was just a second. The two recorded identical times at the 45.7 mile check point and it was down to the final few climbs to see who would triumph. In the end, Sophie was able to edge away on the last longer descent and hold that gap and finish in 9:23 for a win in her debut Centurion event, with Rachel finishing less than 3 minutes back. In the process, Rachel set a huge new Grand Slam 50 mile record.
Behind our leading two, it was Karin Voller who ran an impressive race, up to third at the end of loop two, she dropped back out of the podium places as Charley Jennings and Beth Rainbow both spent time in the top three, before she came back to finish strong and take third place in 10:25.
Sophie with trophy
The mens race had a similar shape to it. Immediately growing a commanding lead over the rest of the field, were Jon Ellis, Rob Payne and Steve Hobbs. Jon is the course record holder at the Chiltern Wonderland 50 with two wins there as well as the record at the North Downs Way 50. When he set the Grand Slam 50 record in 2017, he did so by winning the first three events but finished a close second at this race, behind Stuart Leaney. Living locally now and training on the course every week, he wanted this one badly.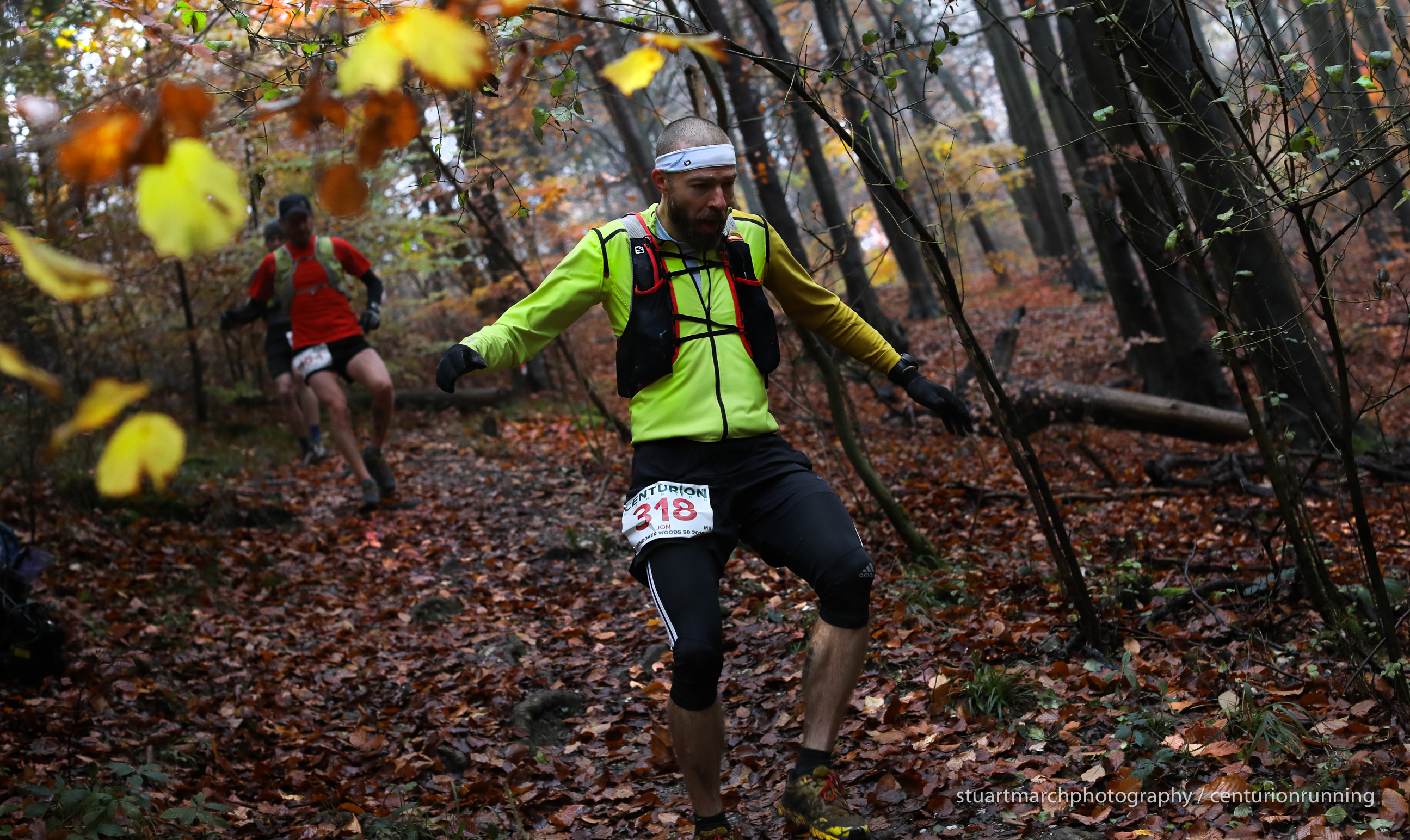 Jon Ellis
Rob Payne won the North Downs Way 50 this year and has had a stellar 2019 overall showing his diversity as a runner, going on to impressive performances at the West Highland Way Race, the NDW100 and Tooting Bec 24hr. That final race being just seven weeks prior to this did not seem to be in his legs early on but as things unfolded it appeared there was some fatigue from a long year in there.
Rob ran strong off of the front from the climb up 'The Snake' at mile 7 and held that lead over Jon until the second half of Lap 3, just after the marathon mark. The gap had been gradually diminshing to that point and heading out on loop 4 it was Jon who carried a 2 minute margin over Rob. Over the remaining 20 miles, Jon stretched his legs and having been a way off of course record pace over the first two loops, he began to close the margin on Stuart Leaneys' superb 7:16:59 time from last year. Going out onto the final 4.5 miles he would need to average close to 8 minute miling to do it and that did appear to be just beyond him. Eventually crossing the line in 7:26 for the second fastest ever time on this course, this win completed the set for Jon and he seemed elated to have finally done it.
Behind him, Rob faded in the final loop but held strong for a clear second place in 7:46, a solid end to a remarkable 2019 for him.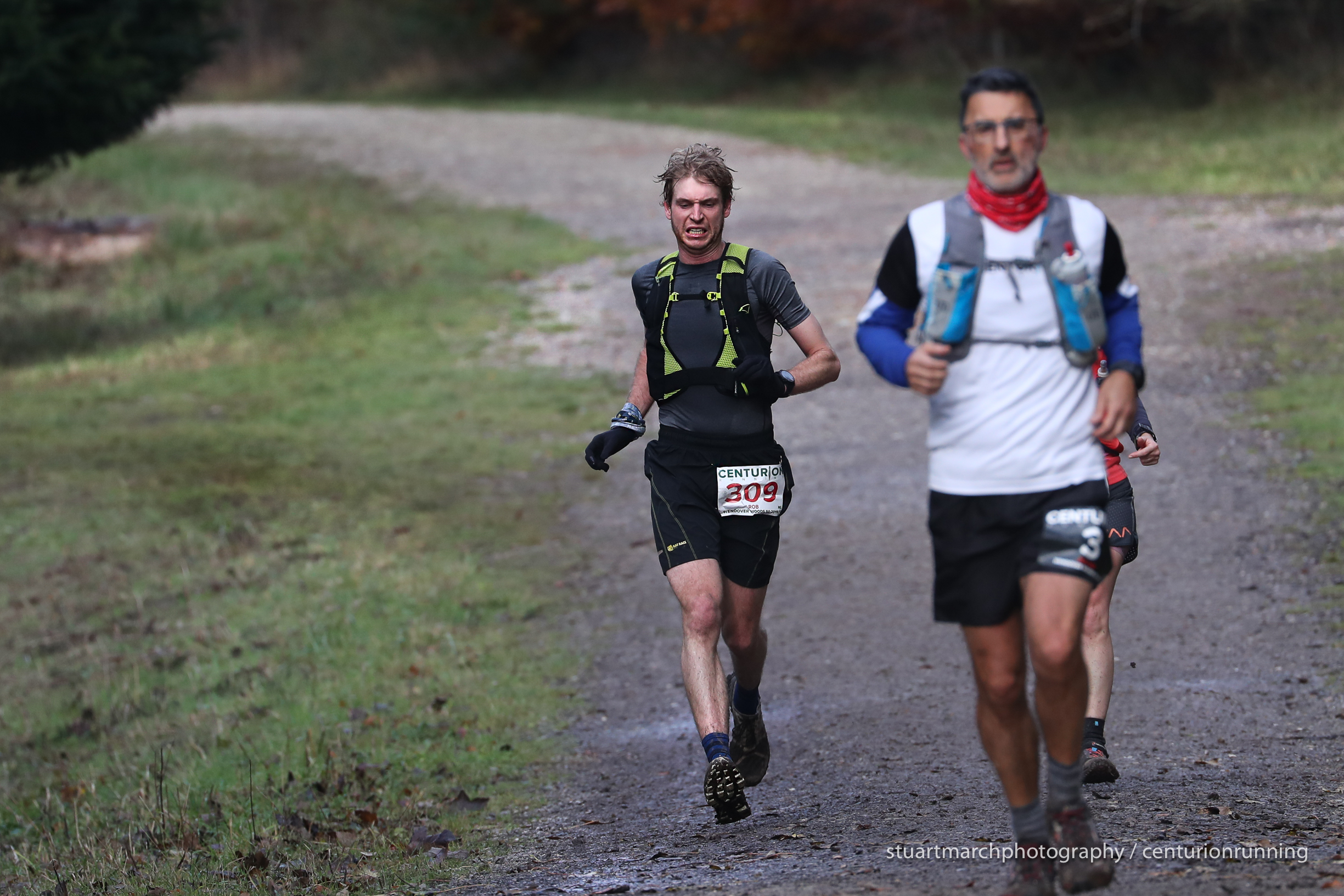 A determined Rob Payne (left)
The final podium place went to Daniel Weller who paced himself brilliantly. 8th after the first loop, he moved up in positions every lap and slowed far less than those around, to finally nip into third on the final lap, edging out Steve Hobbs who had been amongst the lead in the early stages. Though fading, Steve held on valiantly for fourth, just two minutes behind Daniel and one ahead of Rob Barnes.
Sixth went to Neil Martin who won this years 50 mile Grand Slam. His was a masterclass in consistency. He has finished 5th, 4th, 4th and 6th across the four counting events as well as finishing 6th at the Night 50km here back in July.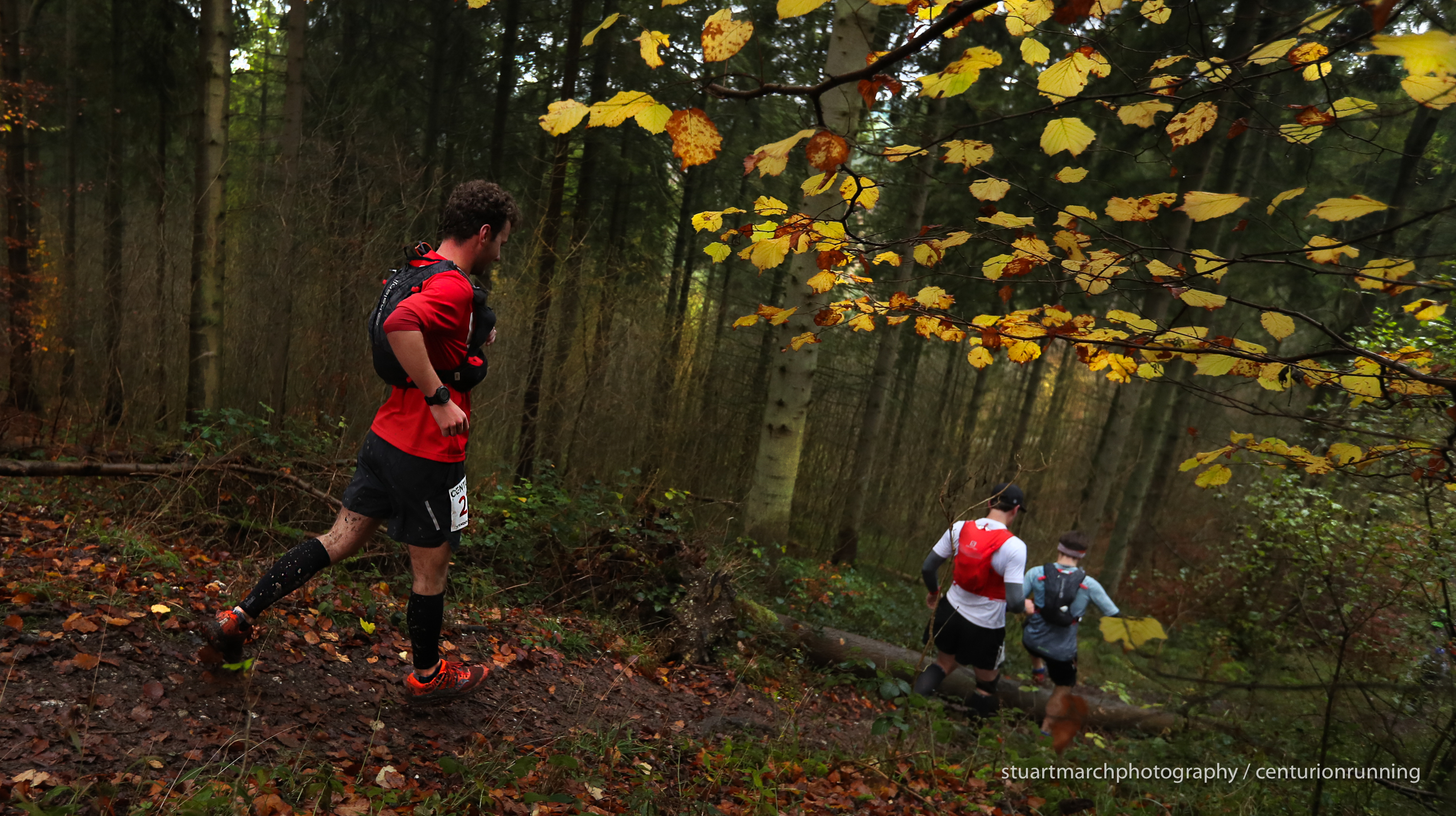 Some of our most inspiring performances from the day, came from those who did not make it.
Amongst the 52 slammers, we had three ladies who knew coming into the race that they had to have good days, with no time wasted anywhere on course, in order to complete their year long journeys.
Claire Leigh and Maddy Stretton started the fourth and final event together, as they had each of the races so far. At the end of loop one, they had 18 minutes or so on the cut off, at the end of loop 2 it was down to 14 minutes. They came in off each loop totally focused, not a second wasted as they refuelled, got their bottles filled and got straight out onto the next loop. We were all willing them every step of the way. Unfortunately on loop 3, things unravelled and the times began to slip. At the marathon mark they had dropped to the last two positions out on course and had a scant 9 minute margin over the cuts. They both slipped back over the second half of that loop and missed the cut off by 90 seconds.
In a similar story, Claudia Federoff finished the Chiltern Wonderland 50 with just over a minute to spare, giving herself a shot at completing the set. She battled every inch of the course and having established a good margin of around half an hour under the cut offs early on, stomach issues caused her to slow and her margin slowly ebbed away. We were not sure if she would make it in off of loop 4 in time, but she battled through and had a four minute buffer at the 40 mile point, the last runner out on course. Much as in 2018 when the inspirational Darla Crispin, returning from a successful battle with cancer missed the cut off at the very last check point of the Grand Slam, Claudia eventually succumbed to her stomach problems and slowed too much to make it in to the 45.7 mile point in time. Completing 195.7 of 200 miles this year.
All three of these runners took the news with amazing grace. Their disappointment palpable but with words of thanks to the volunteers and a recognition that a years hard work was not lost, three great finishes behind each of them and a resolve to continue and perhaps try again in the future. This is what the sport is about, perservering over a race, a season, over the years. May we all learn a lesson from the attitude that these runners displayed. It will make the achievement of the finish when it does come, all the sweeter.
All 4 runners who started on 7 finishes for 2019, completed the Double Grand Slam: James Moore, Dimi Booth, Mark Taylor-Weir and Gavin Bowden - who also chose to throw in Wendover Woods 100 for our first 9 race season.
44 runners completed this years 50 Mile Grand Slam, sadly 8 failed at the final hurdle but all of those took it in good grace with many destined to try again next year. The final 50 Mile Grand Slam table is available here.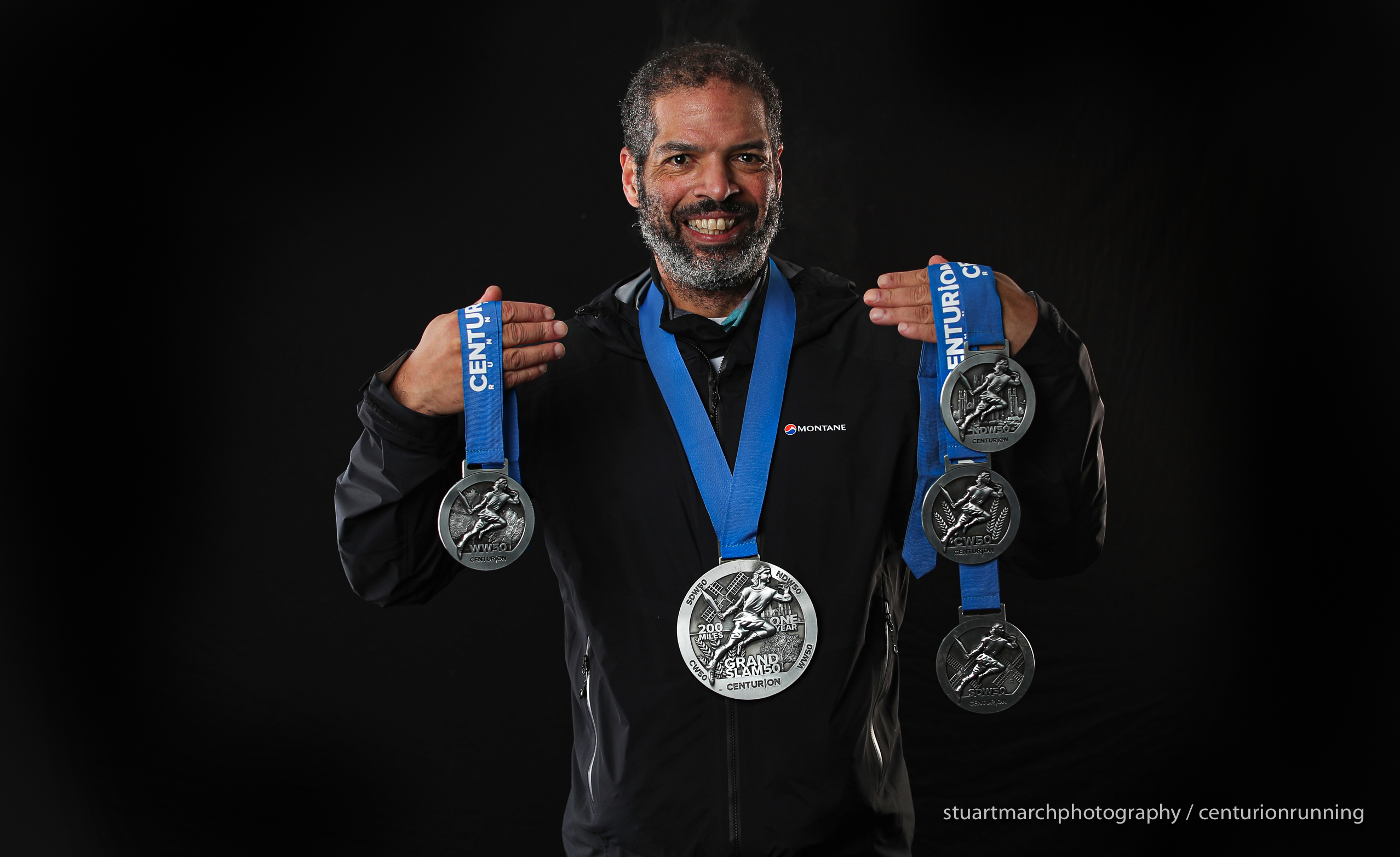 50 mile Grand Slammer Sonny Peart
Some stats from 2019....
2019 was our biggest season yet, with 2520 runners starting one of the 11 events and 2042 crossing the finish line.
Our biggest thanks of all to the 684 volunteers who made these races happen. Safely, successfully and always every runners' wellbeing and enjoyment at the heart of what they do.
2019 Records set:
- Our biggest ever 100 miler, SDW100 with 376 starters and 304 finishers. Our fastest ever womens 50 mile finish: Julia Davis 6:54:26 SDW50. Our all time fastest ever trail 100 mile finish, 14:02:19 Henrik Westerlin. A fastest ever all time finish at the Track 100: Tom Payn 12:25.
Course Records:
- SDW50 Womens: Julia Davis, 6:54:26
- A100 Mens: Henrik Westerlin, 14:02:19
- NDW100 Mens: Mark Darbyshire, 15:18:41
(New bests were set for men and women at the WW50km, WW100, Track 100 but all were inaugural events)
We hope you all have wonderful winters and we will see you again for the South Downs Way 50 on April 4th 2020.