When we looked over the entry list for this years Autumn 100 it was clear it was going to be a particularly poignant weekend. It was a vertible who's who of the community of our events. From world class athletes through to those battling to complete epic year long journeys. There are simply too many incredible stories to do justice to, but this will be a slightly longer report than most in an attempt to highlight just some of the ones that stand out and made it an incredibly inspiring weekend for all involved.
The weather for this eighth edition was classically autumnal, as we come to expect for this weekend in the calendar. But as opposed to cold, windy and wet of recent years, we simply had wet. It rained on and off for the duration of the race, making the course muddy in all the usual places and making things pretty miserable at times for those battling on. That being said, however muddy the course gets each time, there is still an awful lot of good running and we saw some absolutely spectacular racing at the front end in times better than we've ever seen before.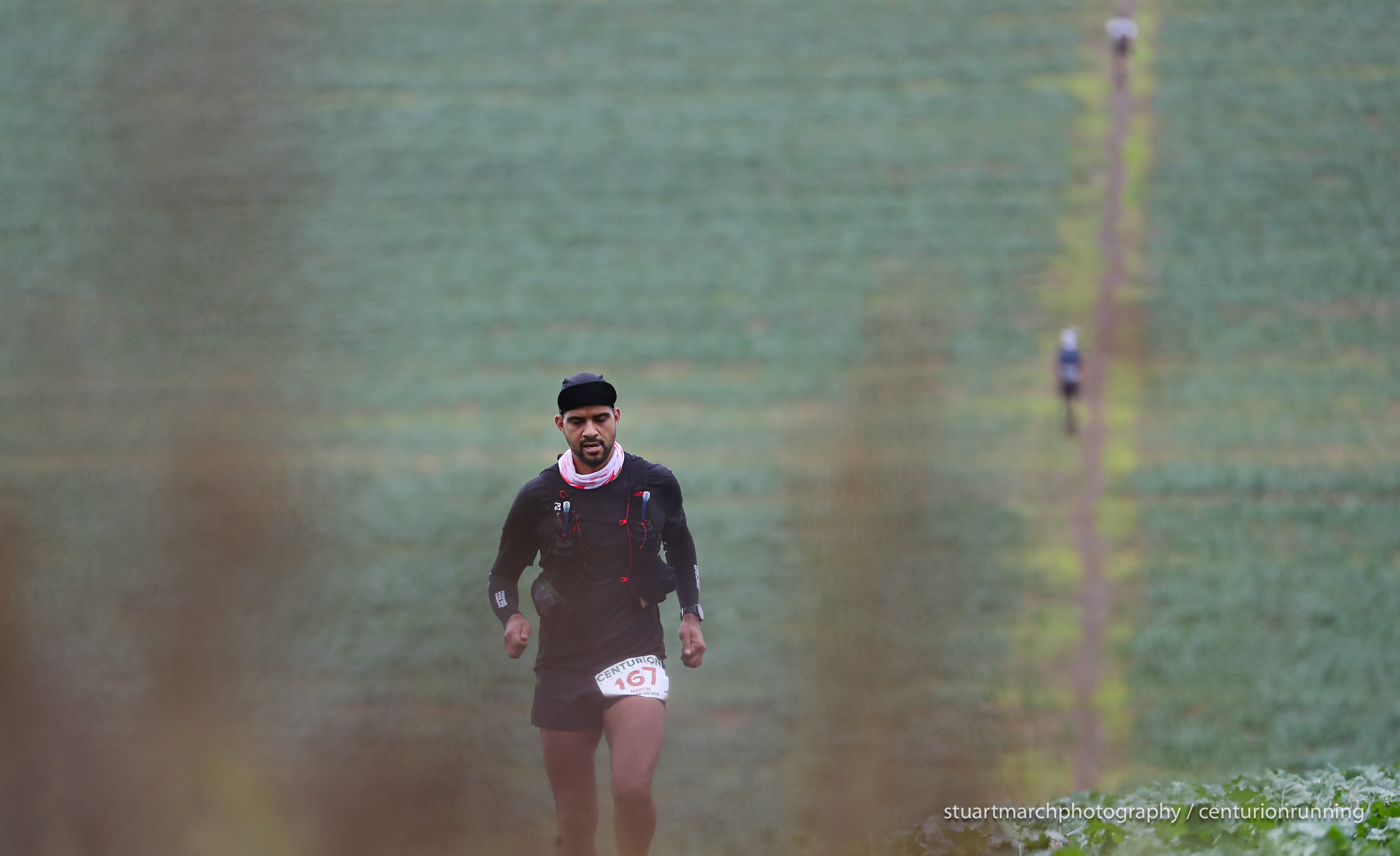 Mens Race
We've had some exciting races and some record performances in the mens events so far this year and this was a continuation of that. Conditions whilst not ideal with the mud at times, did not hamper the front of the field and with temperatures in the mid teens, the rain if anything made things pretty close to ideal if it weren't for the rain. Geoff Cheshire previous Chiltern Wonderland 50 champion led out on leg one with authority establishing a gap of a few minutes in the first 10km over second place Henrik Westerlin the Danish international and 100 mile record holder. The group behind were hot on their heels and packed full of solid runners including previous champ here Ed Catmur, Grand Slam leader John Melbourne, Paul Russhard, Gary House and Stephen Marks - all of whom would go on to strong finishes.
On leg 2, Geoff maintained his roughly 5 minute lead over Henrik, both seemed to be comfortable and the gap seemed to be staying the same. Henriks transitions were quicker however and he left just 3 minutes behind Geoff, a margin which he had turned into a lead by the 100km mark up at Chain Hill. Both ran hard back to Goring mile 75, Geoff making a slight detour at East Hendred before quickly realising his error. Henrik arrived first a few seconds under 10 hours and it looked likely he could run home a course record if he could maintain on leg four. Geoff arrived 17 minutes back and it seemed a big gap to close with Henrik looking so strong. Indeed positions remained the same and it became a simple matter of what of the major targets, Henrik could add to the win: Course record of 14:07? An all time Centurion 100 mile best of sub 14:03? Or breaking the magic 14 hour barrier that we have yet to see at one of our trail 100s? In the end it was the first two marks but not the third as he came home in 14:02:19. A sensational run in conditions that at times did not make for fast running.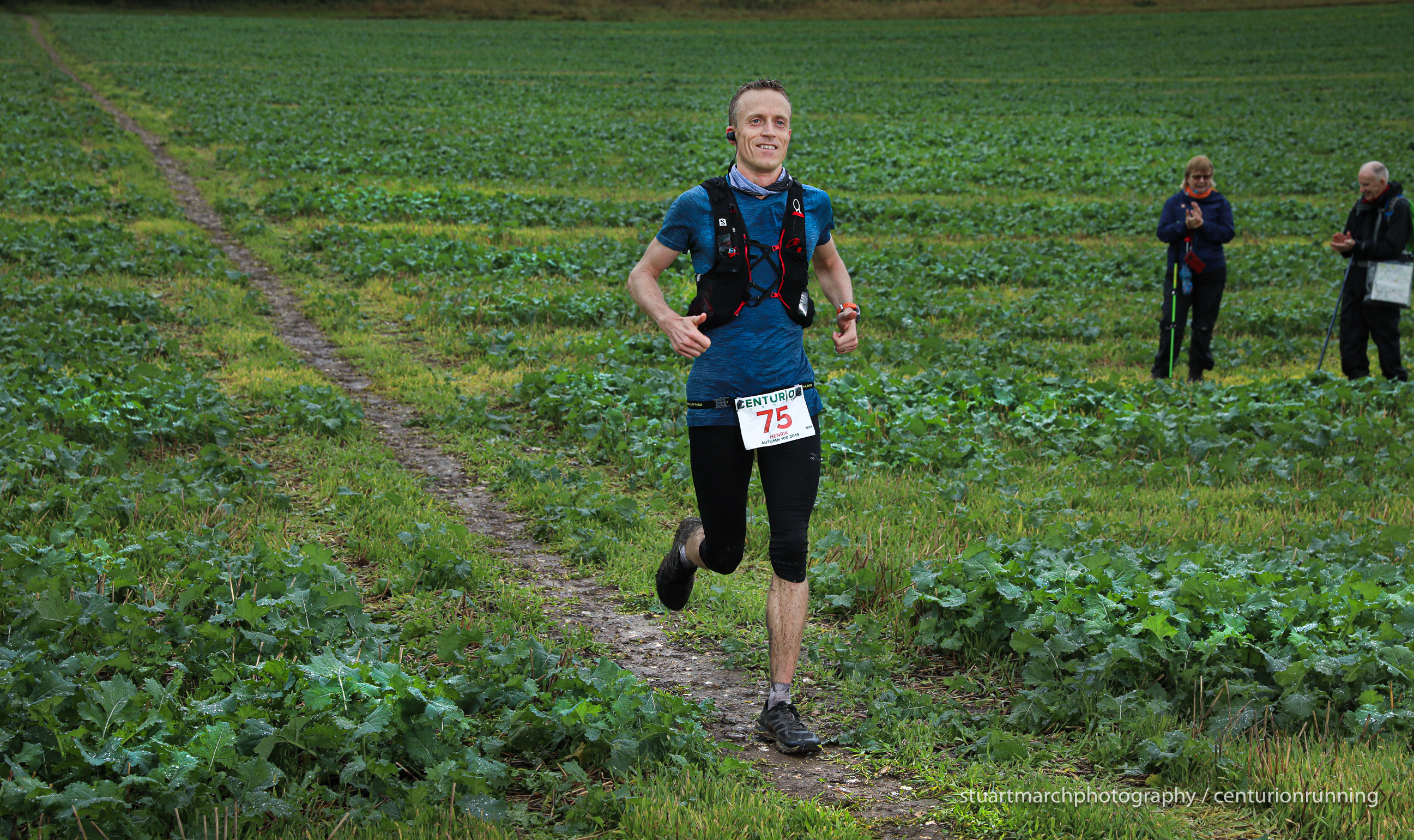 2019 A100 Mens Champion Henrik Westerlin striding out on leg two
Geoff came back inbound on leg four with tremendous strength having been somewhat scared into running hard to maintain second by an, as usual, charging John Melbourne - reminiscent of the finish of this years SDW100 where John passed Geoff with just 7 miles to go. Geoff came home in 14:31 for the third fastest all time effort on this course. Third place was held by John who just missed out on a third sub 15 hour 100 of the season, his 15:01 rounding out an incredible Grand Slam year. More on that below.
In the mens Age Group awards, the main news is that Ken Fancett is back and has stepped up into the V70 age group. After nearly a year out from running long due to a knee operation, he made his return to 100s here and in doing so racked up his 27th 100 mile finish with us, his time of 22:11 shattering the previous best V70 time we've seen by over an hour. It looks likely that Ken will now go on to re-write the record books once again as he enters this new category as he has continued to do over the past ten years with us.
The MV60 award went to Rui Pedras in 23:50, the MV50 award to Robert Shulman in 19:38 and the MV40 award and new record to Henrik Westerlin the Mens overall race winner.
Womens Race
The race began with last years champion Laura Swanton and 2018 Wendover Woods 50 Champion Amy Sarkies running together, followed closely by Eddie Sutton in third and Caroline Abid in fourth.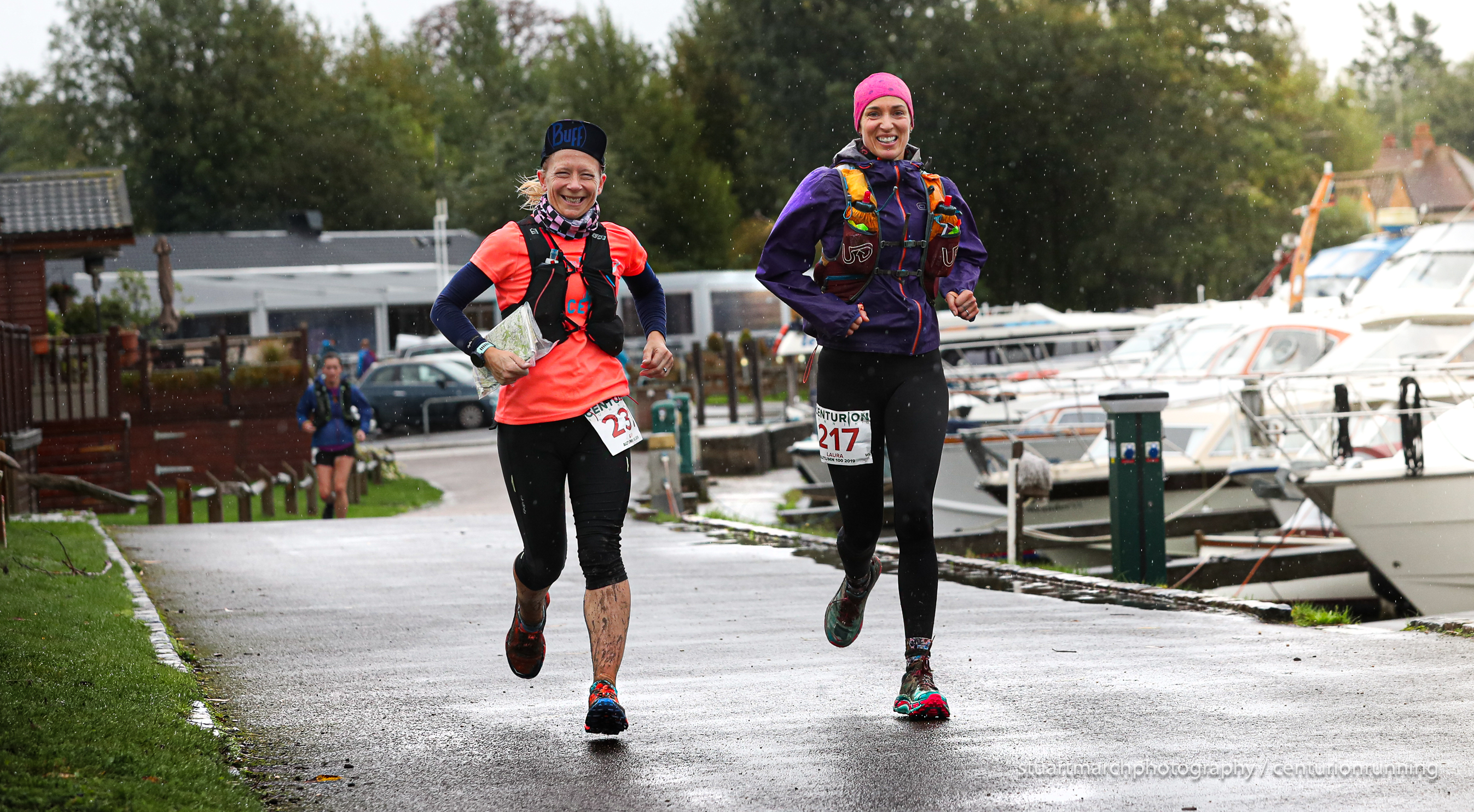 2018 A100 Champion Laura Swanton (right) running with Amy Sarkies 7 miles into the race
On the way out to Swyncombe at mile 37.5, Amy opened a substantial gap on the field, arriving 12 minutes ahead of Laura who maintaned a small margin over Eddie and Caroline. That situation remained the same back through the half way point, but both Caroline and Laura were suffering with back issues and lost some pace on Leg three as Centurion Ultra Team runner Eddie moved into second. Amy's gap at the 100km mark was now 22 minutes and she looked comfortable enough to maintain her push. Out onto leg four, positions remained the same but Laura returned to HQ with her injury just too much to push through.
The gaps really opened up on the final leg, Amy stretching away on to come home the winner in 18:30 elapsed, a superb debut 100 for her. Eddie maintained her second position also in another strong debut 100 and came home in 19:48 and Caroline Abid managed to hold on to third despite her back issues in 20:48.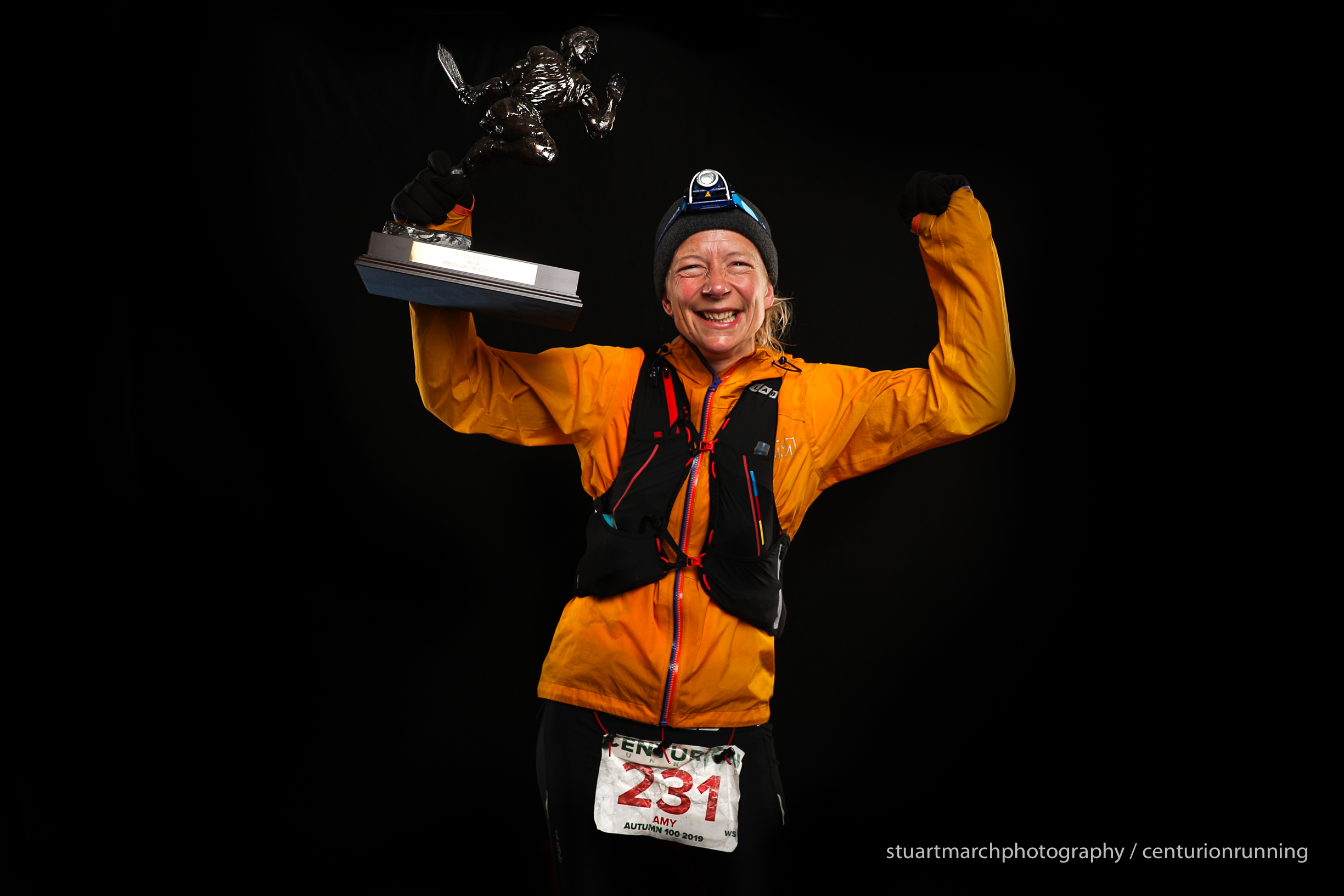 Amy Sarkies with her winners trophy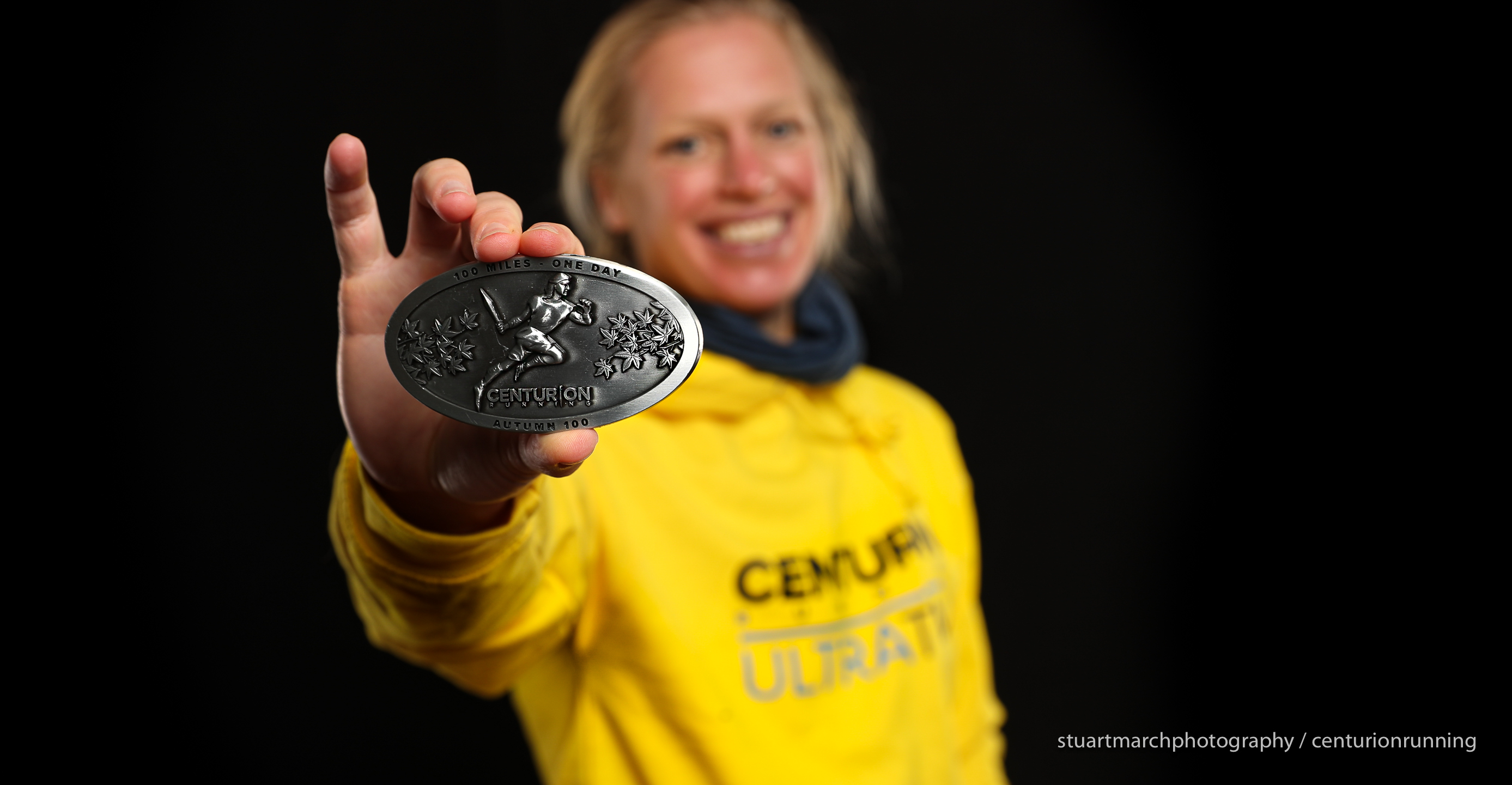 Eddie Sutton took second place and her first 100 mile finish
In the age group awards, Amy Sarkies' win was also enough to net her the FV40 age group award whilst first FV50 went to Nora Holford in 23:36:22, a new record by just 3 minutes.
Grand Slam
The Autumn 100 is the culmination of our 100 mile season and therefeore the final event in the Grand Slam, awarded to those that finish all four races within a calendar year. 35 runners had made it to the start of this race and of course their stories run deeper than most as they have worked hard over such a long period of time just to be fit to start all four, let alone finish. There were some truly remarkable, happy and sad stories from this incredible group.
At the head of the mens leaderboard, John Melbourne came in hoping to put together the most consistent year we'd yet seen since we set up the slam. After finishing 2nd at the TP100 and the SDW100 and 5th at the NDW100, he finished this fourth and final race back on the podium once again in 15:01. His eventual overall time of 61:38:17 is a cumulative tally that could stand for a very long time.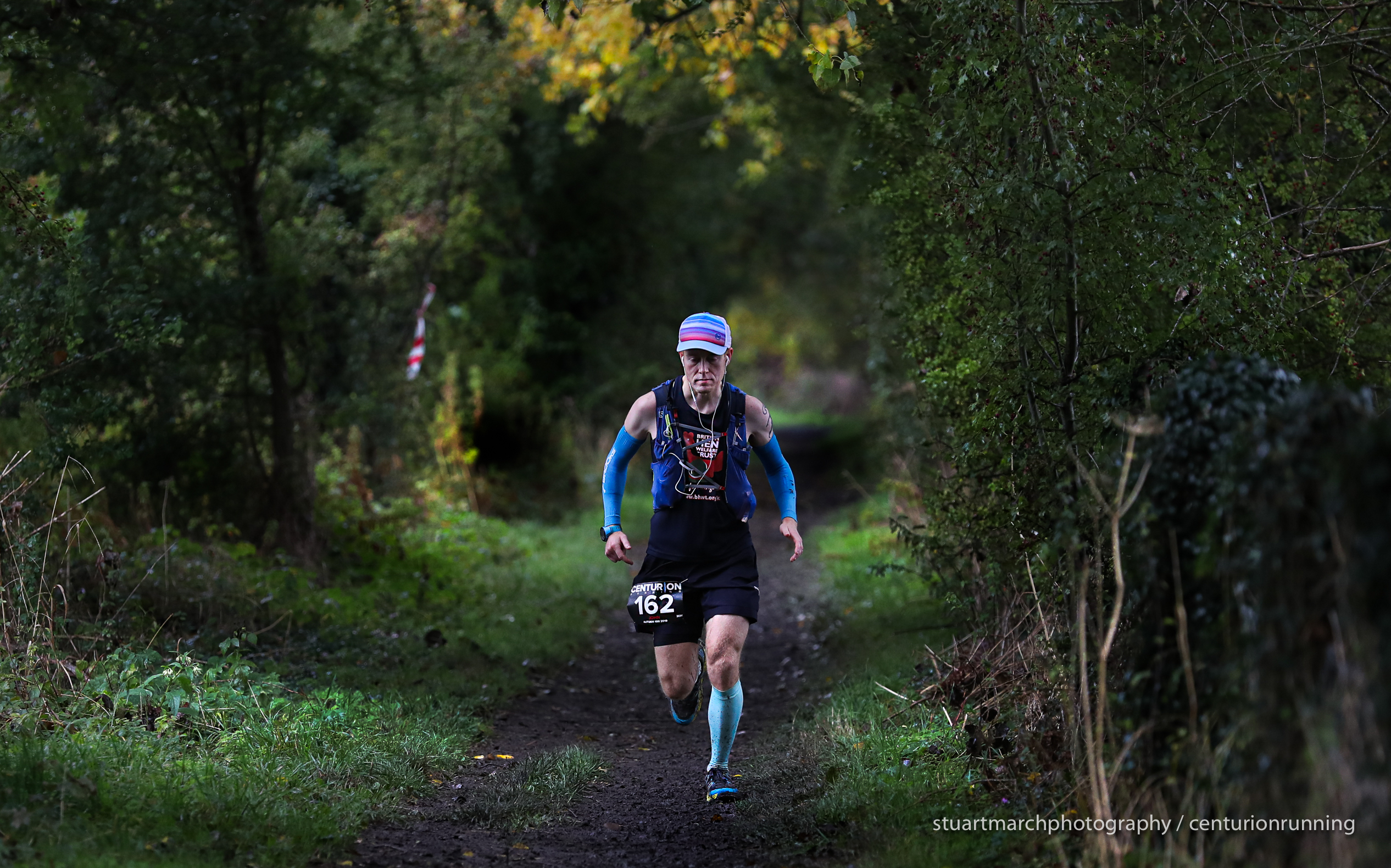 John Melbourne came home in 15:01 to cap an incredible season
In the womens standings, just seven minutes separated Rebecca Lane and Karen Doak coming into the final race. Rebecca was to triumph in the end with a 23:13 finish, exactly an hour ahead of Karen and therefore took the crown as this years champion. Her cumulative time was 94:13:09.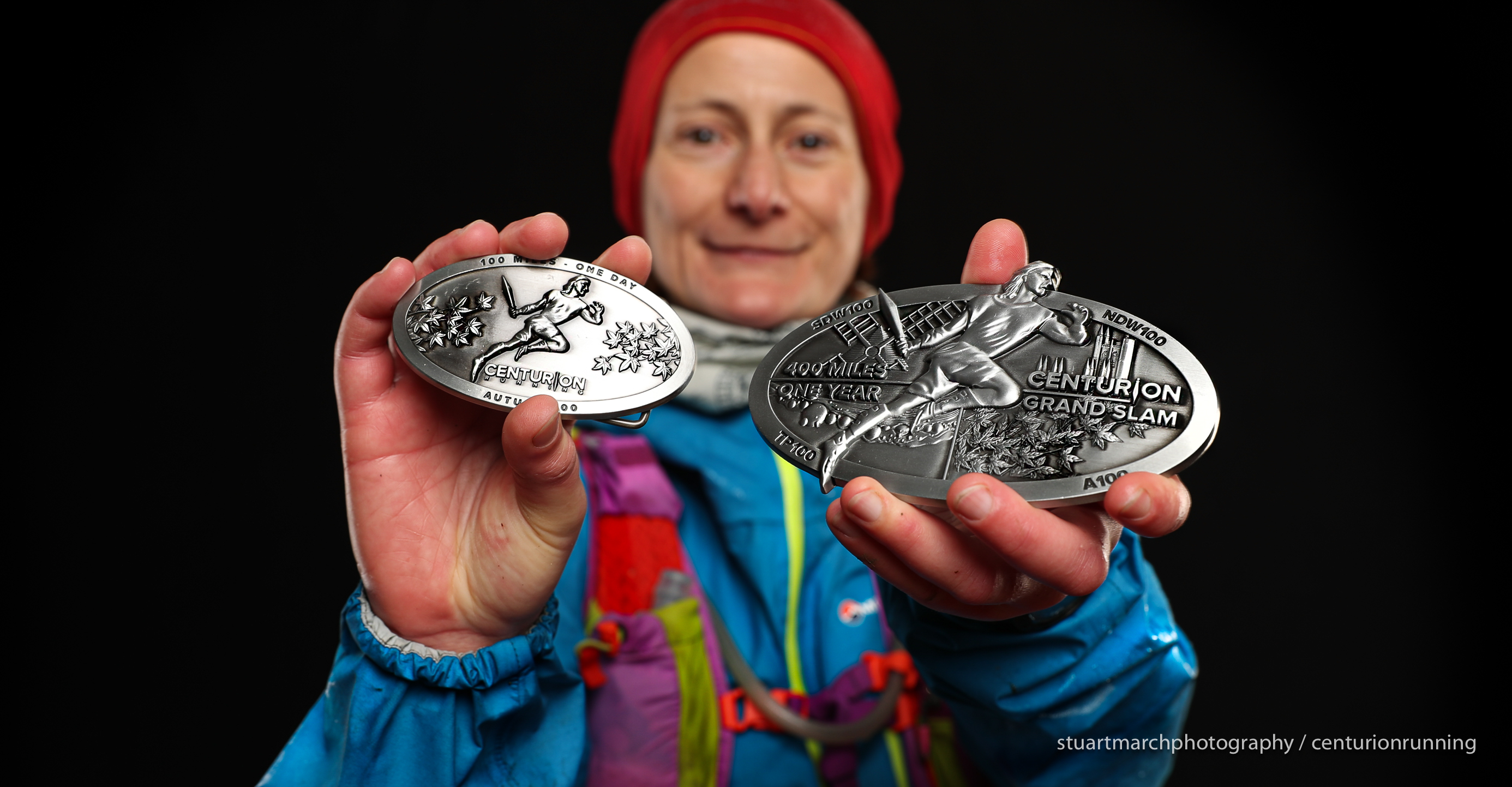 Rebecca Lane took the Womens 100 mile Grand Slam title
At the other end of the field, the final three Grand Slammers out on course left the 75 mile check point on to their final part of their 400 mile journey with determination but without a lot of time to spare.
Sharon Dickson has volunteered at and run in practically all of our events for the past several years. The Grand Slam meant the world to her and she was understandably nervous coming into each event. She finished the first 3 races, with just 20 minutes to spare at the NDW100. 75 miles into the A100, struggling to get in and out of wet clothing she wasn't sure she could do it but she left with 100% commitment to the last part of her journey. She missed the cut off at Reading. Instead of complaining, she removed her number and officially out of the race, walked back to HQ anyway and finished the distance, having thanked everybody out there for their efforts.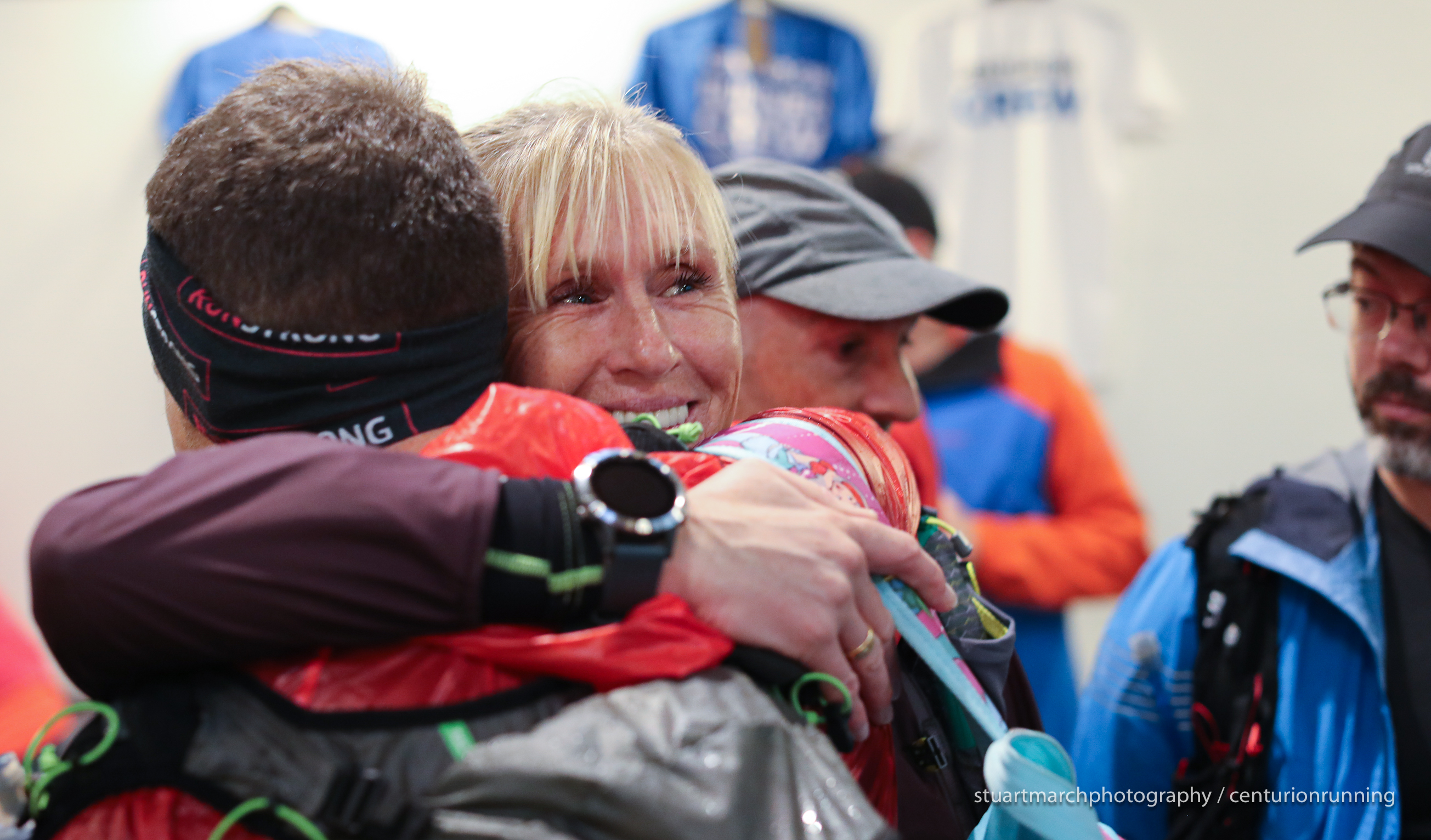 Sharon Dickson
Gareth Allen also DNFd his slam at Reading, came back to HQ, smiled and said he was looking forward to trying again next year.
Stephen Crafford ran the original Winter 100 version of this event in our first year 2012, in conditions that made this years look excellent, and didn't make it. Since then he has completed many 100s and was again in the Grand Slam. He made it one check point further than Sharon, and missed the cut off at Whitchurch inbound, with just over 4 miles to go of his 400 mile journey. As upset as he understandably was, he came back to HQ, thanked us for organising a great race and sat down to enjoy his bacon sandwich.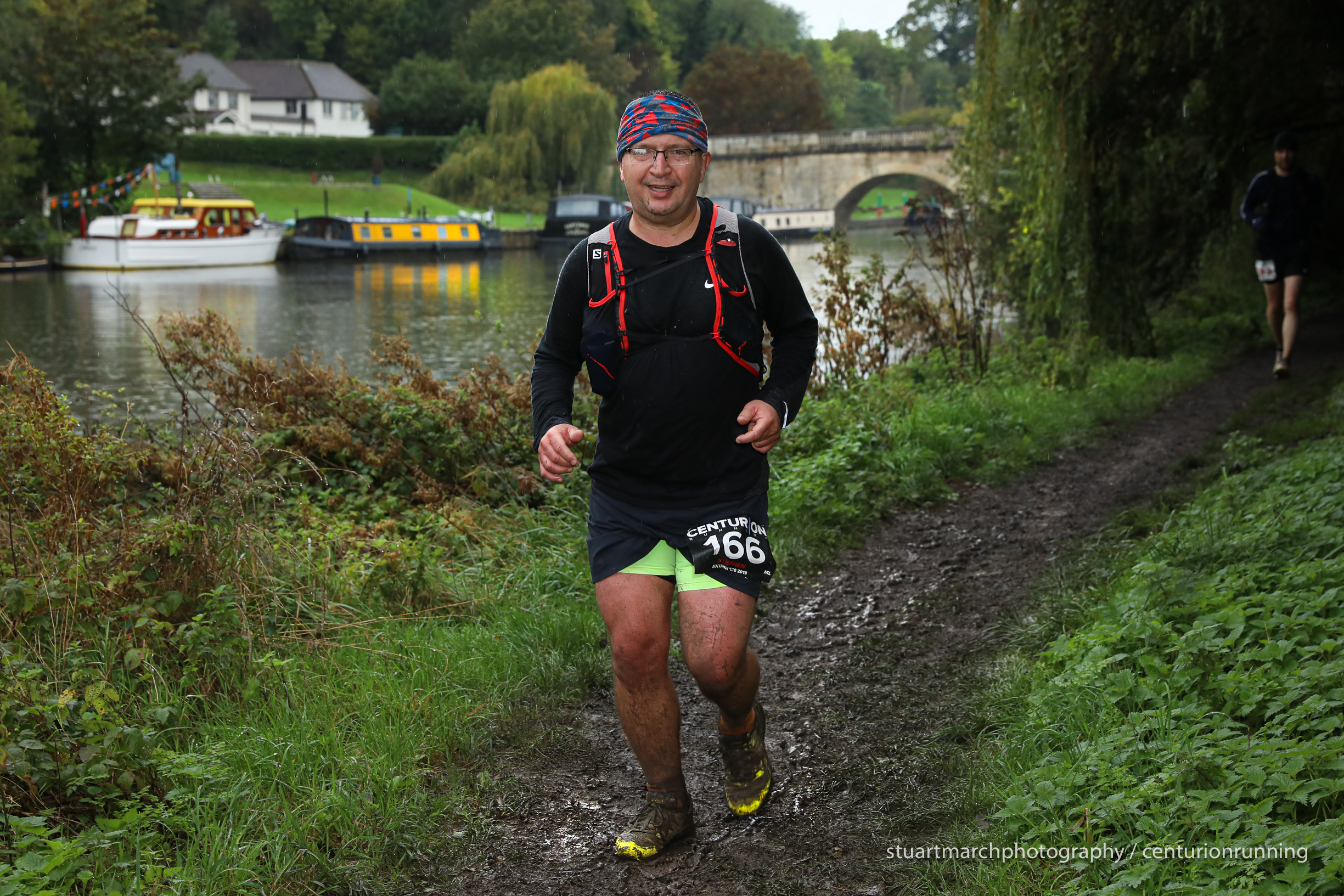 Stephen Crafford
For these runners, the journey is not over. Because they love the sport and are running these races for the right reasons, failure is just part of the process.
The final 100 Mile Grand Slam table can be found here.
Other Performances of Note
Markus Flick from Germany continued his streak of finishing every edition of this race, this being his 8th in a row. He is also the only person to finish all 8 editions of the Thames Path 100. A streak he is set to continue to build on.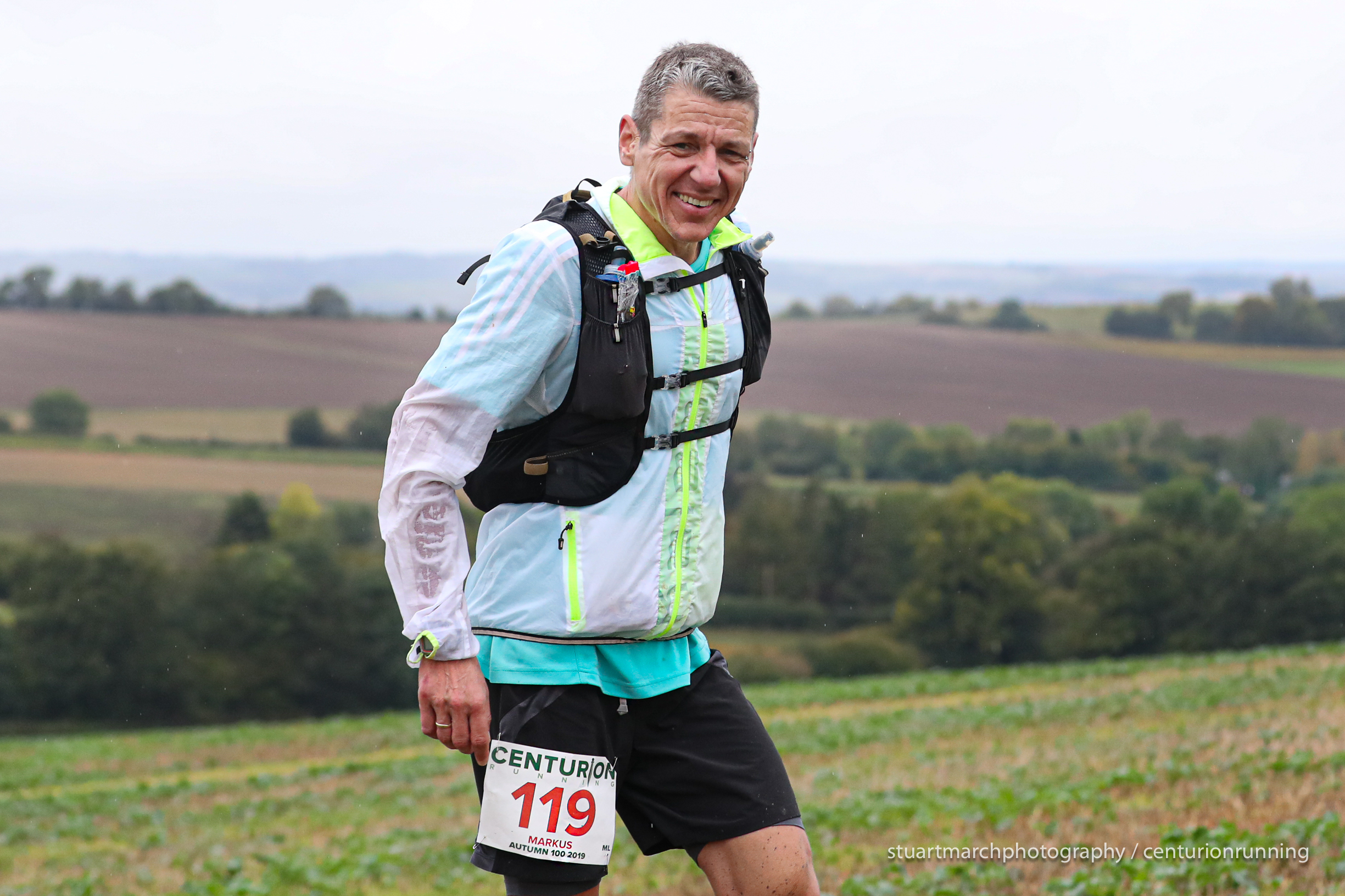 Markus Flick
Sandra Brown was bidding to become our first FV70 finisher in any event. She ran 26 hours here a few years ago but also dropped with cold at Chain Hill the following year. Unfortunately Sandra found herself off course on Leg 2 and again on Leg 3 and those errors cost her a margin which eventually ended in her dropping at Whitchurch mile 79. We are crossing everything that she tries again - as multiple world record holder and finisher of over 200 x 100 mile events, she has the ability not just to finish here again but to do so comfortably under the cut off.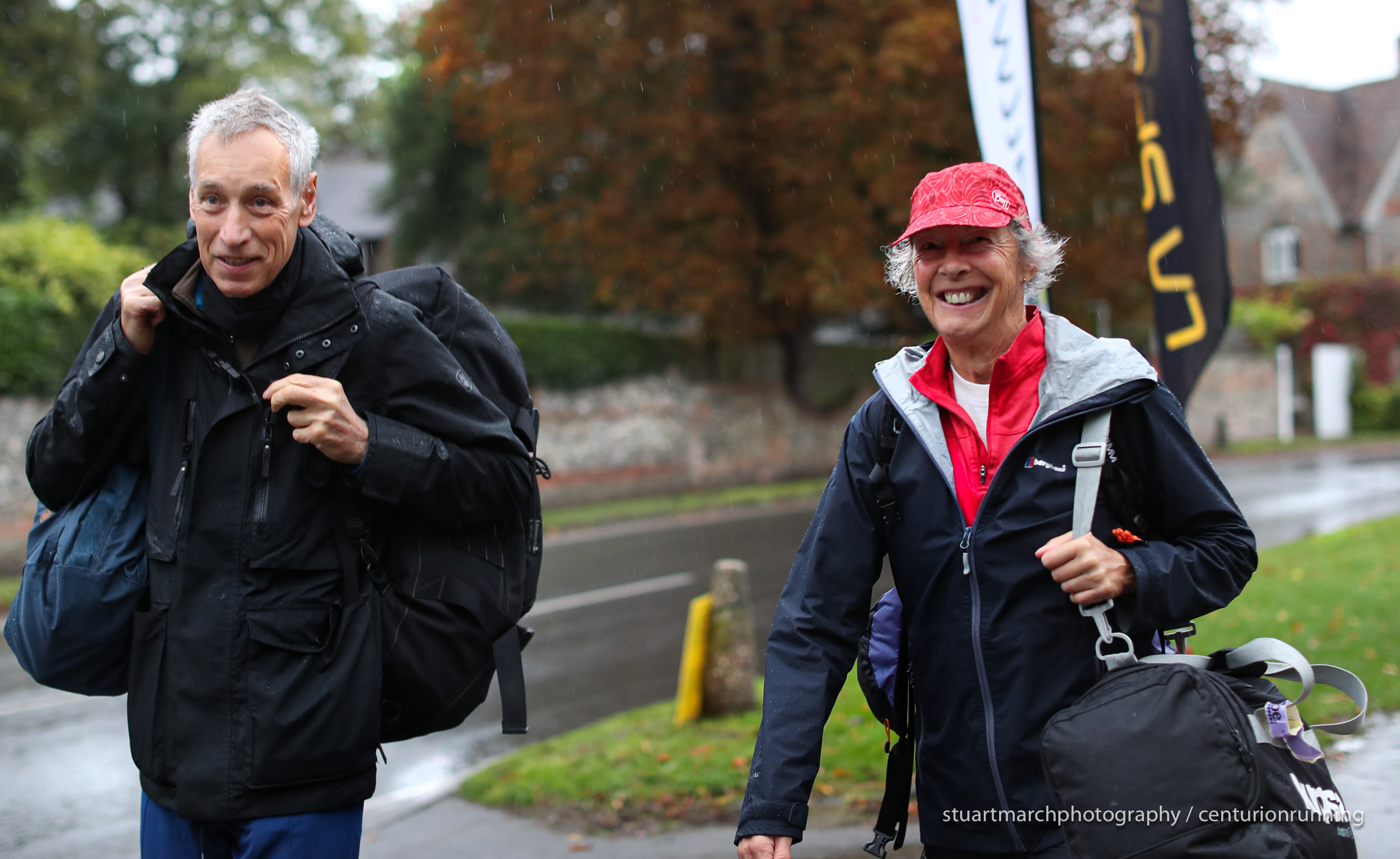 True Legends of the sport. Ken Fancett and Sandra Brown - with almost 300 x 100 mile finishes between them
Finally, a huge thank you to our 80 volunteers out on course. Some of them spending 15+ hours in the rain and dark to allow runners the chance to fulfil their dreams. 153 made it home under the cut off, with the last being Lorna Muirhead who with 27:55 on the clock crossed the line to complete the Grand Slam. A fitting end to the race. The finisher rate of 65% was in fact bang on the average across all of our events, with most perservering despite the weather.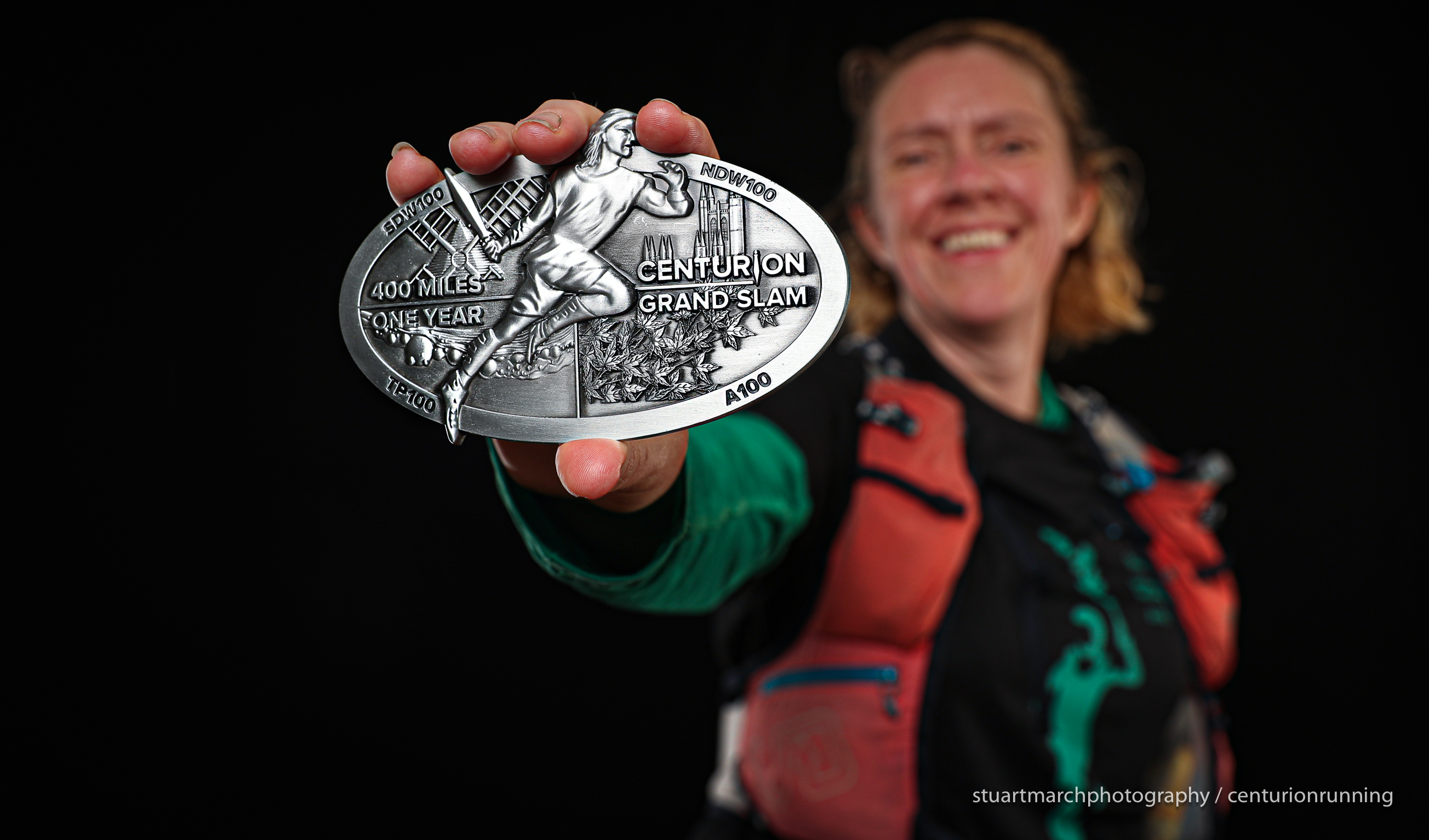 Lorna was our final finisher and the final Grand Slammer to make it home under the cut off
We move on to our final two events of the season, the Piece of String Fun Run and finally the Wendover Woods 50 where four runners will go on to try and complete the double slam.
Thanks again to everyone involved in making this such an inspiring weekend.