The North Downs Way 100. Our fourth 100 miler and seventh event of the 2019 season and the ninth edition of what was our very first race, back in 2011.
A record field of 283 starters and incredible conditions for August. Gone was the storm of 2017 and the excessive heat of 2018. We were left with a warm, but overcast day with light breeze dropping to an almost perfect overnight temperature of 13 degrees. The runners took advantage of this and much as per the SDW100 in June, the race saw not only highest starter number but also several other records. Highest number of finishers, highest finish percentage and our mens course record all fell.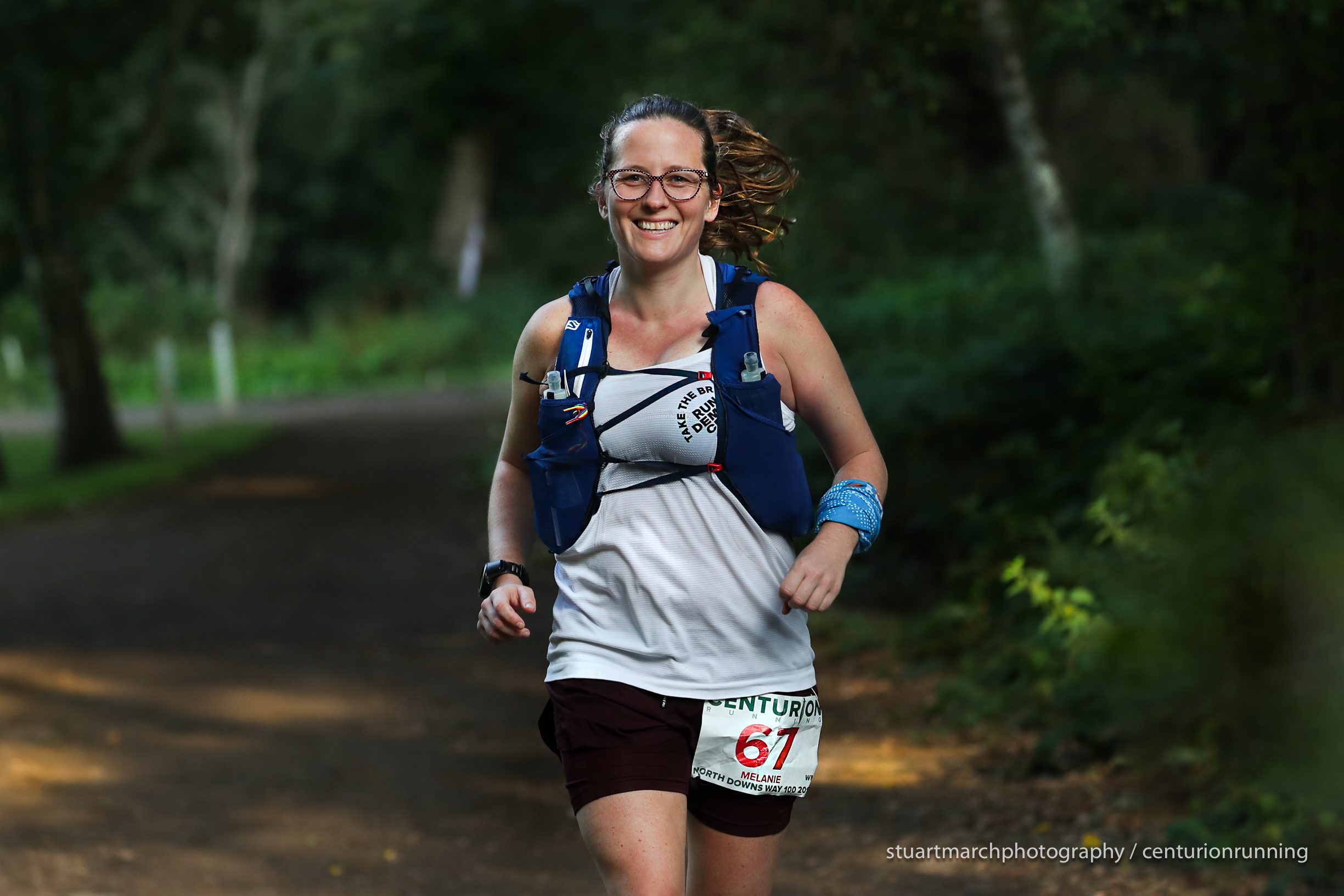 The mens course record has stood since 2013 and it's holder, Ed Catmur went off just behind the early group of front runners. It was this years NDW50 champion, Rob Payne, who set the course alight in the first half. His splits through Newlands mile 14.5, 1:45 and Box Hill, 3:00 flat were miles up on course record splits. In fact, they were within a couple of minutes of his splits at the NDW50 in May. Rob didn't slow down, he simply kept his foot on the gas and he emerged into Knockholt Pound mile 50 in 6:49 elapsed, just a minute down on his winning time from the 50 and over 20 minutes under course record pace. He looked slightly concerned but in control and took his time in the check point to ensure he had what he needed.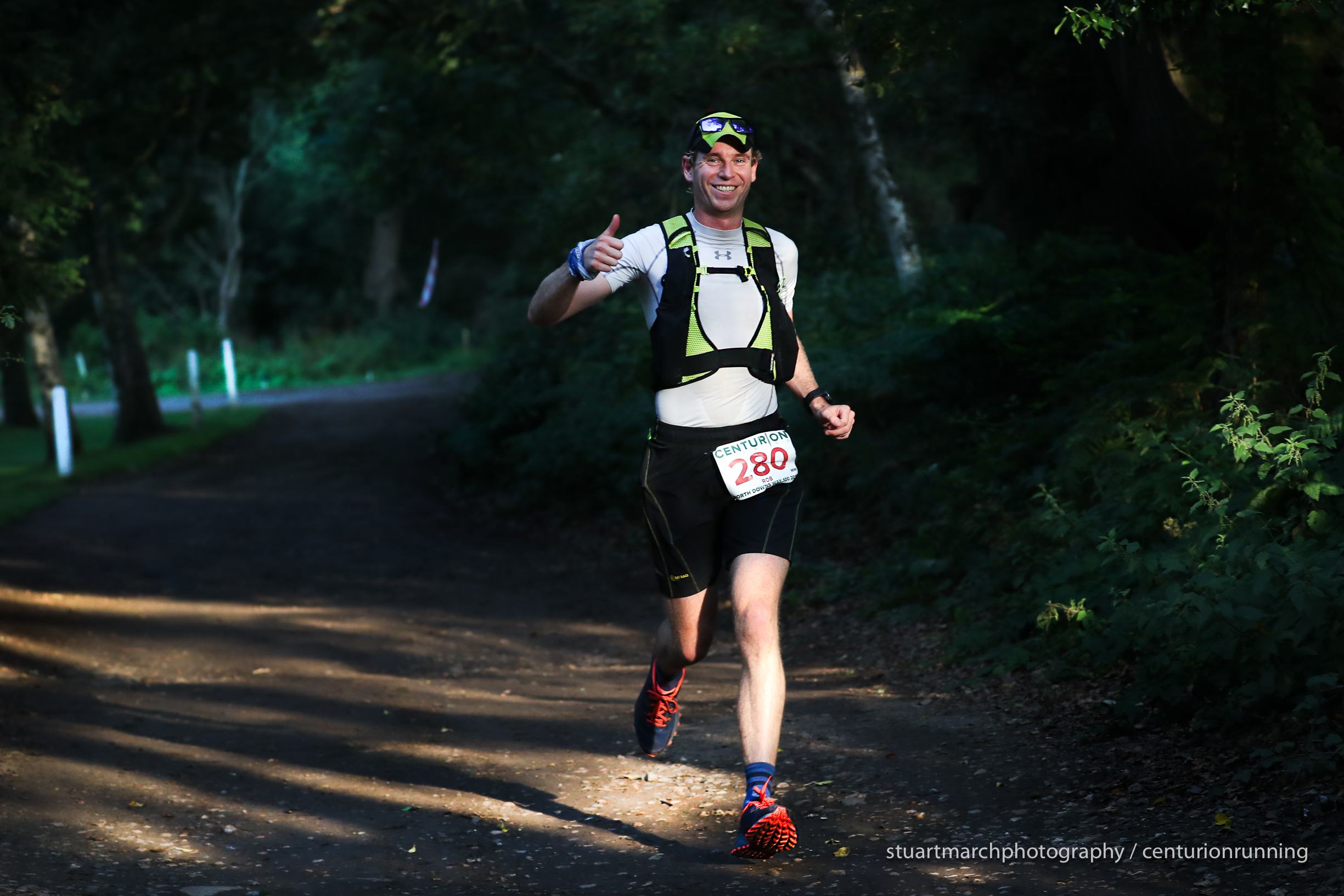 Rob Payne built a big lead early on
Meanwhile, Mark Darbyshire in second, had maintained a gap behind Rob of 15 minutes across much of the first half. He came in to the check point at mile 50, 15 minutes back but passed straight through and made up five minutes on Rob in one fell swoop. He looked focused and fast.
Closing the gap over the coming miles, Mark eventually caught Rob just after Bluebell Hill where running together for a short stretch, the two missed a turn and added a few minutes to their respective journeys. Quickly realising their mistake they backtracked and continued on, at which point Mark began to stretch away. His splits over the final marathon were absolutely exceptional as this first time 100 mile runner seemed to execute the dream race which eludes so many at this distance. He ran over the line in 15:18:41 elapsed to set a new course record by a huge 26 minutes.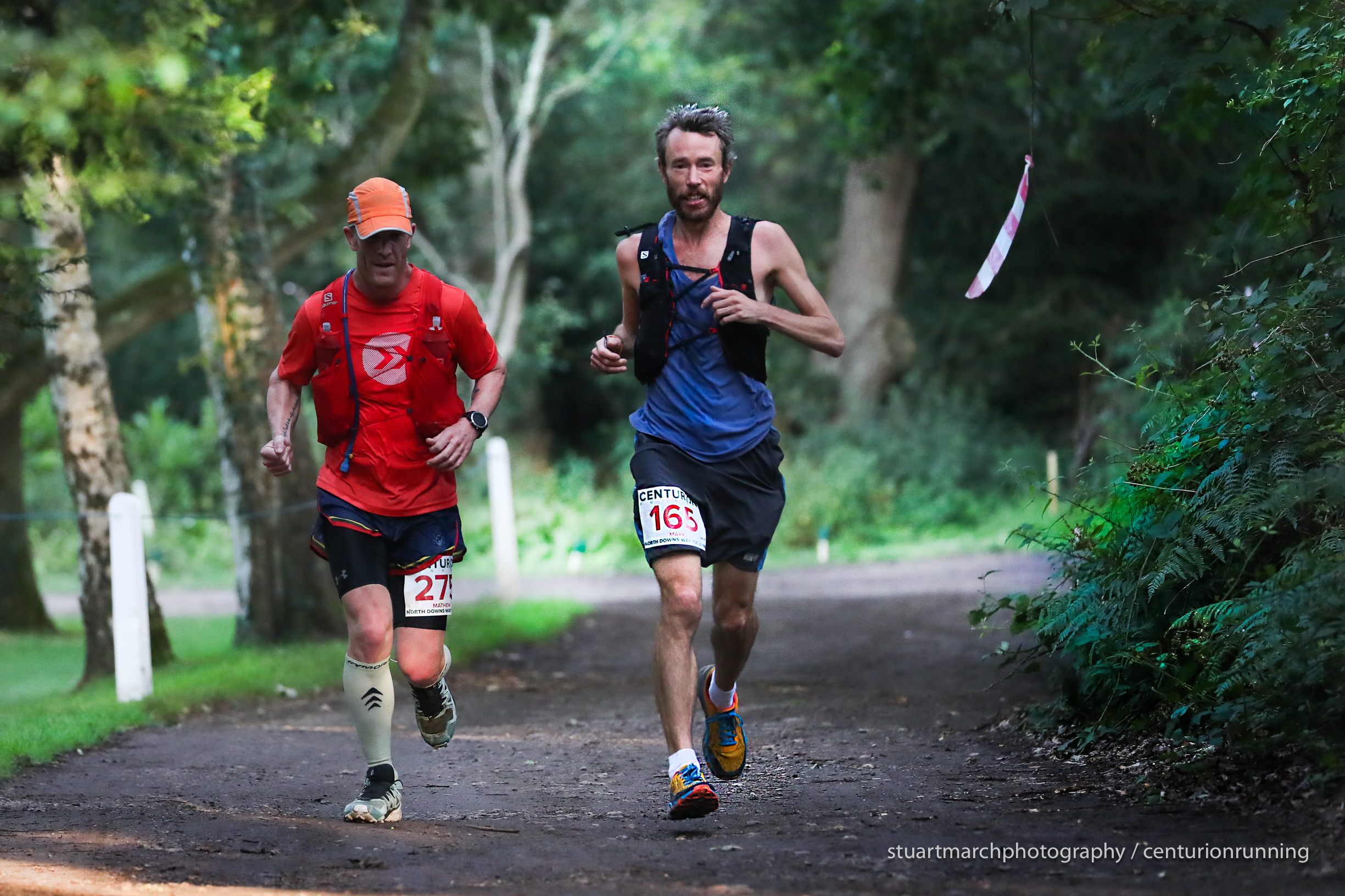 Mark Darbyshire running strong early on, during one of the exceptional all time performances at our events
How good a run was this? Given how long Ed Catmurs' time has stood, the calibre runners that have had a go at it and the difficulty and length of this course I think it's fair to put Mark's run up there amongst the handful of very best performances we have seen over the 9 years not just of this event, but all of our events.
Behind Mark, Rob although slowing, ran home for a superb 15:46:19, just two minutes outside of the previous CR and good enough for third on the all time list. This was also his longest race to date. To have two guys coming through and racing to this level with relatively little experience behind them makes for a really exciting future.
Third place went to George Darvell in 16:34, another younger runner who had a solid day creeping up through the rankings across the full distance. He passed John Melbourne in the third quarter of the race. John eventually ran home in 17:07 to continue making huge gains on the overall Grand Slam record.
In the womens event, with Susie Chesher our all time fastest 100 mile finisher sadly not making the start line, the race was cast wide open. At Newlands Corner 14 miles in, Karen Hacker and Rebecca Lane arrived almost together, Karen exiting around a minute ahead. They both seemed somewhat shocked to be told they were in first and second but excited too and both looked comfortable. This was Karen's first 100 but after a podium finish at the WW50 last November where she looked strong, it seemed to be a real possibility from early on that she could run away with the win. She increased her lead over the rest of the field with each passing check point eventually making knockholt mile 50 in 8:51, with Rebecca slipping back during her third 100 of this season so far, and Linsdsay Hamilton and Kelsey Price coming through to second and third at the 50 mile point, 21 and 44 minutes back respectively.
Through the 100km mark, Karens lead was over half an hour and from there she closed out to come home almost an hour ahead of the field and with the win in 20:40:38. Lindsay and Kelsey stayed in 2nd and 3rd respectively right through the second half also. Lindsay crossing the line in 21:37:19 and Kelsey coming home in 22:59:52.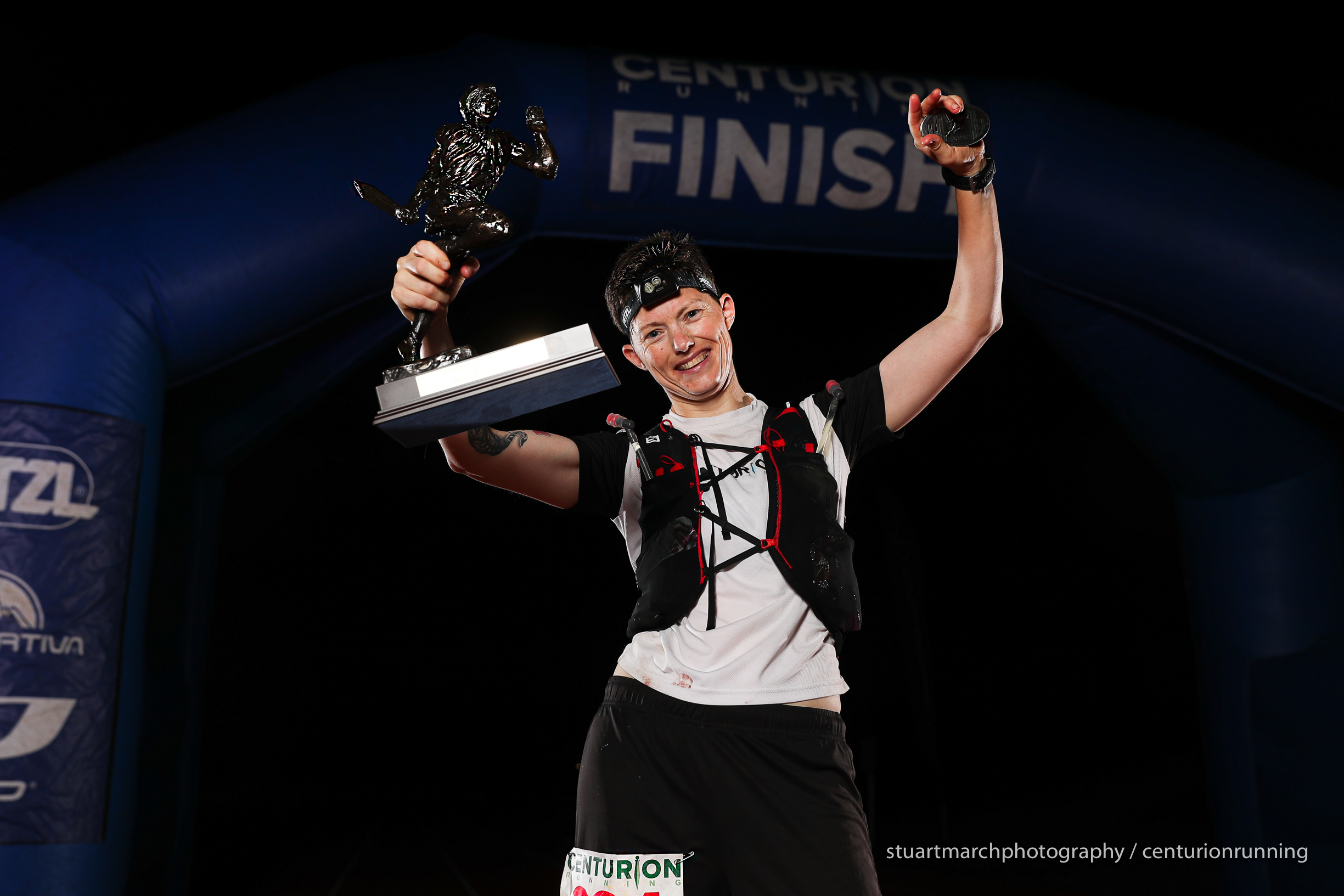 Karen Hacker took the win in her debut 100 miler
In the age groups, Mark Darbyshire was MV40 winner to go with his overall victory. The MV50 award went to Andy Jones in 21:18 and Simon Bennett was lead MV60 in 27:53.
The FV40 prize went to Ema Nakajima, over from Japan for this race, in 24:20:09. FV50 went to Jeanette Rogers in 27:21:11.
188 runners crossed the line, 58 inside the 24 hour barrier to earn their one day buckles and an overall finish rate of 66% - all were new records.
Our thanks as always to the over 100 volunteers who made this race the success that it was. We will be back in early August of 2020 with the 10th anniversary of this event.