The Piece of String Fun Run made a come back this year after a 5 year hiatus whilst the twin RDs recovered from having children. After 3 editions and 9 total finishers it was time to give runners a break and make this one really easy to finish.
The race format echoed previous years. Runners had a start time and location but that was all. No indicators of the route or how far they would need to run in order to finish. In many ways this could be the purest running race format of all. Runners must simply switch off to the constant pressures of the garmin/ suunto argument. Distance being something to be forgotten, not fixated upon.
As in previous years we limited the field size to 10 select individuals. Applications were received from far and wide. The first test is passing the application process and many fell short at the first hurdle in failing to apply in the correct way. Their submissions were filed directly into the trash receptacle, both electronic and material, without further exploration.
We then whittled down those who had applied using the correct procedure to those we felt had a very solid chance of lasting at least several hours of torment. This was without doubt the highest calibre field we have yet had start a Piece of String. The reigning champion David Pryce was joined by Grand Slammers, Double Grand Slammers and finishers of multiple high level ultras. Our one female starter Allie Bailey was our only Upper Class starter having sent us by far the most spectacular entry yet received, complete with numerous wax seals and eloquent prose.
All seemed prepared for a very long outing, the day would unfold as it would unfold....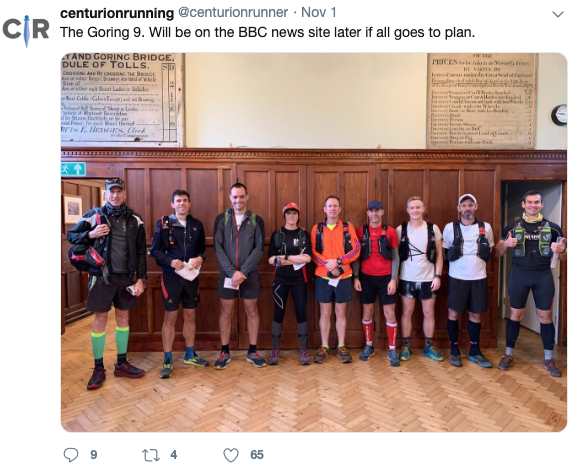 Race started at 0853 prompt and runners were sent out on a reverse of our Chiltern Wonderland 50 course beginning in Streatley on Thames. The pack hit the high street in Goring after half a mile, as one, and were immediately diverted to the train station where they were supplied with tickets for the 0919 to Reading, Thames Path maps and the instruction to make it back to Goring by 1230 on foot by any route of their choosing. Having supplied each of them with trackers, but having hidden the link so only we could see it, it was somewhat amusing to see Ivor Hewitt 'drop the hammer' and proceed to come back north of the river via Caversham on the most direct route possible.
Ivor won the initial race back to Goring by quite a margin! He came home with 10.5 miles on his watch and at least a 20 minute lead! Superb! But then he found out that meant he simply had a longer wait during which to get quite cold, whilst the others straggled in to re-congregrate in time for their next train.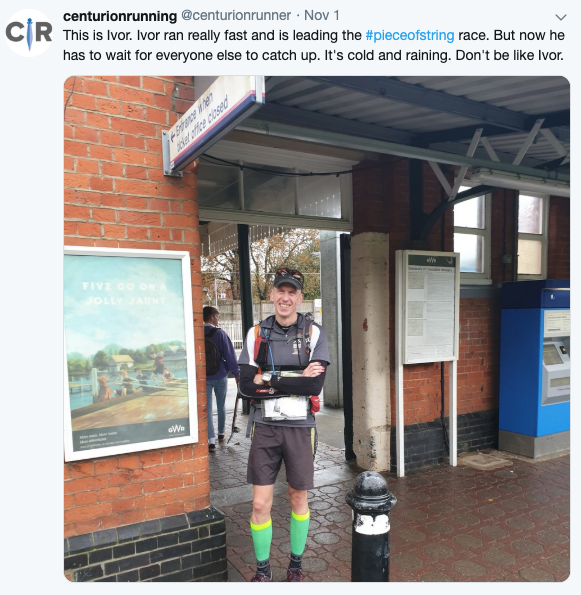 This time the runners were on the midday service to Maidenhead! And were joined in the carriage by the two RDs. This seemed to perturb some of the 9 more than others, who were convinced more diversionary tactics were imminent.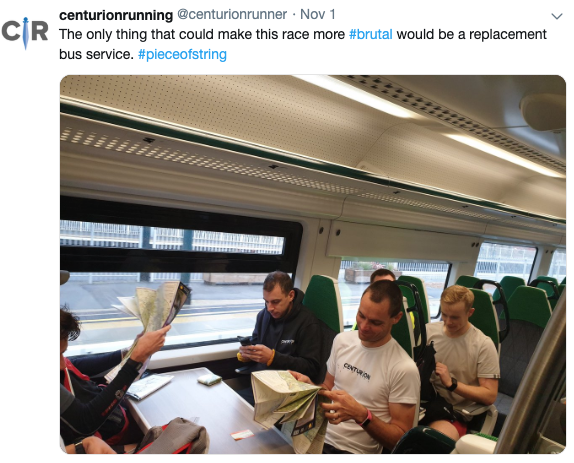 Alas they were disappointed as said RDs departed at Reading to enjoy a casual leisure jog back up the river. The runners got off at Maidenhead and began a southerly run via the Thames Path once again. As far as Runnymede, the field began to spread out with certain runners looking to gain a 'lead' over rivals.
This turned out to be less futile this time as the next stage was unfurled, a marathon down to Kew Green. At this point having been out until darkness, runners had in fact only covered 50 miles or so, due to the substantial time spent on trains or waiting for trains.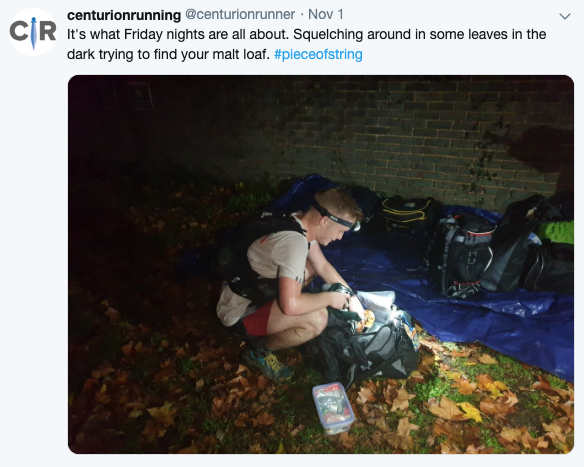 Matthew Duckett arrived into Kew first and seemed in fairly high spirits. He was handed the next section, a continuation on the Thames Path past Battersea Park around 8 miles away. He remarked at that point that he was going to be going within just 2km of his house! Little did he know he would actually be going a lot closer than that....
As Matthew continued on with now a circa 30 minute lead over all rivals, runners came and went via Kew in varying degrees of joy and misery. Some were taking things in their stride, expecting the course to have them out most of the weekend. Others complained of issues but bravely soldiered on. Only one runner decided to call it quits there, original Grand Slammer Tremayne Cowdry having had enough for 2019. We were getting some trouble ourselves.
"What are you doing?" – A common question asked by concerned passers-by when you have parked a couple of cars in a dark riverside carpark while shining torches randomly. The first couple conversations tend to be like "we are doing a race, no one knows how far it is. Yes we do but they don't. Yes we still tell them which way to go. I have no idea how they trained for it. I don't know when or where they will sleep. Yes I'm sure they have stopped for a wee. Yes they have torches. No they don't know when they will finish…." Then we got annoyed and instead say "we are dogging. OK?"
Matthew continued apace and was diverted at Battersea Park on a route which led to Balham station, around 5 miles away. He could NOT believe it. We were literally going to have him run down the road parrallel to his flat! On arriving at that point, he was met and diverted down his ACTUAL STREET!!!! due to the road 'being closed up ahead'. Upon arriving at his front gate he found a feather flag cable tied to it (miraculously still there having survived any drunk interest). And promptly became the first finisher of the 2019 Piece of String Fun Run. The course was the shortest ever at 100km exactly. An extremely generous year.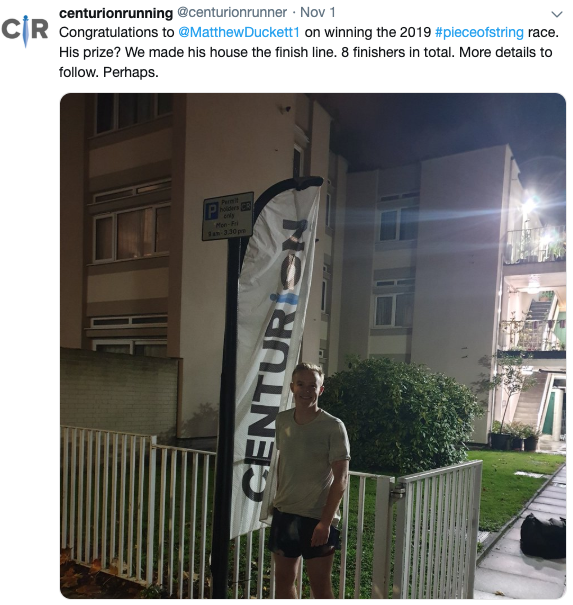 Other runners continued and were seemingly quite happy to continue to Balham, mainly in groups where they were also diverted to finish at Matthew's house. Ivor Hewitt, Andrew Melbourne and John Lovegrove finished second equal, together and promptly joined Matthew in the pub just in time for closing. Fifth placed Nigel Cowan was allowed to finish at the pub itself given that his tracker went black at the last possible minute and he subsequently walked past the amassed finishers in the pub window. Sixth equal went to David Pryce, now the only two time finisher of this event who arrived with Paul Mcleery. First and last place female runner Allie Bailey was at Matthews front door by 0115 Saturday bringing to a close the most successful finisher totals at this race ever. 8 out of 9 starters made it to the end.
What was clear was that this year everyone came prepared for a very long weekend. Each had thought carefully about the format, had given it respect and come ready for what is a huge mental and physical challenge. Many threaten to return for the next edition....
Long live the Piece of String.