The ambition behind the Track 100 is really simple. To provide the optimal conditions for a small number of athletes to shoot for 100 mile records at World, National and Age Group level. Whilst also recording official splits at the other ultra distances recognised by the IAU and World Athletics on route.
The 100 mile distance has always been our main focus at Centurion. In 2019 we held the first edition of the event and 8 runners took to the start line. Tom Payn won the mens event in a time of 12:25 and promptly put himself 8th on the British all time list. Debbie Martin-Consani was our first and only female finisher in a time of 16:21.
For 2020 we had possibly the highest calibre 100 mile field ever assembled lined up to race including both the mens and womens 100 mile world record holders, Zach Bitter and Camille Herron. Plus Aleksandr Sorokin, the World 24hr Champion, alongside the best of British 100km and 24hr talent. Of course the pandemic took that event out just a month prior to race day and we postponed to this year.
For 2021 we accepted 25 applications, hoping that it would yield between 15-20 starters. That is the optimal number in our opinion for a race of this nature. Enough to create competition and atmosphere, whilst reducing to a minimum any congestion on the lap, in the crew area, or requiring much additional distance to be added through overtaking.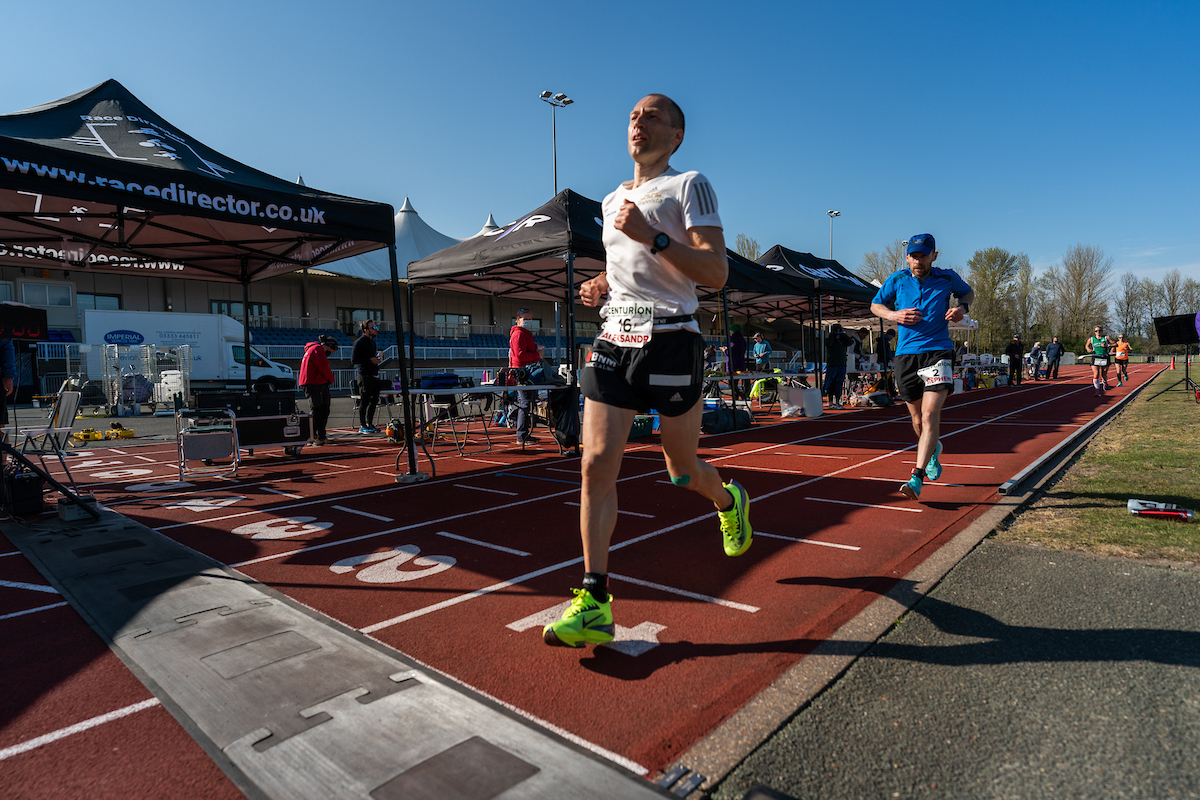 Photo c/o Steve Ashworth
The international travel restrictions ruled a handful of top athletes out and reduced the field to a core of English runners, plus two Scottish athletes given permission to travel by Scottish Athletics. We were able to get one international athlete over but it was a huge effort to do so. Aleksandr Sorokin a resident of Vilnius, Lithunia, World 24hr Champion from 2019, wanted to do everything he could to race. He is in incredible shape after training hard all through the winter and with the World 24hr Championships later in the year, the timing allowed him an all out effort for the 100 mile World Record. We worked through his travel, Covid testing and quarantine plans with Bryn Jones who would also crew for him on the day. Bryn set Aleksandr up with accomodation complete with treadmill given that he would not be able to train outdoors until his test and release scheme was complete. He was finally given the all clear to leave quarantine on the Thursday afternoon before the race and ran for the first time outside in over a week. He was ready to race.
We had invited Steve Ashworth and Summit Fever Media to come down and shoot the race, to try to document what we hoped would be a special day. They were able to produce some astounding content as the worked all day to cover the race from start to finish. It makes sense to break the report down the same way so here is how the day went.
Part 1
The day before the race is a busy one as set up is carried out. Partial lap distances measured so we can ratify the other distances/ splits on route to the 100 mile including 50km, 50 mile, 100km, 6 hour and 12 hour. Final meetings with the Referee and Timing Officials are carried out and the infrastructure is put in place for the day.
Part 2
The race began at 0600, with the sun just starting to break over the horizon. Temperatures were in the low single figures and with a little wind, it felt cold and gloves hats and jackets were on for most. That first few minutes are nerve racking for all, as timing systems are checked, officials are getting settled and manual lap counters bank a few sets of lap splits and begin to get to know their athlete.
Then for several hours, athletes just tick away, finding a rhythm, getting famiiar with the ebb and flow of track ultras.
Part 3
Runners are settling in to their respective positions and working each other out in the goldfish bowl that is track racing. Out front by a margin is Jason Porter, the only athlete who had declared he was aiming for 50km specifically. He is moving a minute per mile faster than anyone else and is visibly working hard for his target. A group of men ran with a lap of each other for an extended period of time including Aleksandr Sorokin, Joseph Turner, Rob Payne and Andy Jordan.
In the womens race, Sam Amend is running well under an 8 minute per mile average pace in her assault on the British record of 14:43. 8 minute miling for 100 miles is 13 hours 20 total time so her tactic is clearly to put some faster miles away early on.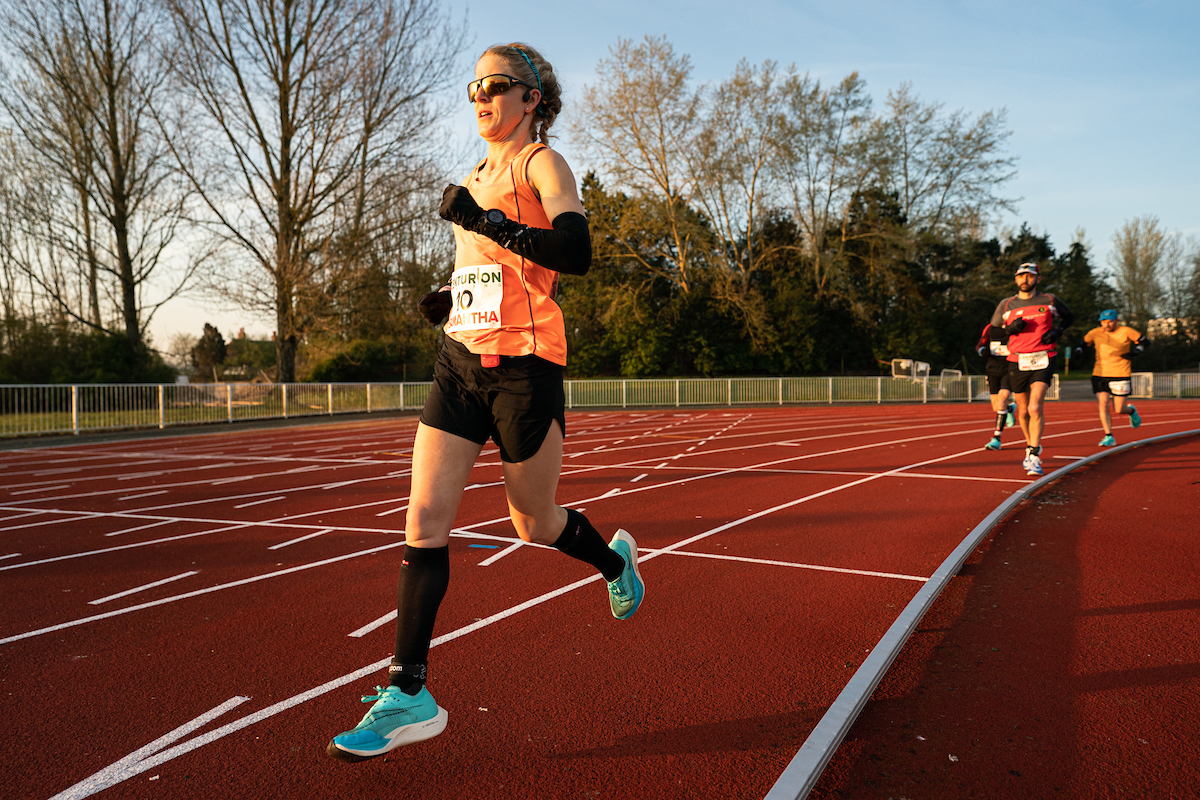 Sam Amend led from the gun (Photo c/o Steve Ashworth Media)
The remainder of the runners look consistent and focused mainly on their own individual performance rather than 'the race' itself. This is all about them vs the clock rather than one another.
Part 4
Jason Porter made the early part of the race very exciting however, as he had declared he was shooting at the 50km distance in specific. He went out with authority and for the first 2 hours ran a steady 5:40 mile pace to put himself in with a very good shot of breaking the magic 3 hour barrier for the distance. As he hit 40km he began to suffer and stopped briefly twice, intending to drop from the race. But with some gentle encouragement he found the resolve to push on and passing through the marathon mark at 2:31 he was able to push on to a finish time of 3:00:49. There is more to come from him, for sure.
As runners make the first turn to change direction at 4 hours, Aleksandr has risen to the top of the rankings. A 3:25 split for 50km is a minute or two ahead of the average pace he needs to maintain to break the world record of 11:19. He looks totally in control and extremely smooth.
Sam Amend makes 50km in 3:54 leading the way for the ladies, again well ahead of the average pace she needs to achieve overall for a British record.
Team GB 24 hour athlete Rob Payne is the only casualty so far, with a glute problem that got progressively worse forcing him to walk and eventually to stop not long after the 50km mark. We are down to 13 athletes left on track.
Part 5
Aleksandr Sorokin blows through the 50 mile mark in 5:32:01, setting a new Lithuanian National Record. That split puts him 8 minutes head of Zach Bitters 50 mile split on route to his 11:19 World best. The conditions are still good although the wind is gusting at times and coming from the North East which is the exposed side of the track. He goes on to make 87.13km in the 6 hour split and crosses 100km in 6:54:25. Every single lap is within a margin of 8 seconds between 1:35 and 1:43.
Behind him, Joe Turner ran really well to 50 miles in 5:49:10 but stopped just a few laps afterwards. That left Mark Innocenti who has looked good all day, to pull into second place. He makes 50 miles in 5:55 and 100km in 7:32. These are extremely impressive times in their own right let alone on route to 100 miles.
Our first records of the day are set by Andy Jordan. Andy is the only runner in the MV55 category and he runs a 6:11:36 50 mile split for a new British age group record. His 6 hour split is also a record mark: 78.22km.
In the womens race, Sam Amend makes 50 miles in 6:41 which is almost precisely 8 minute miling. Her 6 hour split of 72.995km is a new FV40 British 6 hour record. She can now afford a hefty tail off and still run a British 100 mile record.
Second placed lady Jo Newens records the third and fourth records of the day as she sets a new British V50 mark of 7:15:25 for 50 miles as well as a new 6 hour FV50 standard of 68.20km
Over the next several hours to the second turn at 8 hours and beyond, we lose a few more runners. Rob Forbes and GB 24hr runner Mike Stocks' days are not going to plan and both drop out, Rob just passed 50 miles and Mike makes 100km before calling it a day.
Part 6
As we tick up to 9 and 10 hours elapsed, it becomes clear that we are likely to be witnessing the greatest 100 mile performance of all time. Aleksandr doesn't drop off of his pace by more than a second per lap. He continues to fuel and hydrate well. Chocolate and cream cheese sandwiches, Maurten, a Lithuanian energy drink, Oranges, Red Bull and coke/water mix are all going in. He 'only has a half marathon in 1:34 left to run. He hits 150km in a new world record mark of 10:27:48. We are now just 10km from his finish.
The remainder of the runners continue to grind away but briefly all attentions switch to one man. With three laps to go we converse with Bryn, his crew, and decide to hand him a note to get him to think about pushing on to the 12 hour split/ record once he breaks the 100 mile. This is something that Zach Bitter has done twice in the past having already set 100 mile times and is that possibly once in a lifetime opportunity to shoot for two world records in one performance. He takes the note and a lap later confirms that he is going to stick it out for another 45 minutes. The mental resolve to do that is beyond anything any of us can imagine.
But still he doesn't look anywhere near as bad as he has done at several of the 24 hour events we have seem him run at. He looks in complete control, does he have even more to give?? He breaks the 100 mile world record coming past in 11:14:56. His second half split of 5:42 is 4 minutes slower than Zachs but overall he takes just over 4 minutes off of the World Record. He pushed on to 12 hours, slows only marginally during the closing minutes and sets a new best there of 170.309km.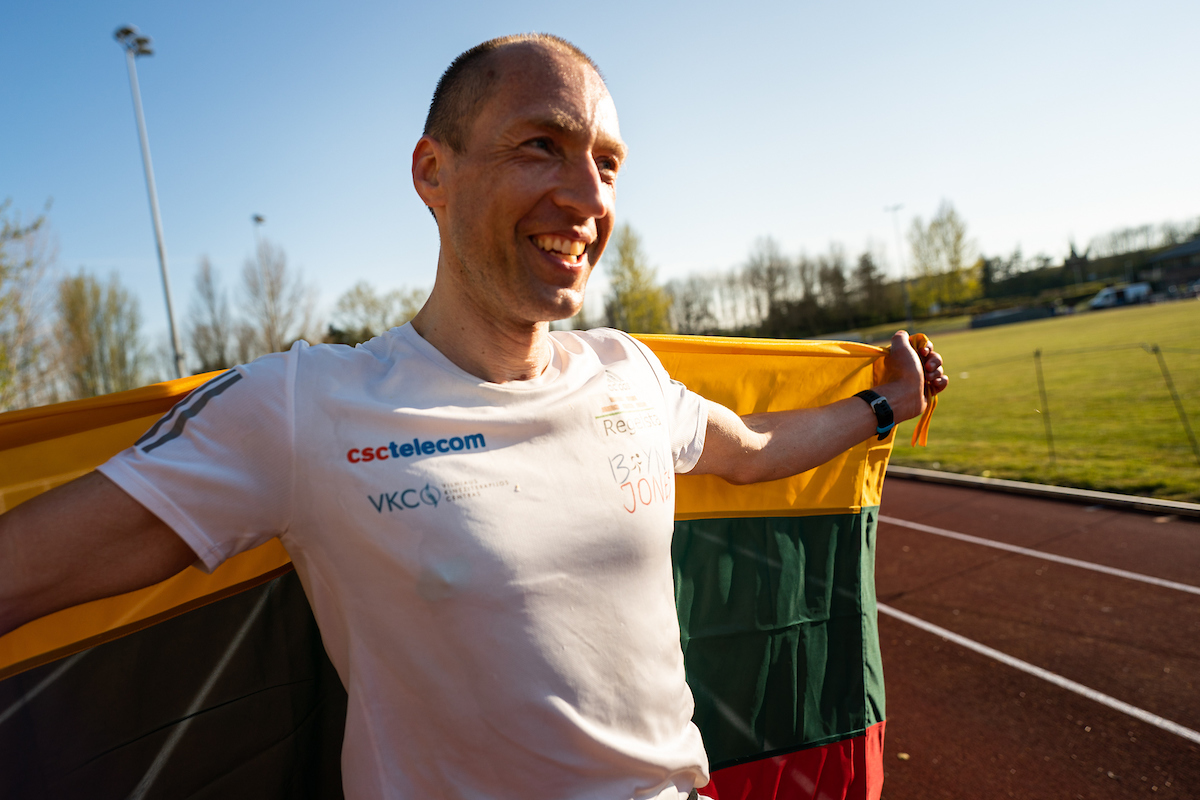 Aleksandr celebrates at his 12hr mark on the track. Another world record. Photo c/o Steve Ashworth Media
He is immediately whisked off by UK Anti Doping to perform his urine test, necessary for record ratification. Everyone is left speechless at what they have witnessed. Yet he seems to take it in his stride, there is no ego, no drama. Aleksandr is a man that just loves to run and to push himself. He is an inspiration to all of us.
There are still many stories being written around him and we turn attention fully back to the 8 athletes still out on track.
Part 7
The time between 100km and 100 miles is a nomansland in distance running. The only other point in time to lean on is the 12hr mark, where the runners make their final turn around and change in direction on the track, as well as recording a 12 hour split. Otherwise it is just them and the dozens or even hundreds of laps left to the 100 mile target.
Four women started the race and all four remain amongst the eight still running. Jo Newens is continuing to set new records with a new British FV50 12 hour best of 121.97km. There is also another record at 12 hours, Ali Young sets a new FV45 British age group record of 125.01km.
Sam Amend continues to lead the way, she suffers a fairly major low patch where the record seems to be slipping away and at one point, her average pace points to a 14:50 finish which would mean her just missing out on the British Record.
Meanwhile Mark Innocenti finishes second in the mens race in an astounding 12:34:51 putting him joint 9th fastest all time by a Brit with the exact same time as Bill Carr from back in 1975. Third place is taken by Stephen Marks in 13:41 and fourth by Grant Macdonald in 14:31, both PBs and superb runs.
All focus is however on Sam. Over the last 90 minutes she digs deeper and deeper and speeds up substantially. Her splits are improving rapidly and it is quite clear that today, she has the fight to do whatever it takes to achieve her goal. Total focus and determination are required and she has both. As we tick closer to the 14:43 mark to beat, it's clear she has done enough. WIth 5km to go she has almost 30 minutes to do it and do it she does as she crosses the line in 14:34:03 to set a new National record - one that has stood since 1991 and belongs to Eleanor Robinson, who together with Hilary Walker are possibly the two greatest female long distance athletes we have ever produced in the UK.
Part 8
Four athletes remain on track and when Mike Bisson finishes in 14:43, another huge PB and particularly impressive given some major stomach issues a few hours earlier.
Three ladies remain. Ali Young and Jo Newens are in respective battles with history to set new British Age Category marks. Sarah Sawyer who has been metronomic all day is starting to gradually slip in her pacing and it is clear it will go all the way to the wire.
Ali seems to be able to give the same drive and focus that Sam found in the finishing stages and drives hard over the closing laps to record a new FV45 British best of 15:41:17. It is a PB of almost an hour for her and thoroughly deserved given how consistent she has been in lapped format events over the last 6 years.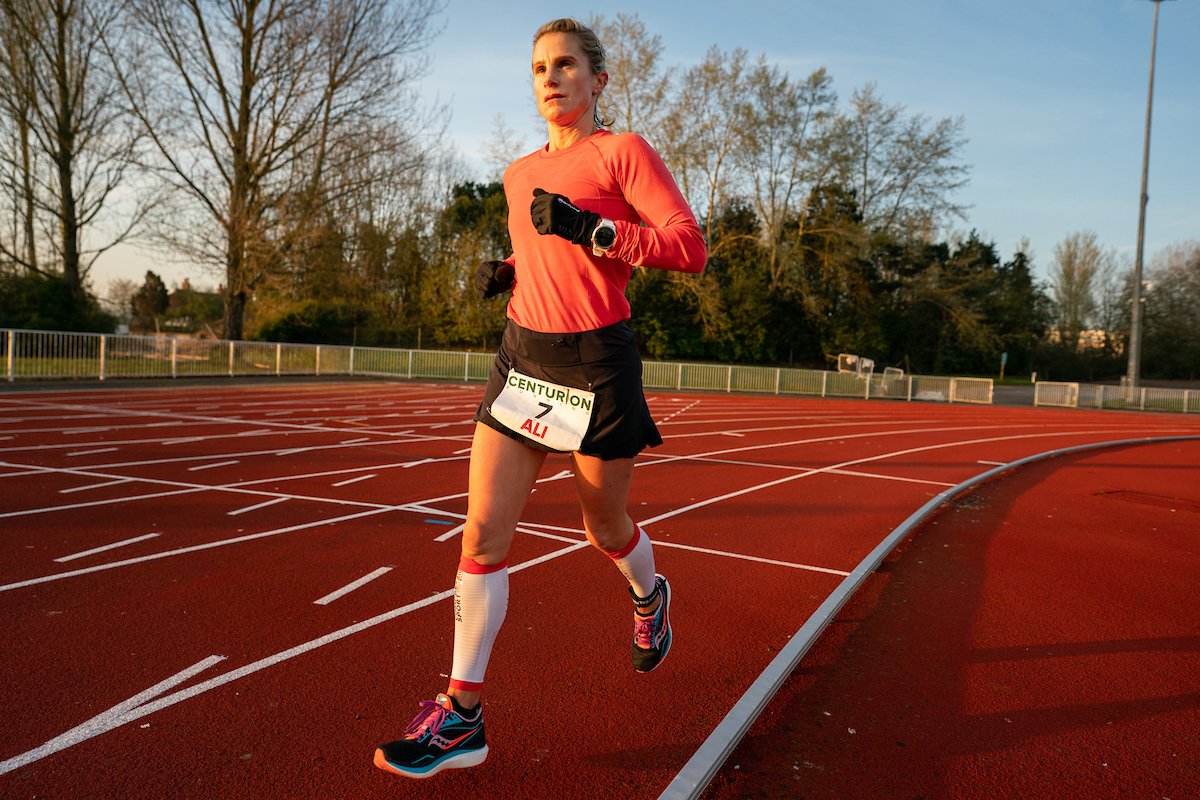 Ali Young (Photo c/o Steve Ashworth Media)
Jo Newens digs equally as deep and obliterates her own FV50 British record coming home in 16:32:39. It is the 14th World or National record of the day.
Sarah Sawyer is at the exact same moment grinding to a halt as she pours every ounce into the race. Mentally it is clearly well within her capability to get it done but the 17 hour cut off and a lean which is getting progressively more pronounced are going to stop her from getting there in time. With just over 5km to go it is over for her. No doubt she will return.
Our biggest thanks to the teams of manual lap counters, general volunteers, our race officials, UK Anti Doping, the Julie Rose Stadium and all of the runners and crews for making this a day that none of us will ever forget.
A summary of the Mens 100 Mile World Record and History
To put a little more story behind the time we saw Aleksandr run, we spoke to the ultra statistician Andy Milroy, who gave us some notes to reflect on.
The race was important on several levels. It sustained a long ultra tradition going back close on a century of overseas runners coming to England to challenge for records, particularly the 100 miles.
Arthur Newton in the 1920s, Hardy Ballington pre-war, then post war Wally Hayward, Gerald Walsh, Ted Corbitt, Jean-Gilles Boussuquet, Oleg Kharitonov and Denis Zhalybin and now Aleksandr Sorokin. So an illustrious history.
Aleksandr brought the World 100 mile record back to Ashford after close to 200 years - Edward Rayner previously set a world record in Asford in 1824 - 17:52!
In a period without championships, a major international race where world records are set, overseen by the IAU, is both significant and important.
Aleksandr Sorokin's marks are historic because it moved the 100 miles to a split time, with the 12 hour event now being much stronger. The 15 hour barrier for the 200 km is within reach - Zhalybin ran 15:08:53 on the road, Kouros 15:10:27 on the track... Fifty years ago, in 1972, Derek Kay was the first man to run 100 miles in under 12 hours, running splits of 5:56/6 hours. Now the race is on to 11 hours... In 1970 Dave Box ran 12:15:09; two years later in 1972 Derek Kay ran 11:56:56. The 100 mile world record basically stagnated from the late 1970s, and the 2002 race barely moved it forwards - from 11:30 to 11:28/11:29. Zach Bitter has worked so hard over many years at the distance, but only moved it by ten minutes. Aleksandr moved the best by just over four minutes from there.
It has taken fifty years to progress 42 minutes. Arguably a sub 11 hours 100 miles should be imminent. Zach and Aleksandr being the two obvious protagonists to move this forward. These world class runners are unassuming because they don't live in a hype bubble, each race they are faced by ordinary runners who will face exactly the same course and endure the same problems.