The twelfth edition of the Autumn 100 co-incided very nicely with the start of more autumnal weather here in the UK. Highs of 24 earlier in the week dropped to 12 on race day, almost the perfect running conditions with it also being lovely and bright. An overnight temperature of just 3 degrees out on the Ridgeway, with a little wind mixed in, took many runners out of the race but a clear star filled sky was also enough to lessen the blow for those who soldiered on.
A very close womens race, a new mens course record and a story of unbelievable long term endurance were the key ones from the weekend.
To the latter first, as most were aware coming in, this was to be Ken Fancett's 100th 100 mile race. Ken started running 100 mile races in 1992, but didn't become overly prolific until 2010. Since that time he has run many marquee events including Western States and Leadville and 41 of our 100s, finishing 10 Grand Slams in the process. At this event he simply needed a finish to complete the 100th. Our RD James chatted to Ken the week prior on the podcast here for more of Ken's back story. Finish he did in a little over 25 hours. At the age of 74 he inspires absolultely all of us to keep on striving forward. Many asked what he will do next? He will keep going of course, he has already entered our first two 100 milers of 2024.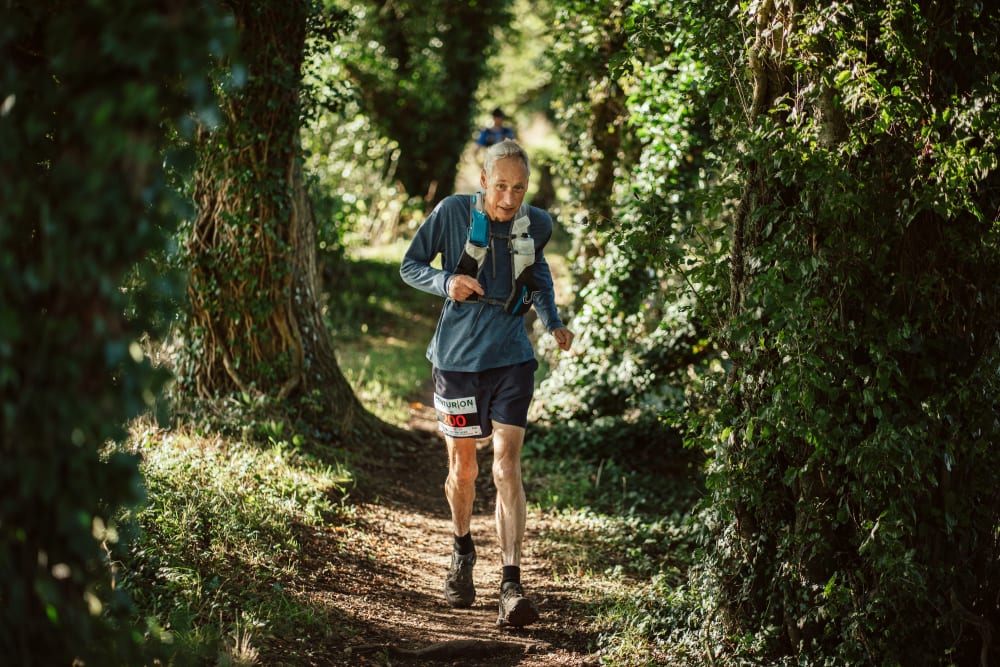 Ken Fancett on route to his Tenth Grand Slam, 42nd Centurion 100 Mile and 100th Lifetime 100 Mile Finish
A record field of 259 gathered on Saturday morning at 0900 for the race start on the Thames Path.
The womens race was close, competitive and exciting. This years' SDW100 champion Sarah Page ran out front for the first 37.5 miles, slightly up on Ruth Hawkins who was making her 100 mile debut. The two ran back to Goring from Swyncombe together and waited for one another before heading out on Leg 3. As their paces began to naturally separate them it was Ruth who moved ahead, back first off of Leg 3 and although Leg 4 proved to be a tough one for her, she still came home for the win in 19:16. Sarah also faded on Leg four but did just enough to fend off Rachel Stanley-Evans, finishing in 19:34 to Rachel's 19:37.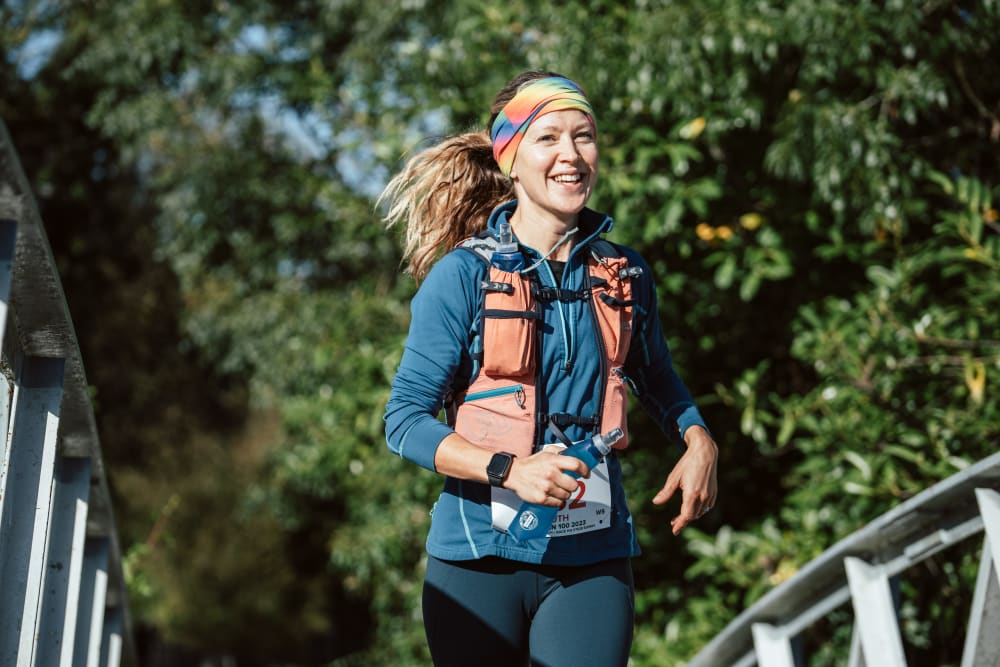 Ruth Hawkins went on to win her debut 100
In the mens race a new course record was set by Geoff Cheshire who led the race from wire to wire to come home in 13:58:47, just 30 seconds under the previous best mark. On a course that ran a mile long due to the diversion in the middle of Leg One, an even more impressive feat. Geoff, who also won our TP100 earlier this year in less than ideal underfoot conditions, wasn't really ever troubled in his run to victory, gradually extending his lead throughout the race.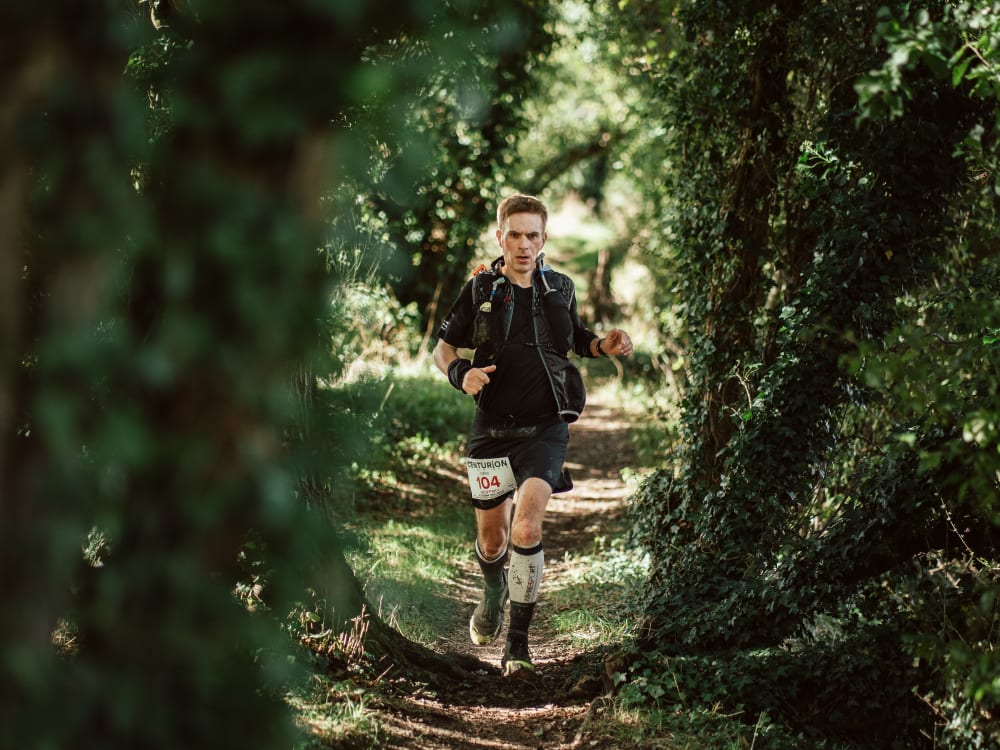 Geoff Cheshire
Rob Forbes ran home in second place, a position he also held from the start, in a super time of 14:38. Third place went to Justin Montague in 15:47, his second podium in as many years at this event.
In the Grand Slam, all 18 starters made it through this final event - the final table is here. Not a surprise given just how difficult conditions have been at the other 100 milers throughout this year. Pete Windross won the mens standings yet again, his fourth GS100 finish. And Dani Chiu was the fastest overall of our two female finishers - the other award going to Victoria Cousins.
In the Age Categories the FV40 prize went to Sarah Page also second overall. First FV50 was Laura McGill in 19:53 - a new age category record.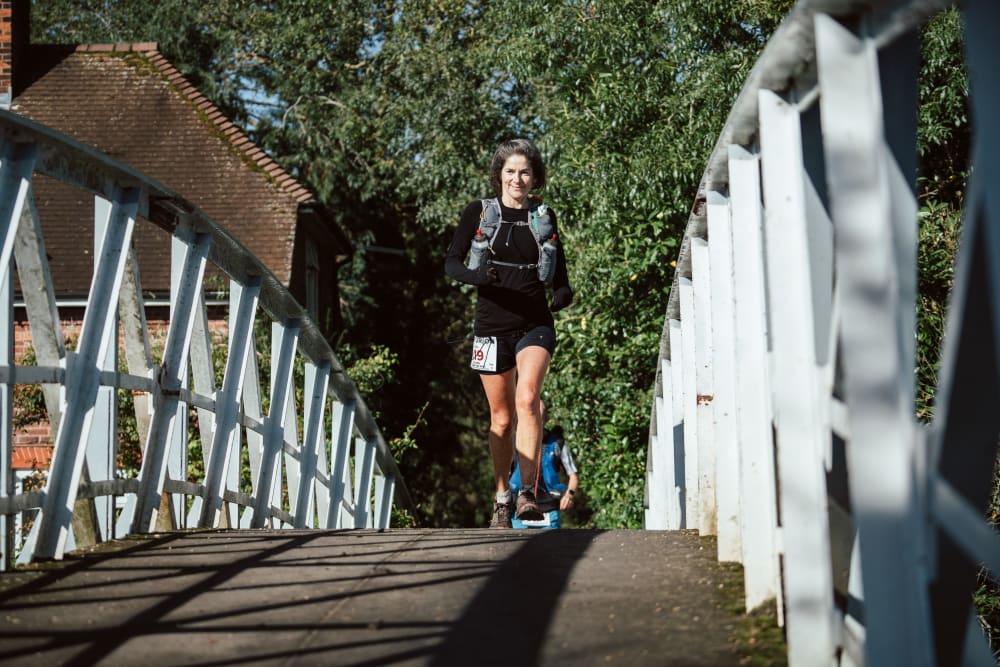 Laura McGill set a new record in the FV50 category
Geoff won the MV40 category and the overall prize. First MV50 was Pete Windross. First MV60 went to Vladimir Zalesskiy in 22:41 and the MV70 prize of course went to Ken Fancett.
Three runners finished their tenth Autumn 100: Eduard Egelie, Edward Catmur and Ken Fancett - and were awarded their 1000 mile buckles.
182 runners made it home for a 70% finish race, with 97 of those home inside 24 hours for the 100 Miles - One Day buckle.
A huge huge thank you to the 90 volunteers who made the race safe, successful and full of the community spirit that holds this race so high in both ours and everyone elses season.
Just the inaugurual Winter Downs 200 for us this year, before the winter break. We will see many of you in December!