Saturday 6th May 2023, a day that will be remembered by some as the Coronation day of King Charles III but to everyone out on the Thames this weekend, far more importantly, as the twelfth edition of the Thames Path 100.
A record field, showed up a to an overcast Richmond Old Town Hall and set off on their journey to Oxford University 100 miles away, into a light drizzle that rapidly became steady rain which would persist until well into the evening. That didn't affect things early on as the pace was typically very fast indeed from front to back over the early miles, with much of the initial section paved or all terrain path. But later on the course begins to enter flood plain, meadows and single track trail which became heavier and heavier going with the mud truly epic in one or two places by the end.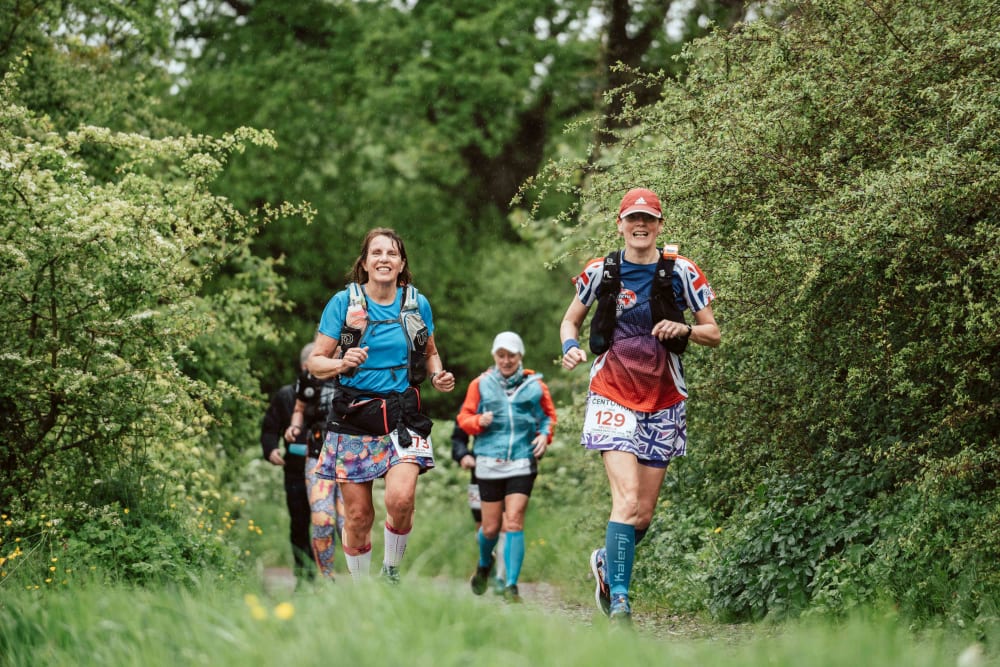 That hit our overall finish rate in an incredible way. It took an amazing 5 hours and 36 minutes for a single runner to drop out of the race and a scant 15 runners stopped before the half way point in Henley. After that, however, we lost a further 117 runners between mile 51 and mile 89 on course - leaving an overall finish total of 207 hardy souls or just 61% of the starting field.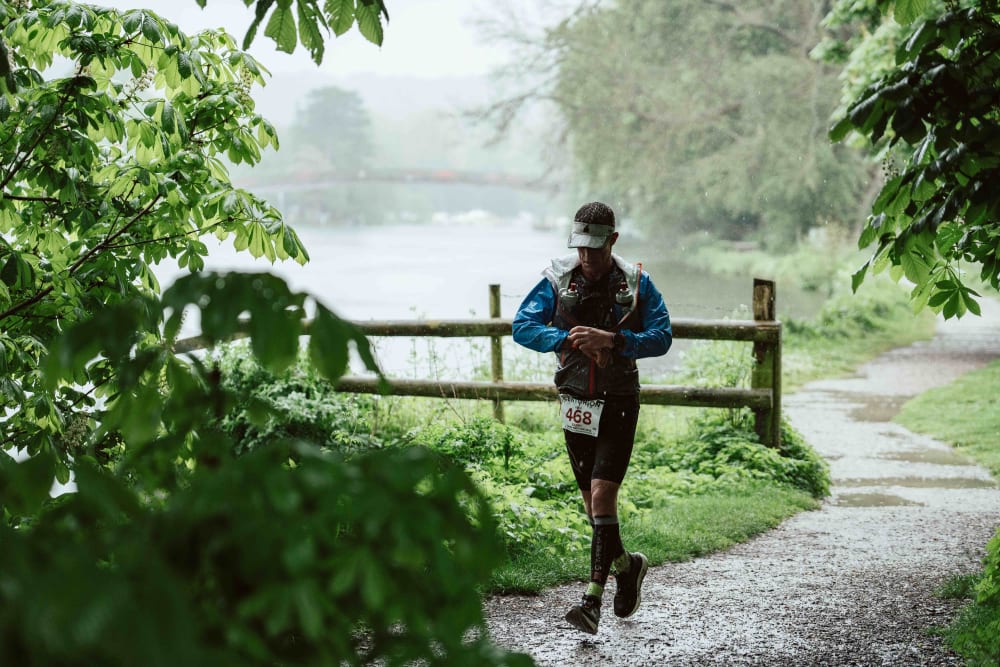 But the spirits of our leading men and women were not dampened. In fact it was a fast race up front with some excellent competition amongst the podium positions.
The race for the womens win was a formality however as an unshakeable Line Caliskaner, over from Norway, led from gun to tape. Norway is a nation with a strong record at the womens event here thanks to previous wins and podium finishes for Therese Falk and Ingrid Lid in years past. Line went off hard and didn't stop at CP1 as she tore through the opening 22 miles in 2:48. She increased her lead throughout, including when she took an incorrectly marked detour from the route (along with two others) which added a over a mile to her distance for which she was issued a 15 minute time credit. Behind Line, Sharon Walker sat in second for much of the day, applying just enough pressure for Line not to be able to afford to falter. But later on Sharon did fade and was passed by a storming Becky Atkinson who eventually took second. Line's winning time was 17:02, Becky came home in 18:02 and Sharon third in 19:11.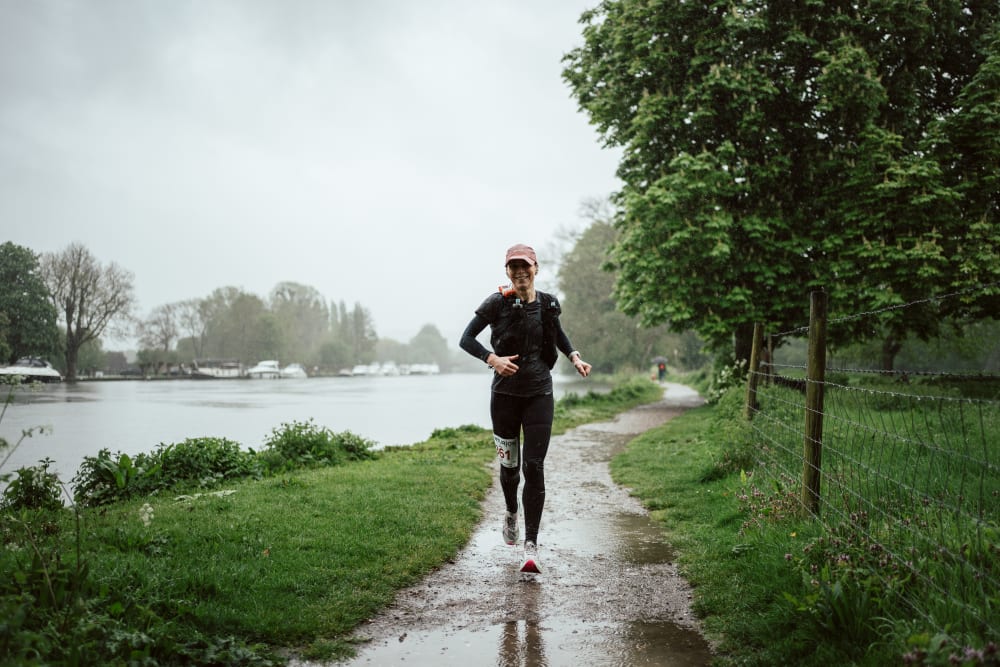 Line Caliskaner completely unphased by conditions led the race from wire to wire
The mens field was a deep one. The field included a handful of previous Centurion 100 mile champions including Paul Maskell, Geoff Cheshire and Pete Windross. But it was a new runner who made the waves early on and into the second half. Matt Field came in having won one and finished second in the other of his first two ultras which took place earlier this year over 50 miles. He was in unknown territory but running into Henley in 6:36 he held an 11 minute lead over Geoff in second. Just after Shiplake, Matt took the same marked diversion as Line later would, so whilst Geoff led on the ground, Matt was technically still ahead as the two made Pangbourne with the final third to go. The front three were all informed of the situation there so that any tactical racing needed to take Matt's 15 minute time credit into account.
Geoff however seemed unphased as he ran away for the win in what is probably his best result to date, coming home in a superb 14:18 which in the conditions is a truly remarkable run. Matt and Paul Maskell came over the line together in second and third, Matt's time credit bringing him out at 14:52 and Paul at 15:07, rounding out the mens podium.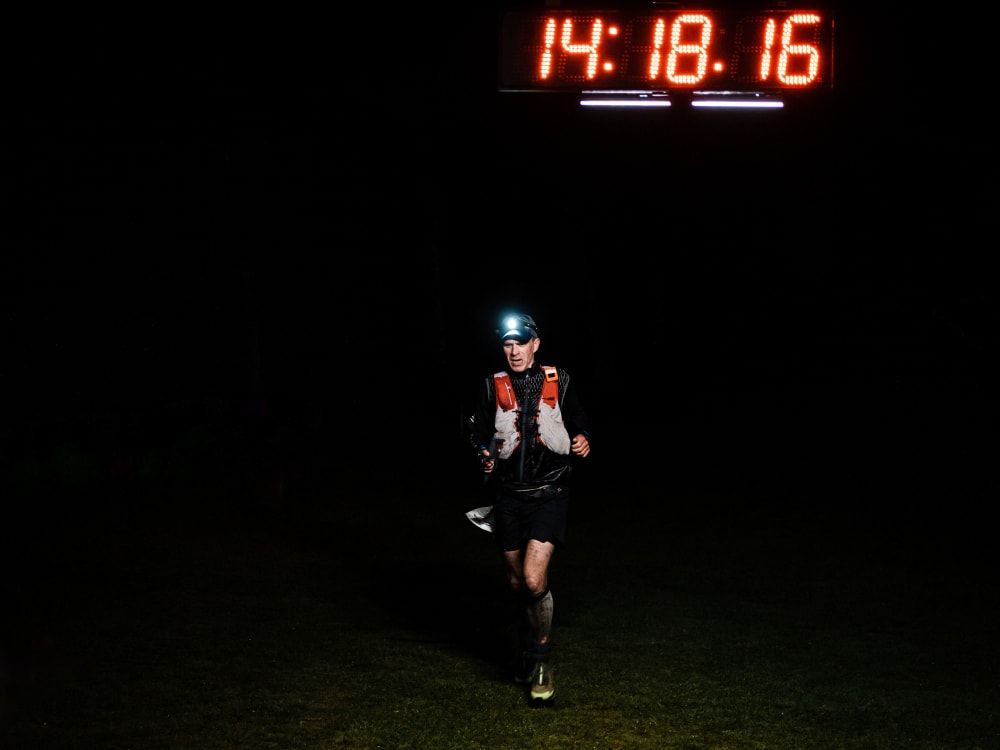 Geoff Cheshire claimed his first Centurion 100 mile win after coming close several times in the past
In the Age Groups awards went to the following:
First FV40 went to Becky Atkinson who was also second overall. First FV50 went to race winner Line Caliskaner in a huge new age group record. First FV60 went to Trinity Buckley in 27:39.
First MV40 was Geoff Cheshire the race winner. First MV50 went to Sven Tore Holsether. First MV60 to Phil Hoy in 23:09 and first MV70 to Kenneth Fancett in 25:08. His 96th 100 mile finish.
96 runners made it home inside the 24 hour cut off for the 100 MILES ONE DAY buckle and five new runners were added to the 500 mile club and earned their TP100 500 mile buckle in the process.
It was as always, an impossibly challenging weekend, especially with the weather and over 100 volunteers were the true heroes of the day, some of them out in all conditions for well over 24 hours helping runners achieve their goals. Our sincere thanks to every single one.