The Wendover Woods 50 was billed as a tough event on paper and indeed much of the pre-race chatter was around three significant features. Firstly, the near 10,000 feet of climb (and descent). Second, the format of 5 x 10 mile loops. Third, the likely underfoot conditions on woodland trail in November. This was our eigth and final race of 2016, the culmination of the inaugural 50 mile Grand Slam (SDW50, NDW50, CW50 and WW50) and for three pioneering runners, the end to a Double Slam year.
175 runners gathered in a moody, misty trig point field for registration early on Saturday morning. There was an air of quiet apprehension from both the runners but also from the organisers. As with any new event, there are a number of unknowns and one of those was just how the start might get off. Briefing began at 0758 from the road through the woods and exactly 2 minutes later, runners were let loose on some of the best that the forest had to offer.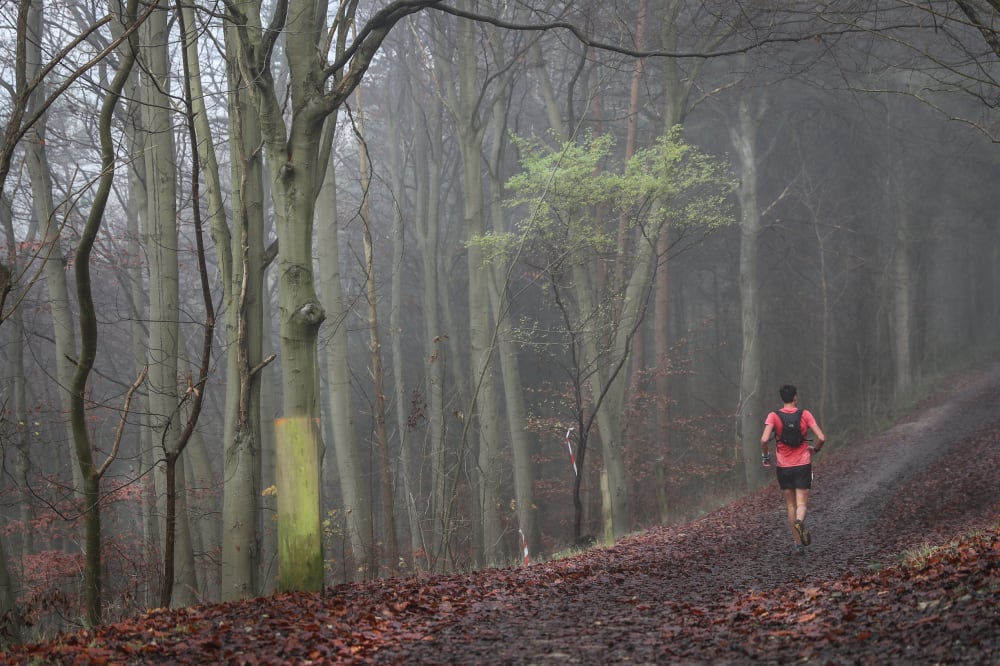 Woodland trail running is always popular and something which is sadly nowadays so hard to find in the South East. Little pockets like this, protected and maintained by the Forestry Commission, are gems standing out as the last bastions of older landscapes. The network of trails in Wendover Woods is vast. The area covered by the woodland barely makes 1.5 by 1.5 miles, but after countless excursions in to the deepest recesses of the area, we managed to construct a 10 mile loop that was varied, exciting, and didn't ever cover the same stretch of trail twice. One of the best features of Wendover itself, is that different sections of the wood are so distinctive from one another. We ended up naming nine different segments (some taken from existing strava creations) so that runners had a reference point for where they were, out on course. Classic fast stretches like 'Boulevard of Broken Dreams' and 'Hill Fort Loop' were intersected with some steep climbs and descents like 'The Snake', 'Gnarking Around' and 'Power Line'. Variety was something that would break the potential monotony of five loops down in to manageable chunks.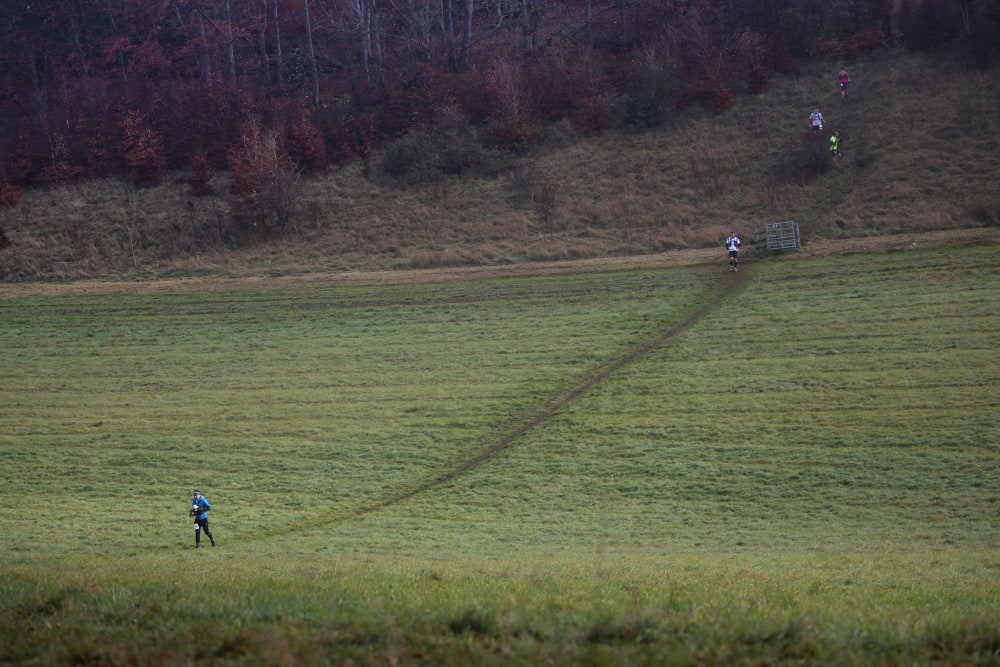 Being an inaugural race, we had rough expectations on timings and had allowed an extended 16 hour cut off, three hours more than at our other three 50 mile events. At the end of lap one we saw a pack of five runners come through mostly together in a tad over eight minute mile pace, something we were sure was going to lead to some massive explosions later on, but nevertheless very slightly slower than we thought we might see! Jon Ellis (CW50 champ), Neil Kirby (SDW50 and NDW50 champ) were right there, together with Pip Blackburn and Mark Innocenti - previous top 10 finishers at our events. Also in that lead pack were Jeff Pyrah and Samantha Amend. With the speed she posseses, Sam's presence there wasn't a surprise but with Jeff, a name present from only a couple of ultras previously, we had overlooked the man with the greatest raw speed of all the runners in the starting field (2:34 marathon PR). Certainly what was clear was that the race was going to be won by the person who slowed down the least.
Through the end of lap two, the guys above were all still together, with Samantha dropping off by 12 minutes but with a big margin of 23 minutes lead over Sophie Carter running in second for the ladies. Through lap three, it proved to be Jeff and Neil who had the greater strength as others began to drop off, feeling the burn of the early fast loop. Jeff and Neil's third loop at 1:33 was already 9 minutes slower than the first, on a course which actually looked to be improving in condition thanks to the now snaking single track appearing throughout the woods. The first time we've seen that happen.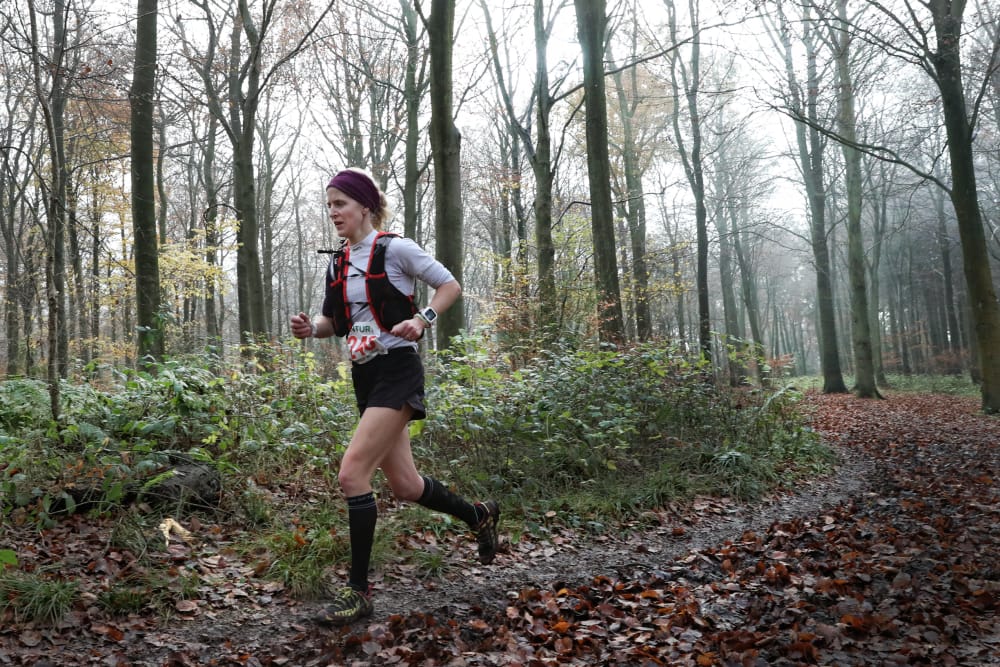 Sam Amend on some of the woodland single track
Through lap four it was clear that it was a two way battle as Jeff and Neil gave us one of the finest displays of racing all year. Jeff led out and Neil in his trademark fashion, marked every move and hovered a short distance behind. At the end of lap four, just four seconds separated the two. At mile 48.5, we had reports in that Jeff was 10 metres ahead of Neil as both sat poised to put everything in to the final, longest climb of the course up to the finish. Waiting expectantly in the field, it was Jeff who had the legs on the day and outkicked Neil on that final climb to finish in a time of 7:39, with Neil coming home just 3 minutes later for second. Third place was picked up by Pip Blackburn in 8:05, with the rest of the field a further 24 minutes and more behind those three.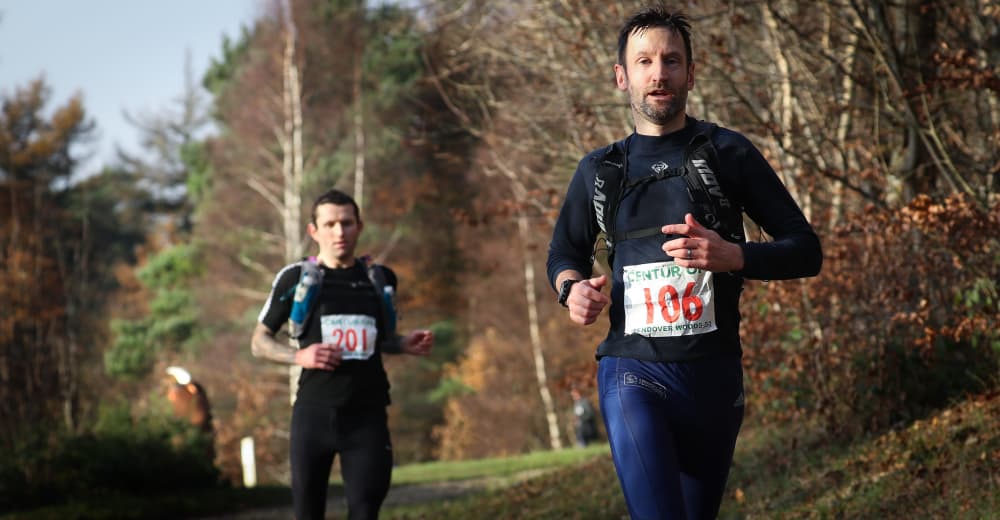 Neil Kirby marking Jeff Pyrah through the majority of the race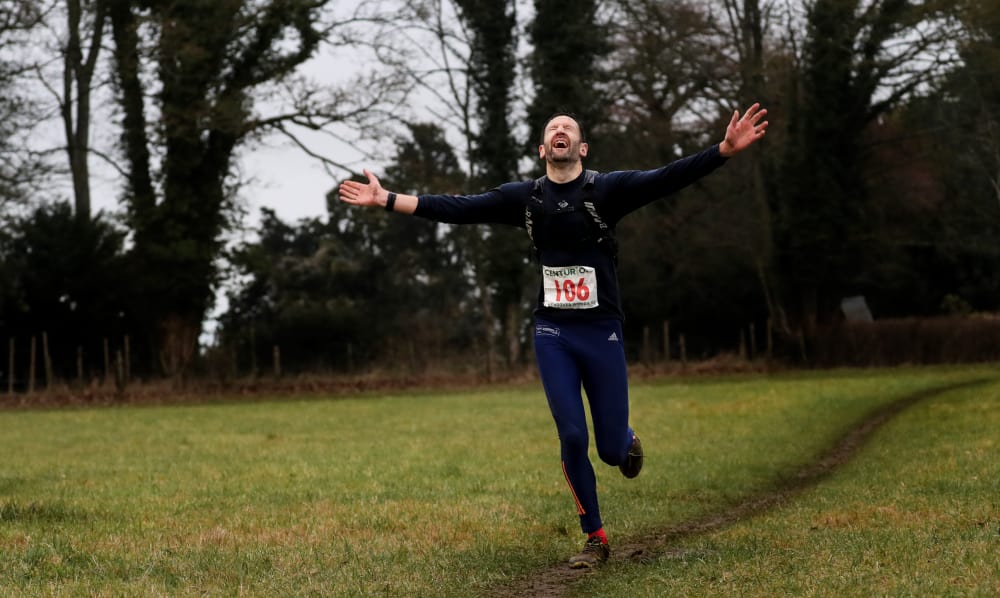 Jeff captures victory after 7 hours and 39 minutes of battling
In the ladies race, Sam held on to her lead all day. Having recently come home with Team Gold for the GB 50km ladies, she ran supremely well on a course which in truth doesn't suit her road background. She dug deep all day, had done the ground work and came home in 8:51 for 10th overall. Her second Centurion victory of 2016. Second and third went to Sophie Carter and Sarah Sawyer, who could jointly be awarded the prize for looking most in control all day. Both ran in their eventual finishing positions through the entire day, both making up about 15 positions from their overall lap one placings to their finish placings. As usual, the ladies show the guys how to pace.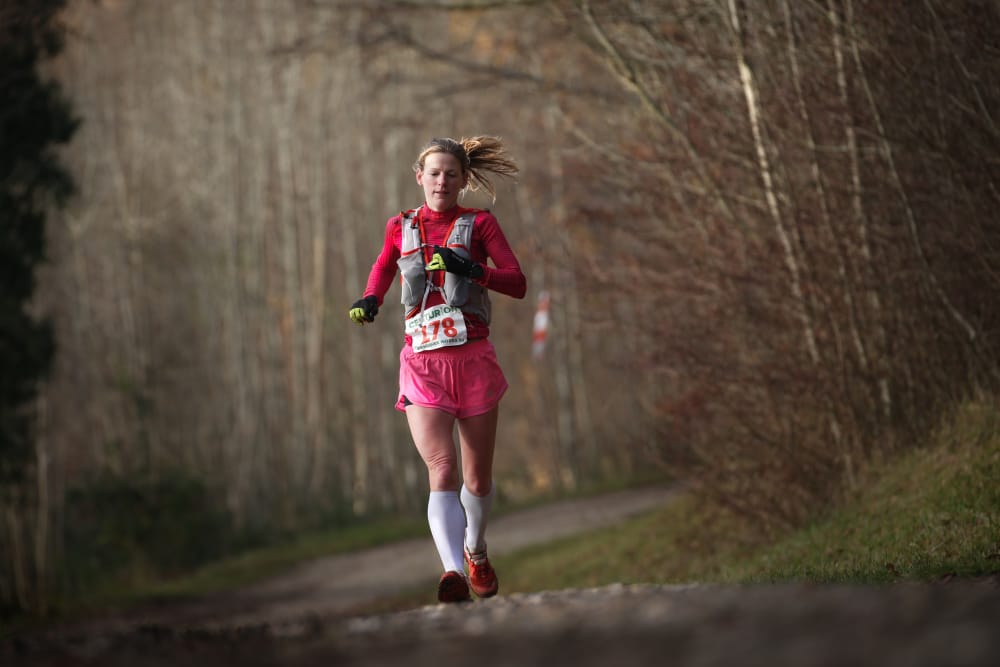 Sophie Carter cruising the trails
The number of drops we saw was lower than expected, but we still saw our second lowest ever finish rate at a 50 mile event, with 81%/ 142 of the 175 starters eventually making it over the line. Conditions were as close to ideal for November as we could have hoped, nevertheless on the whole runners applied themselves to the challenge of this course in a fundamentally great way. 43 Grand Slammers made it home to receive their giant medals including John Stocker, Tracey Watson and Jim Vince, who each completed all eight events in 2016. 1st Overall in the Grand Slam standings and now record holder was Warwick Gooch, who, with just a 15 minute lead over second place Dean Oldfield coming in to this race, managed to eek out another 3 minutes here for an 18 minute gap. The leading overall lady in the slam was Rosie Williams in 44:21, a gap of less than 60 seconds over 44 hours of racing ahead of Sharon Dickson in second. Final Standings can be found here.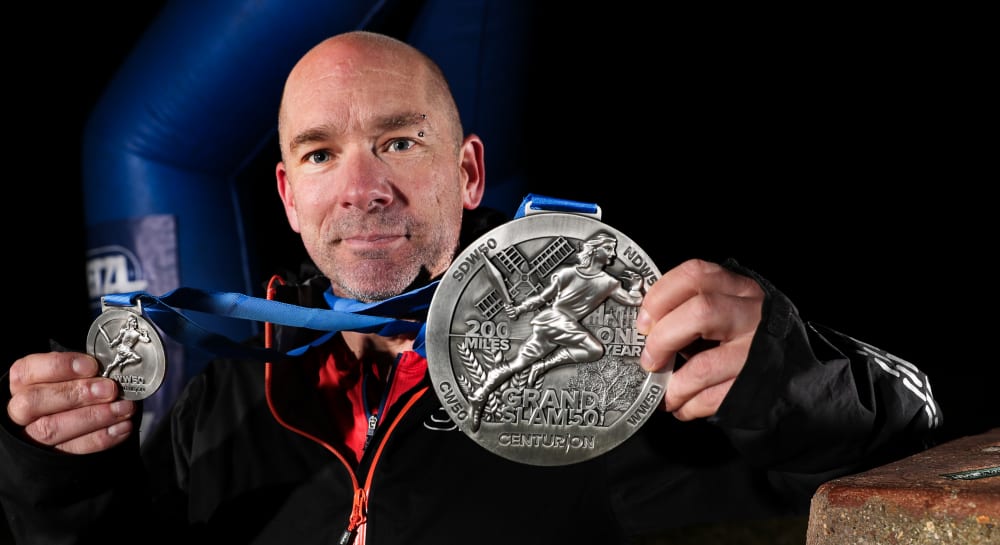 Somewhere during the course of the day, we welcomed home our 5000th ever finisher. It's been 6 years of events to get there. But as we always say, none of this is possible without the volunteers. Marshalling junctions for 6+ hours, standing out at the Hale Lane check point deep in the woods for 15+ hours and manning the start/ finish location for 18+ hours, nothing was too much for these guys. They are the first ones there and the last ones to leave, still out there working hard until the end of the day, when a lot of the runners are back at home tucked up in bed. These are the true heroes of the weekend.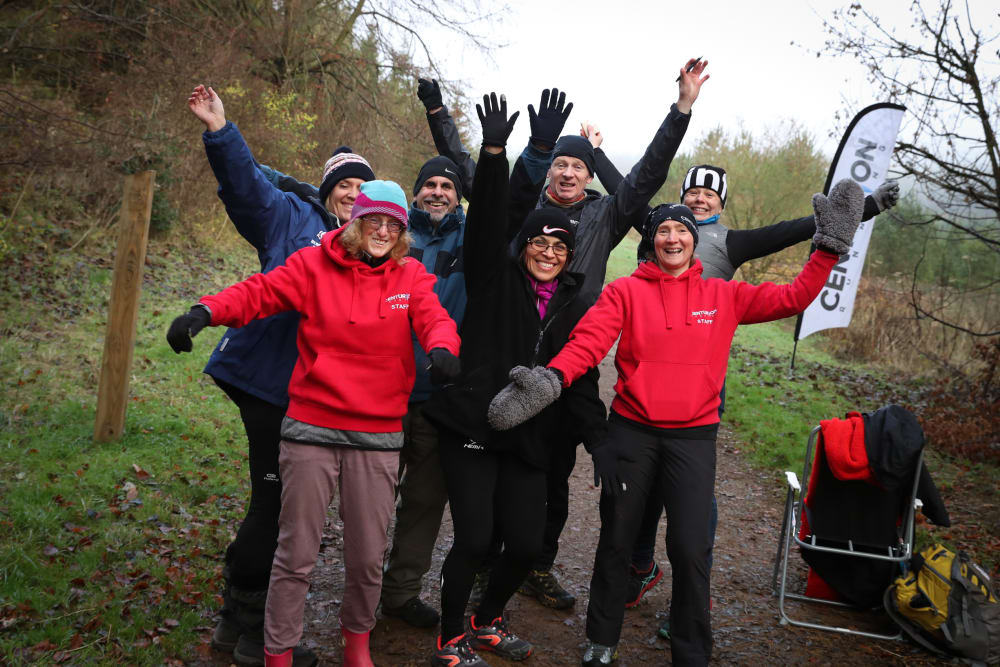 Well done to everyone who took part in, volunteered at, crewed or supported at one of this years events. We try to continually improve what we deliver to the runners and volunteers and things went brilliantly through this first expanded year of events. We look forward to welcoming many of you back in April for the South Downs Way 50. Until then, keep a look out on the blog for an end of year review and enjoy your winter seasons.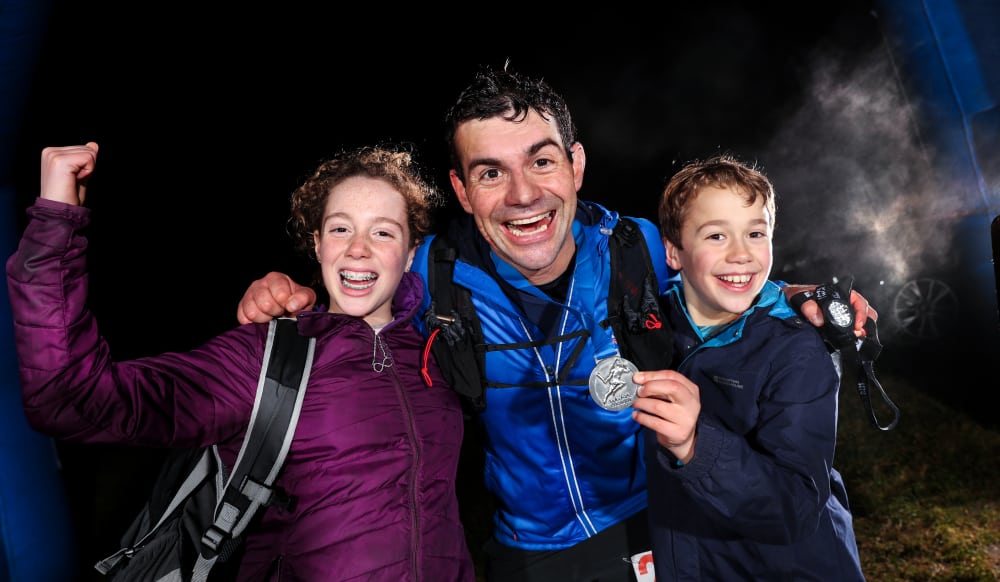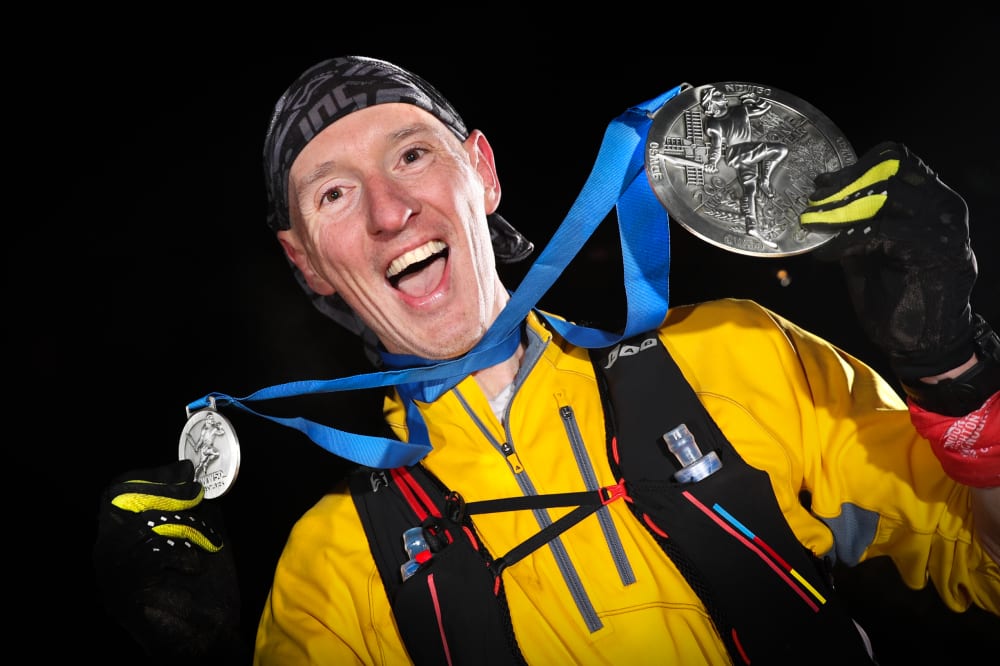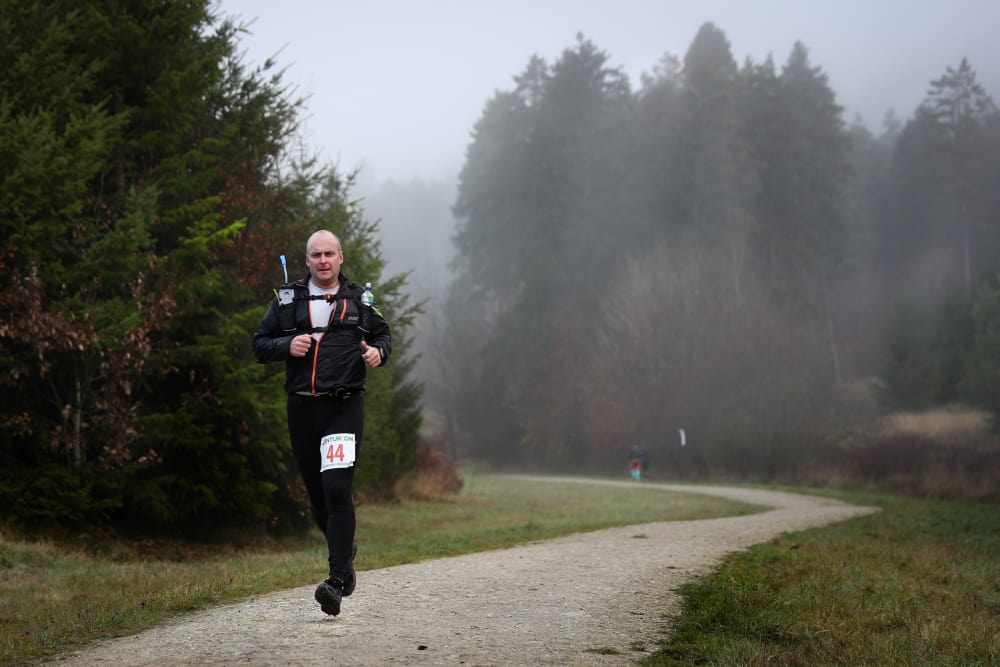 All Images c/o Stuart March Photography