This years Autumn 100 was once again the final 100 of our season and happened to be our 25th all time 100 mile event. We were hoping for some fireworks from the runners, but from the outset it seemed that the weather might dampen them somewhat.
Through the week leading up to the race runners, volunteers and staff were all keeping regular tabs on Storm Brian brewing out in the Atlantic. The forecast was clearly low confidence as things veered from one extreme to another, but what was a constant was the forecast wind - sustained speeds throughout Saturday of 40mph+ with gusts of 50, remaining blustery through the night. Whilst the course was perfectly safe in running terms under such conditions, our outdoor check points would be impossible to pitch and so, as in 2012, we were forced to resort to bringing in extra Luton Box Vans to act as indoor sheltered spaces at the four outdoor check points. Everyone prepared also for heavy rains which would have made for very tough going indeed.
Race day dawned bright, sunny and breezy which took the edge off of things as 242 runners gathered in Goring for the four, 25 mile out and back spurs returning each time to HQ in Goring. The race got underway in typically enthusiastic fashion but the splits from the expected leaders were far more conservative than last year. it was a two horse race right from the off. James Stewart a Scottish ultrarunner was down for his first attempt at one of our races. As a GB 24hr team member and with a 13:39 100 mile under his belt at Rocky Raccoon 100 earlier this year, we were hoping he could recreate some magic here. Right with him from the start, Paul Maskell this years Arc of Attrition 100 course record holder and 2nd at the NDW100 in August.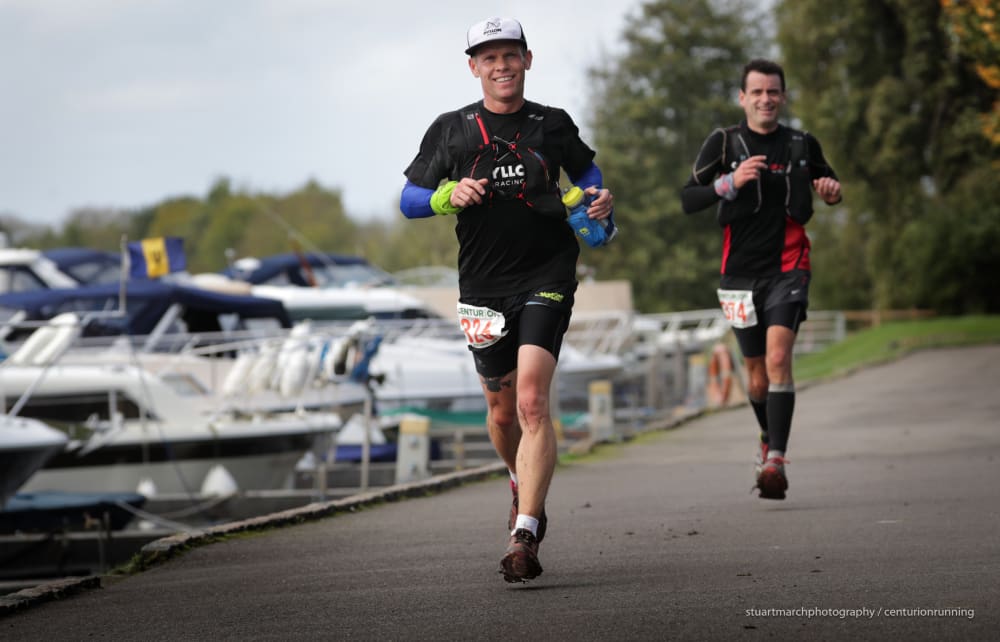 James Stewart out in front on Leg One, just ahead of Paul Maskell
From the gun, the two were never more than a few minutes apart, running their own races they spent varying amounts of time in check points, the race seeming to ebb and flow between them. The first loop was completed in a shade under 3 hours for James and a shade over for Paul. At the end of leg 2/ 50 miles however, we were suprised to see Paul back in first in 6:36 elapsed with James 6 minutes back. James' stomach was causing distress but he seemed able to put that behind him as he closed the gap to just four minutes at the 100km mark out at Chain Hill. The nature of this race is that at the far point of each 25 mile out and back, runners have the opportunity to see and assess each other in passing. But Paul wasn't to be rattled and he ran in off of Leg 3 in to 75 miles with a 6 minute lead once again. It was by Whitchurch mile 79 however, that the gap had expanded significantly as James was to go on and lose his stomach a further 10 times on Leg 4, whilst Paul ran an extremely solid leg to come home in our second fastest ever time of 14:34. A superb run in challenging conditions no doubt helped by James pushing for 3/4 of the race.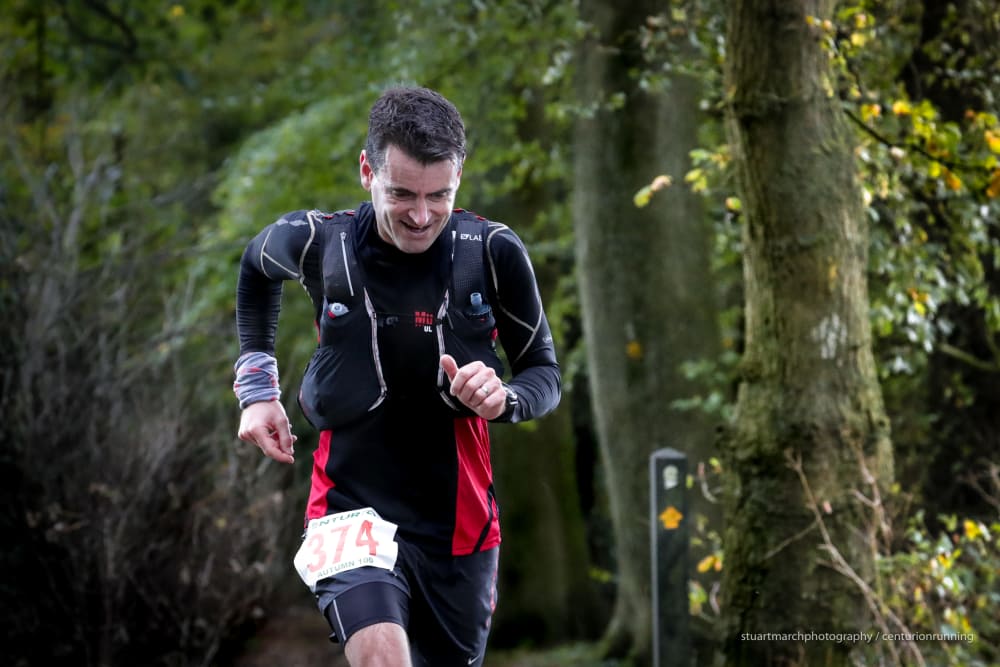 Paul Maskell went on to win in 14:34
James gritted out Leg 4 to come home in 15:26 in a truly gutsy performance. Third place picked up by Peter Abraham, his debut 100 in a strong 15:57.
Fourth place went to Dan Masters in 16:24. Dan required a 17:34 or less to set a new overall Grand Slam record and so takes the honours there with a cumulative time of 68:45:23 for the four events. John Stocker from whom Dan took the record put in an extremely gutsy end of year after various issues to finish his second consecutive slam on top of the Canal Slam and Thames Ring.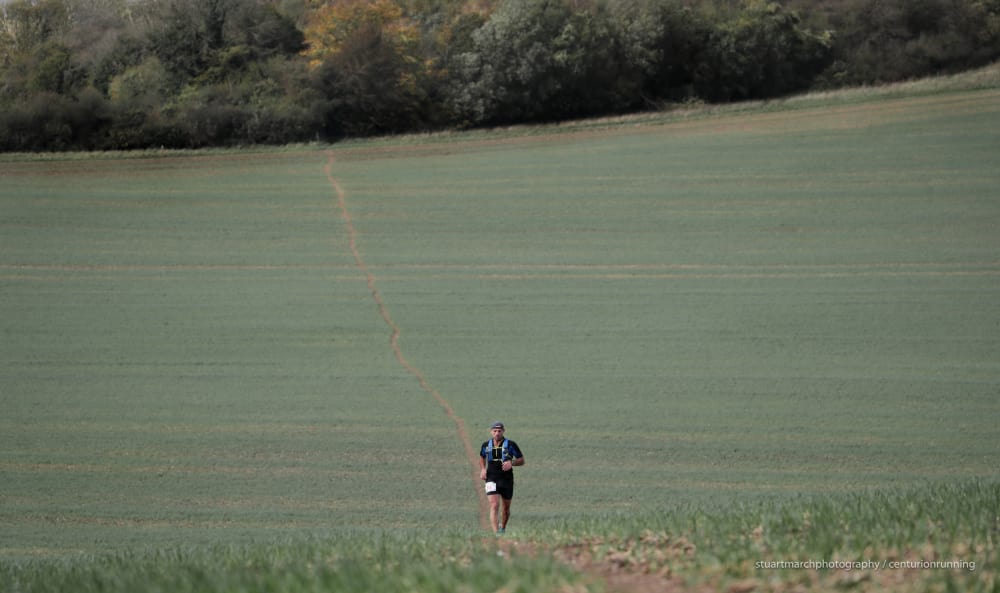 Dan Masters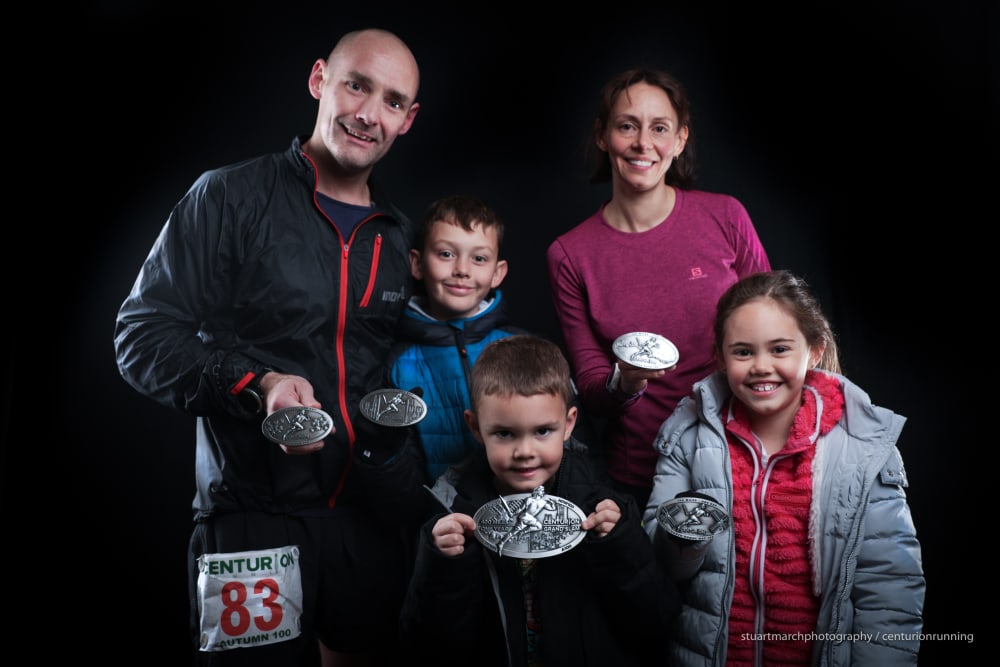 John and family after his 2nd consecutive Slam
In the ladies race, it seemed to be a one horse race on paper with Mari Mauland over from Norway for her fourth and final race of her Grand Slam season looking for her third win of the four events. Mari led from the gun with over an hour on the rest of the field by the 50 mile mark and an eventual winning margin of two and a half hours. She took home her third trophy of the year but fell just short of Sally Fords 2015 Grand Slam record of 72:34 with a 73:11 cumulative time. An incredible year all the same.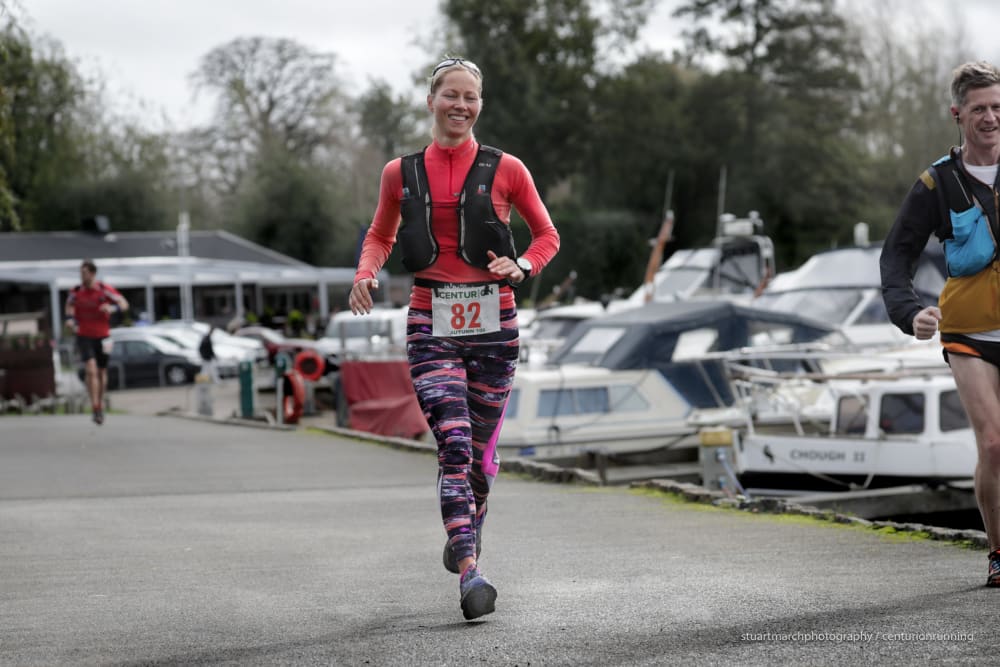 Mari went on to her third win of 2017 and the Grand Slam title
Behind Mari, it was Centurion stalwart Wendy Shaw who picked up 2nd just underneath the 20 hour mark in what was her 17th Centurion 100 mile finish. A female record in itself. Third place went to Emma Hogben in 20:41.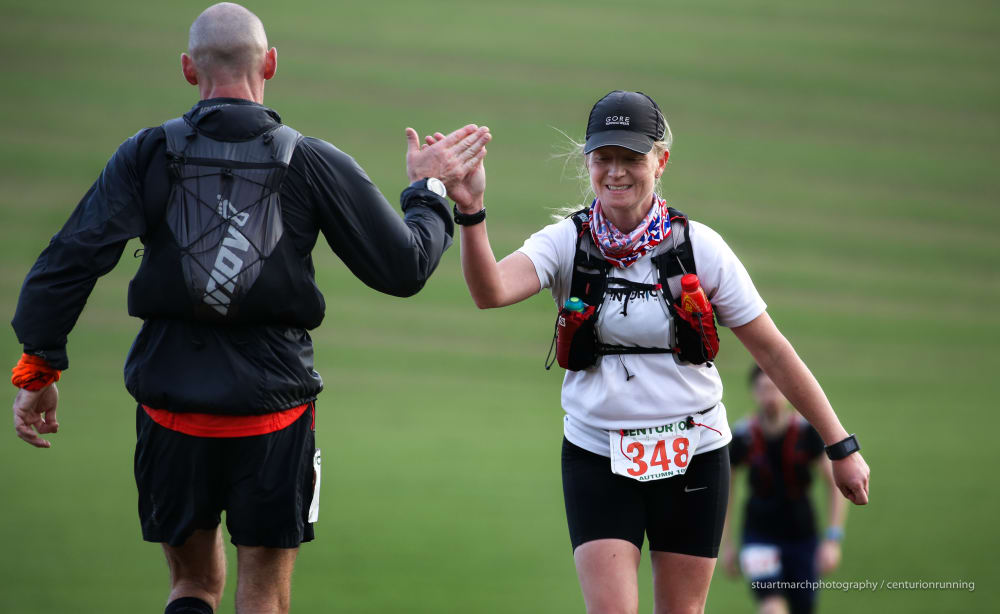 Wendy Shaw on route to second in her 17th Centurion 100 mile finish
178 finishers crossed the line out of our 242 starters for a finish rate of 74%, above average for our events. Much of that was down to underfoot conditions being good for the time of year and the fact that despite high winds especially out on Leg 3, weather conditions were largely very favourable. We were very fortunate in that as other events around the country experienced more major disruption.
A few other notable performances. Ken Fancett finished in 20:59, his 5th Grand Slam and 21st Centurion 100 miler. All records. Ken is 68 years old. I know Ken is mentioned a lot in our reports, but with those kind of stats the completely awe inspiring nature of his achievements doesn't diminish.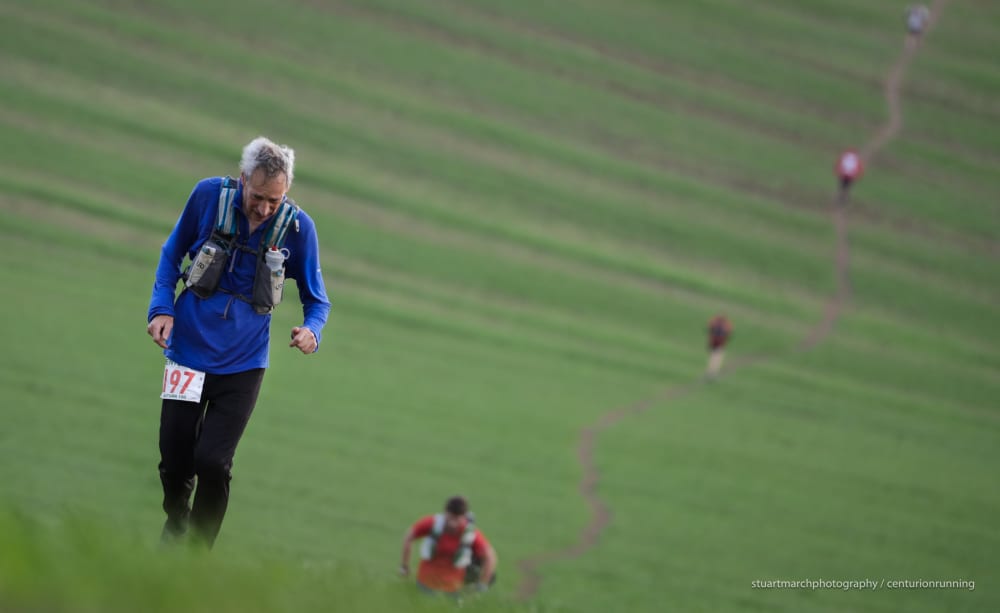 Ken Fancett
Sandra Brown and Richard Brown raced as husband and wife but ran their own events. This was Sandra's 185th 100 mile (or longer) event, and Richards 135th. Sandra was unfortunately stopped short with stomach issues this time but Richard was successful. Sandra's quest for her 200 100 mile or longer finishes continues in just a few weeks in Monaco. She will undoubtedly achieve that literally unbelievable mark.
Jo Turner and Steve Turner have volunteered countless times with us over the years and both finished all four events this year to become the first couple to complete the Grand Slam. We were all absolutely delighted for them.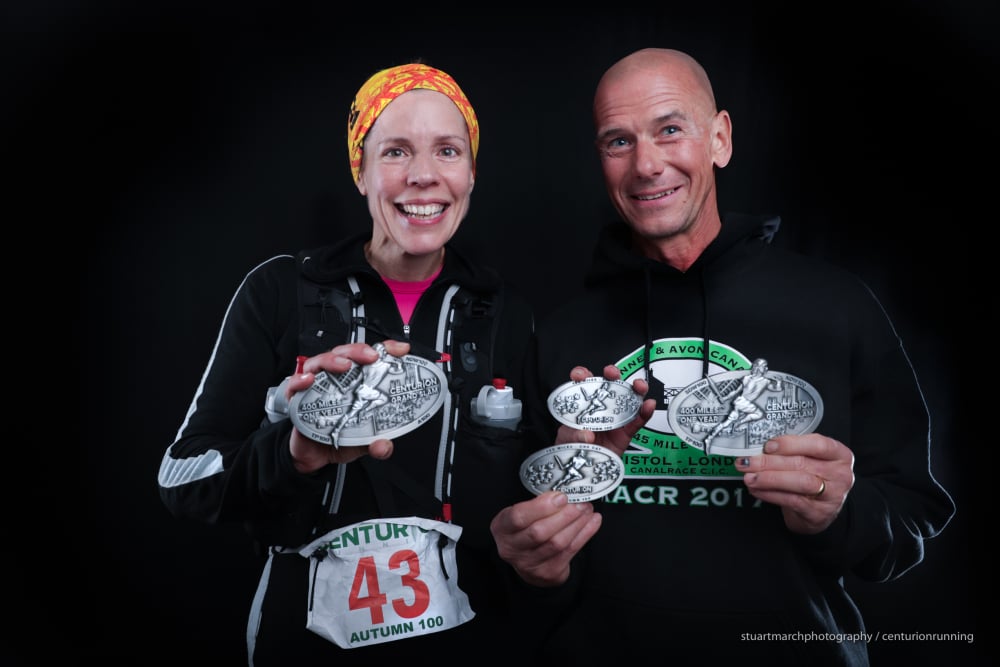 Jo and Steve Turner
110 volunteers made this event happen. Many spent over half a day labouring on behalf of runners parked up in the back of vans in roaring winds through day and night. Many words of thanks have been received from runners post race which will be passed along.
That wraps up the 100 milers for 2017. Next up is our final event of 2017, the Wendover Woods 50. Congratulations to all who toed the line this weekend, especially the successful Slammers completing a journey that has lasted almost six months.
The final Grand Slam of 100s table is available here.