The seventh edition of the South Downs Way dawned warm and dry with a record field of 305 itching to get going. This race took us over the 10,000 starter mark across all events, this being our 27th 100 mile and 49th race of all time. The previous evening saw the seventh edition of the much more important SDW1 Mile Kids Race in which 27 starters aged 1 to 11 reminded us all of the unabashed joy of running. Everybody won.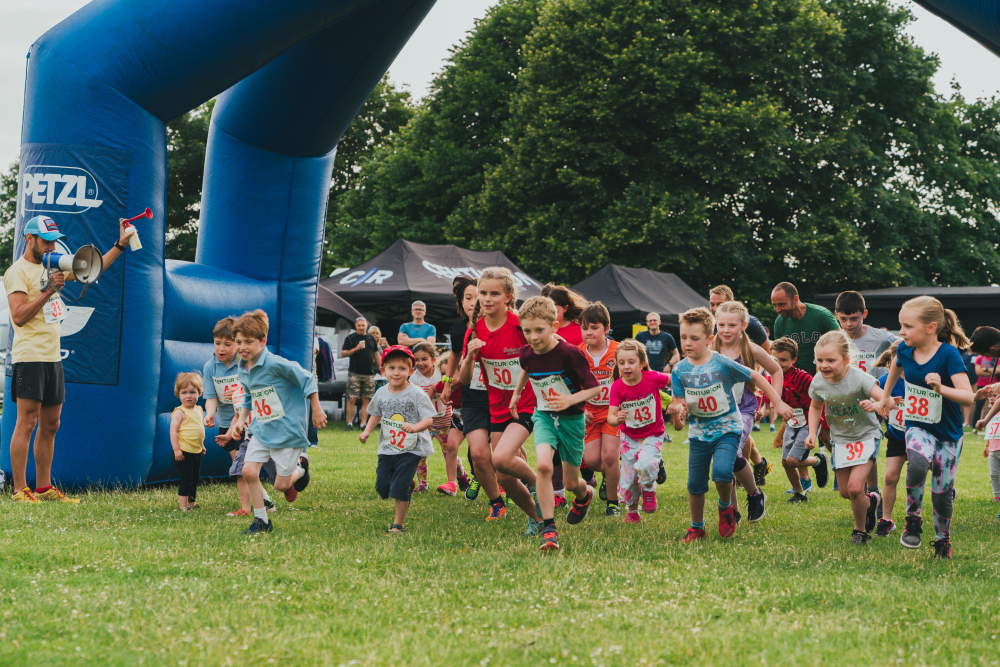 The SDW100 race got underway at 0600 the next morning and quite quickly there were some familiar faces out front in both the men's and women's races.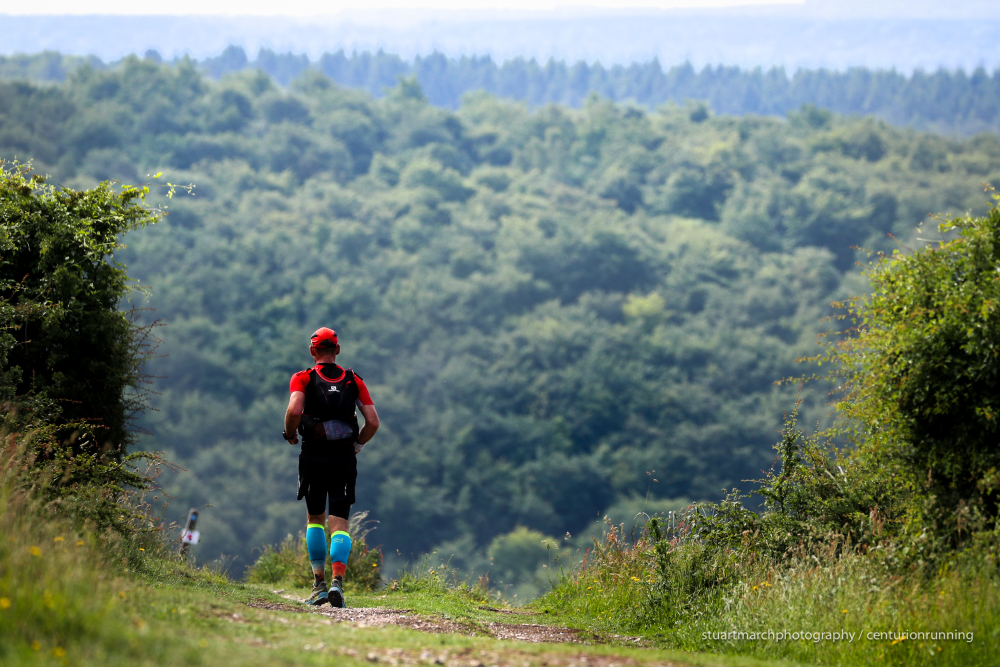 In the men's race, the early pace was set by Stephen Hobbs and Mike Ellicock, with Charlie Harpur and Jon Ellis close behind. Jon our reigning Grand Slam 50 Mile record holder looked by far the most comfortable. Behind those four it was great to see Stellan Fries back and looking focused. Stellan led the race in 2014 before going off course with just four miles to go. He was back for his fourth try at capturing the crown. Peter windross made up the remainder of the lead pack, following on from his TP100 victory last month.

The usual pattern of this race is a fast pace to Queen Elizabeth Country Park at mile 22, a gradual slowing to Cocking at 35 and by Botolphs at around the 100km mark a true picture of how the race will likely unfold. As early protagonists fell away it was Charlie Harpur who emerged at Washington all of a sudden with a commanding lead and ran up the hill out of the aid station with authority. With this being his first 100 miler it remained to be seen if he could manage his race and his pace to sustain to the end and guesses were going either way.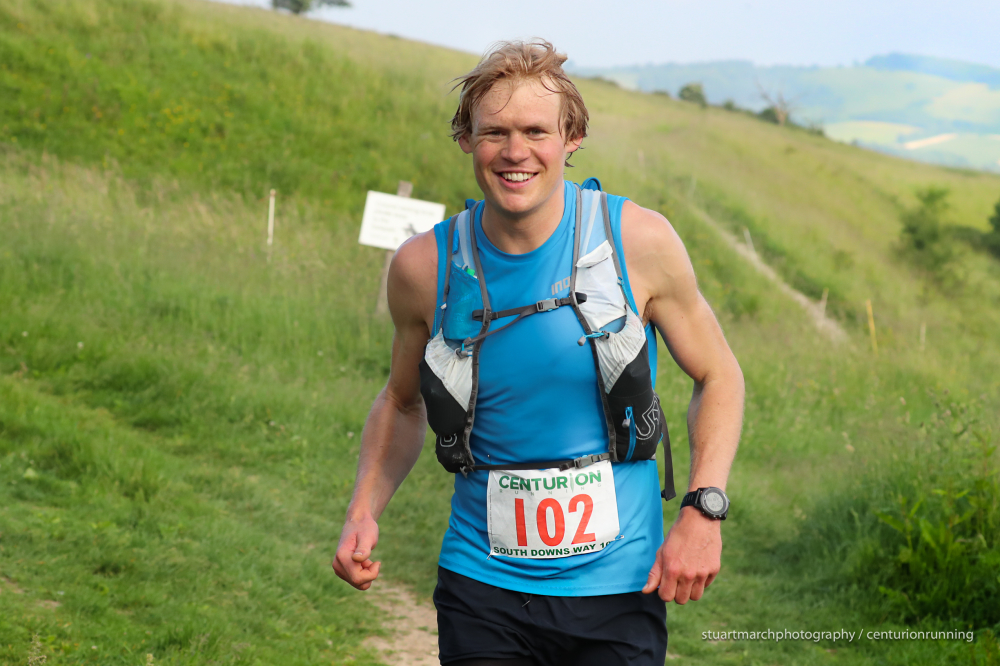 But Charlie in fact went from strength to strength over all of the remaining sections. A fast marathoner with a 2:33 at London this year in the heat, he held back early on and ran the best paced race we've seen in a while from a leading 100 mile performance, eventually crossing the line in 15:01, the second fastest time we've seen at this event behind Mark Perkins' 14:03.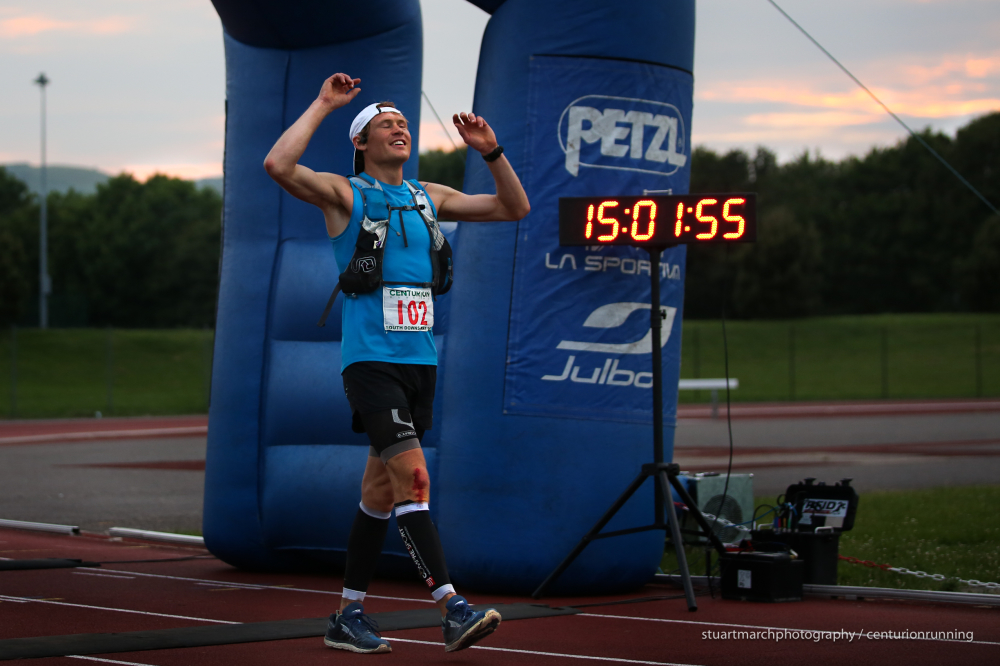 Behind Charlie, rewards went to runners who remained smart early on and ran well paced races, basically the same story of any 100 mile race. Stellan came all the way through the field to finish a very strong second in 15:50, a new MV50 record. John Melbourne found himself right in the thick of the battle for the podium spots after chasing down those ahead and eventually just lost out to Stellan, picking up third in a tremendous 15:56. Fourth was Jon Ellis in his first 100, having wrestled with stomach issues for the last two thirds of the race and suffering a slight detour with 18 to go.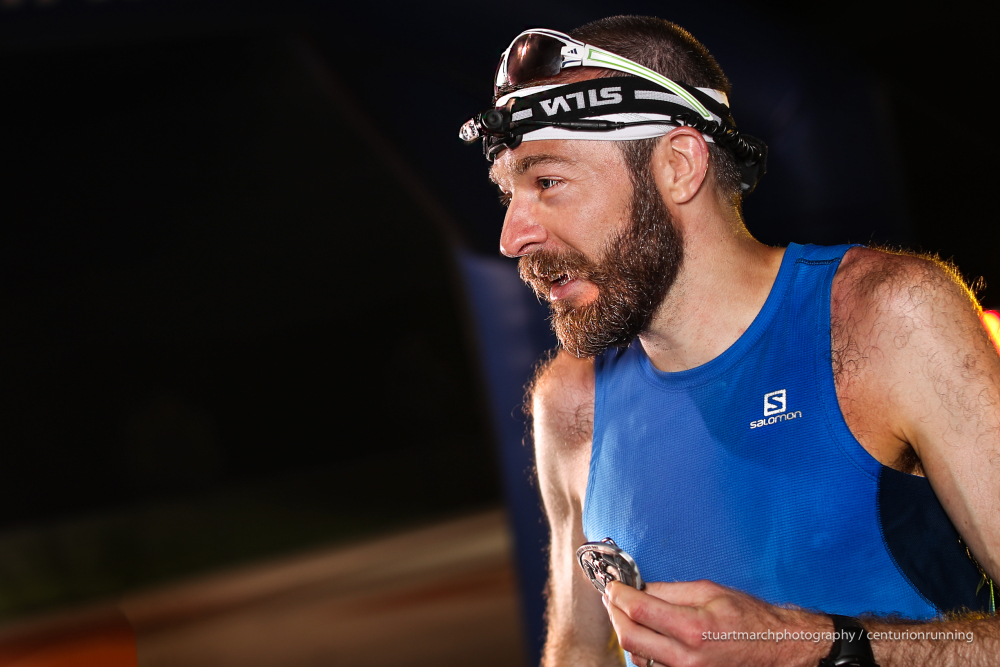 The women's race was equally as exciting right from the gun and the time gaps between runners close all day. Sarah Cameron, second at the 2017 NDW100 ran strong and ahead from the gun. With victories at prominent ultras in France where she lives, Sarah's debut on the SDW went seemingly very close to plan. She would need that with quality and consistent runners behind her. Laura Swanton fresh off of second at last months TP100 impressed yet again and tracked Sarah all day. Rachel Fawcett previous CW50 champion running in third for the majority of the race, again not too far back from Laura. The shape of that remained consistent with the time gaps growing marginally check point to check point almost like clock work through the day.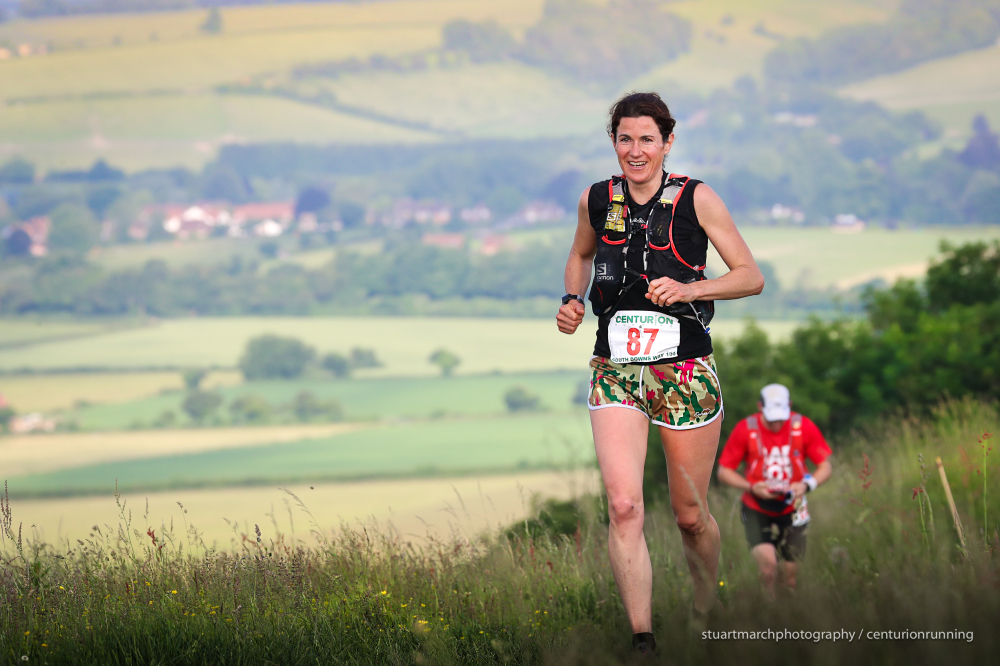 Through QECP mile 22 Sarah's lead was just 2 minutes over Laura and 4 over Rachel. By cocking mile 35 Sarah had stretched to a 14 minute lead over Laura and Rachel running close together. In to Washington mile 54, Sarah's lead was out to 25 minutes over Laura and Rachel 39 minutes back looked likely out of contention and now running for a podium place.

At Housedean Farm mile 76 Sarah came in running strong and focused with a smile on her face and it seemed with a 30 minute gap that she would hold it. That she did running home in 18:14 for her debut Centurion win.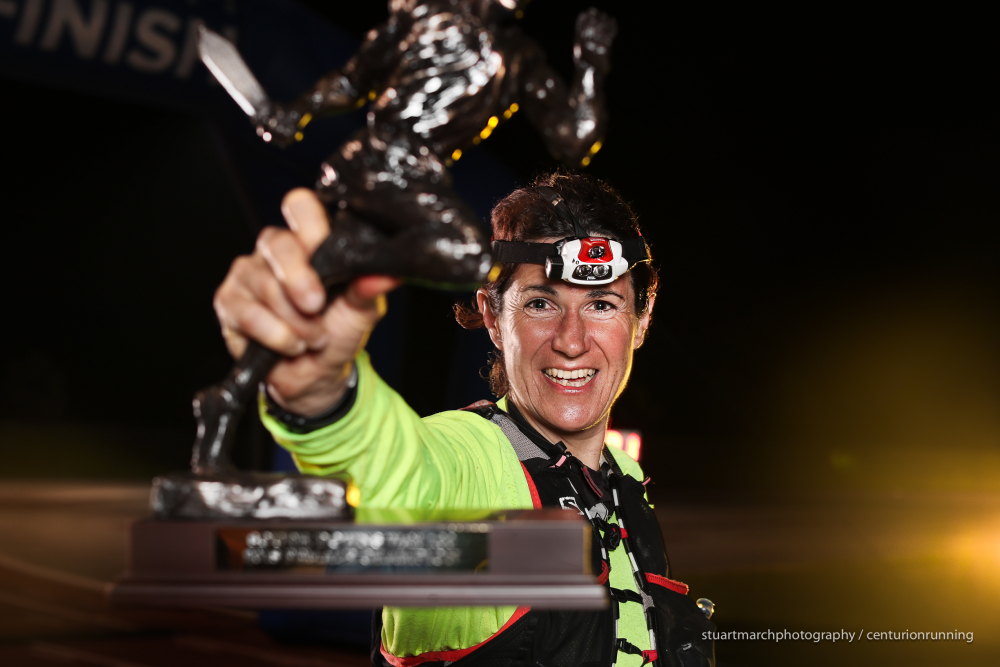 Laura held her position behind coming home in a superb 18:45, her second, second place in two 100s just 5 weeks apart. Third place went to Rebecca Lane who ran herself on to the podium ahead of Rachel by Housedean Farm and stayed in that position through to her finish in 20:06.

Records were broken as the weather remained excellent right through to the cut off. We handed out 223 buckles our highest ever at a 100 mile, with a 73% finish rate showing just how good things were on the whole out on the trail. 108 of those buckles were for 100 Miles in One Day.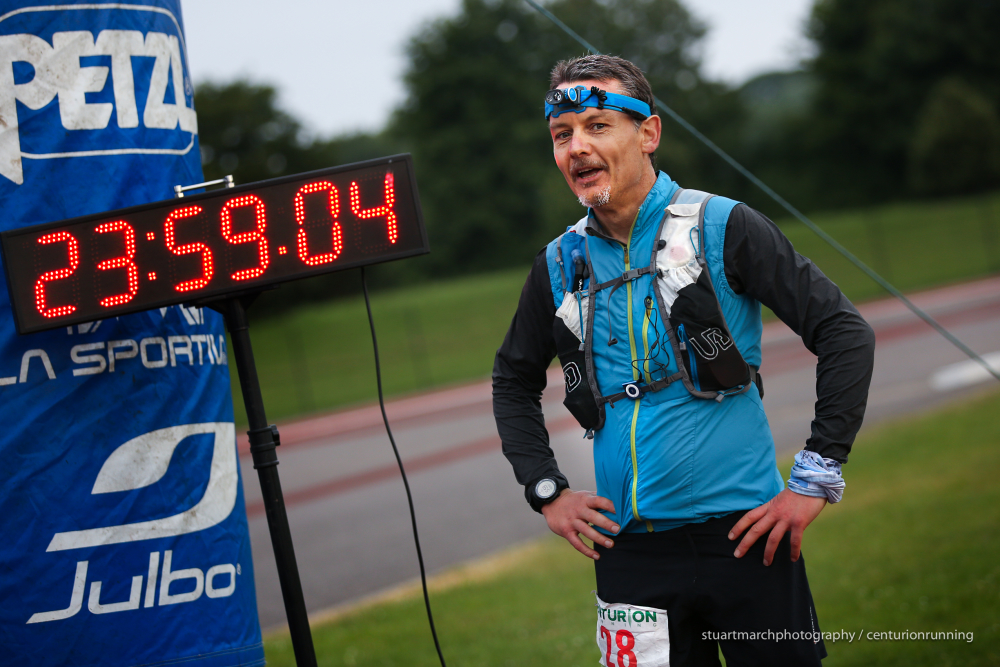 In the age group awards, Tracy Owen won the FV50 category with a 23:21.

The MV60 won went to Ken Fancett for the sixth time. There was a huge new MV70 record too for John Fanshawe in 25:11 taking over three hours off of the previous best.

113 volunteers made the event happen. The amount of hours poured in to each 100 is just staggering and to them from all of us, thank you.

Grand Slam standings have been updated and are available here. in the mens, Peter Windross now has a commanding lead after coming home in a strong performance this weekend following his TP100 win. In the womens, it's Laura Swanton who leads in 38:22 total time.