A stunning day on a beautiful course greeted this years participants in the fourth edition of our Chiltern Wonderland 50.
Starting and finishing in the village of Goring which really is a second home for us, the 50 mile loop takes in around 6000ft of climbing and is called the Wonderland for good reason. The trail goes through some of the most picturesque English countryside scenery, anywhere.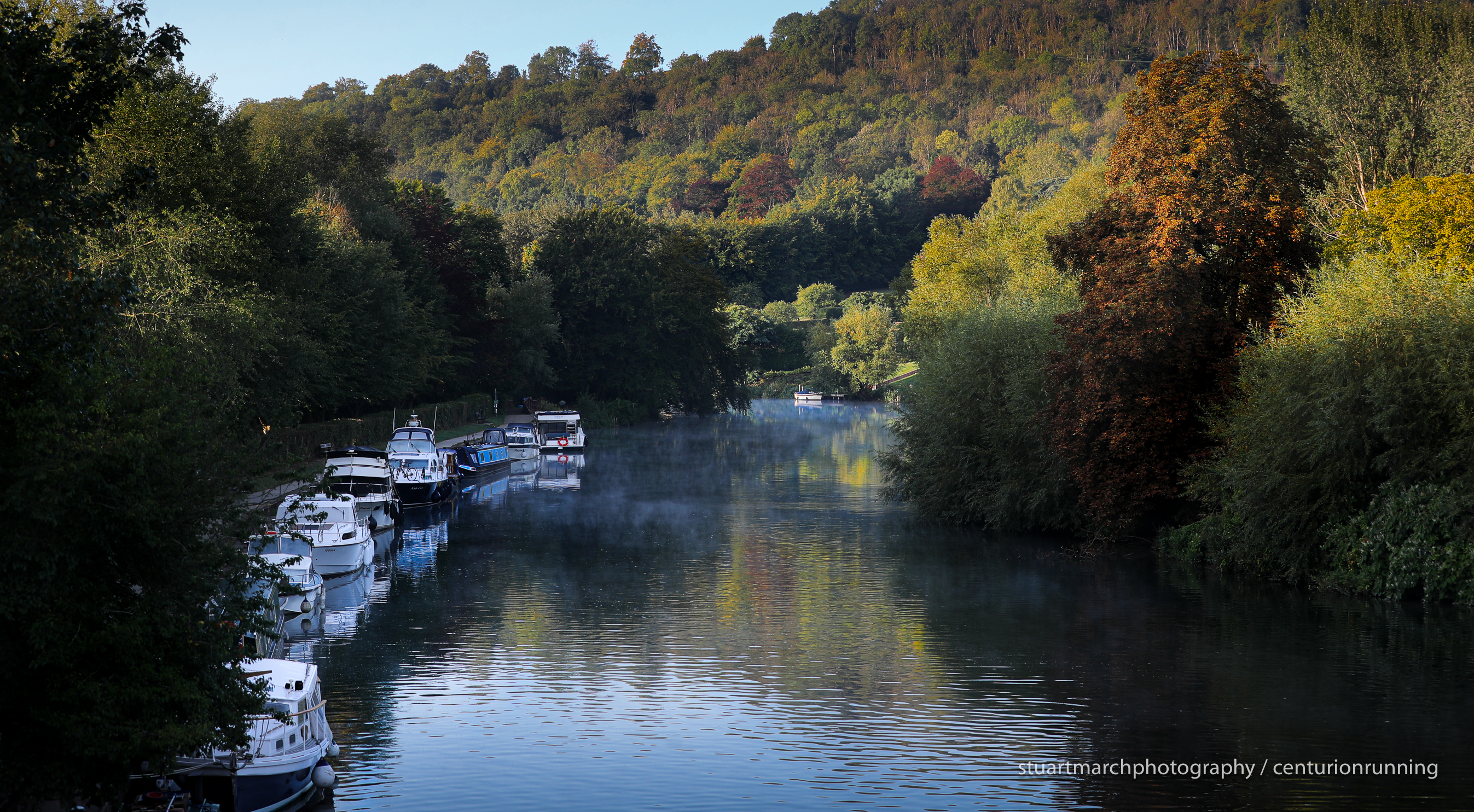 Both the mens and womens races looked competitive on paper, without one stand out front runner and we were looking forward to two exciting races.
As it turned out, both Ed Knudsen and Rachel Fawcett would eventually triumph having led from start to finish, but both favoured quite different approaches to the same end goal.
In the mens race, Ed went out so hard that he had a three minute gap by the 5km mark as runners came to the end of the short opening stretch on the Thames Path. His strategy was a bold one and on a warm day with temperatures topping out at 23 degrees, perhaps even bolder than it might have been. By Bix at CP2, Ed had maintained his lead over Mark Innocenti in second and Pete Vale in third. He stretched out to Ibstone and was well under course record pace there, making it through the check point which marks roughly the half way point, in 3:07, he was now around 6 minutes up on course record pace (3:13).
Ed Knudsen ran away from the field right from the gun
But closing hard behind him was Neil Kirby, arriving just inside course record pace in second with Mark Innocenti within a minute behind him. Pete Vale in fourth was also in sight as second and third made it to the check point.
But from there on in it was all change. Ed made it through Swyncombe and Grims Ditch, the final check point with 9 miles to go having slowed a little but having been granted a little respite as both Neil and Mark dropped from the race. Wendover Woods 50km winner Rahil Sachak-Patwa however seemed to have the most consistent pacing strategy of the day and from the half way mark began to close the hardest. At Grims Ditch, mile 41, he had moved into second just nine minutes back of Ed. To add to the drama, Ed began suffering severe cramp with 7 miles to go and it seemed possible that Rahil could close the shrinking gap. So much so that we weren't sure who would emerge first back into Goring and the finish straight.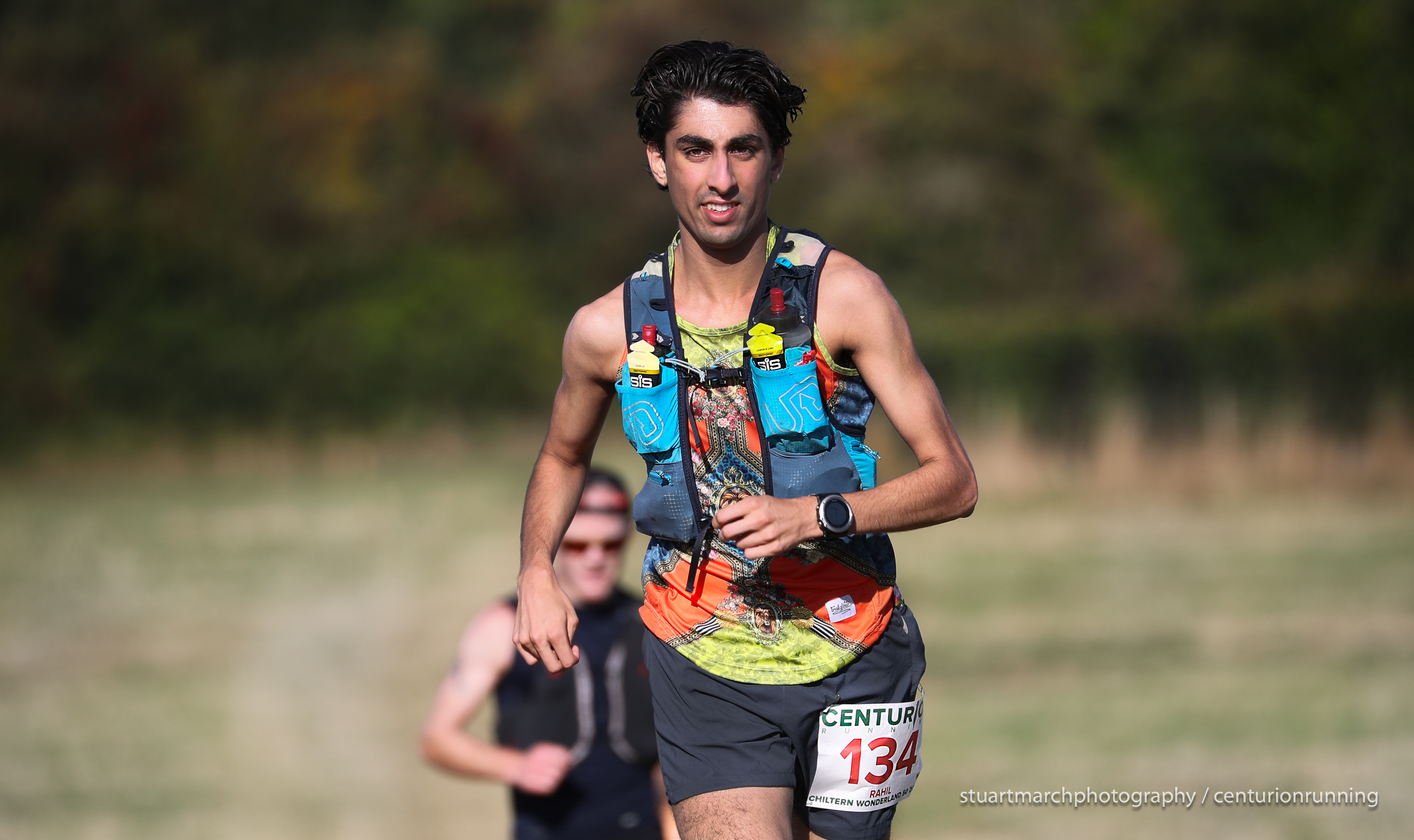 Rahil moved up to second in the third quarter of the race
In the end, Ed rallied and did in fact bring it home in 6:34 for the second fastest time we've seen on this course. Rahil had also eventually sucumbed to some cramping and came in second, in 6:47. Third place went to Pete Vale in 6:51.
In the womens race, Rachel led from the start and was closely followed by the two other leading contenders, Charley Jennings and Amelia Watts. Rachel was pushing for her second win here, and to extend her Grand Slam 50 mile lead and looked focused from the outset.
Her lead through Bix CP2 was just two minutes however, over Amelia and Charley who arrived within a further 60 seconds of one another, Charley marginally ahead at that point.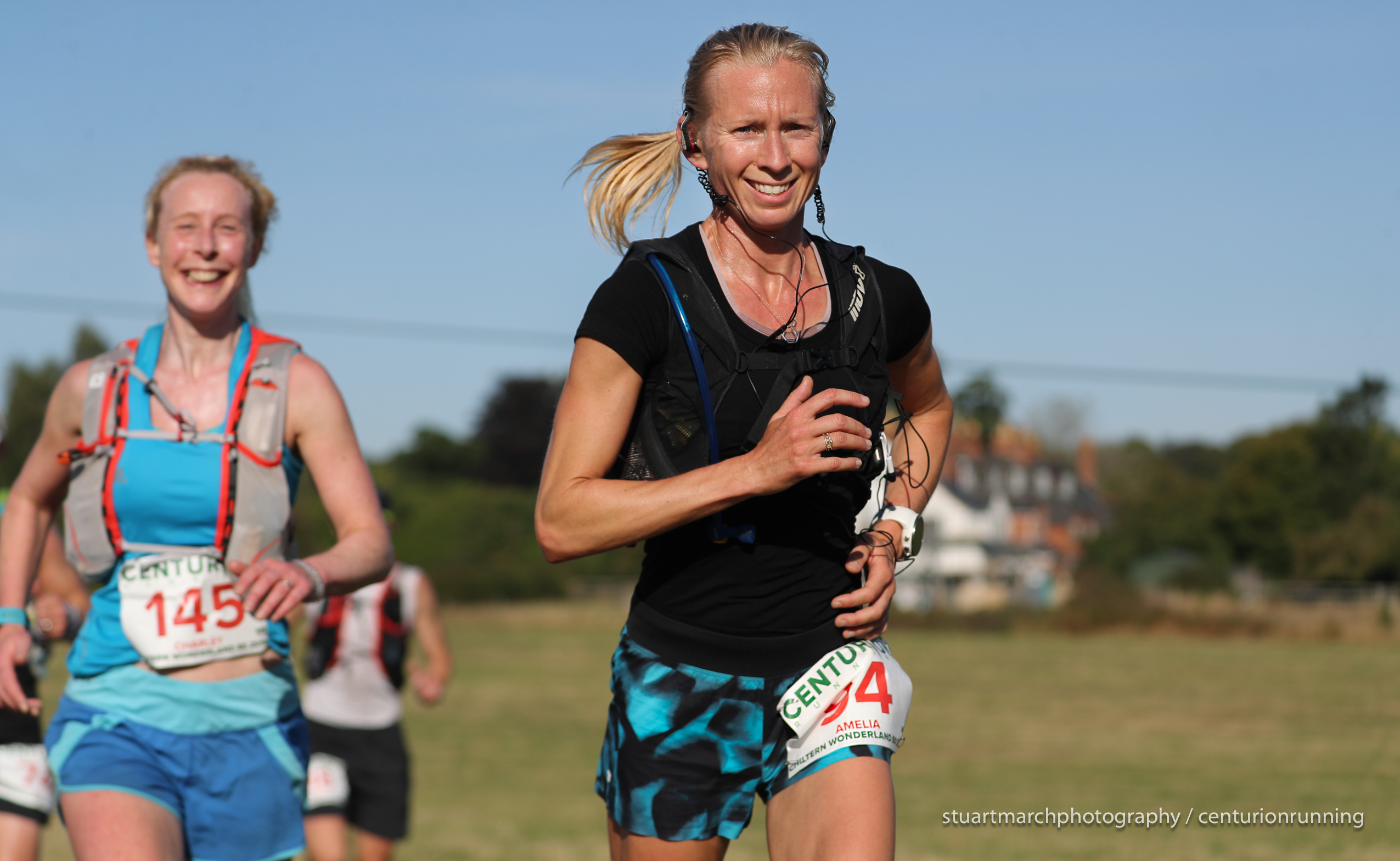 Amelia Watts and Charley Jennings
Between CP2 and CP3, Amelia passed Charley and arrived 5 minutes behind of Rachel who still led. The positions would remain the same throughout the remainder of the day as all three leading ladies ran consistent races, passing as usual, many of the leading men who had gone out harder earlier on. The only real question was whether Rachel could just dip under the existing course record from Amy White last year, of 7:55.
As the minutes ebbed away, the course reecord slipped just out of reach and Rachel crossed the line for her second win here in 7:59:51. This was a huge 42 minute improvement over her last win here, and puts her third on the all time list for this event. Amelia went on to take second in 8:15 and Charley hung on to third in a time of 8:45.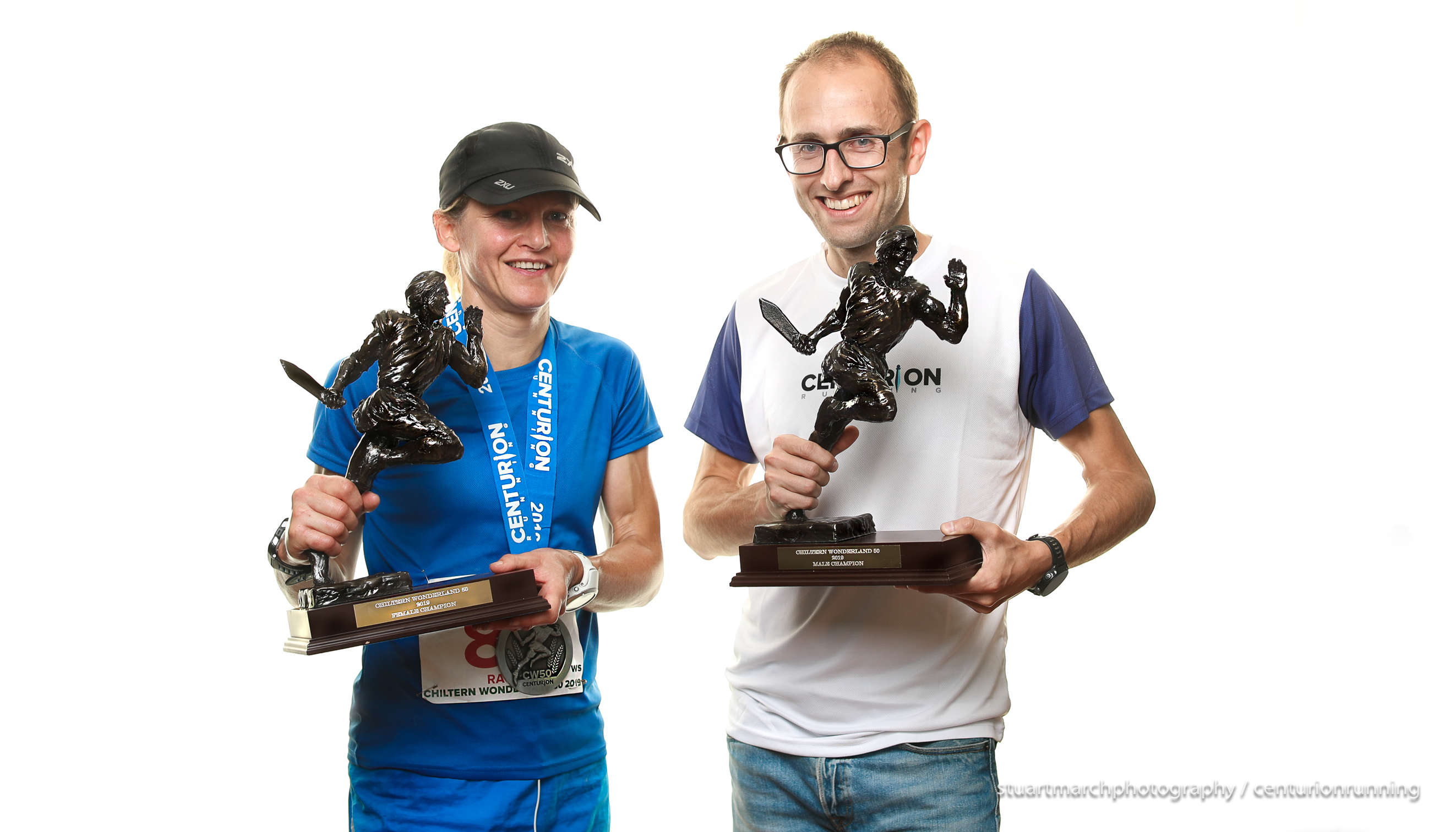 Rachel and Ed our 2019 Champions
With the final few minutes ticking down, our final runner out on course was Claudia Fedoroff who has volunteered literally dozens of times for us. She also happens to be running the Grand Slam and needed the finish to keep her going on to the fourth and final event at Wendover. We were all willing her home and with just under 4 minutes to the cut off she made it over the line and became the 215th finisher of our 233 starters.
This was a record finisher rate and record total number of finishers at this race.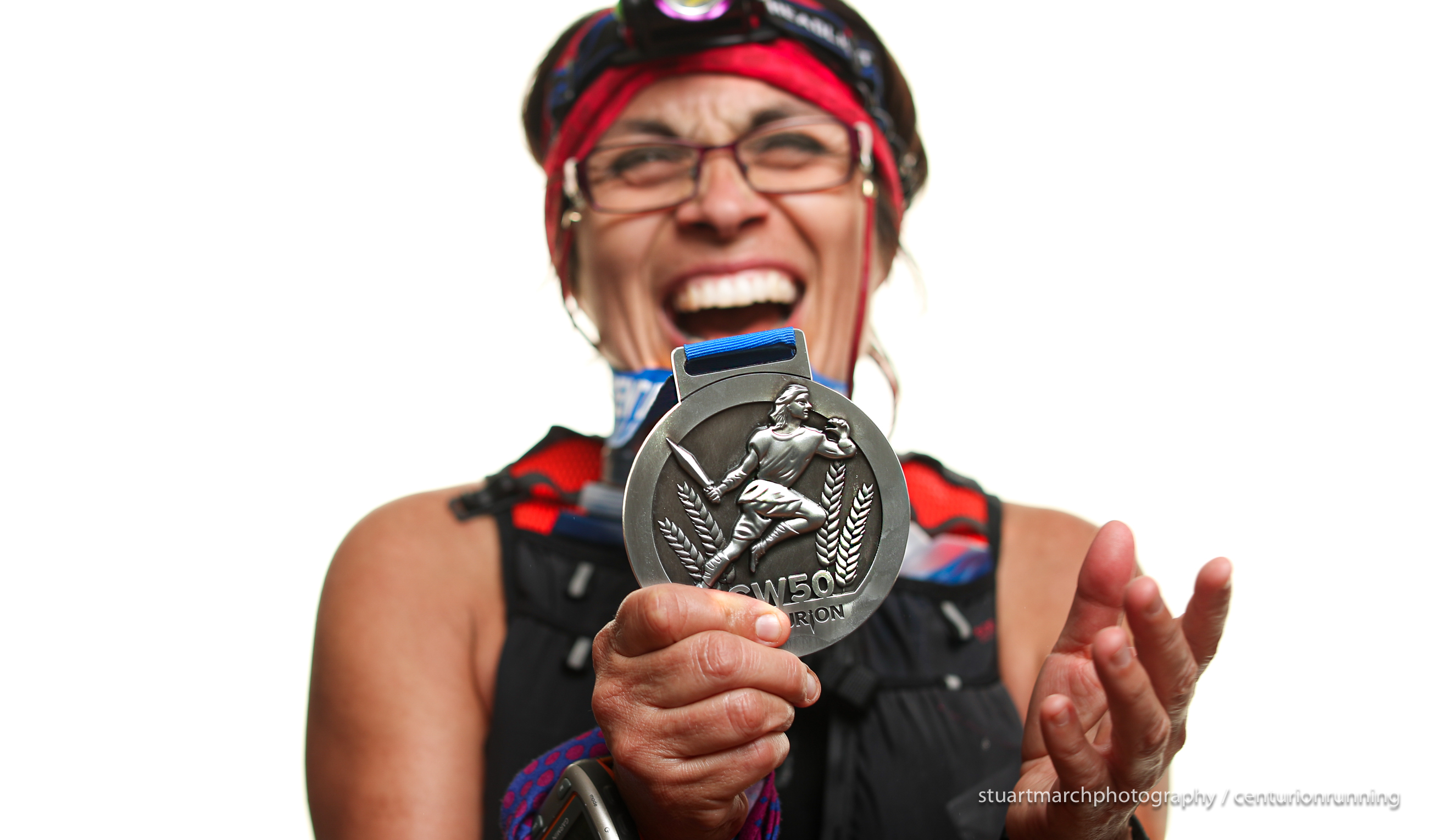 Claudia Fedoroff was pretty pleased to make it home in time!
AGE GROUPS
Age Group Awards were awarded as follows. A special mention to John Fanshawe who ran home in 10:18:17, at age 73 set a new V70 50 mile record across all of our events and also came in ahead of all starters in the MV60 category too. John is a world class athlete within his age group, his 3:35 at Tokyo marathon last year ranking him 6th in the UK for the distance.
Rachel's winning time was a FV40 win also as well as a new age group record.
FV50 went to Laura Hales in 9:39:25
Pete Vale was first MV40 in 6:51:34
Andy Jones first MV50 in 8:54:57
Nick Thompson first MV60 in 12:35:46.
GRAND SLAM
In the Grand Slam, the current leaders solidified their standings at the top of the table. Rachel Fawcett extended her lead over Charley Jennings to 1 hour 40 minutes and looks set to substantially lower the overall Slam record. Neil Martin ran home in fourth place here, following a sixth and a fourth at the previous two events. He now leads the overall standings by 1 hour and 50 minutes.
The table as it is can be found here with one event to go. 51 runners remain in the fight for the Grand Slam award.