Near perfect conditions greeted 252 runners for the 9th edition of the North Downs Way 50. This course is such a favourite with returning runners. The fast first half with a minimal amount of climb deliver the majority of runners to the foot of Box Hill at mile 24, in super fast times at the front and with a significant buffer over the cut offs at the back. Then the real work begins. After Box Hill, runners ascend Reigate Hill before the check point at Wray Lane at the 50km mark. And the final 19 miles in from there feature many short sharp ascents and of course the more remote fields and trails of the final 5km. Flat, but never ending!
Both the men and women gave us superb racing to watch, right from the gun.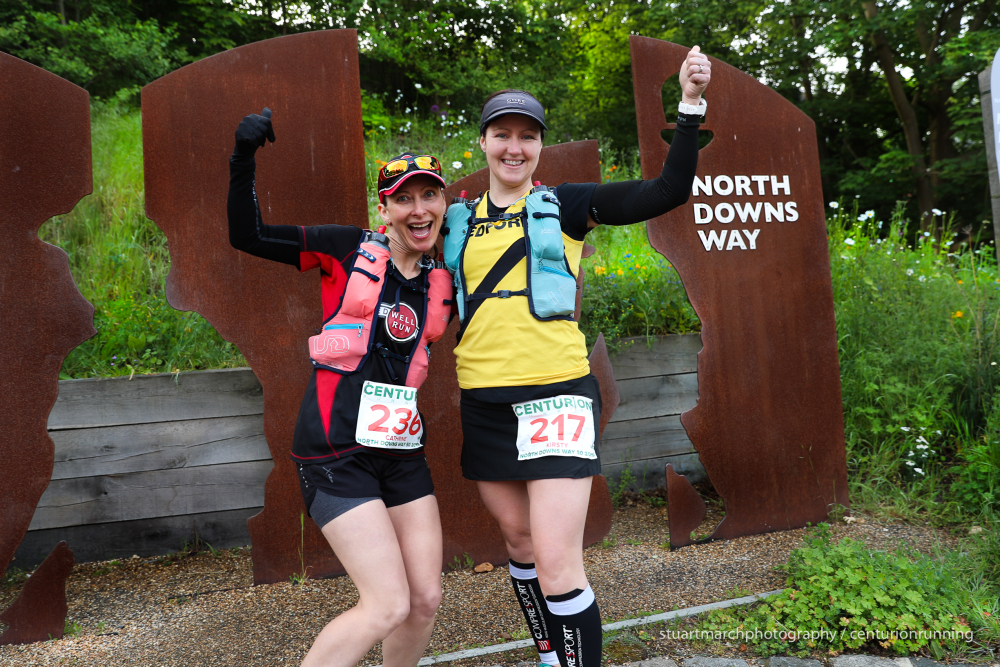 In the mens, returning champion Stuart Leaney seemed to be a clear favourite coming in, but had elected to take this as part of a peak training week for his assault on the upcoming Wendover Woods 100, so he wasn't sure how he would hold out later in the day. Rob Payne fresh off some solid results in 2018 looked like he meant business right from the off. Paul Russhard who has tried every tactical approach there is to try to win this race, went off the front again as usual but held back much more than he typically has. These were three strong, powerful runners with the ability to go fast. Indeed the overall positions featured these three from the gun.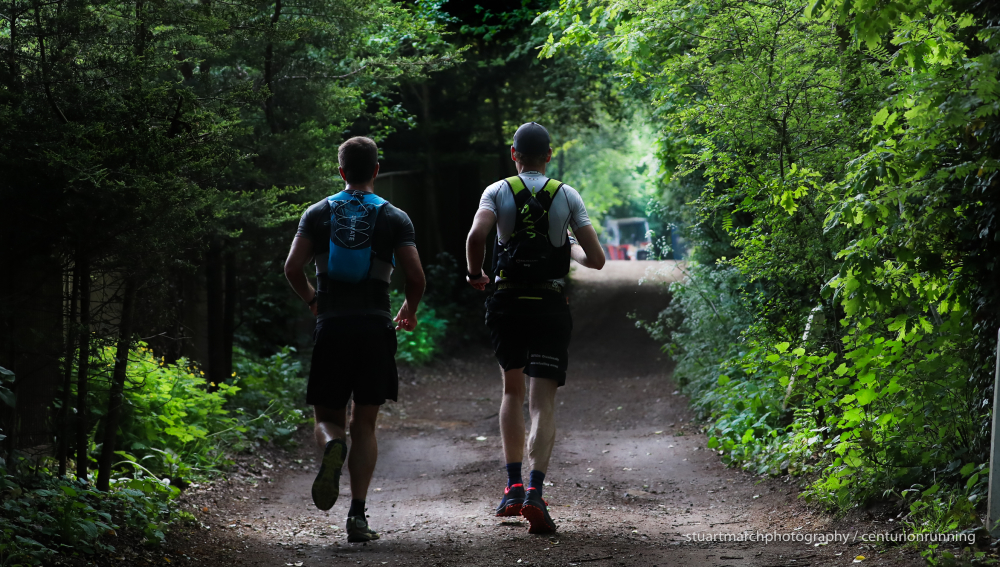 Paul Russhard and Rob Payne running together just after CP1
They arrived at CP1 just 10km in together, but Rob stepped ahead with Paul having gone straight through and edging away over the next section, Rob didn't look back from there. He seemed to be working hard early on but it was clearly a sustainable level for him as he simply gapped the field increasingly across the entire race. By Box Hill CP3 he was 6 minutes up on Stuart and Paul who were running within a few seconds of each other. By Caterham Mile 38 it was 13 minutes to the same two behind. at Botley, 17 minutes before he eventually crossed the line in 6:47:57 for the win. Rob went 5th fastest all time on this course. Paul ran by far the best race he has had with us to finish 2nd in 7:01. His strategy of holding back a little in the early stages, running within himself and then pusihing hard at the end had paid off and that earned him a thoroughly deserved podium place. 3rd place went to Stuart who admittedly struggled to find top gear but still ran home in 7:06. Neil Martin, leading the Grand Slam standings took 4th just a few minutes back.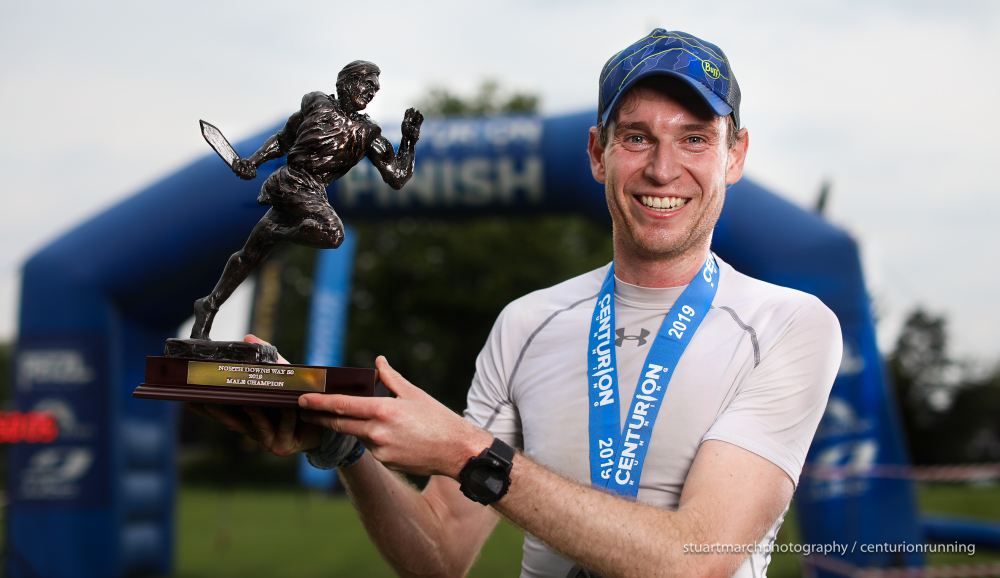 Rob Payne with his winners trophy
In the womens race, the lead changed hands numerous times early on. Rachel Fawcett led things through CP1 at 10km in 54 minutes flat, with Charley Jennings who led at this point a couple of years ago hot on her heels. GB International Beth Pascall was just a minute behind seemingly more relaxed and comfortable. By Newlands, Beth had edged into the lead with Rachel, Charley and now Gill Bland all close behind. These were the four women we had expected in the lead up, to challenge for the overall positions. The next ten miles of the course across to the base of Box Hill are predominantly flat or descending and it was on this section that fast marathoner Gill forged into the lead arriving with Beth, Rachel just 20 seconds back. But Beths class on the hills shone through from this point as she ran the fastest second half of this event that we have seen in the womens race.
Beth Pascall running in third place early on
She closed the race in from Box Hill in 3:59, good enough for 7:19 and a winning margin of 33 minutes. At the end, Beth had clearly run well within herself, with this a part of her training for Western States. A case of a job well done as she went off to a hen do in Somerset straight from the finish!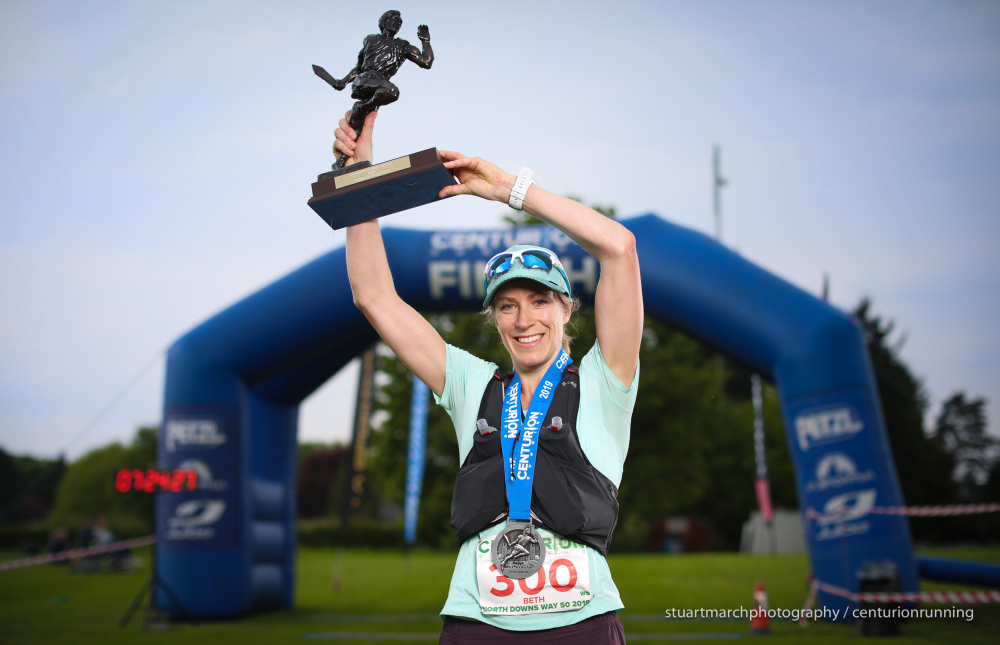 Rachel Fawcett earned a truly deserved 2nd place behind beth in a superb time of 7:52, becoming only the 4th woman to break 8 hours on this course. She really buried herself over the second half and finally, after five consecutive 4th places at our events, ran her way onto the second step of the podium. We were all delighted for her and the hard work paying off. Third place went to Gill Bland in her first 50 miler, just over a minute behind of Rachel in 7:53, another superb run.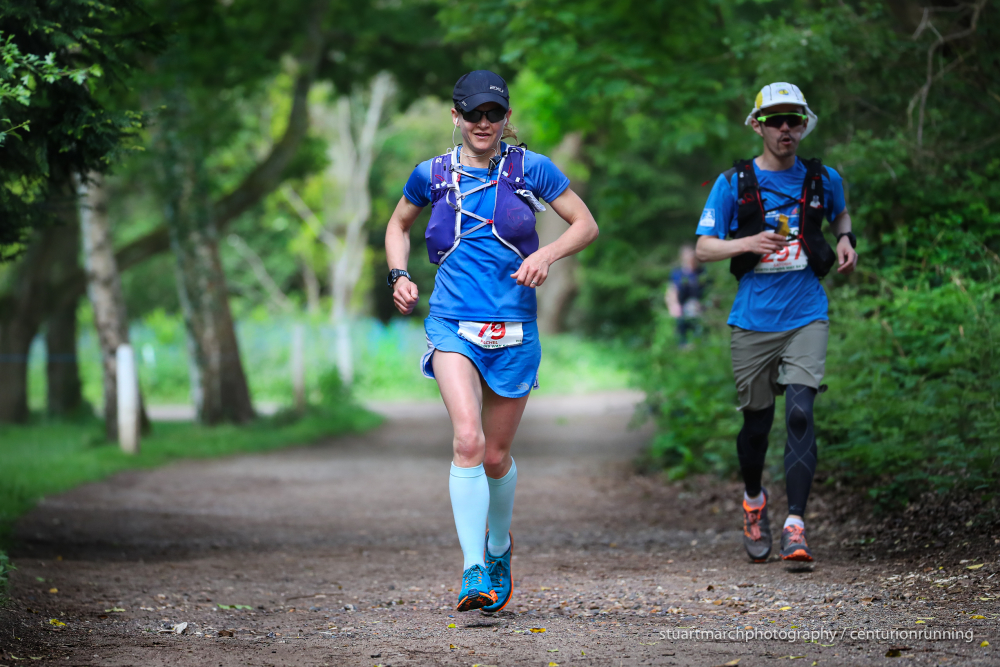 Rachel Fawcett went on to finish 2nd
Eventually, 236 finishers crossed the line under the 13 hour cut off from 252 starters, which made for a 94% finish rate. All records for this event - our highest ever finish rate in 9 years which spoke of how good conditions were.
The Age Group Awards went to Stuart Leaney (MV40), Eduard Egelie/ Vladimir Zalesskiy (MV50 Joint) and Nigel Stevens (MV60). In the womens race Rachel Fawcett took the FV40 award setting a substantial improvement in that mark with her second place finish, with Debra Bourne the 2012 Champion taing the FV50 prize. Carol Murphy ran home the FV60 winner in 12:40.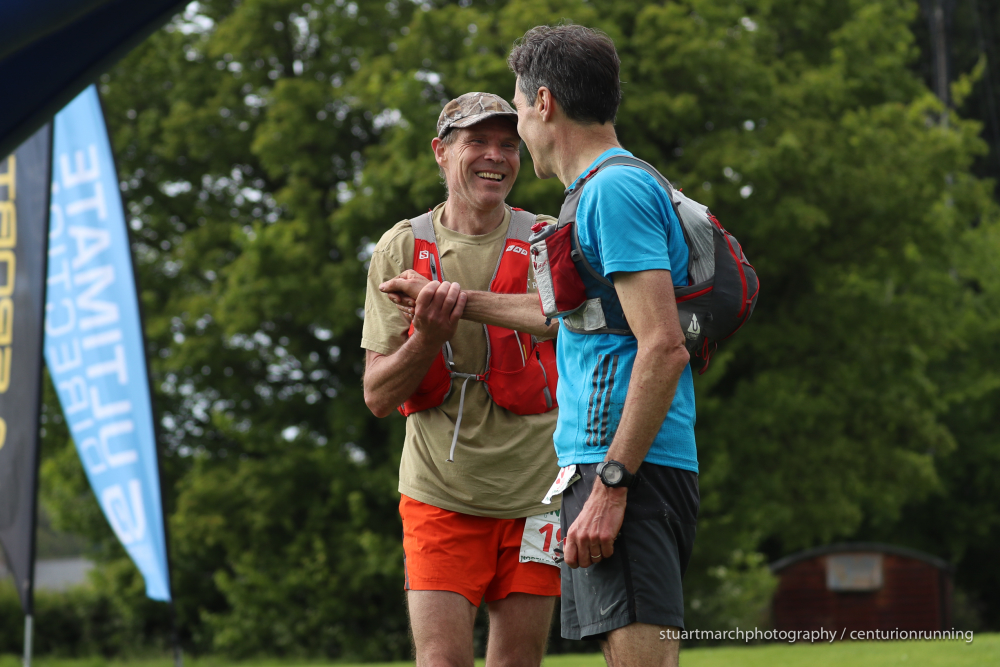 Eduard and Vladimir finish joint first in the MV50 category
As per the South Downs Way 50, it was Cat Marriot who left the real fireworks until the very end. With 45 minutes to go in the race, there were still 47 people out on course. People arrived home in groups and singles seemingly non stop all the way to 12:57 elapsed which left just Cat out on course. Cat finished the SDW50 last month, after 26 straight DNFs at our events. It was a truly emotional time for all involved. This time, with a view across the final field from our finish position giving us eyes on the final mile, Cat was nowhere in sight therefore we knew it sadly wasn't to be this time. Having left the final check point with 10 minutes to spare it was going to be a herculean effort for her to make this one. Yet with 13:00:10 on the clock she suddenly emerged into the final road and crossed the line in 13:00:42. But. She had performed what will sadly be known as a Gary Robbins at this point, having taken the shorter NDW100 route into the finish by accident, as well as just missing the alloted time. It was with a knowing smile that she lay on the ground breathing hard - she had as at the SDW50 given it her all, all day but had this time come up just short. The satisfaction of having given everything was clearly there and it was still great to see.
61 Grand Slammers completed the race and the table as it stands is available here. Both Neil Martin and Rachel Fawcett have commanding leads in the respective mens and womens overall standings.
We move on now to the South Downs Way 100 which will be our biggest ever 100 mile starting field. We love the race so much and we look forward to some more stellar racing over the weekend of the 8th and 9th of June.
Final thanks as always to the 62 volunteers that made the race yet again the safe and enjoyable one that it was.