The eighth edition of the South Downs Way 100 saw many of our all time records shattered as well as some wider scale records of note. For this year we moved our starting location to the incredible Matterley Bowl, just east of the true start of the South Downs Way. Runners met across Friday night and Saturday morning, most in driving rain, wondering if the forecast was going to change for race morning and afford them better running conditions for the race itself.
It did much more than that. Temperatures were close to ideal not getting too warm in the day or too cold during the evening. Some were a little chilly on the ridge early on as the 40+mph south westerly winds cut through, but most managed to make the most of the golden opportunity that the following wind afforded. We welcomed home an astonishing 305 finishers, a finish rate of 81%, far eclipsing anything that we have seen before at one of our 100 milers. It was PB central down at Eastbourne at the end as runners came home absolutely over the moon with times and performances. For us it was such a pleasure to watch. Of course there is no such thing as an easy 100 miler and every one of those out on course still had to ride the incredible roller coaster that is racing over such a distance. We believe that 305 finishers in a 100 mile trail race is a record for the UK. Certainly LDWA 100s have eclipsed that total as walking events but as a running event this could be a record and we are very proud of that.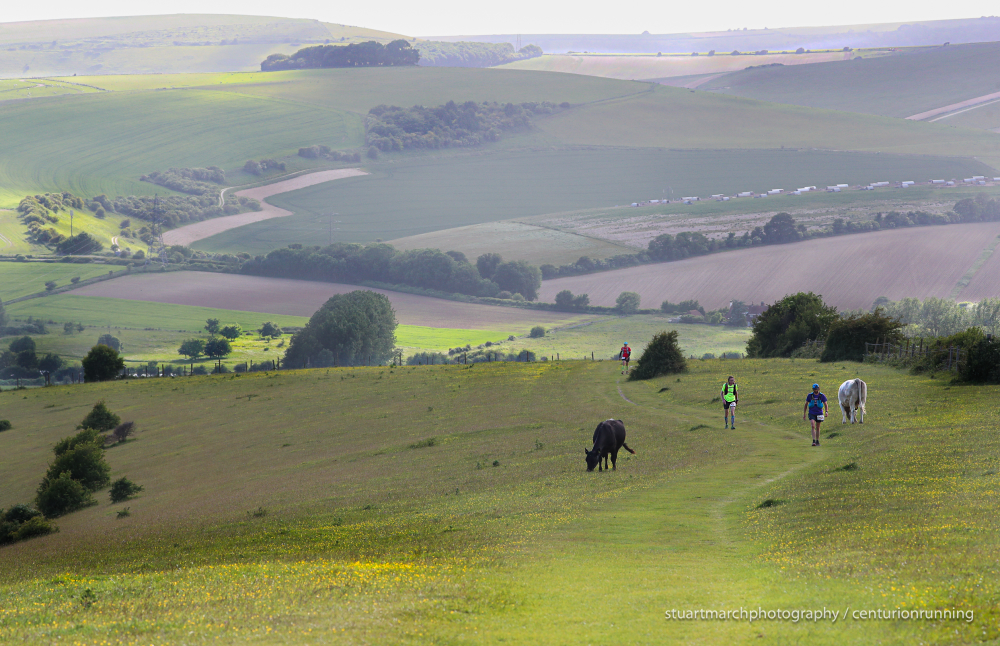 We also saw some absolutely spectacular racing. It's probably fair to say that the mens race this time, was the most exciting 100 we have ever witnessed at the sharp end of any race. The lead changed hands multiple times, with runners going back and forth, driving each other to new levels right from the gun. It came down to two protagonists at the end, duking it out on the final section of the course down through the town, less than a minute separating the two, both on the final 400m circuit of the track at the same time, coming home with the second and third fastest times we've seen on this course. To those who say that ultra distance events aren't exciting, this was all the proof ever needed against that.
We also welcomed home a female champion for the third time, picking up her eighth Centurion trophy in the process, once again making a truly miraculous return. Since winning the event in 2014, twice she has been in an ICU after major car/ bike accidents and made it back to better her previous effort each time.
The Mens Race
376 starters made the new initial 3.7 mile route around the estate, before hitting the South Downs Way itself. The good thing about the new start is that supporters get a chance to see the runners in action three separate times before they get underway on the SDW proper and despite the early start and grey conditions we had a great atmosphere.
Immediately, some of the key contenders in the mens race were at the fore. Jon Ellis, our Grand Slam 50 record holder, GB internationals Marcus Scotney and Paul Maskell, Irish long distance champion Peter Cromie and reigning CW50 champion Geoff Cheshire all forging ahead early on. John Melbourne and Ian Hammett, first and second at the TP100 last month and looking for solid results in leg two of their grand slam assaults stayed further back seemingly comfortable to stick to their own race plans.
We always look to Mark Perkins' splits at times like this, his 14:03 being still comfortably the best mens 100 mile performance we've seen, indeed it is still the fastest ever time for one of our 100s. The front runners seemed to be right on pace, but of course, Mark didn't slow down in the second half....
The lead group fragmented a little over the section to QECP mile 22 and the first major crew location. Paul Maskell and Marcus Scotney led the way, Paul's split into there was just 2:51.
Over coming miles Paul stretched away on his own and Marcus unfortunately called it a day prior to the fourth check point at Cocking.
Conditions late morning swung from blazing sunshine and pouring rain, but each burst seemed to last just a few minutes and didn't seem to slow anybody down whatsoever.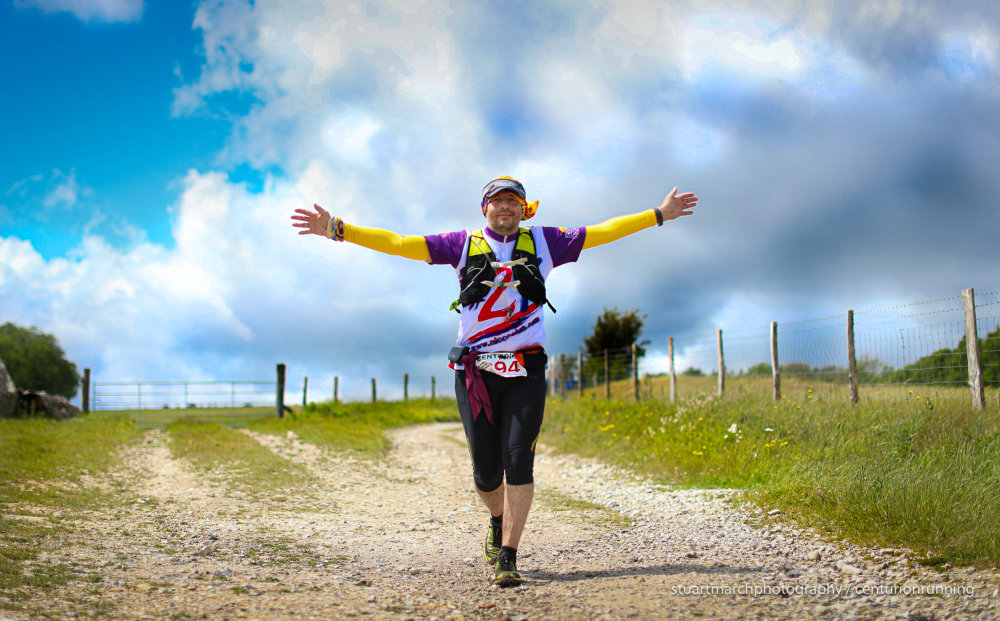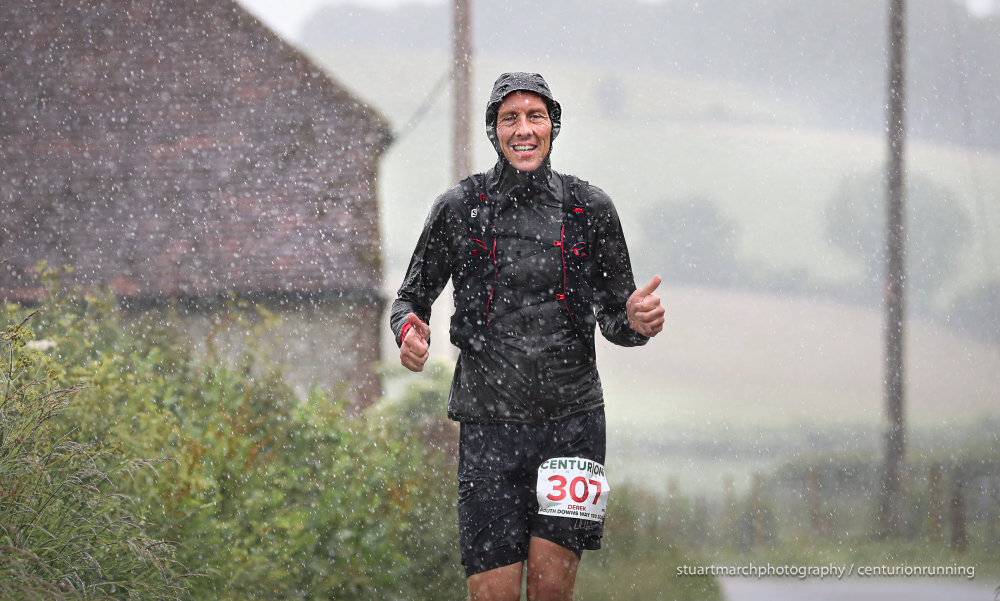 Sun then rain then back again
Paul looked strong making it through Cocking mile 35 in just 4:34, now trailed by Geoff Cheshire just 8 minutes back in second, the other initial lead group dropping back. With the exception of Ian and John the two Grand Slam hopefuls holding steady at 4:51 and 5:00 elapsed.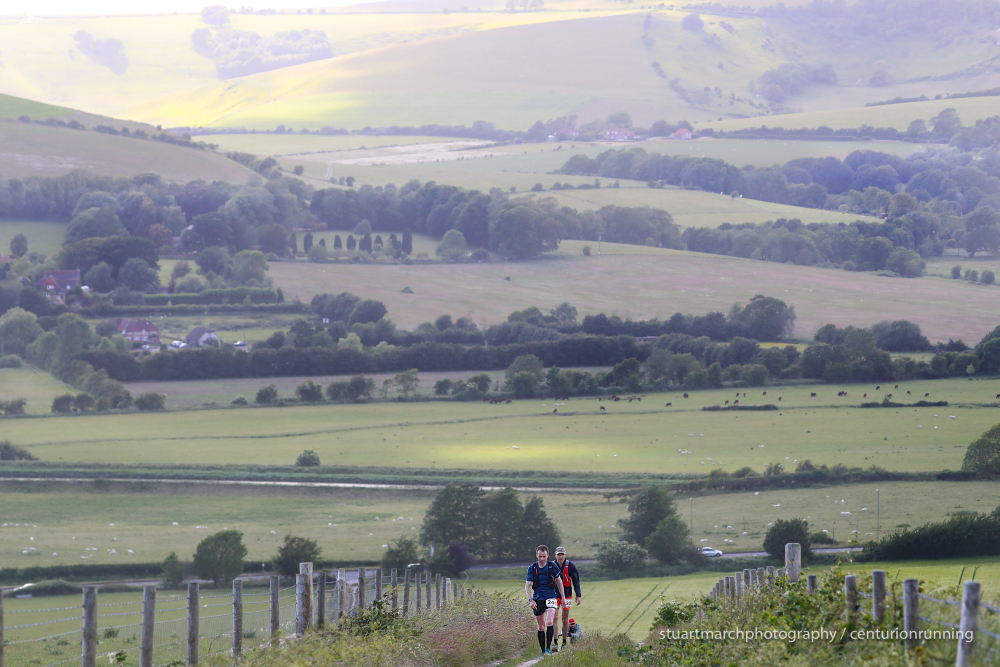 Views abound over the South Downs National Park
Over the more remote sections to Bignor Hill (mile 44), Kithurst Hill (mile 50) and down to the major 'half-way' check point at Washington, Paul ran ahead by himself, but Geoff stuck right on his heels, a gap which fluctuated between just 3 and 10 minutes at any given point. Behind Paul and Geoff, Jon Ellis unfortunately called it a day and Ian and John stepped into third and fourth, with John seeming to be holding the better pace of the two.
Geoff crept within sight of Paul at regular intervals and it was on the way to Housedean Farm at mile 76 that the two finally merged and ran into the check point together. At the same time, John forged past Ian with authority to move up into third place, all the while closing on the front two. Things were evolving and the race was on.
Geoff was able to drop Paul and take the lead on the long gradual climb out of Housedean, Paul having a self-admitted low patch, but he is a true fighter and certainly wasn't done. He came back to Geoff and left Southease mile 83, just ahead of him. The gap stayed the same all the way to Alfriston at mile 91, where on the steeper climb over the top of the Long Man, the wheels finally came off for Geoff and with an almost complete engine failure as well as quad issues he was forced to a dramatic slow down. He eventually came to a full stop at Jevington with just 4 miles to go where he sadly dropped from the race.
It wasn't a coast to the win for Paul at that point however, as the hard charging John Melbourne went on to deliver us the finest of finishes. He hammered his way through the second half of the course, taking vast chunks out of Paul and Geoff and then just Paul. 8 minutes better between Housedean and Southease. 5 minutes better between Southease and Alfriston, the gap of 11 minutes with just 9 miles to go seemed within his grasp.
Paul hit the road in Eastbourne with 2.5 miles to go first, John emerged just 40 seconds later, both of them running low 7 minute mile pace on the flat and fast finish. Jolted into reality from Neil Kirby, past champ who was cheering from the start of the road section, Paul seemed to be able to find that gear he needed and hit the track with a lead of just 60 seconds. John was so close, half way down the back straight as Paul crossed the line for a win in 14:28:53 over Johns' 14:29:57. The closest one two we have ever had.
After Geoff dropped so late, it was Ian Hammett who picked up his second podium in two 100s with third in 15:17:52.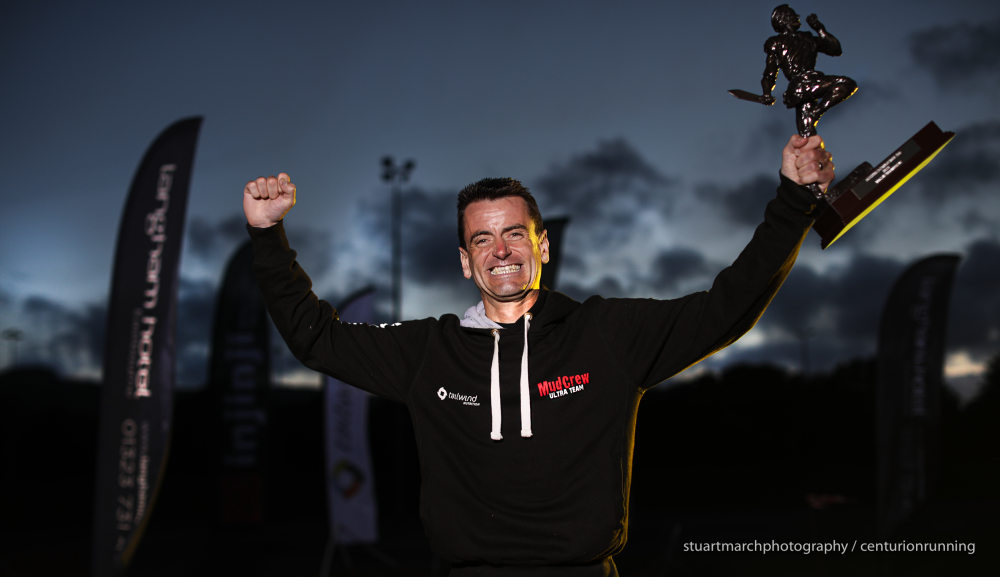 Paul Maskell wins his second Centurion 100, adding to his Autumn 100 crown
The Womens Race
On paper, the womens field was almost as deep as the mens, with a simlar 5-6 possible contenders lining up on race morning. Much like the mens it took a brave person to call what the final outcome was likely to be.
From the first lap of the bowl, last years NDW100 champion, Norwegian Ingrid Lid ran from the front, with Sarah Morwood sitting back in second, shadowed by Michelle Maxwell. 2013 SDW50 champ Eddie Sutton in fourth, taking things out at her own pace.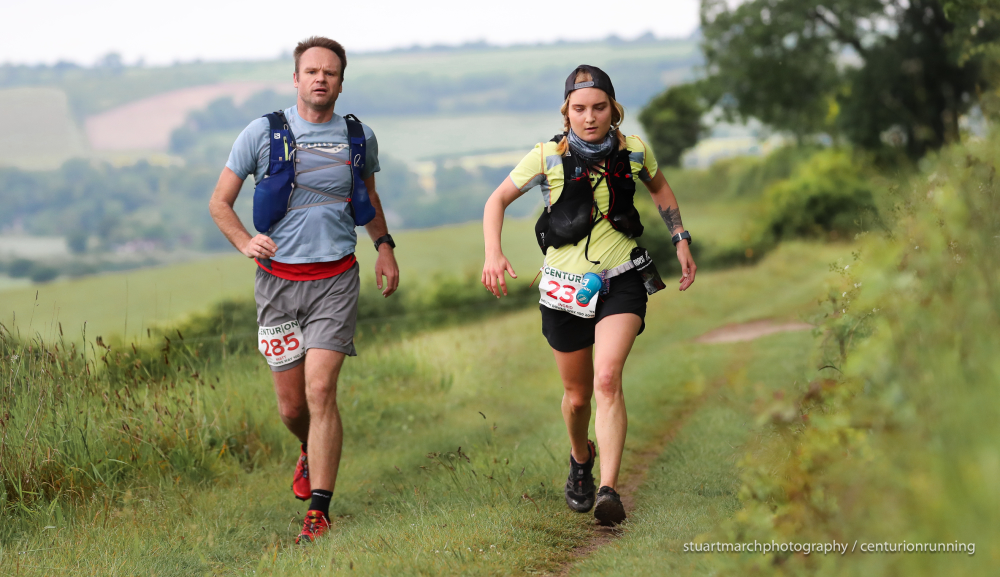 Ingrid Lid led the way in the first third of the race
Ingrid led the way through QECP mile 22 in 3:24 a really strong start and looked comfortable. Behind her Sarah ran through in 3:29, Michelle close by in 3:32. Eddie Sutton coming in with a niggling foot injury back in fourth at this point was then forced to drop shortly after leaving those three to duke things out over the next 40 miles.
By Cocking mile 35 the gaps had all but disappeared, things were shaping up just the way we had hoped with superb racing from our front three. Ingrid led the way in 5:39, Sarah a minute back and Michelle just 2 minutes further behind. But, there was a long way to go and things would shake up considerably from there.
If you want to look to one of the toughest competitors out there, one need look no further than Sarah Morwood. Her consistency is incredible. For the past several years as she has gone on to represent her country on the trails, she has taken things to the next level and maintains performance race after race. Her splits through the aid stations this year were within 2 or 3 minutes of her run from 2017 where she came home in 17:30. Which was six minutes faster overall than her 2014 win in 17:36. She knows where to gauge her effort and there's never any doubt that she'll hold it during the second half of the race. By Mile 44 she had edged ahead of Ingrid and quite simply ran away from everyone at that point. When Ingrid sadly had to drop at the 100km mark, it left Sarah with a gap already half an hour over the rest of the field. By the finish in Eastbourne she had extended that to over two hours, coming home in 17:29. A class performance and a confidence boost for her as she goes on to the 24 hour World Champioships in October. This was Sarah's 8th Centurion trophy and in typical Sarah fashion she gave her prize straight back to us to give out to the final female finisher as she has done in the past with some of her trophies.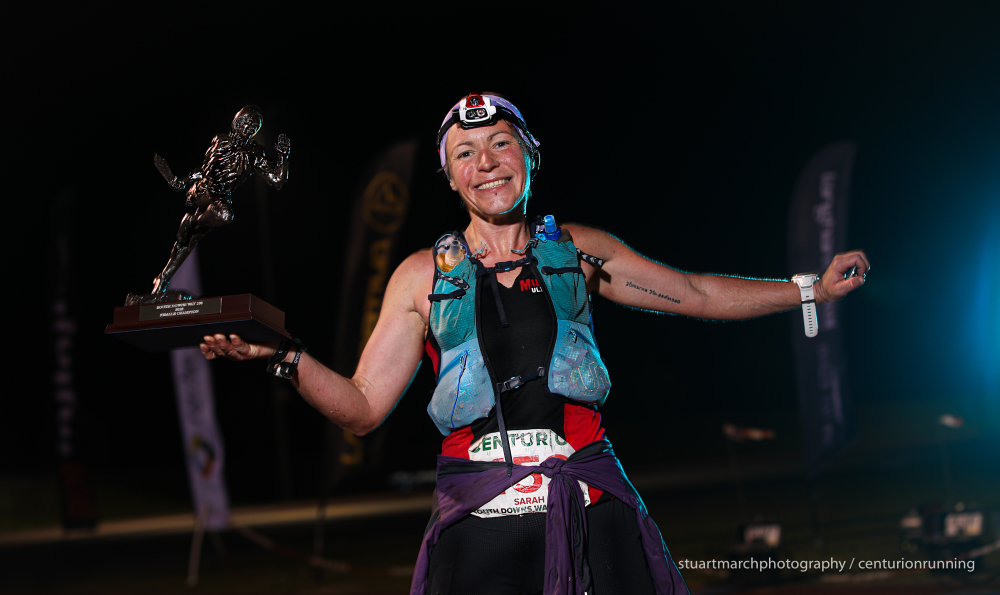 Sarah Morwood, three time SDW100 champion
Behind Sarah, Michelle Maxwell running in her first 100 came home with a solid second place in 19:31:52, never challenged from those behind. And after some changing of hands between Rebecca Lane and Samantha Lloyd, it was Samantha who took home third in 21:24:40.
Age Categories
In the womens race, Michelle Maxwells second place was also good enough for the FV40 win. Tracy Owen won the FV50 award in a superb 22:59.
In the mens, Paul Maskells' win was also a MV40 record. Rick Curtis took fourth overall and just missed out on the MV50 record, in 15:59. Bob Empson's 23:18 was good enough for the V60 win and Keith Simpson was our first and only MV70 finisher in 26:21.
Keith Simpson, MV70 winner with daughter and pacer Cat
One final mention, Ian Cullingworth one of our Grand Slammers in 2013 returned to racing after an absence of six years, during which he fought an aggressive form of skin cancer which left him unable to run. He not only made it back to the start line via a 50 mile qualifier earlier this year, but made it to the finish in a time of 22:33. It was one of the highlights of the weekend for sure.
Final words for our 112 volunteers out on course. Nothing is ever too much trouble for any one of them. They are the lifeblood of our support and the sense of community at this race was higher than ever, which says a lot considering the increased starting field.
Thanks so much to all of them for making this another safe and successful race.