Our third 100 mile event of 2020 took place this past weekend, on its regular date in the calendar. Based out of the twin villages of Goring and Streatley that abutt the river Thames, the runners complete a series of four, 25 mile out and backs on the Thames Path and Ridgeway National Trails. It is a largely flat, fast course, with enough variation in terrain and landscape to keep it interesting. Each leg is distinctly different from the one before, despite their geographical proximity.
Historically this event has been our final 100 of the year and an amazing way to finish off the season. Getting to see runners return to Goring every 25 miles and with everyone running out and back, there is an incredible atmosphere. Everyone is able to share in each runners' journey and support one another in a way that isn't possible at point to point events.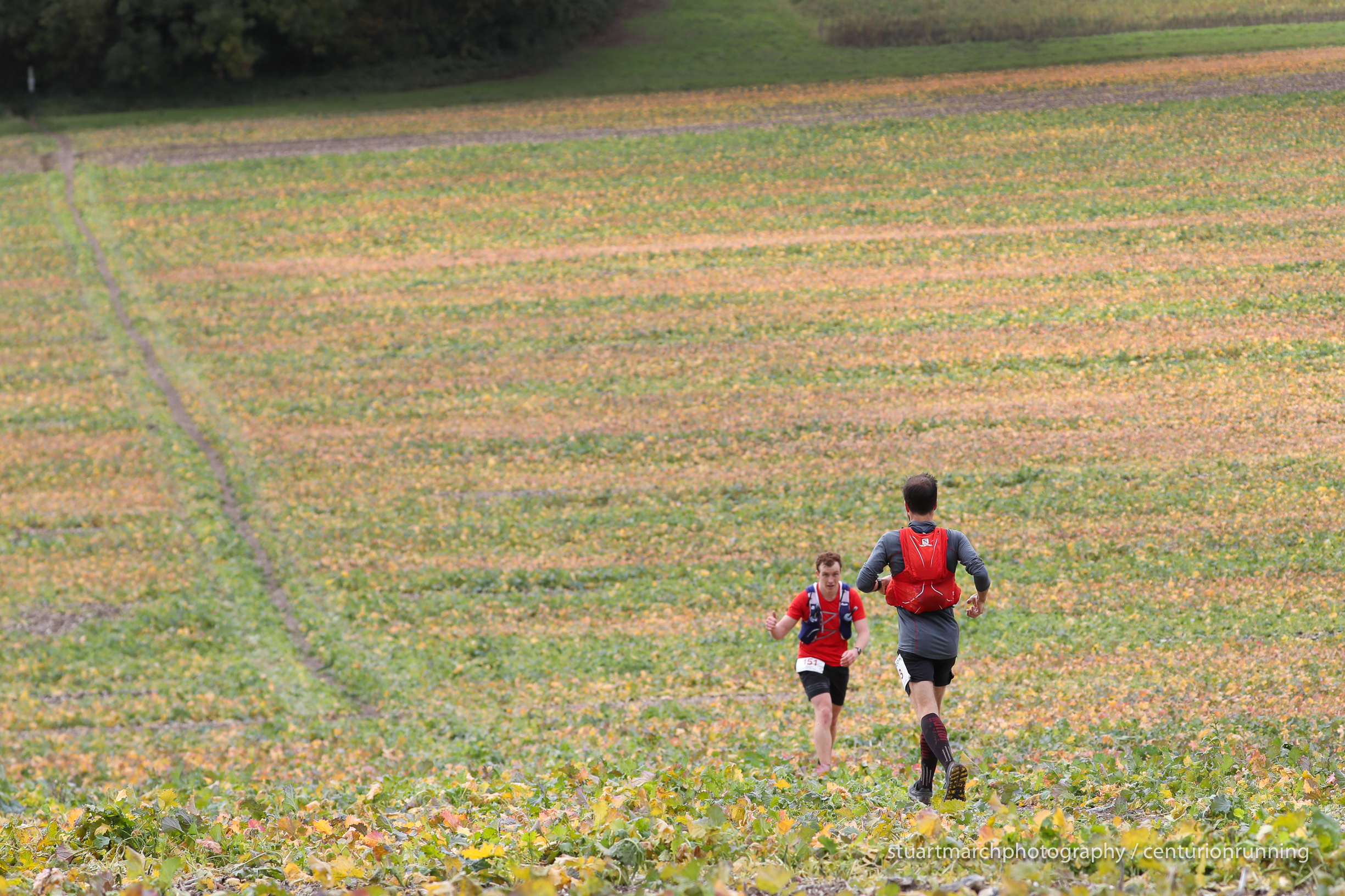 This year pushed the 2012 edition, when the river burst its banks, as being the most complicated year to get the event off of the ground. A sensitive local enviroment due to the continuing covid infection rates. Tight sections of trail that needed avoiding and ensuring that we could stage a race for this number of people whilst remaining completely confident in maintaining our covid-secure protocols given the format of the route, all made for huge challenges. But we continue to forge ahead in the knowledge that we can put on these events safely and sustainably. It is convincing other stakeholders of that that is the challenge. In the end, we must thank West Berkshire and South Oxfordshire councils as well as the Parish councils of Goring and Streatley, plus the National Trail Managers of the TP and Ridgeway, for all of their support in allowing us and trusting us to proceed.
The field was down on usual years due to some being unable to travel. But a significant 197 runners still began their day on the Thames Path headed north from Streatley, between 0630 and 0900 on Saturday morning. This made for an incredibly relaxed start as runners appeared one by one and just set off as they arrived.
The faster runners are being asked to start earlier this year, to create the maximum amount of spread down the course. This reduces congestion at the check points and means less queues, and quieter trails for all users. Quickly, a group of four protagonists made good headway and led the field both literally and figuratively, given the time trial format.
In the mens race, it was Mark Innocenti who went out with the fastest splits, he led almost the entirity of leg one before taking a short detour and arriving back to Goring in sight of John Miskimmin and Ed Catmur who briefly led the race.
Mark began to assert himself further on leg 2 out and back on the Ridgeway. With a marathon PB of 2:31, Mark had by far the greatest road speed of the field, and the excellent running that this course presents allowed him to make great headway with minimum effort. From that point onwards he simply forged further and further ahead, with an excellent set of splits that slipped only on the far reaches of leg 4 out to Reading, before a strong return. His finish time of 14:44, puts him sixth on the all time list. For his 100 mile debut, an incredibly strong effort.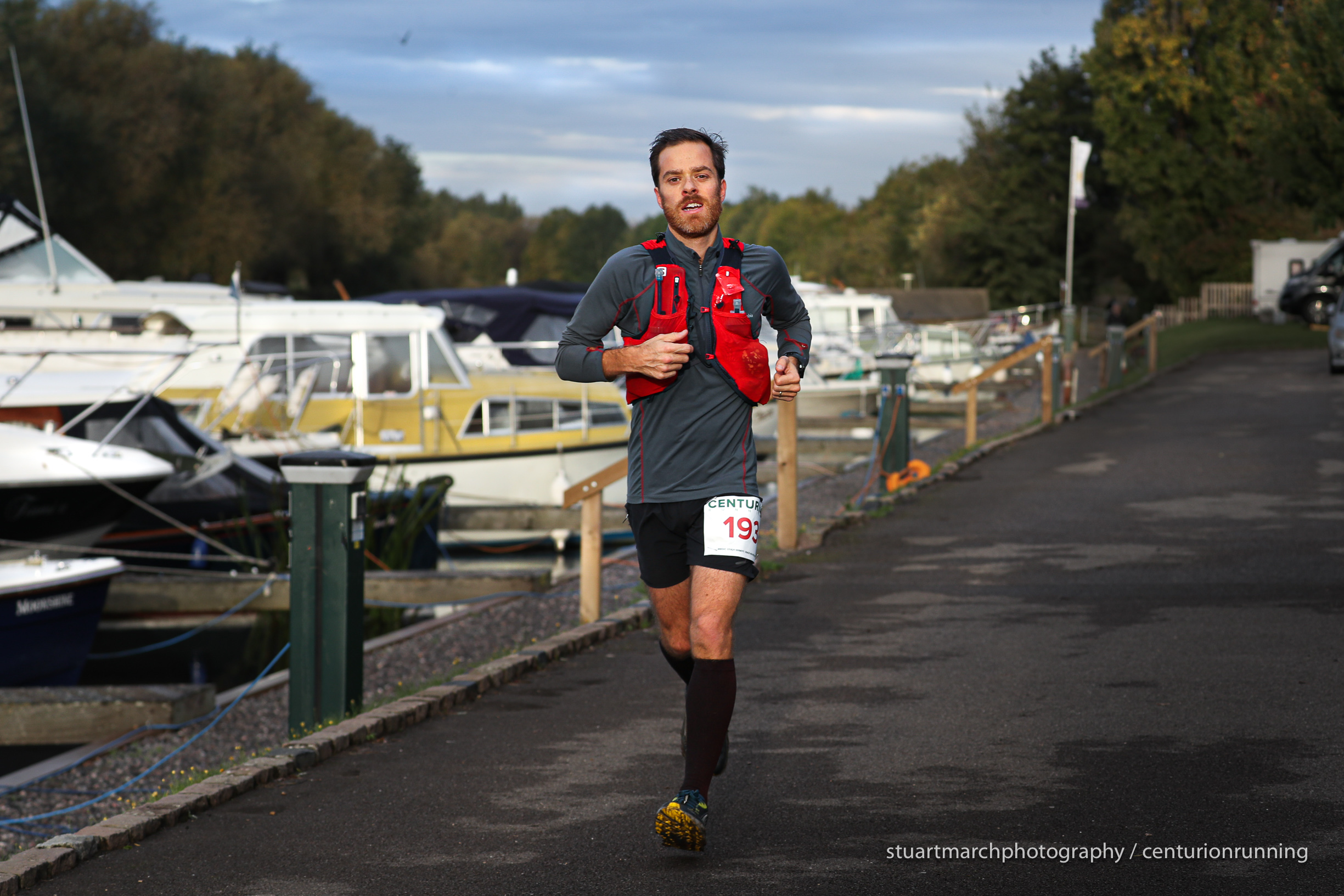 Mark Innocenti took the win on his 100 mile debut
Behind Mark, to see Ed Catmur running so well all day was an absolute pleasure for all of us. Ed has been running our events since day one. During the early years, Ed would routinely run off of the front and win races at a canter. More recently he has struggled on and off with injuries, but has continued to race often because of his love for doing so. 2020, however, has seen a resurgence of the old Ed and although the course was marginally shorter this year due to a re-route on leg 2, Ed ran home for second in a 100 mile PB of 15:38:29. Inspiration for anyone that thinks their best days might be behind them.
Third place was taken by Gwilym Satchell, who also ran a solidly paced race. He moved up from sixth at the end of leg one, into third, over the course of leg two and maintained his position throughout the final 100km.
The ladies race was quite simply all about one runner. Zoe Murphy led from wire to wire in a race where she showed a lot of class, matched with grit and determination. Zoe came into this event with only two 100 mile finishes behind her, but with these being at TDS and Lakeland 100 this was a very different type of challenge. The amount of sheer running that a course like this involves makes it extemely difficult it its own way. Her split at 50 miles was 7:41 and it seemed possible we would see a performance that could launch her into the top handful of all time womens times on this course. Whilst she did fade on the notorious grind of leg four, she came home to post a 18:23, good enough for a win and tenth all time on the finishers list.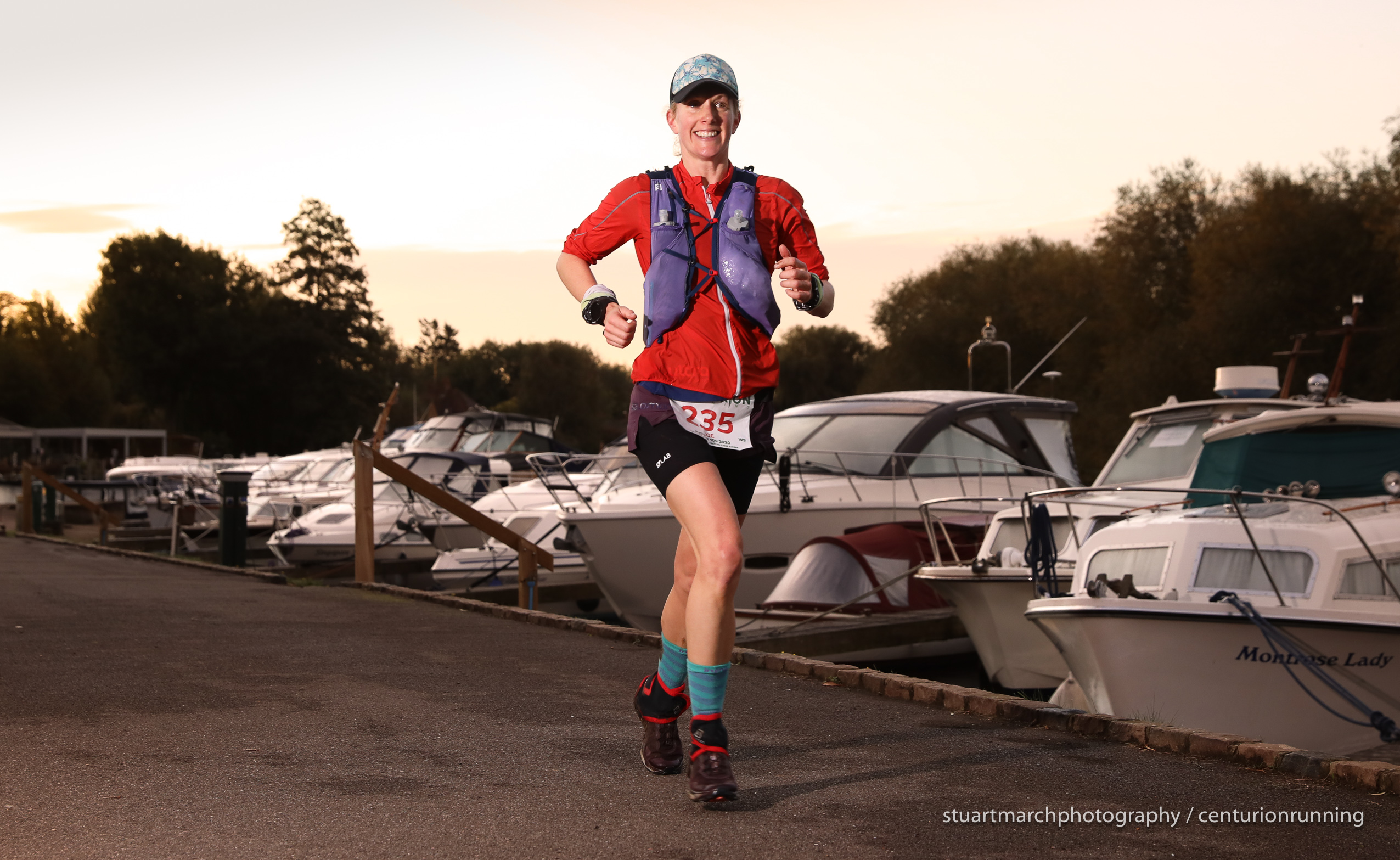 Zoe Murphy ran in first place from wire to wire
Behind Zoe, Kit-Yi Greene, Claire Kanja and Dominique James had a solid battle for second, third and fourth, but played out in the unusual way that the time trial format can represent. Whilst Kit-Yi ran in second early on, she began to fade in the second half but eventually held on for fourth. The race between Claire and Dominique for second and third was fantastic, with the biggest gap between them all day, just 15 minutes and that was at the finish. But with Dominique starting first, she ran ahead in real time all day and finished ahead of Claire, only to have to wait to see if Claire could hold on at the end. She did just that and held second with a time of 20:06:43 to Dominique's 20:21:24.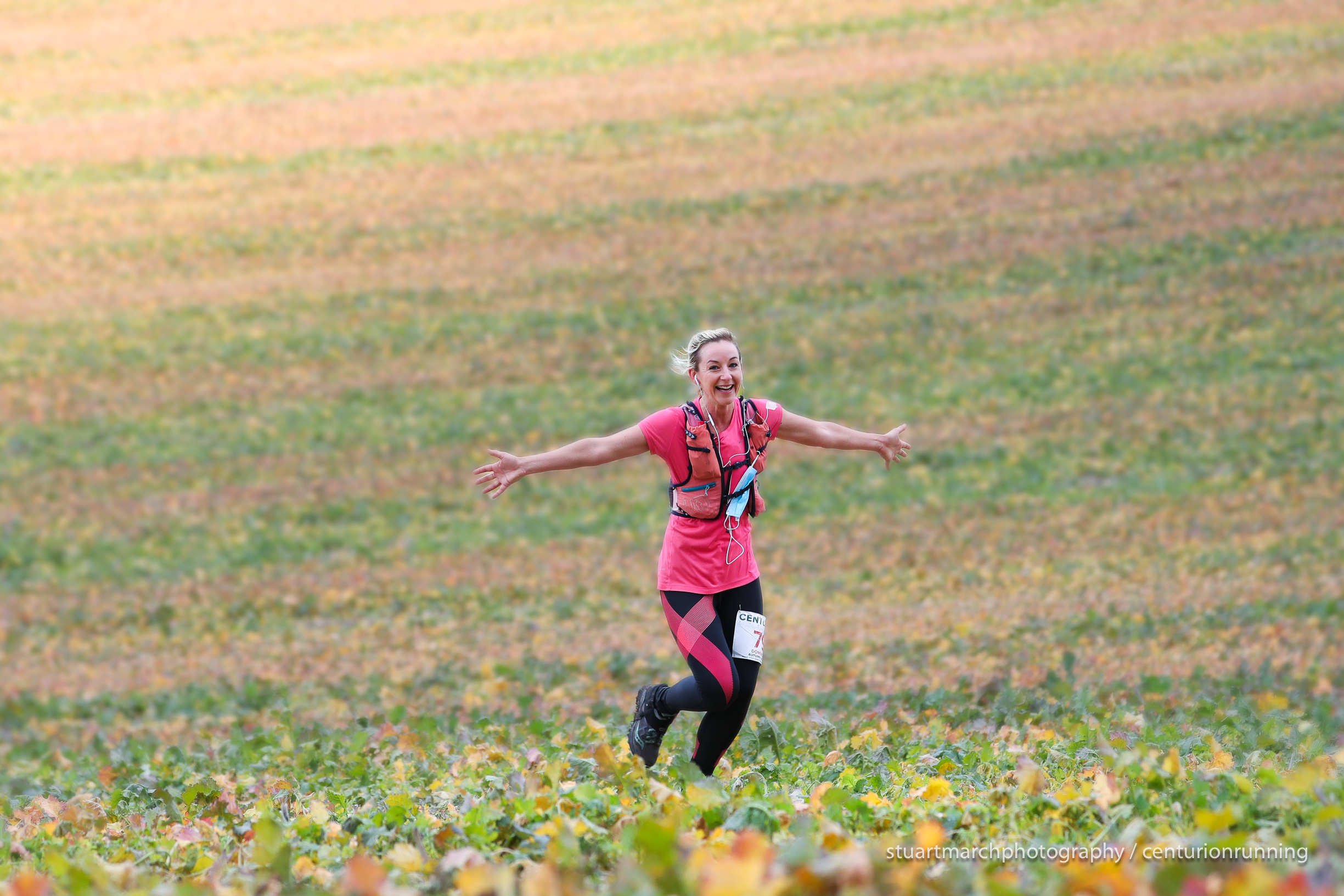 Dominique James
Age Group Awards went to the following runners:
FV40 went to Kit-Yi Greene in fourth overall and FV50 to Debra Bourne in 23:08:38 which is an age-category record.
MV40 to Richard Wilson in 17:41:18. MV50 to John Keat in 17:08:06 - besting any of the V40 mens times too. MV60 to Kevin Munt in 23:40:53 and MV70 to to the indomitable Kenneth Fancett in 23:10:44, besting all the V60s too. I know we mention Ken's stats a lot but this was Kens 30th 100 mile finish with us. His 8th Autumn 100.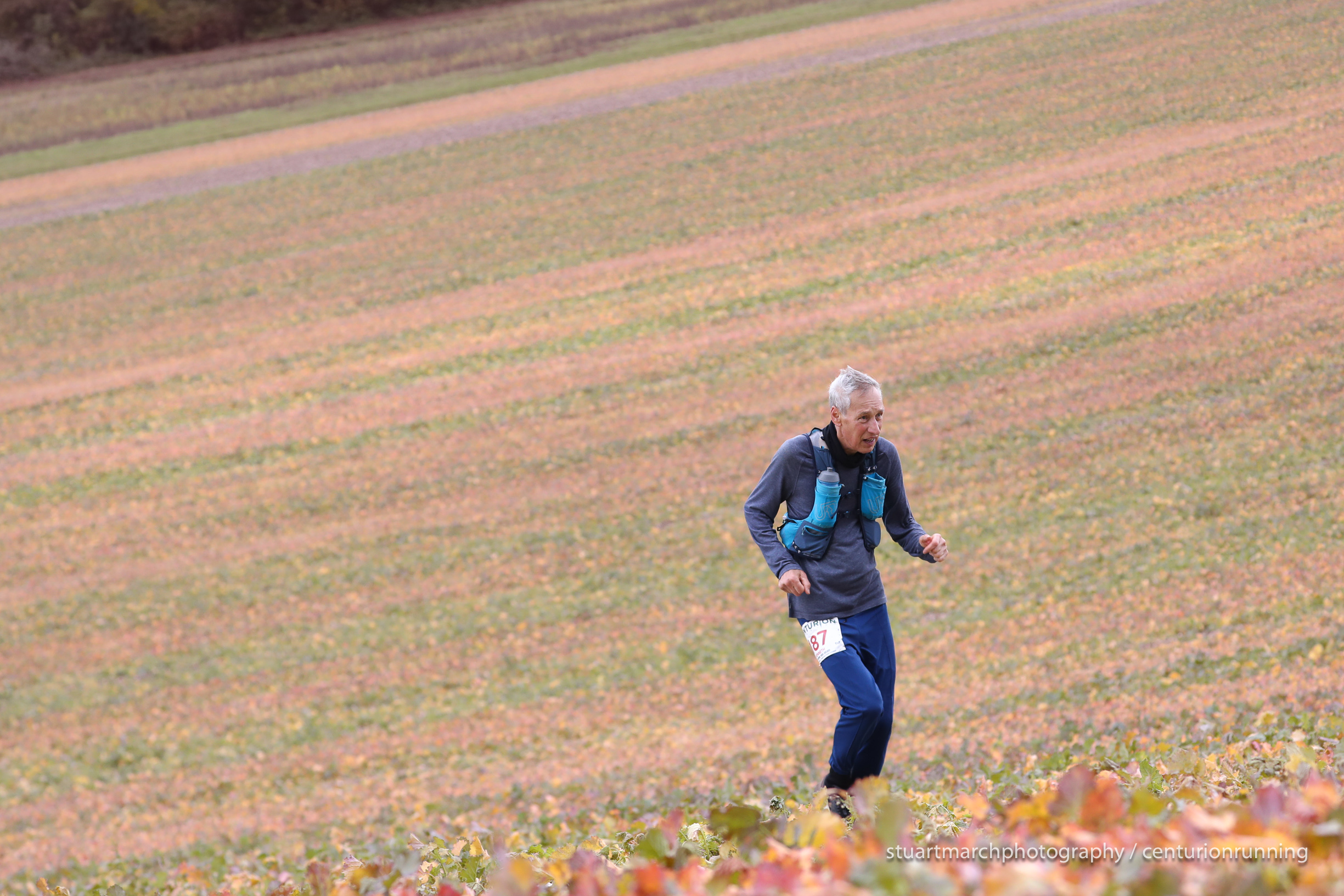 Ken Fancett
151 runners crossed the line from 197 starters. An exceptionally high finish rate. This race also yielded the highest ever percentage of 100 Mile - One Day buckles from any trail 100 we have organised. A staggering 51% of the starting field finished in under a day, cementing this race as possibly the fastest 100 mile trail course of our events and perhaps in the UK.
A massive thanks to all of our volunteers who endured high winds, spells of heavy rain, brisk temperatures and even rogue poachers and armed police in the case of the East Isley team on the Ridgeway on Saturday afternoon.
We continue with our season next at the SDW50 in just under two weeks time.