Perhaps fairly predictably, this race report is not going to start out in the traditional manner of focusing on the race itself, but rather on paying tribute to what was achieved by everybody involved in staging the safest possible event in the light of the current situation.
In terms of organisation, this event presented probably the single biggest challenge we have faced. At least equal to the flooded course years on the Thames Path and Winter 100s. The success of the weekend, the staging of a safe race in current conditions took an astonishing level of grit and determination from volunteers as much as the runners.
Starting with the volunteers. Never have we witnessed such sheer selflessness and dedication in all of our years in ultrarunning as were witnessed over the weekend and that is really saying something considering the ten years of graft we have been privy to. Firstly, that we had 95 people willing to trust us and the runners to keep them safe in what are still very uncertain times is nothing short of incredible. But then they were asked to spend up to 30 hours wearing masks and nitrile gloves as a minimum at all times. To maintain social distancing from each other and the runners when their every instinct is to rush in and fill bottles, provide food for, high five and hug, commiserate and congratulate and just be there for them. To concentrate at every moment, whether through the night or in 33 degree temperatures, on every runner sanitising hands in and out of check points, filling and topping up food and water supplies on the tables, guiding runners through one way systems and giving them support whilst standing back. Not once, in the entire 34 hours of the weekend from opening registration to closing the finish, did we see a volunteer not have a mask or gloves on where asked. Not once did any member of staff have to quietly speak to anyone about maintaining standards. Everybody just did it. If ever you doubt the good in people and the support in a community, you simply must come to an event like this to witness the lengths people will go to for others to be able to achieve.
As for the runners, before we speak to the race they deserve thanks and praise themselves. They also trusted us to put on a safe event, one that didn't expose them to unnecessary risk of transmission. That they would be looked after as well as ever despite the challenge. 234 of them felt safe to do that and to each of them our thanks for placing that trust in us. They also behaved impecably at every juncture. Not complaining about having to constantly use the sanitiser, wearing masks in aid stations and following one way systems, filling up their own supplies, being kit checked out on course. Thanking the volunteers and us, for being there for them, despite the incredibly tough run they were pitting themselves against.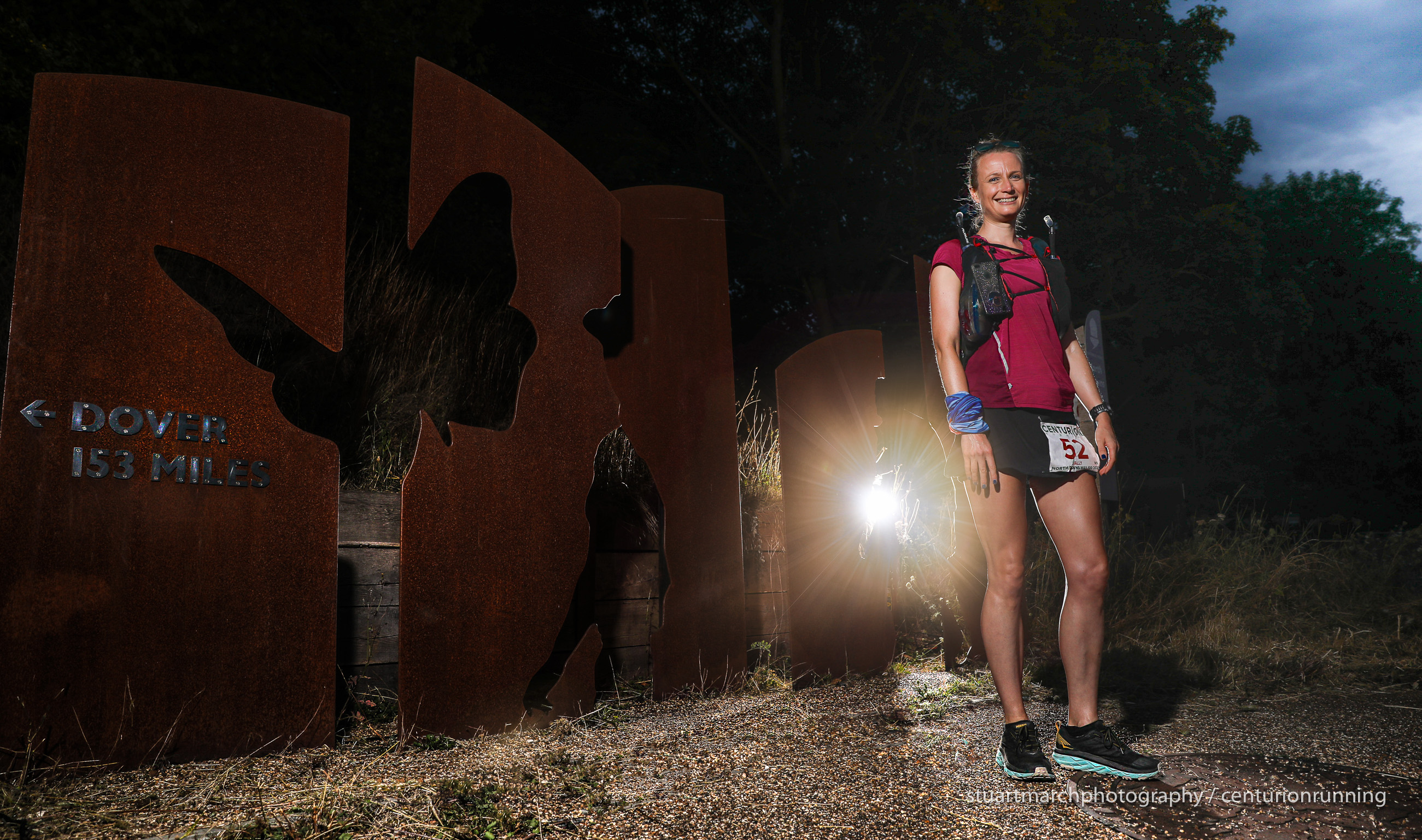 Runner Ally Whitlock at the North Downs Way sign in Farnham
Overall we all knew that this weekend wasn't just about this race. It was about settting an example, that even in these uncertain times, our sport is one of the safest things we can be doing right now. That if we share responsibility for our actions, we can get back to doing what we love, safely and successfully and with only minor changes to events in years gone by.
The burden of conditions on top of all of the covid secure protocols was both a blessing and a curse. It meant that staging an almost entirely outdoor event through the night, was practical. But it meant for such a challenge through the heat of the day for everybody. Ultimately that heat took a massive toll on the runners and many records were set, sadly not the sort of records we like!
This race was our first in August of 2011 and as such this was the tenth edition. The changes since 2012 have been minor but in order to maintain the greatest level of safety for all involved a few more major changes were implemented this time, including but not limited to:
- Bibs being posted and runners were not required to attend registration. Kit checks were carried out at random on course.
- The start was open for two hours, with faster runners asked to start first to maximise the spread of the field from the outset
- Temperature checks were performed at the start
- At the check points, runners were asked to sanitise hands both in and out. Indoors, masks were mandatory and requested at any outdoors aid station.
- All food was single serve and runners had to fill their own bottles/ drinks
- Social distancing was mandatory at all times
From a purely racing point of view, the time trial format changed things at the sharp end. Runners were of course, never clear on the start times of others around them and therefore without jumping on our live timings page mid race, would not know what position they were in. That however seemed to be a relatively minor inconvenience for those involved because as mentioned above, this sport attracts runners who just roll with the punches and frankly get on with it. They would go out and run their best races and if they ran their best days, then the race format was different but exicting in a new way.
This format is here to stay for now, not only does it make the most sense from a spread of the field perspective but it is a condition of the UK Athletics rules for race permits and insurance.
At this point a thanks to all of the starters for their self seeding. They were asked to kick off at certain times based on their estimated finish times and with really very few exceptions they did that. They realised that in doing what we asked, they were helping us and thereby them run the safest race possible, by spreading the field out through the earlier check points that could otherwise see queues build up. As we move forward with our season we can only hope that the runners continue to realise this and make good helpful decisions without us enforcing start times for everybody. Our biggest 'gathering' in the start chute was 6, spread out over 50 metres or so.
At 0500 the first runners began heading over the start line on their way to Newlands Corner and the first official aid station. Straight away the forecast 33 degree afternoon temperatures seemed to temper any hard early pace and we saw some of the slowest split times at this event ever, over the early miles. That factor stayed true throughout the day and into Sunday.
In the womens race it was Rebecca Lane who set the fastest early splits, up through Box hill at mile 24. She arrived there in 4:09:18, just 5 seconds faster than Melissa Venables' split at the same point. Rebecca is a veteran of many of our events including the 2019 slam, with Melissa Venables coming in to her first 100 miler, but having previously won many events including the British 100km Championships in 2016.
Through the late morning, the cloud just lingered a little longer than forecast and with a bit of a breeze, conditions were tough but not horrendous. But then afternoon hit and the fierce sun burned off what was left of any cloud cover and began to cook runners out on the trail. Shaded, woody sections were not too bad but on the exposed chalk sections it felt like an oven.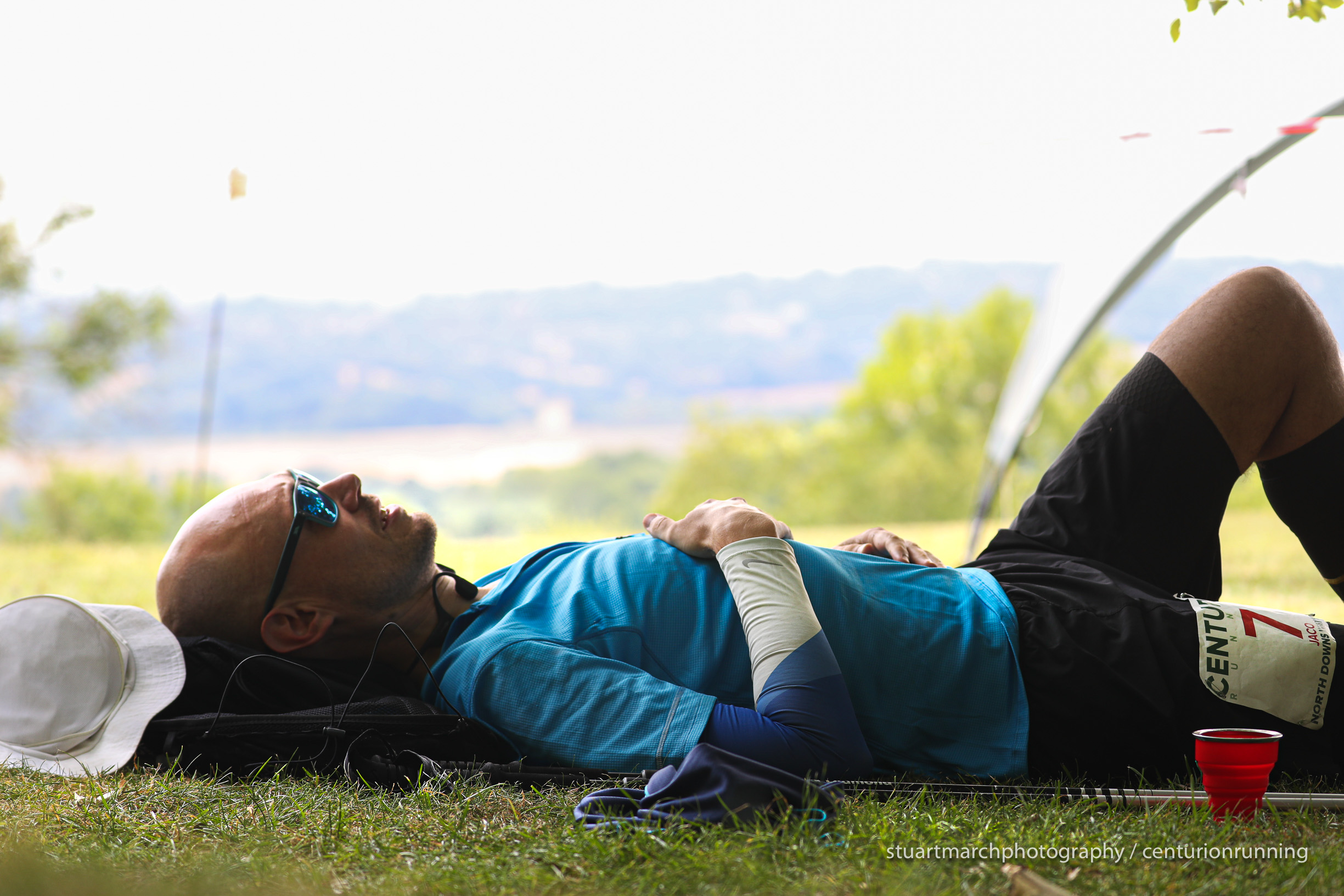 The heat caused havoc out on course leading to the third lowest finisher rate from our 36, 100 mile races to date
Melissa played an extremely smart pacing game and through the heat into the evening she ran through much of the mens field, as we tend to see from leading female runners. A quarter of the way into the race she was in 40th overall. Three quarters of the way into the race she was up into the top ten. The female field stretched out as the race progressed and Melissa simply expanded her lead at almost every stage. Rebecca Lane slowed and ultimately dropped at Knockholt, with Jillian Convey replacing her in second place, running a very well paced race herself. Dominique James was in third place for almost the entire event and in the end, those three would hold positions all the way to the finish.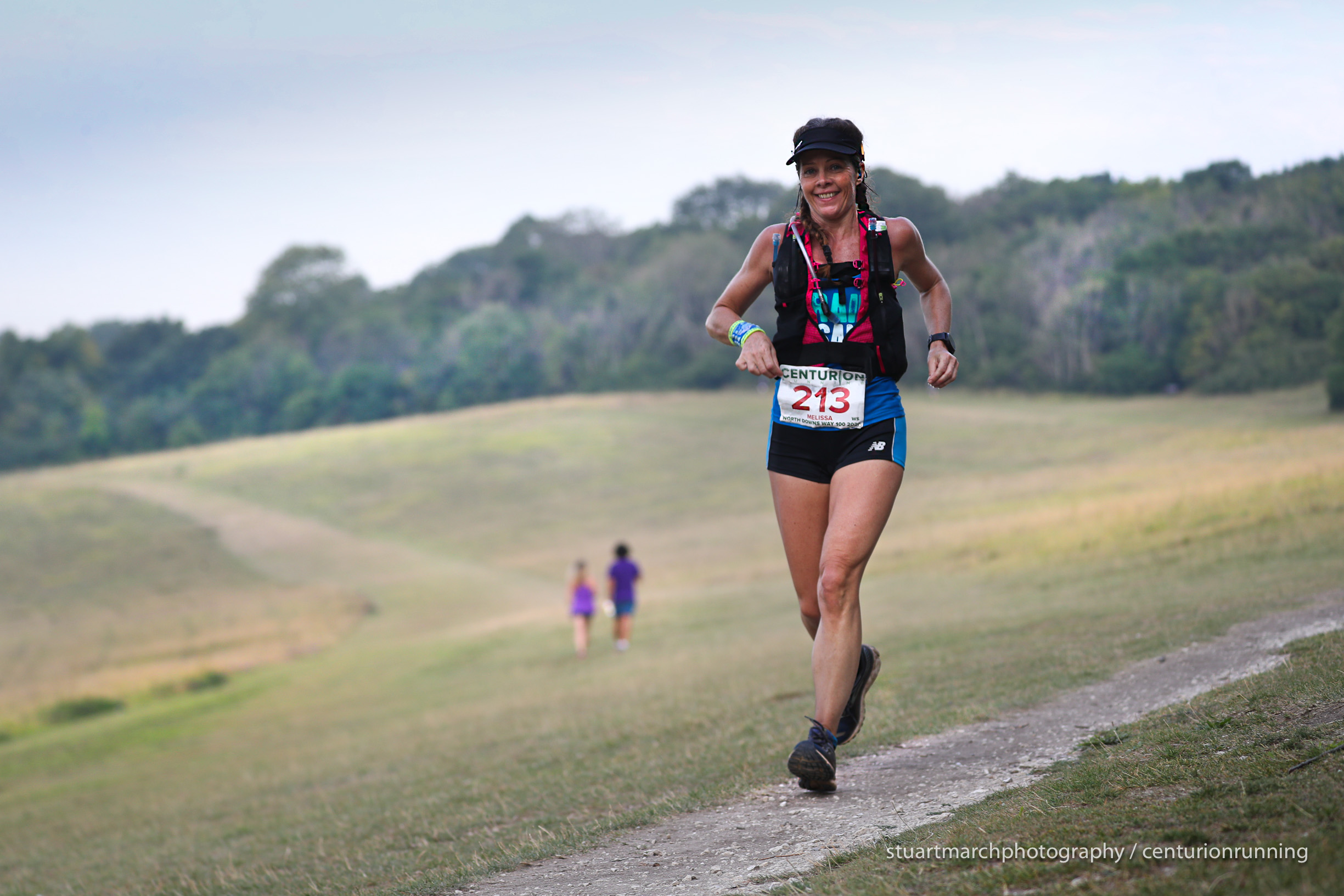 2020 Womens Champion Melissa Venables
Melissa triumphed in a winning time of 21:42:09, Jillian took second in 23:10:18 and Dominique third in 24:24:09.
In the mens race it was rather a different affair, with several early front runners being ground to a halt by rising temperatures. Setting the fastest pace over the early miles by a long stretch, was Peter Windross. The former Thames Path 100 champion came into this race with three previous top tens at this event and clearly wanted to push for a win this time. Starting at around 0520, he was the runner out in front not just on time but literally, leaving Caterham aid station at mile 38. But as he hit Knockholt the wheels began to fall off a little and he would spend increasing amounts of time trying to cool off at subsequent check points all the way to Bluebell Hill at mile 76, before finally calling it a day there.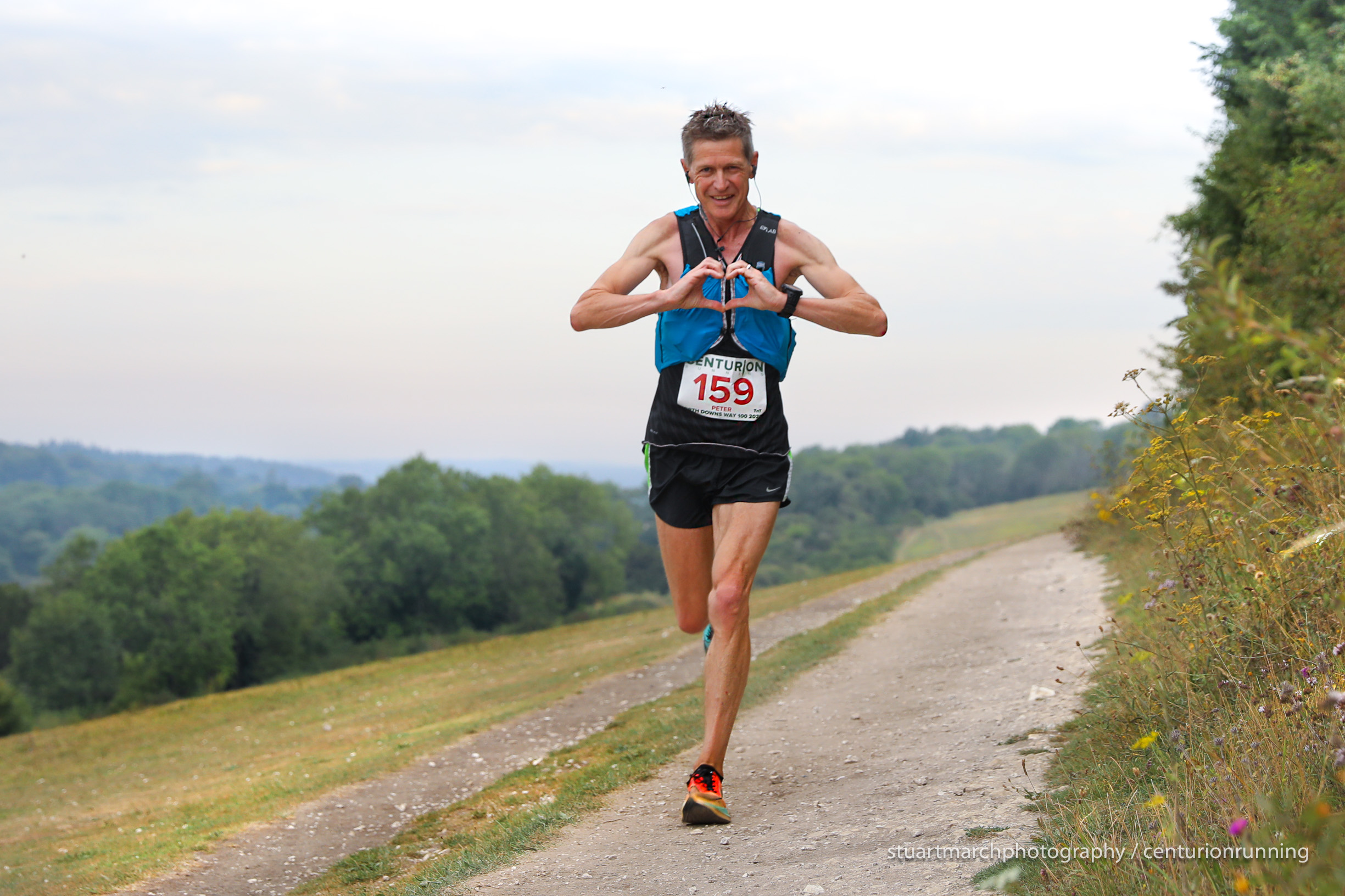 Past TP100 Champ Peter Windross led for the first two thirds of the race before later dropping due to issues from the heat
By that stage he had been passed by Juhana Kirk. Juhana had also been struggling in the heat. Second all the way through the first half of the course, he dealt with sickness and stomach issues, through Reigate and Caterham but by Botley he had somewhat turned that around and found a more steady rhythm. With 50km or so to go he took control of the race and when Peter dropped he was left with a forty minute lead over second place. Although he gradually gave time back over the course, he hit the track in first and came home in a time of 19:33:27.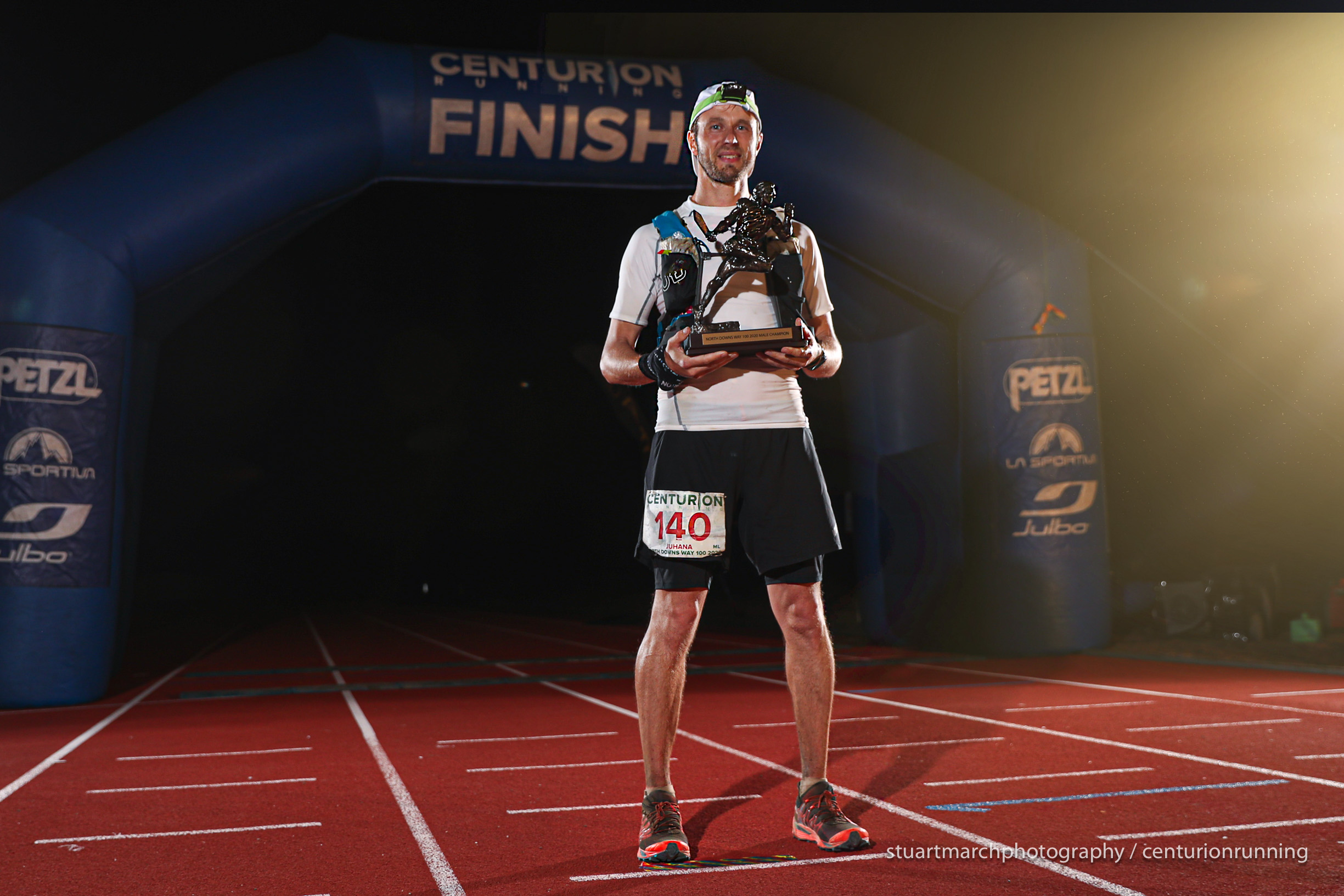 2020 Mens Champion Juhana Kirk
Ashley Varley who ran home in second, ran a tremendously well paced event, he came from all the way back in 71st place at mile 15 to finish second and was closing hard at the end. His final time was 19:51. One of the very few who judged his effort just right in the conditions. Third place went to Vince Darley, an experienced runner who had one of his best days on the trail in the process.
Down through the field we saw a few runners get things right and really come through strong over the second half. The night was beautiful, with temperatures in the high teens, great views and that special feeling of being back racing through the night again. But many suffered as a result of the early heat and the drop out rate was catastrophic.
The 46% finish rate was our third lowest of the 36, 100 mile race that we have organised. Beaten only by the first Winter 100 (43%) and last years Wendover Woods 100 (44%). Topping out at 33 degrees, this was the hottest race we have staged. Just 17 runners came home in under 24 hours for the 100 Mile One Day buckle, a rate of 7% which equals Wendover Woods 100 as by far the lowest percentage of those we have ever handed out.
Traditionally, this race features our lowest percentage of female starters. This year we had 40 women start the race, and 15 finish. A higher percentage of starters than we typically see here.
Finally age Group Award Winners were as follows:
Ashley Varley MV40 winner (second overall), Vince Darley MV50 winner (third overall), Peter Mcmanners MV60 winner and Ken Fancett ws first MV70 in 25:21.
Ladies winner Melissa Venables also won the FV40 category and Debra Bourne was the FV50 winner.
With our recent focus on increasing the number of Black runners in our sport, it is worth drawing attention to the fact that just two black runners competed at the weekend - Sonny Peart and Keir Monteith - both Grand Slam hopefuls and both finishers. Sonny is the runner who featured on our Black Runners in Ultrarunning Podcast. This is an area we are committed to working on with him and the focus group that has been set up. We will continue to run figures on the percentage of black runners in starting fields which will be helped by the ethnicity data we will be taking for all forward event entrants.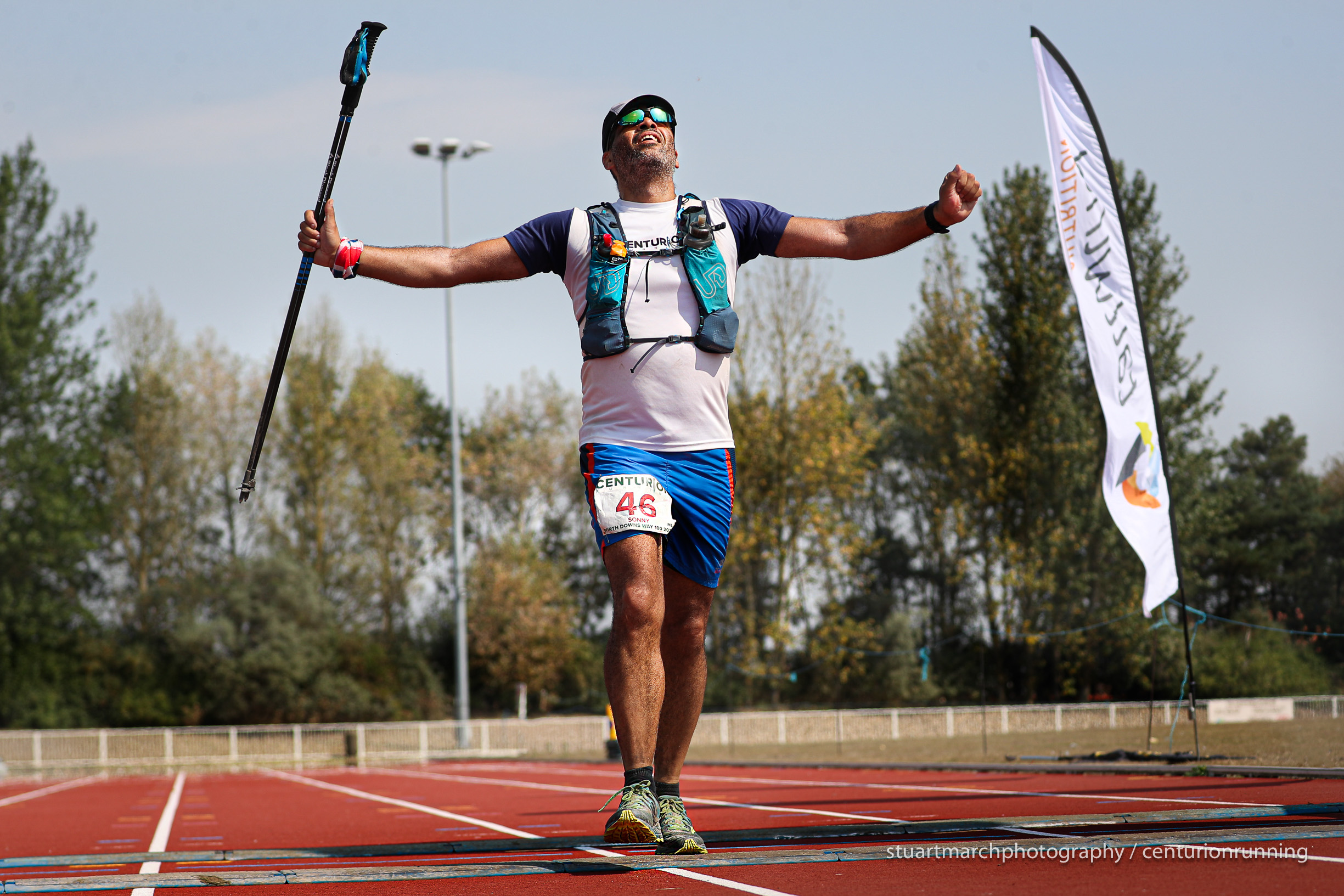 Sonny Peart finishing the first of his planned four 100 milers with us this year.
Where do we go from here? Well things might get incrementally easier, but they may also get harder. But that is the reason we all love this sport. Without difficulty the sense of achievement simply would not be there. And to all the runners and volunteers who stick with whatever 2020 throws at us, I like to think we will all look back on it and say we did our best. One race at a time!
Thanks again to all of you within our community for supporting us through this year so far and into the rest of the season.