Our second 'real' event of 2020 took place this past weekend. The Thames Path 100 was originally a March race back in 2012, but the weather and flooding in the first couple of years saw us push it to May where it has been ever since. This year it was postponed six weeks out from race day into its new date of September 5th-6th.
The format, as per the NDW100 four weeks prior, was a rolling start over a 2 hour window of time which allowed us to spread out the 230 starters over a good distance. This format alleviates congestion at check points and at pinch points on the trail and the more relaxed, time trial style start has already found favour with many. One of a few positive effects of the necessary Covid-19 protocols we have in place for the time being.
In contrast to this years NDW100, the conditions were close to perfect. Rather than records happening at the wrong end of the spectrum, we instead saw some much more positive ones emerging from early in the race. At most of our events, we see one or two runners drop out at check point 1 or 2, sometimes even earlier, before a slew start to drop from the marathon mark onwards. On this day, we did not record a drop out of the race until 5:45pm, a staggering 8 hours and 30 minutes after the last runner had started. We had to keep checking that the Race HQ phone was actually switched on! That translated into an 80% finish rate. That is almost unheard of in 100 milers, a record at this event by 7% over any of the previous eight editions.
The start list included some very capable athletes, most notably previous TP100 champion Samantha Amend was looking to better her 16:00 time from three years ago.
With the time trial style format, tactics were at play a little as to when the faster athletes started, but the majority went off close to the earliest start time of 0730.
In the mens race, Ed Fisher led the early running, with a 1:17 split through CP1 mile 10.5, he continued to lead through the 50km mark at Dorney in 3:50. Further back in the field than those who would go on to lead later, it wasn't clear that he was in fact leading at that stage, but shortly after, Eds pace began to falter and it was Geoff Cheshire who took the virtual lead, arriving into Cookham first - but suffering slightly from some stomach and cramp issues. Russ Arnold who had run a solid Autumn 100 a couple of years ago then took over, emerging into Henley at mile 51 and the 'half way' aid station first overall in a time of 6:54:54. Sub 7 hour splits through Henley are a rare occurence and he was the only on to achieve it on this day.
Through the second half of the event, Russ forged further and further ahead until the only question became, whether he would capitulate a little in the final stages as he had done at the 2018 A100, or go on to challenge the course record. In the end he sped up over the final stages in a similar fashion to last years winner Ian Hammett and came home for a 14:13 final split, our second fastest time ever at this event and just four minutes off the course record. Whilst the race finished 0.9 miles earlier this year due to the finish line change, the additional diversion at Streatley balanced some of that out - so a pretty close call for sure.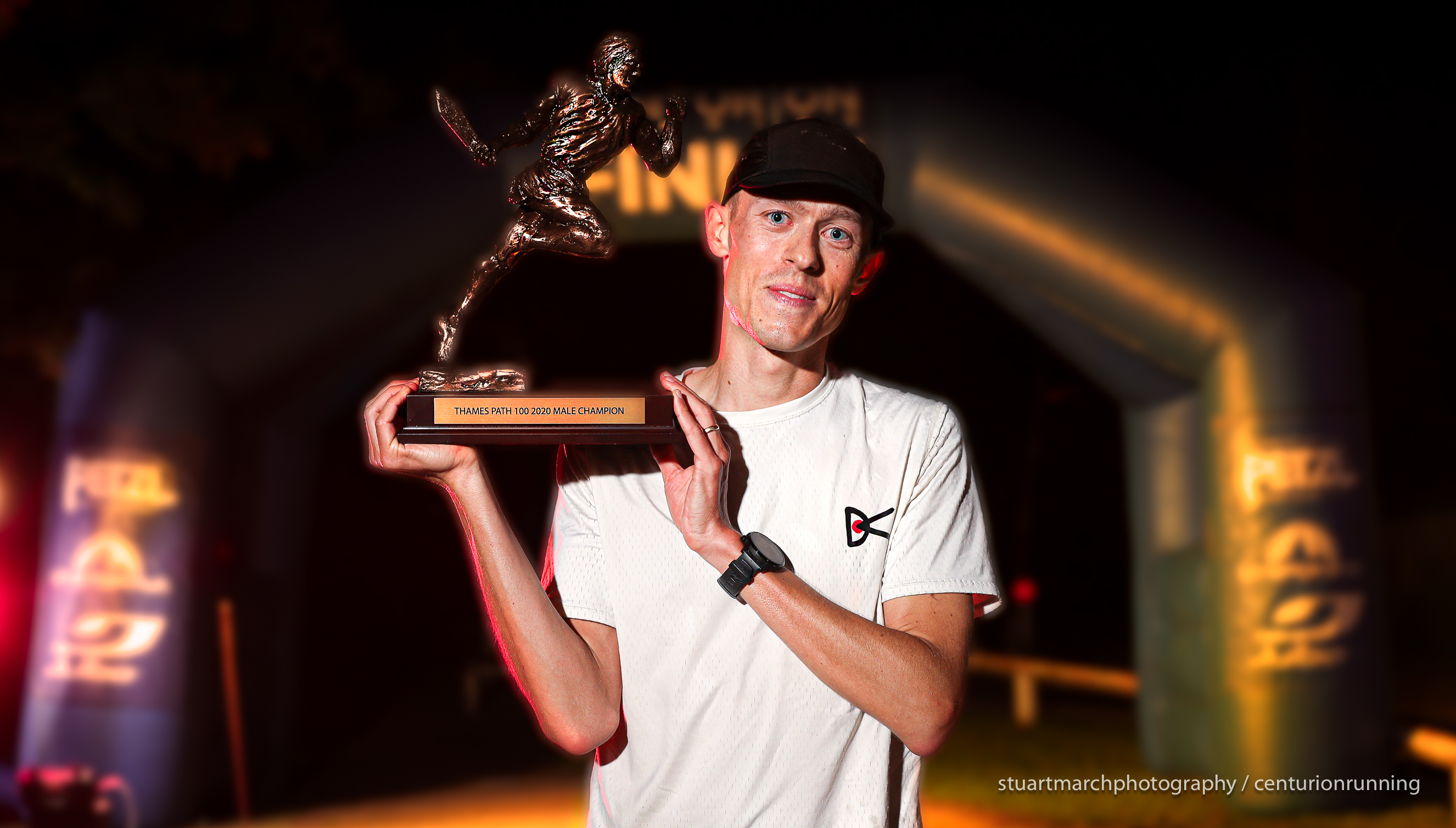 Russ Arnold won the mens race and was just four minutes outside of Craig Holgate's course record
Second place went to Martin Johnson, who was perhaps second also only to Russ in terms of pacing and race execution. From 21st at check point one he made his way patiently through the field to finish in 15:19. Third place was taken by Geoff Cheshire. Given that Geoff was at Goring aid station for an hour, trying to take control of his cramping issues, he stormed through the final 25 miles to record a seriously impressive time of 15:22 just three minutes back of Martin.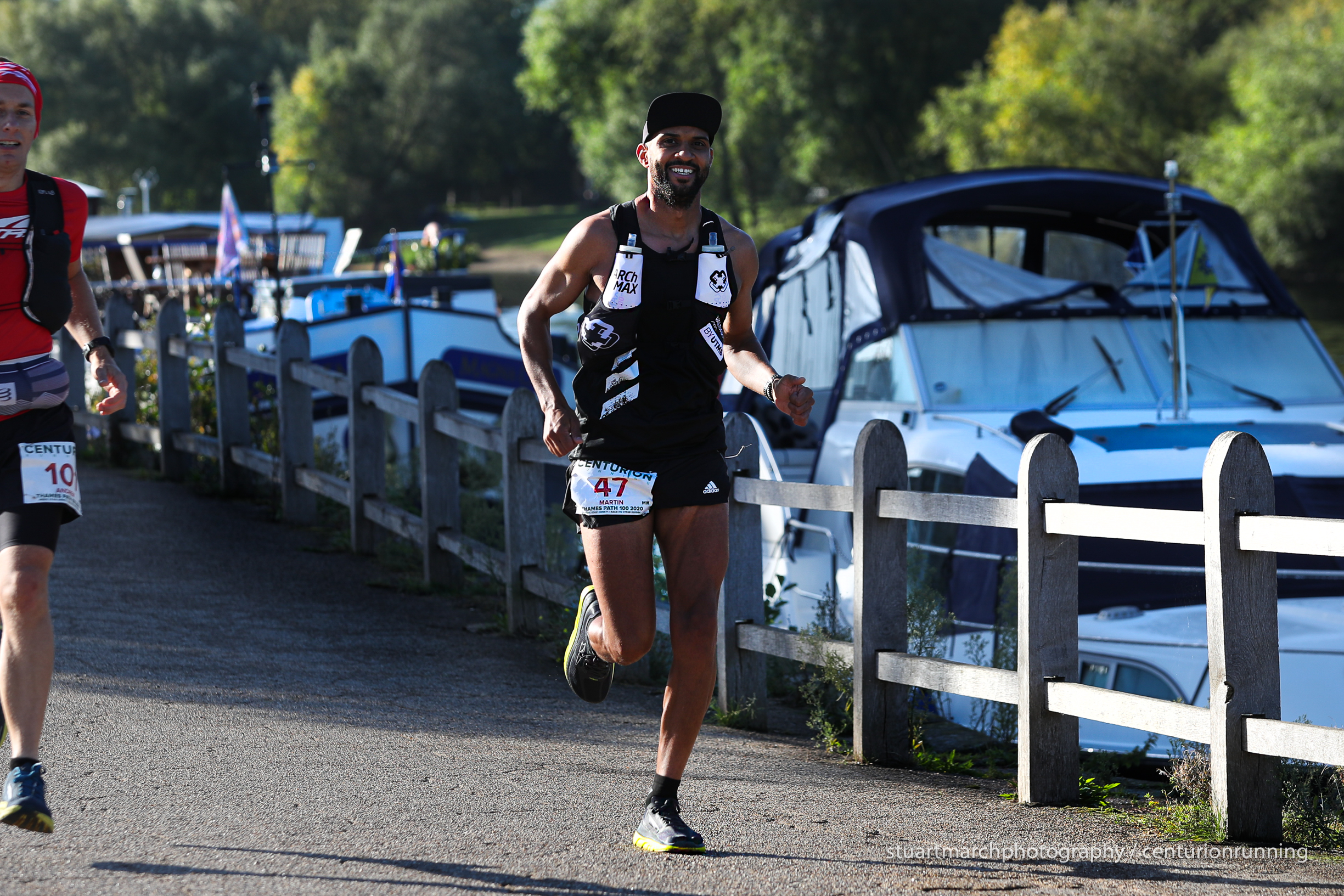 Martin Johnson and Andrew Smith. Martin went on to a superb second place and continues to improve race on race.
The womens race looked likely to be about one runner and it did pan out that way. The question for Sam Amend was more about whether she could challenge her 16:00 best here from three years ago, and potentially shoot for a British 100 mile trail record - unofficially given course measurement of trail races being extremely loose. That was set by Susie Chesher who ran 15:22 at the Autumn 100 (see the full 100 mile GB records lists here).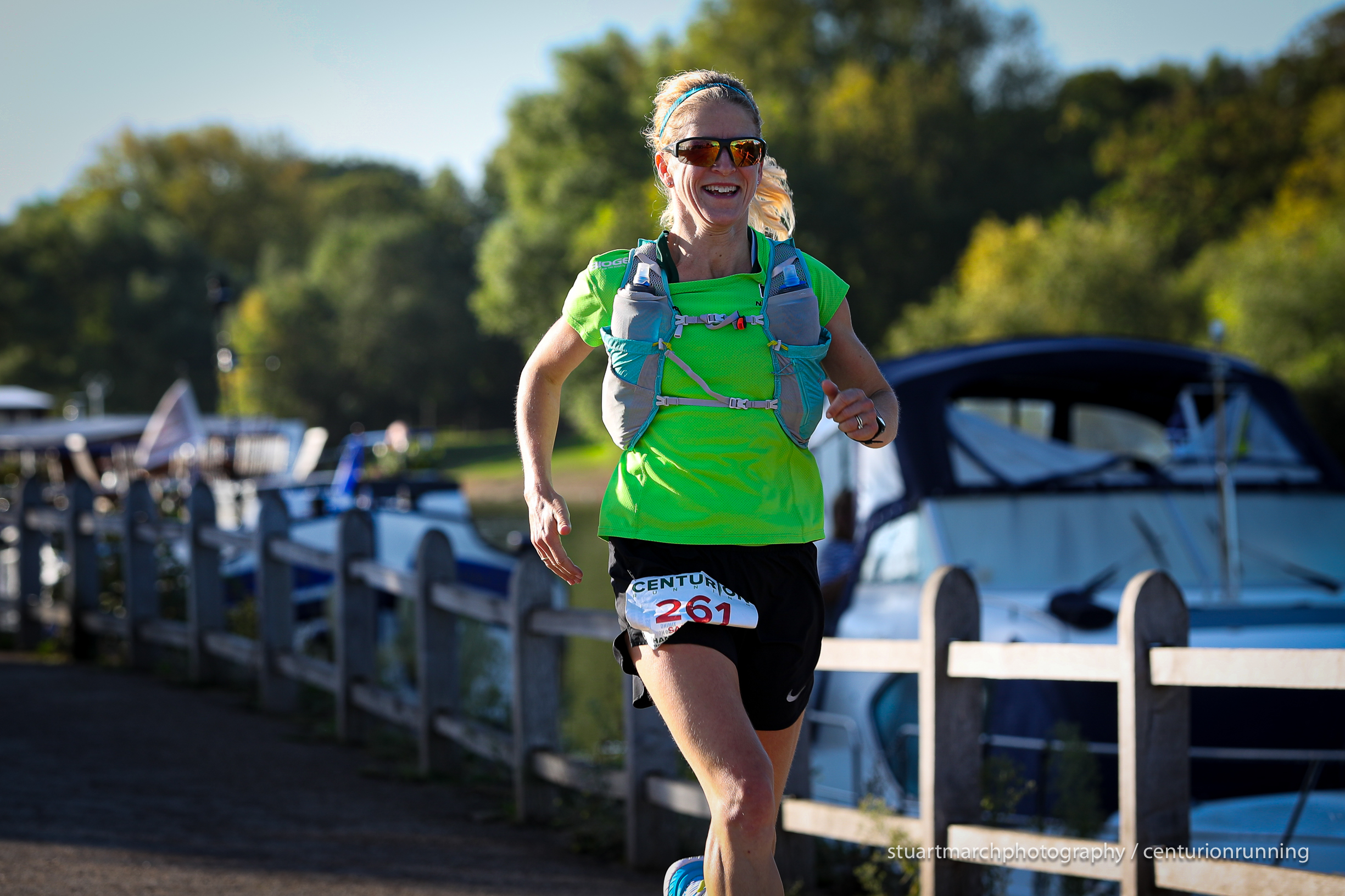 Sam Amend on her way to a second TP100 title
She led right from the start and ran well through 50km in 4:13 before slowing a little on route to Henley mile 51 in 7:39. It looked unlikely at that stage that she could return an even split in the second half and whilst Sam did suffer some issues her experience in going long is now starting to shine as she was still able to hold together for a 16:28 and a winning margin of 2 hours and 19 minutes. A classy display on a day when she would have hoped for much more.
Michelle Maxwell ran in second place all day and similar to Sam, wasn't challenged for that position as she recorded her second, second place finish at one of our events in 18:46. Third place was taken by Dominique James in 20:40, just three minutes ahead of the ever improving Allie Bailey in fourth.
183 finished the race, and we handed out 109 100 Miles - One Day buckles within that. Also a record for this event.
Special mention to Markus Flick who despite need to travel over from Germany continued his streak of TP100 finishes, he has all 9 editions under his belt so far, a feat he also has going at the A100 and will hope to continue next month.
In the Age Group Categories, the winners were as follows:
MV40 went to Geoff Cheshire who also took third overall. MV50 to Alan Clark in 19:19. MV60 to Simon Bennett in 21:35 and MV70 to Ken Fancett in 22:11. Ken is disappointed in his last couple of runs, but this is an age group record of 1 hour 25 at this event and matches his own all time V70 best at any of our 100 mile events.
FV40 went to overall winner Sam Amend and FV50 to Michelle Payne in 22:56.
After two of four events, there are just 20 Grand Slammers still in the hunt for the buckle for completing all four in a season. With each event between four and five weeks apart as opposed to being spread out over 5 months, this is an especially tough challenge this year. The current standings are available here.
A huge thank you to everyone involved for getting this race to happen.Our team of volunteers, the landowners who trusted us to manage check points safely at their venues and our sponsors some of whom were out in person supporting the event. La Sportiva, Petzl, UD, Injinji and Tailwind Nutrition.
Our next event is just a few days away, the first 50 miler of the season, the Chiltern Wonderland 50.