The first event back for 2021 after a long, dark winter made for a collective sense of relief and elation across the whole community from runners, to volunteers and staff. The incredible conditions were the icing on the cake. Temperatures were cool to start with but quickly levelled out at an almost perfect 11 degrees, with bright sunshine and a gentle cooling breeze. Which all made for PB central down at Eastbourne Sports Park with many of our regular runners shattering their previous bests for the course and for the distance. All in all it was a wonderful occasion.
A video recap of the day can be found here (c/o Steve Ashworth Media)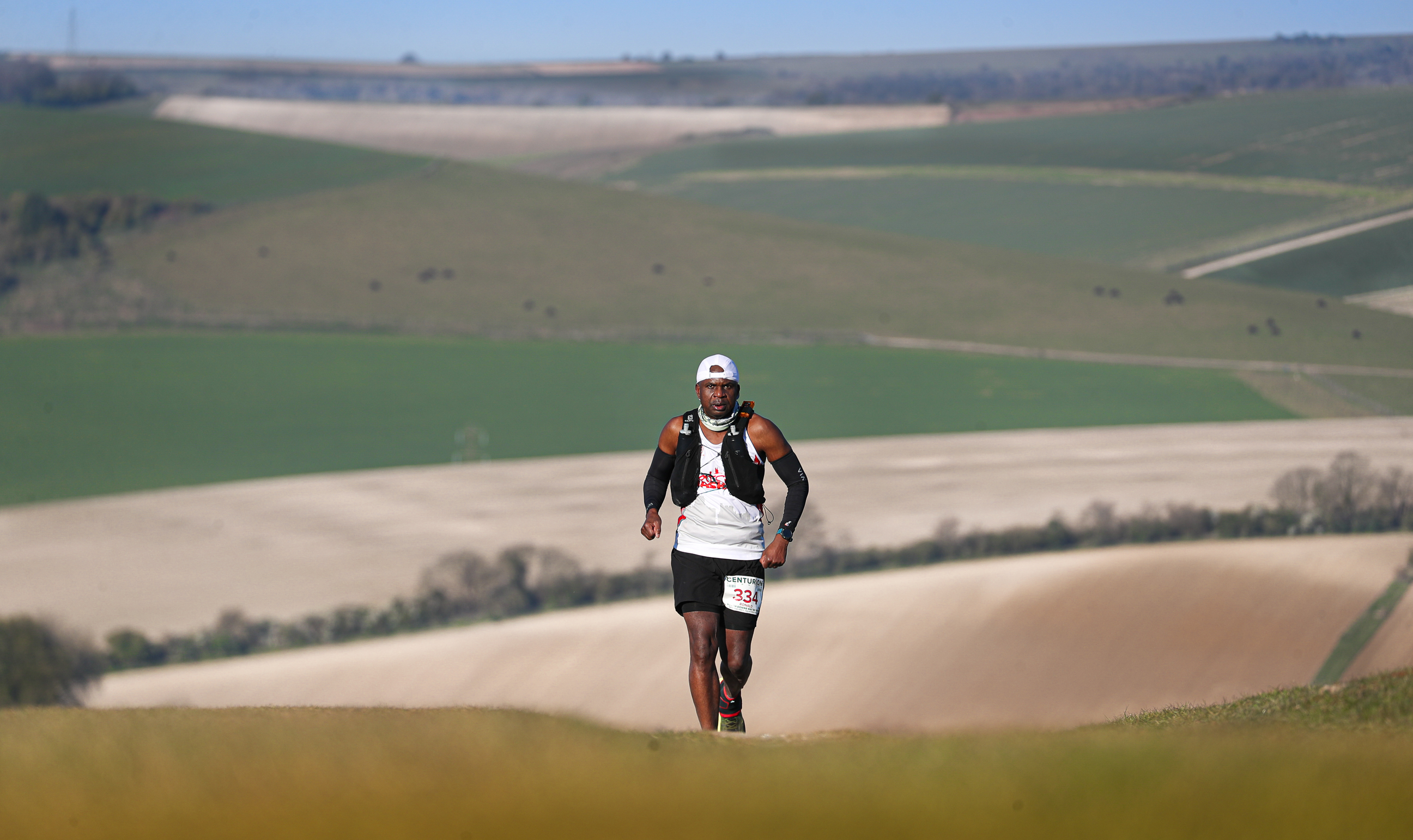 Ronald Davies heads up Truleigh Hill (c/o Stuart March Photography)
Thanks to covid postponing the 2020 edition of this event, the SDW50 also happened to be the last race we held prior to this, so it was interesting to compare and contrast. The covid protocols were all still in place of course which makes it a longer, harder day for everyone whilst we work to ensure social distancing, sanitisation and protection against transmission are all at the heart of the event. But what shone through was the soul of the race. Despite all of the above, the course and the community lifted everything above those additional issues and that is why we continue to work so hard to get these races away when things are still not back to normal.
From a racing persepctive, one of the key ingredients to runners pushing themselves, is the competition. With the time trial starts that we must still have in place in order for the queues at check points to be reduced/ removed, it makes for a different type of race. Runners are racing the clock first and foremost. Is this leading some to pace better? Or are they losing the edge because they can't directly see or know where their nearest competition is. Hard to say!
In the womens race, Sarah Hill came in as 'favourite' but apparently not quite at her best. But luckily for us that made for an exciting race despite the overall leading times being a way off what we have seen in recent years. Sarah opened up a big gap over second and third over the first half, but began to slow over the closing sections.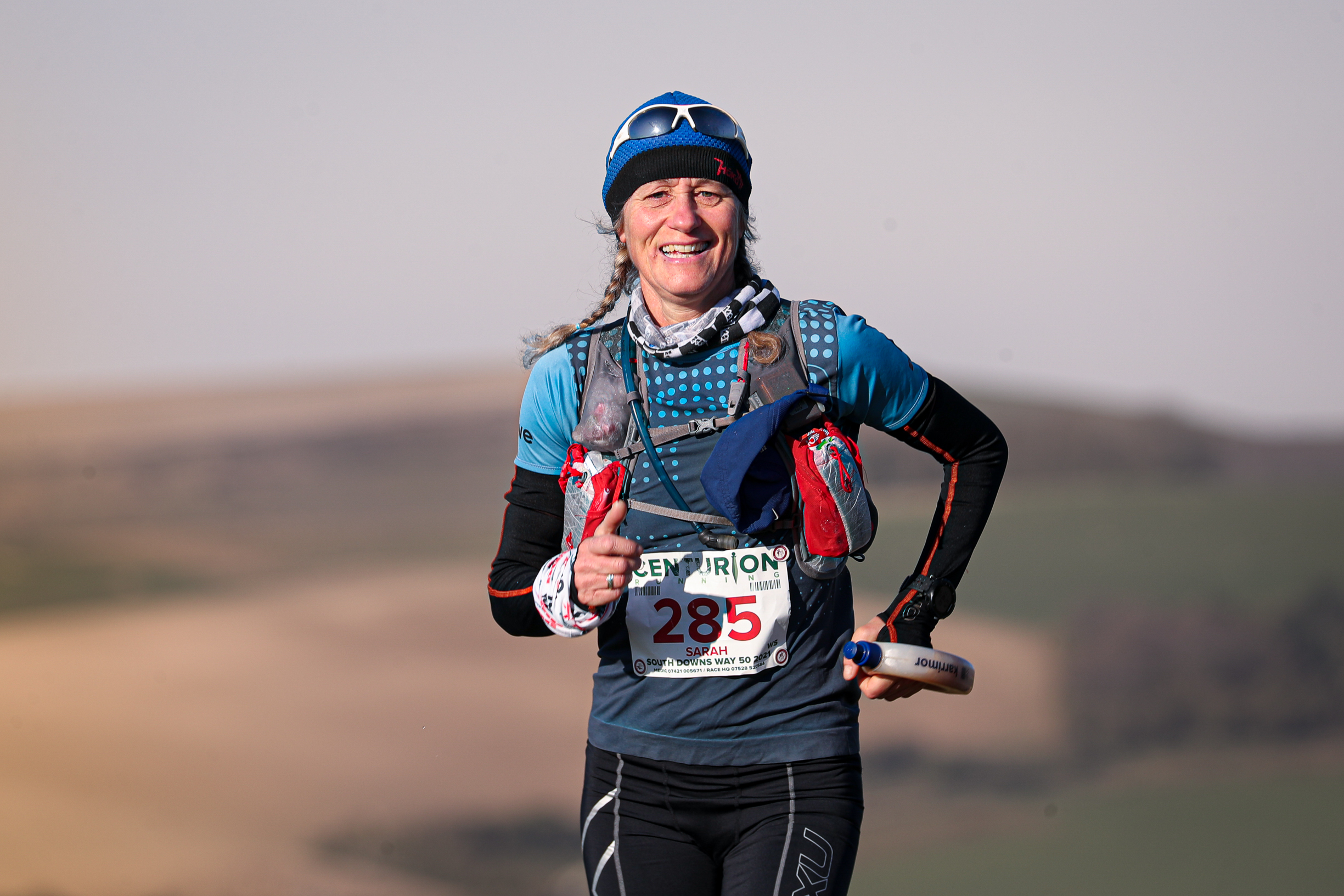 Sarah Hill ran out 2021 Champion (Photo c/o Stuart March Photography)
She gradually gave away more and more of her hard fought lead to those behind and it was a fast closing Tamsyn D'Arienzo that pushed her closest. Had the course been a couple of miles longer it might have been too much but Sarah eventually held Tamsyn off but a scant 90 seconds to take the win. Third place went to Vicki Balfour in 8:59.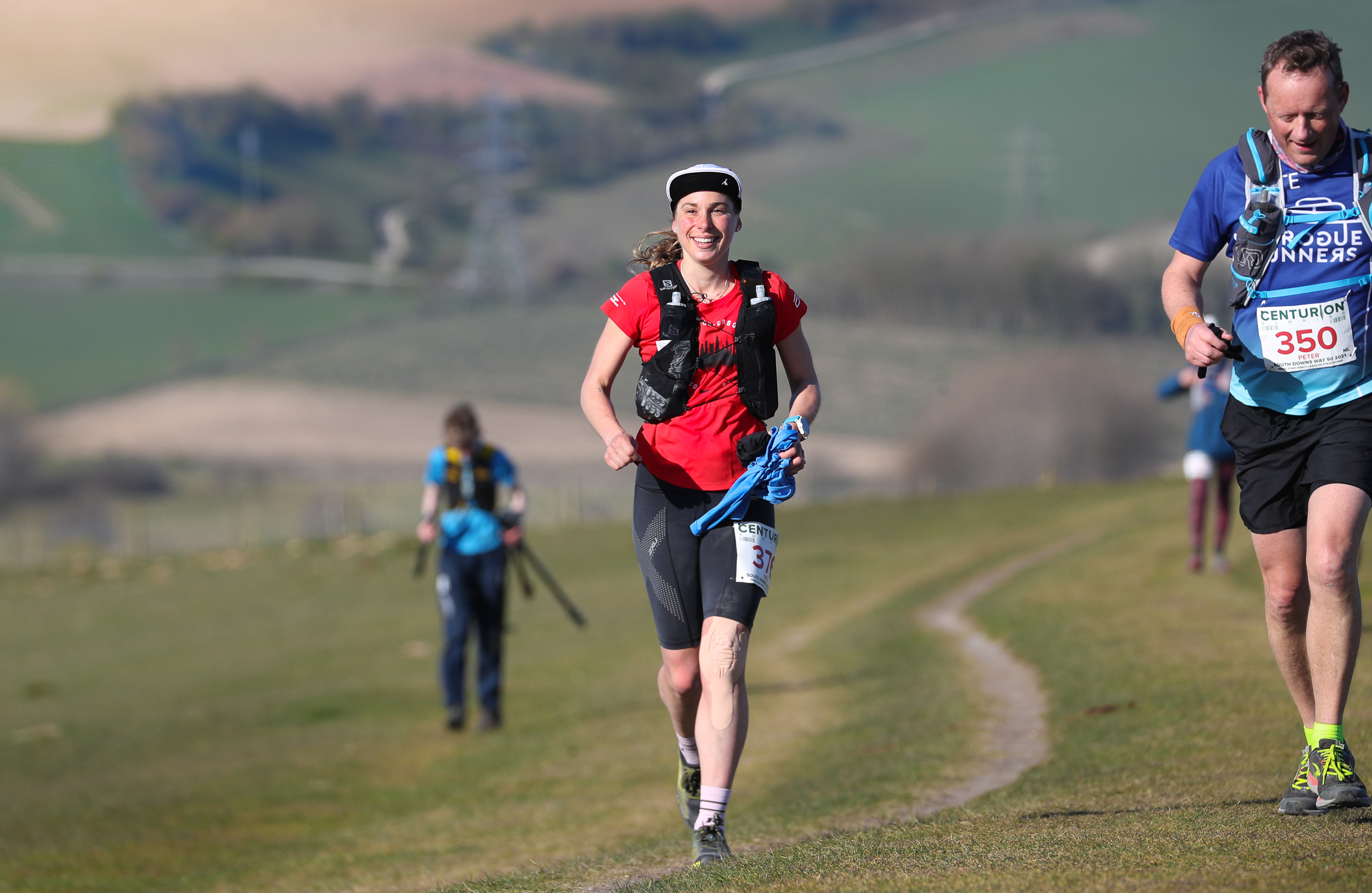 Vicki Balfour took third place (photo c/o Stuart March Photography)
In the mens race, we saw stellar times from our front two in the end, with both Richard Mcdowell and previous winner here, Jack Blackburn, running into 3rd and 7th on the all time fastest performances on this course across all nine editions.
Richard went off extremely hard, but when you have finished first Vet 40 at the London Marathon in 2:23 then hard is a relative thing. He did perhaps push the envelope all the way out over the first half of the course however. His times through the first three check points were ahead of Tom Evans' 5:44 course record splits. His first 10 miles were run in 62 minutes and he made the marathon mark at Housedean Farm check point in 2:53, 7 minutes up on Tom's time in there.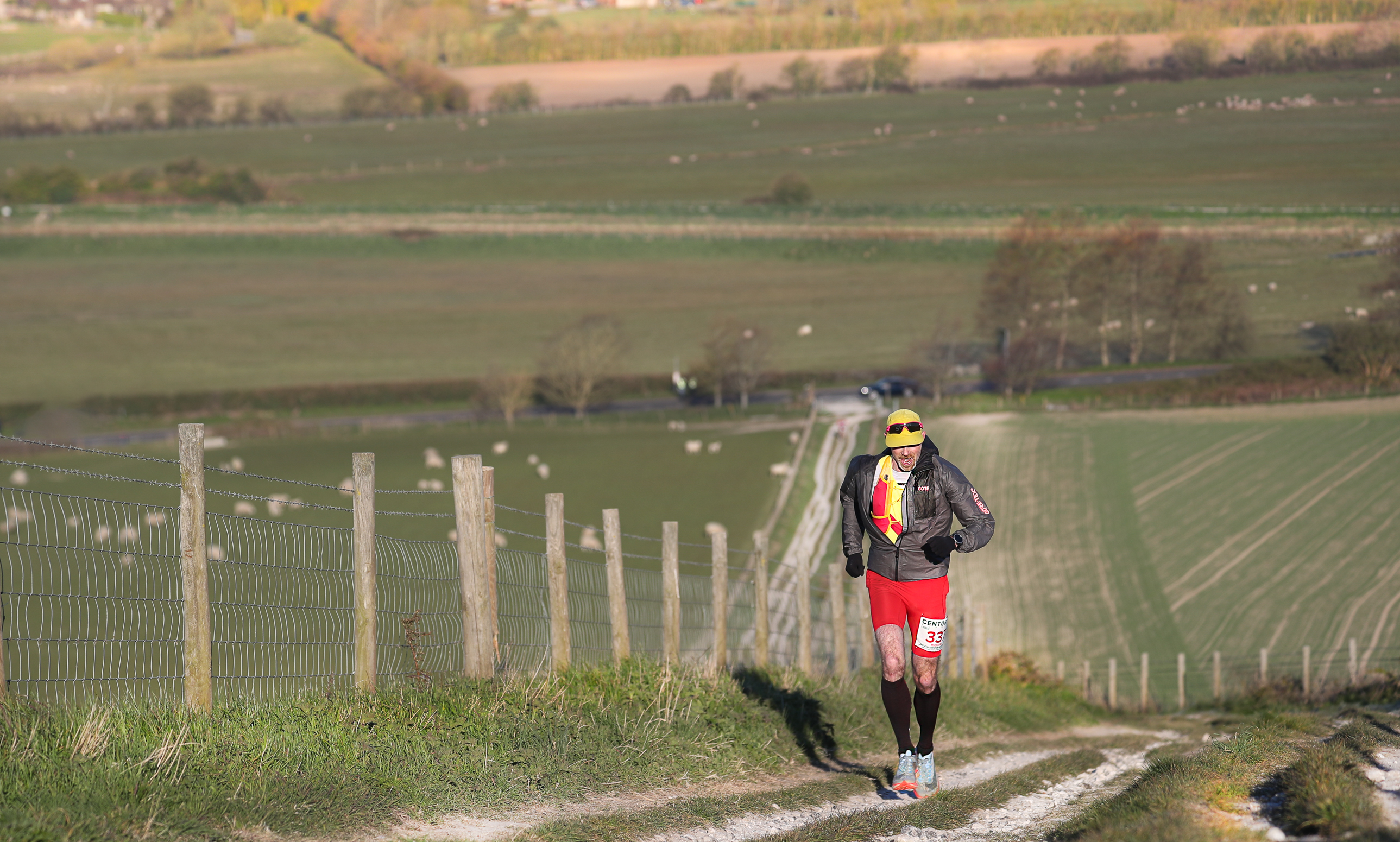 Richard Mcdowell charged through the first half of the course before coasting through to victory
However he felt that keeping that kind of effort up was not necessarily sustainable and made a conscious decision to back off at that point, taking the ascents easier and running slightly more within himself to eventually cruise home in 6:02 for a comfortable 18 minute margin over second placed Jack Blackburn. Richard races the Thames Path 100 in just under three weeks time which for sure played into that decision. A smart one no doubt! Third place went to Peter Windross in a solid 6:38.
In the Age Categories, winners were as follows:
FV40 went to overall winner Sarah Hill. FV50 to Mel Horley in 9:18. FV60 to Christina Kluth in 10:43, just three minutes outside her own existing AG record.
MV40 went to Richard Mcdowell in needless to say, a new record time. MV50 to Mark Pinder in 7:07, setting a new AG best in that division and finally topling Rick Curtis who has until now held all three fastest times in that age group. MV60 went to Bob Empson in 9:30 and MV70 to of course, Ken Fancett in 10:22.
351 runners made this a smaller field than usual but our biggest with covid protocols in place and it was fantastic to see everyone respond with exceptional attitude towards the situation. The seemingly harsh rules of no spectators, limits on crew numbers and the covid secure protocols at check points are all major limiting factors on the overall feel of the race, but they were by far overshadowed by the huge feeling of warmth and just sheer joy at being back together, out in the open air with the sun shining, doing what we all love.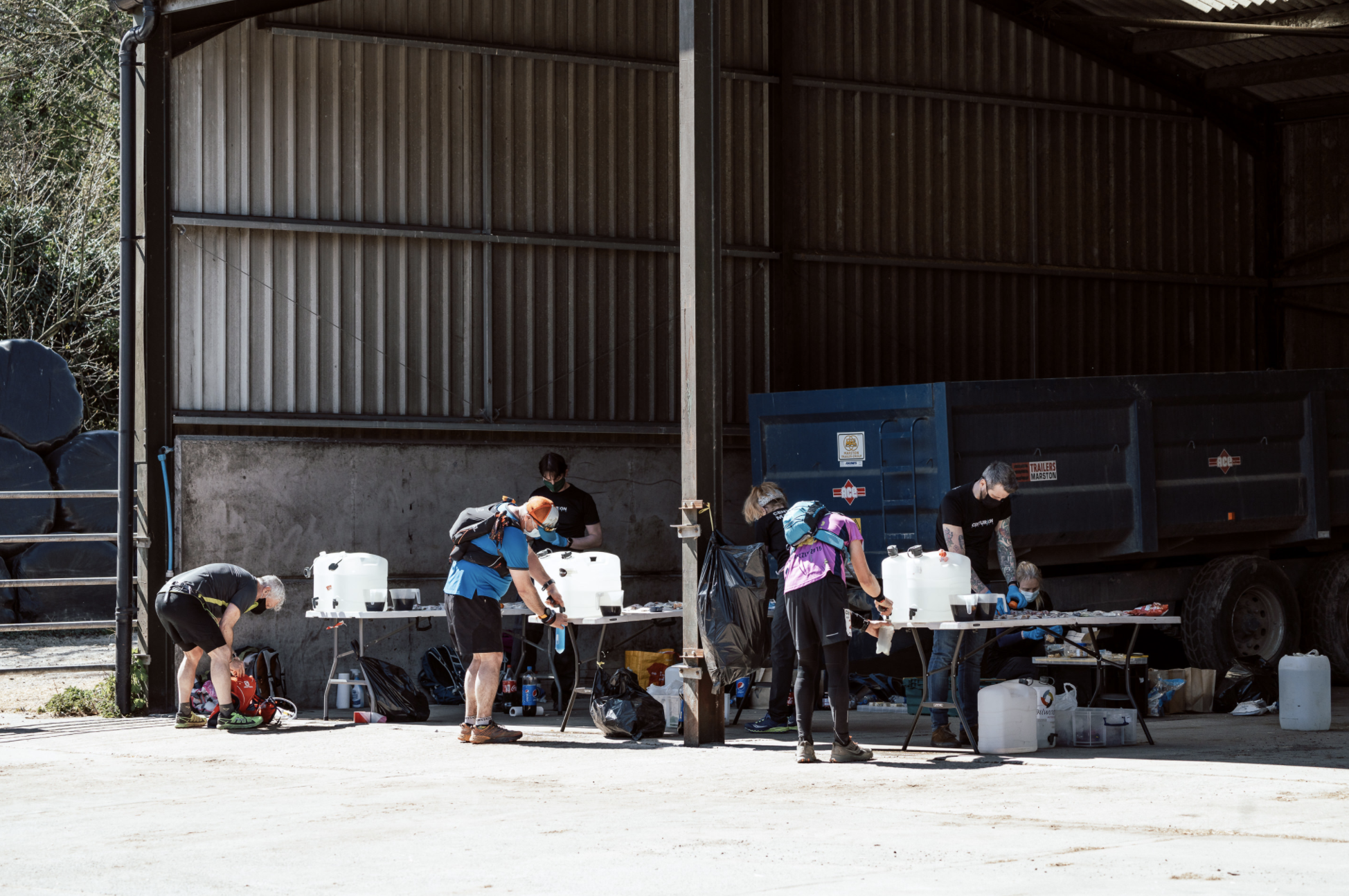 Social Distancing at Housedean Aid Station (Photo: Jack Atkinson Photography)
It is as ever, the volunteers that truly make the day. Our deepest thanks to them and all their selfless work to allow these events to go ahead. Now more than ever they are the single biggest factor in not just being able to proceed, but how we proceed.
Thank you to everyone that played a part in getting our season off to a safe and successful start.