All photos c/o Jack Atkinson/ Know Jack Media
TDG is simultaneously many things all at once, a dichotomy within itself. Italian culture and the mountain community lift this race above any other, but as always one must not focus too greatly on the detail, as it will detract from the overall beauty. There is magic at every turn at this event and may that never change. Apart from some of the descents, they could change some of them. This post is incredibly long, but I would guess you are reading this because you are interested in running the race or discovering a little more of what it is really about. So I am going to release the shackles and type away, good luck making it through.
This race is beautiful in every way. The community of the Aosta embrace you as I have never been embraced in a race before. Every single person in the towns and villages, at the Rifugios, at the Life Bases and out on the trail - offer Bravo! Vai Vai! Forza! And smiles of encouragement. Nothing was too much trouble, anywhere. It feels like they are truly grateful that you want to come and run their event. The race, these mountains and this valley are the essence of who they are. There is no hint of commercialism about it - everything is geared towards the runners and their mountains. The only other time I have experienced this is at Spartathlon, where the Greek community welcome you the same way. It feels fitting that the most epic road race and the most epic mountain race have the same thing at their core. This could not be more a departure from some of the direction our sport has taken in recent years.
These mountains and hence this event are on a truly massive scale, again compared to almost anything else. It is cliche to look at numbers. But that is often how I rationalise what I am facing as a runner. Over the years people seem to have both underestimated and wildly overestimated how big this race is. But there's no need, we have enough data now to see. The race is 220 miles or 355km, with 26,000m or 86,000ft of climb and descent (full strava of the route here). What does that mean? Please know I state these things only to offer a frame of reference.
When you get to Cogne the second life base, you have run only 105km but ascended 30,000ft. That's the same distance as the Bob Graham Round, with 4000ft more climb. And you're not yet a third of the way in.
To get to the third life base you have to descend 8,000ft in one go and then you re-ascend 7,500ft straight out of the other side. Ben Nevis is 4,400ft. The entire climb of our SDW50 is 5,500ft. It is really hard to train for that in Wendover Woods.
The fourth section of seven, from Donnas to Gressoney is 35 miles and has 18,000ft of climb, roughly the same amount as the entire of Lakeland 100 or Western States.
It means it is 3.5 times longer than the other big race that starts in Courmayeur two weeks prior - UTMB CCC. TDG also has an additional 30% climb and descent per mile.
The terrain underfoot is varied. To a Lakeland runner, it is rough in places but ultimately all on trail and therefore reasonable going. To someone coming from the groomed trails of TMB or the west coast US, it is rough and technical as hell. The weather is changeable. It is the mountains. It will be sunny, it will rain, it will be windy and it will probably snow. 150 hours, the final cut off, is a long time.
Ultimately it still feels a bit like a well kept secret. Despite the fact it is now 13 years old with a deep history. Most people still think the big one happens the other side of Mont Blanc two weeks prior. But this is where it's really at. Shh, don't tell anyone. I jest. This isn't Barkley. They want and need you to come to this race.
PRE-RACE
Training had gone very averagely indeed. A 23:23 Ramsay Round in late June had gone well and gave me confidence that after recovering, I had time to build again towards the Tor. But I never really got going. A couple of longer days out, with Drew Sheffield in Snowdonia and with Matt Neale in the Lakes did help. But I was mostly restricted to reps of a 300ft climb in Wendover Woods. It's for sure better than nothing, but it is not ideal. I peaked at a 50 mile week with 15,000ft of climb. This is not really enough to be competitive. No acclimitisation was possible. No visit to the high mountains. But, I felt confident enough.
Several of us decided to get together to drive out, reduce our carbon footprint and share the laughs. My travelling companions were - 'Hopes of a Nation' Damian Hall, 'GUCR King' Pat Robbins and LL Cool J - Jack Atkinson who was going to shoot the race for La Sportiva but crew for us, too.
The 12 hour journey down to Courmayeur in the Love Wagon went well and we arrived in good spirits 2.5 days pre-race.
Courmayeur is a marvel. Incredible mountains face you at every turn. The restaurants are out of this world and the atmosphere amazing. But for authentic Italy, you go to the other side of the river where the sports centre sits and head back along the trail to quaint old sleepy Dolonne. Happy family holiday memories from when the kids were babies are rooted here for me, so it is always special coming back.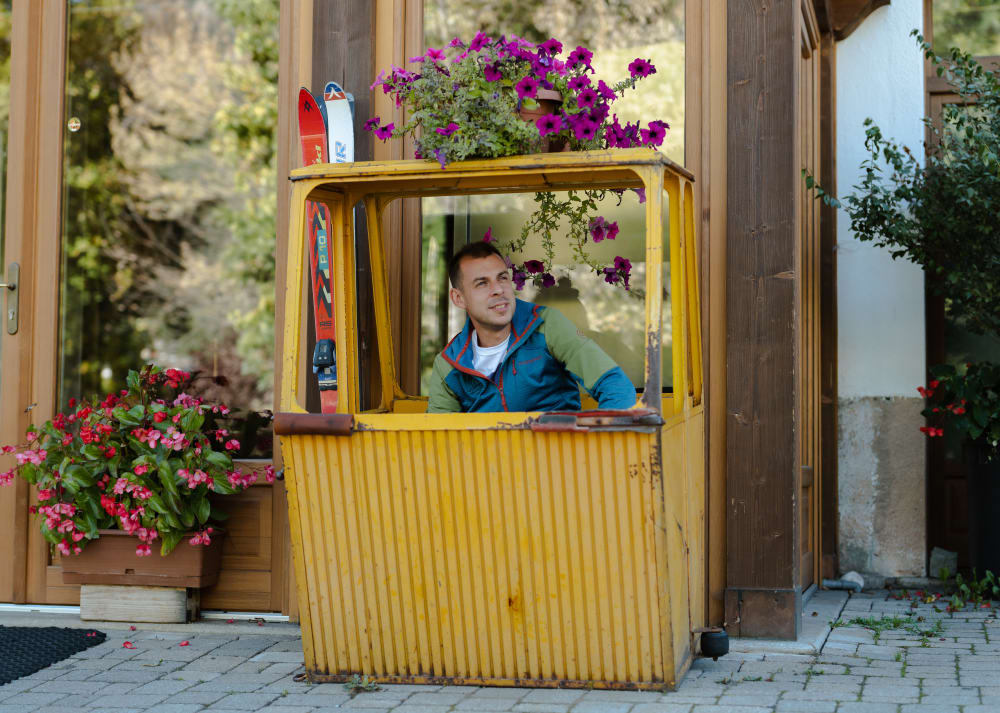 The beautiful pizza shop in Dolonne. I have a pic of the kids doing the same thing.
All 'enjoyed' my ranting in advance, about registration. At the Tor, you arrive to pre-register before registration opens. They don't tell you this, you find out when you arrive with your kit and you are turned away with a raffle ticket. Now you have to go home and then wait for the website to show they are nearing your number, before coming back hours later. Then you show up with all of the mandatory kit. Then they give you a bib number, the famous yellow drop bag, take your photo and send you home again without checking your kit. One is left bewildered and asking only.... why? Because this is the way it works here. Relax, enjoy the company of the people around you and soak in the atmosphere.
This is the essence of the race. TDG is incredibly well organised, with some truly wildcard, classically Italian elements thrown in.
I have two other part-time jobs in addition to Centurion Running. One is as La Sportiva Run Team manager here in the UK and one is as Petzl Run Community Manager. The heart of this race and the heart of these two family owned, classically robust yet aesthetically beautiful mountain brands are one and the same thing. It was with great pride that we got our community of Brits together pre-race, most of whom we look after with either La Sportiva, Petzl, or both. An amazing time was had by all and to the credit of our British contingent, almost all had phenomenal races. Sabrina Verjee, Damian Hall, Pat Robbins, Sophie Grant, Natalie White, Kim Collison and many others. More on that.
Two nights before the start of TDG, we met for dinner and saw off the Tor Des Glaciers runners. As if you thought the numbers above didn't cut it in terms of difficulty, those taking on the Glaciers route are facing an additional 120km and 15,000ft of climb, on top of the regular TDG route. With no course markings, visits to more remote Mountains and Refuges, and with the first life base 100 miles into the event. And it starts at night. My best swearing companion Paul Tierney, after three successful Tors, lined up and to be honest looked a little anxious in the starting pen. I felt anxious for him. We followed him out through the town and he was roared through his first mile by the best of British. Tor Des Glaciers. No way. Or actually maybe....
RACE DAY
The race kicked off in two waves on Sunday morning. 1000 for the faster guys and girls (higher ITRA rankings) and midday for the slow coaches (don't bother having ITRA rankings) - which happily for me included Paddy. Paddy is a better runner than me, always has been and always will be. Not by a lot, but maybe just a few percentage points. We have shared many long days and nights on the trail and road over the years. As room mates on the 24hr team. Helping each other over the latter stages of GUCR, Autumn 100 etc. I knew he would catch me up and I knew that could work out into some shared miles at some stage. But little did I know just how great a thing this would turn out to be.
Damo and I walked up to the start, he went into the fast persons area, I shuffled in the back. And BANG we were off through town. Cow bell galore.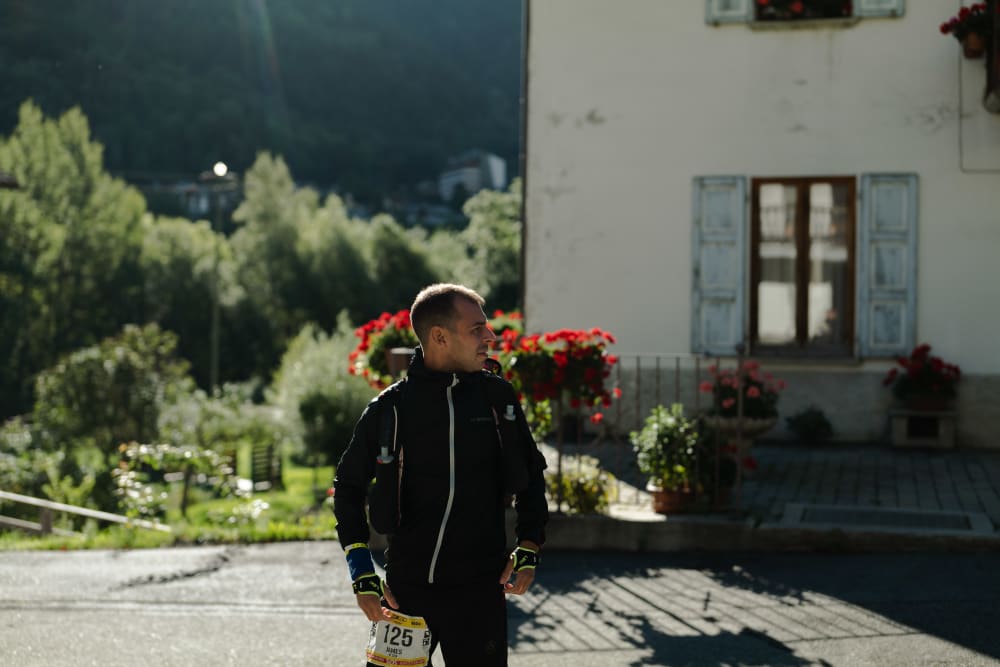 Show me your deep blue hero pose
If I say I am a numbers guys, John Kelly would laugh at me. He is a numbers guy. His excel sheets to generate splits for the race run 5 tabs deep, providing me a PolyGAP approximate time for each check point, refuge and life base. For this event I had put 100 hours into Johns simulator and printed off little crib sheet cards of each section so I had a rough idea of how long each was going to take.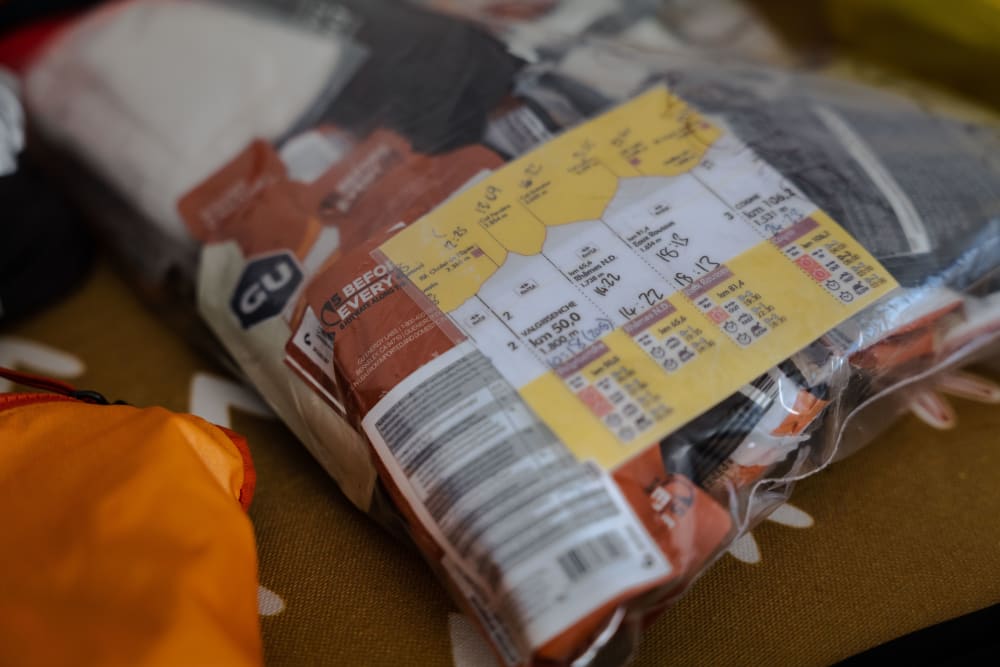 There are six Life Bases, so it makes sense to break the race up that way. Those locations are where you get to see your yellow bag which contains your spare kit and supplies. They have showers, beds, full meal service, wine and beer. Your crew person can meet you there. So people lean into those locations very heavily.
But there is a far better way to break it all down. Because some of the sections Life Base to Life Base are enormous.
DAY 1
The first climb up to Col D'Arp is a beauty and immediately shows off the different ecosystems you pass through on every climb and descent. Down in the valley, temperatures are warm, a river is flowing and the villages are alive with cow bells and cheers. Up to 2200m you are moving through pine forests, on either sweeping or very steep trail. Littered with rocks and roots but shaded in the day and protected from the worst of the rain, they are a comfort blanket. From 2200m to 2700m you are in the Alpine meadows. Complete removal of tree cover means expansive views, sweeping vistas and the sound of cowbells, with most of the high alpine cattle farming at this altitude. From 2600m and above you are in to the terrain of the mountain proper. Nothing but rock, scree, cliff and boulder. Lifeless and epic.
An epic rush off of the Col all the way down to La Thuile at 20km - this is the very smoothest and fastest descent of the entire course. One would be grossly misled by running only this section in preparation. I am by far, last Brit from the aforementioned group at this point. I imagine I am a long way back in the queue up the first climb. But I am here to finish and patience will conquer all.
The two climbs that follow are steep and busy with hikers. With visits to two small Rifugio's, a runner is still bustled along by the crowds. From the exposed ridge at the top of Col Crosatie at 32km, there is the first sense of exposure. But this race is clever. It gives that sense of drama and scale without requiring anything even approaching a legit scramble. There are many places however that to fall would be disastrous and the very poignant memorial to the Chinese runner Yuan Yang, that passed here in 2013 during the race, sits just after the Col. The Italian lady in front of me made the sign of the cross and stopped to offer a prayer there and so I did the same.
Down to the valley and the first Life Base at Valgrisenche strikes the tone for the descents in this race. They go on forever. I could be heard at times to moan about the course, having reached the Life Base. The reason is that the descents are so long. Any missing distance the organisers neglect to include in their underestimation of the course, falls into these descents. I am well known for telling runners in race briefings not to show me their Garmins at the finish line. That a trail race is never exactly 100 miles. But, BUT, when you are averaging 30 minute miles because it's that steep and that rough, if the organiser is out by 5km a section, which they are, then that adds 90 minutes to every descent. or 5-7 hours over the course of the race. That 90 minutes takes you from bouyant, excited to tick another section off, to beaten down mentally and physically. You get used to it, but it was my biggest single takeaway on how to prepare better for next time. Allow for it.
I'm only 9.5 hours into the race at Valgrisenche, haven't needed the my Petzl yet. So in I pop for my first catch up with Jack. I briefly stop in the restaurant for a big plate of pasta and my first beer of the race. Then hike up to the small outdoor crew area to pick up all of my nutrition from him for the next section. Section one is no gimme but section two is a monster. It's a close call between this next part and the middle section for most gruelling. We have three col's to pass before the next Life Base at Cogne and we will visit 3000 metres+, twice.
I leave Valgrisenche after 15 minutes or so, feeling good and looking forward to the next climb. Hiking up through the woods, past the Chalet De L'Epee Rifugio where I officially withdrew last year and on to Col De Fenetre, the highest point I reached in the 2021 event.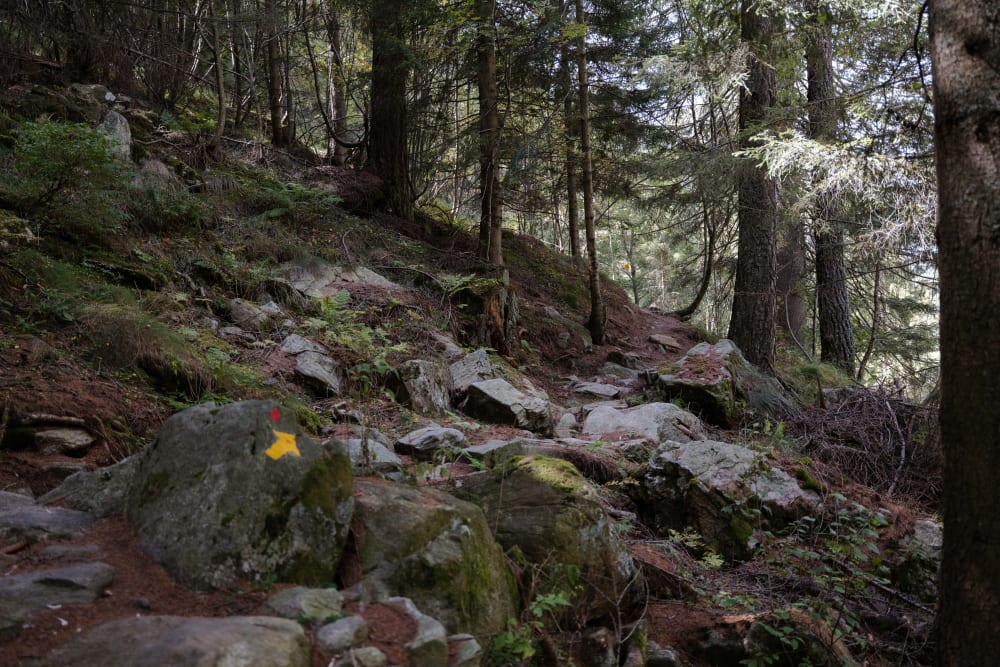 Last year I opted to bin the race, hike back to Valgrisenche and fly straight home to be with family after some terrible news the week before. I shouldn't have even flown out to the race in the first place, but we live and learn. So getting through this point meant something extra. Col De Fentre is beautiful. A stunning view from both sides. The descent the other side is steep and loose before shallowing out down to Rhemes Notre Dames. I stopped there for another bowl of pasta soup before getting all the clothes I had on for the next section up to Col Entrelor. Paul T had warned me about this section. The first climb was ok, the second climb was a **** and the third and final climb was an absolute ****. Entrelor was steep both up and down - the air at 2500m was thin enough that to my unacclimatised lungs it was a big struggle just to catch breath and move well. That persisted through the whole race.
Down to Eaux Rousses, the final valley of section two, I had the luxury of meeting Jack. And I was in a low place. Cold, tired and daunted by the idea of Loson and the 3299m to follow. So I did the first of many of my planned table naps. I nap almost every day at home. And usually I'll do it for between 1 and 10 minutes. Just laying still, switching my brain off and clearing the head, buys me productivity in the afternoons. It is most definitely a skill that has and will prove extremely useful in these type of events. I planned to use it extensively. Head on the table, 1 - 2 minutes asleep - that would, I learned, buy me 4-6 hours of feeling fresh again. A most worthy trade off.
I left Eaux Rousses enlightened and moved well up the climb over Loson, before the staggeringly long descent to Cogne, 24 hours into the race.
DAY 2
Life Base number two, beautiful day outside. Jack there with the supplies, it was another quick turn around and straight out of the door - no need to stop here. Plus the next section is a total doozy with only one (5,000ft) climb and one (30km - 8,000ft) descent. What I had failed to pick up on was that the Refuge up the top of the climb was shut. No water. At this stage I was with Will Weidman a US runner and neither of us had registered this issue. We ran dry well short of the col and then got increasibly dehydrobonky (that is a word) as we crested the top. Down the other side we hit a Refuge that was only open to Tor Des Glaciers runners, before an extended additional descent to Refuge Dondenna. What a stop that was. We were absolutely ruined coming in there. Dry as a bone, salt encrusted faces, we lurched in and destroyed several cokes. Before the guys moved us to the back room and sat us down to await a lovely bowl of salty soup. I did regret how long this took, I felt better quite quickly, but Will definitely did not, so I moved off and made my way down to Chardonney.
A brief check in with Jack there and just the rest of the descent to Donnas Life Base to go. Excuse my language but this next section was total bullshit. You will now hear this often. It took four hours to do 11 miles. The trail was littered with rocks, roots and leaves, several of the swinging bridges were missing planks and seemed like they were about to fall into the chasms below. A couple of extremely punchy climbs were dropped in and then we spilled out into a town which felt like Donnas, looked like Donnas but was quite a long way from Donnas. With 34 hours on the clock and just the one, two minute nap in the bank, this extensive descent was not that welcome.
Anyway, Donnas came and I sat down outside with Jack, Robbie Britton and Rob Sinclair. Robbie - our Head of Endurance at Centurion was there to crew Natalie White (who does all of our social media) and is a TDG veteran. She seemed always slightly ahead, I had seen her leaving Cogne but otherwise she was this ghost ahead on the trail. And then, the big moment, Paddy rolled in. And our races aligned.
The plan was a shower, short sleep and then off on the monster climb. Ally Beaven, famous author and raconteur had left my numerous messages throughout the race as I asked him about upcoming sections and his advertising of the Donnas to Gressoney part, coming up next, needed work.
'It's the longest section of the race and in some respects the hardest. The first climb took me 5 hours 20. However many climbs you think there are on that leg, there are more'. Music to the ears after 155km and 36 hours in the bank.
We tried to sleep at Donnas and did manage to lay down for 75 minutes. But our estimations had us about 40 mins of broken sleep time. We were up before the alarm. In fact we never once needed the alarm throughout the race, we always woke up way ahead of it going off. We got up, left around 2300 and Paddy and I forged our first miles together.
That night went really well. To have company was a big bonus. Paddy and I have always seemed to be able to pass the time on the trail with chat ranging across any and all subject matter. It made that 5 hour climb to Rifugio Coda fly. On the way up to there, we dropped into Perloz. A lady there had this jug of orange juice. We drank almost all of it. It was just incredible.
Coda is half way through the race. Allegedly. In the black of the night, the lights of the lowlands stretched away for miles and it was pretty spectacular. About an hour after that, we hit that twilight zone around 0400-0500 where the brain is overpowering your body to try to get it to sleep and we were both wandering all over the trail. So I suggested a dirt nap. We both lay on a rock in the middle of the trail for a 2 minuter. I snapped back awake after 60 seconds, and Paddy slumbered on. I thought I'd let him have 5 minutes, during which Will Weidman came running past and whispered 'hey man all good' to me. I thought it was just fantastic how normal it seemed to be lying down on a rock up a mountain at 0400 and we're whispering to ensure we didn't wake the other runner up. We arose and we got back to it. As dawn broke, the sunlight poured energy back into the tank and off we rocketed at 30 minute mile pace over the coming miles.
This section as Ally rightly pointed out, just went on and on. Climbs were relatively short, but significant. Descents rough, unrunnable in many places. But progress was made and it felt like we were breaking the race. Some huge highs and some bottomless lows soon followed. First the high of the check point at Lago Chiaro. Pat sat down for the usual soup and pasta. But I could smell more. A baguette with huge, hot thick slices of bacon and cheese was handed to me. As we both partook in yet another half a can of beer each in what was now become a ritual at every check point. Beer and a bacon sandwich. There are no words to do justice to how good that was. I thanked the guy several times from the bottom of my heart.
Then came another section of total bullshit. Having seemingly started the descent to the town of Niel, the trail inexplicably first went up an extremely steep ridge. Then crested a col and continued to go on and on and on countouring, lulling one into believing the descent was starting but never actually doing so. Patience ran thin. Shrugs and chuckles at the farce were exchanged. And to make matters worse once we did start descending, some rain and the wet rock caused me to do a full pirouette, before crashing and smacking my face straight into a rock. Luckily it was just my front lip and left hand left reeling. The teeth did not get knocked out, I didn't seem to have any other effects except a mouth full of blood. And so we pushed on and hit the 200km mark. Another meaningless, meaningful landmark.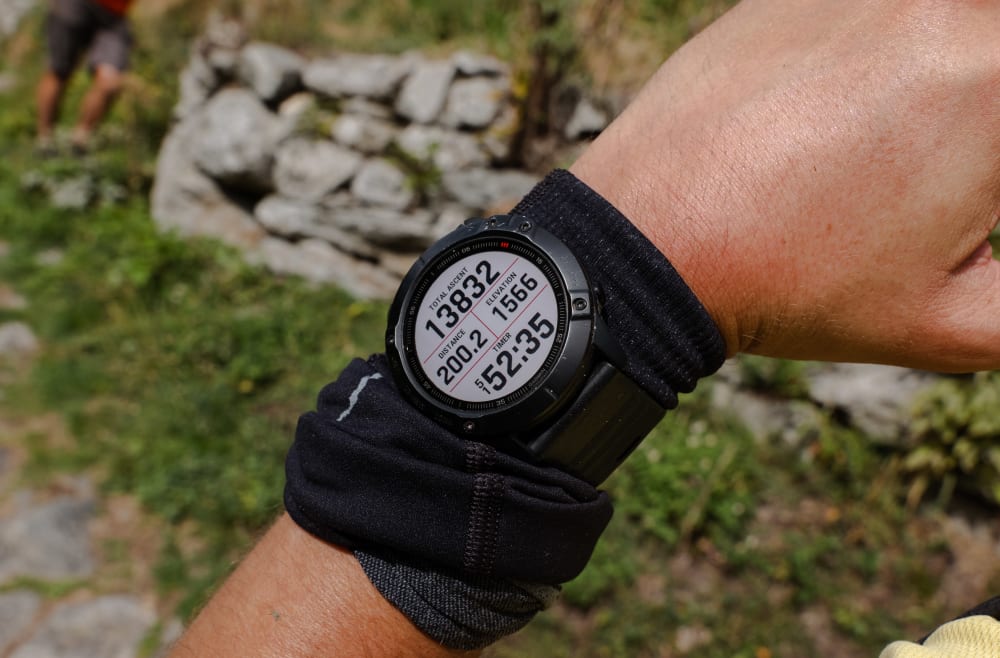 200km, only 100 miles to go
Niel was wonderful. We caught up with Jack, Robbie and Rob. And then Jack with his press pass was able to shoot us out on course up the next climb - Col Da Lasoney. A moderate 1000m climb to end the section felt actually really manageable and the thoughts of getting to Gressoney now front of mind. This section was truly enjoyable and some of the more straight forward running.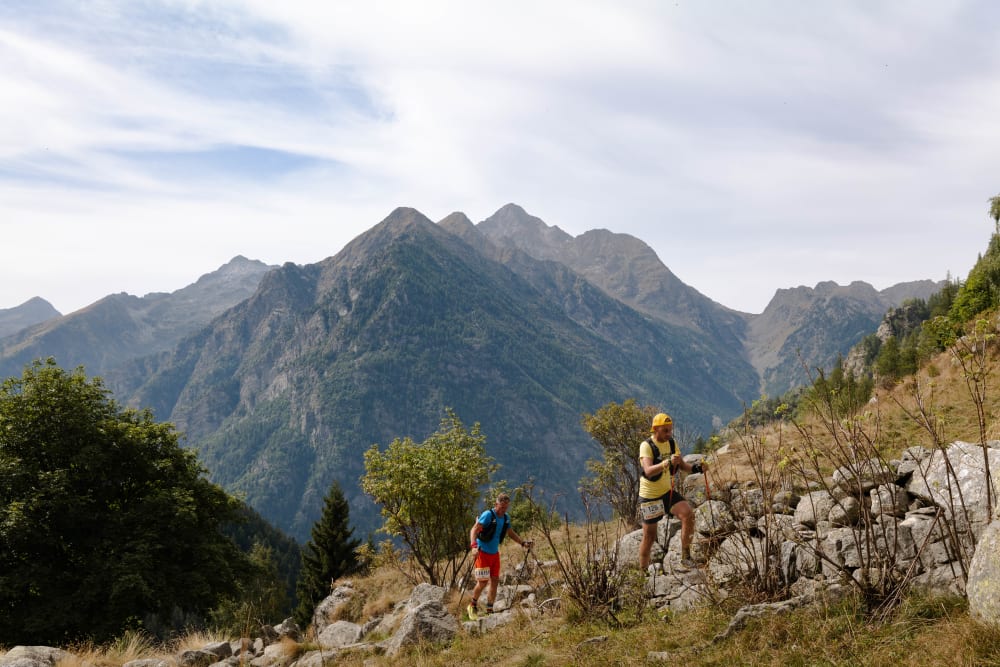 Climbing out of Niel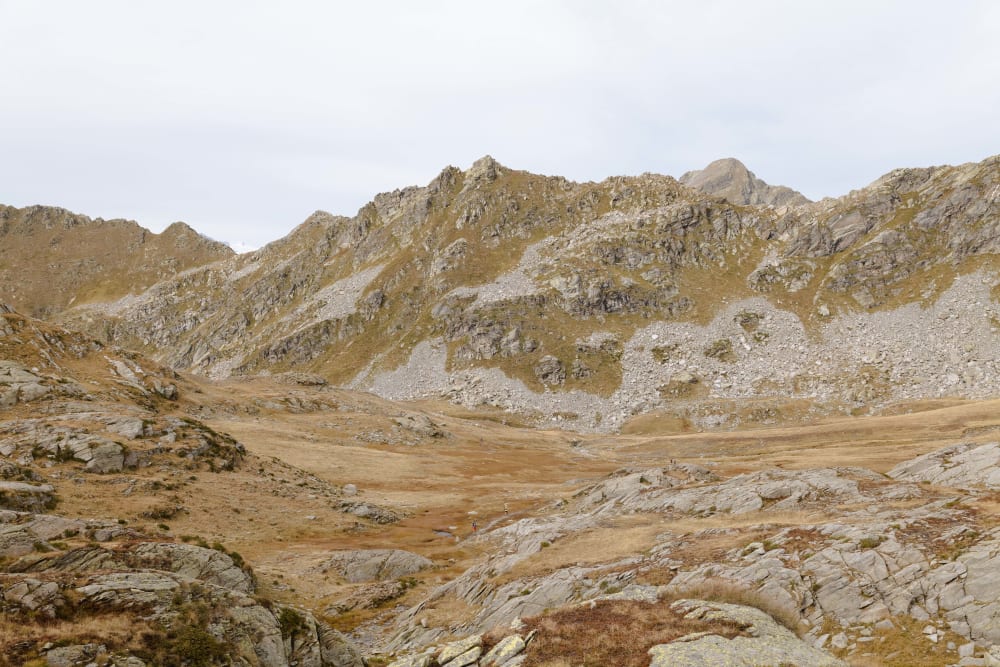 You can just pick out Pat and I on the plateau, just after leaving Col Lassoney at around the 205km mark
We rolled into the Life Base there, with that section having taken us 19 hours. It's strange to say that it didn't feel that long but it didn't feel that long. Perhaps we were getting used to the race and this way of life. Having had around 50 minutes of sleep to this point in the 55 hours we had been travelling, we opted for a sleep. It was a tough call where to do it. We could sleep in the bouldering hall there, or we could push on to the Rifugio up the first climb out of the town. But the deciding factor was once again, Ally Beaven. We were almost exactly on Ally's splits from 2021 and he had been faced with this very same decision. The wild card factor was Tot Dret - the 130km race from Gressoney to the Finish sharing the majority of the TDG route, due to start at 2100 from the town. If we hit the Rifugio for sleep at 2000 as we planned, 900 runners would then come ploughing through us there. Or we could sleep at Gressoney and make our way out, just behind them.
We lay down for about 60 mins in the bouldering hall and once again had probably 40 mins of broken sleep. We rose, sorted our stuff out and headed off into the night. Strange to feel like we were on the homeward stretch with two full days, 85 miles and 30,000ft of climbing still to go.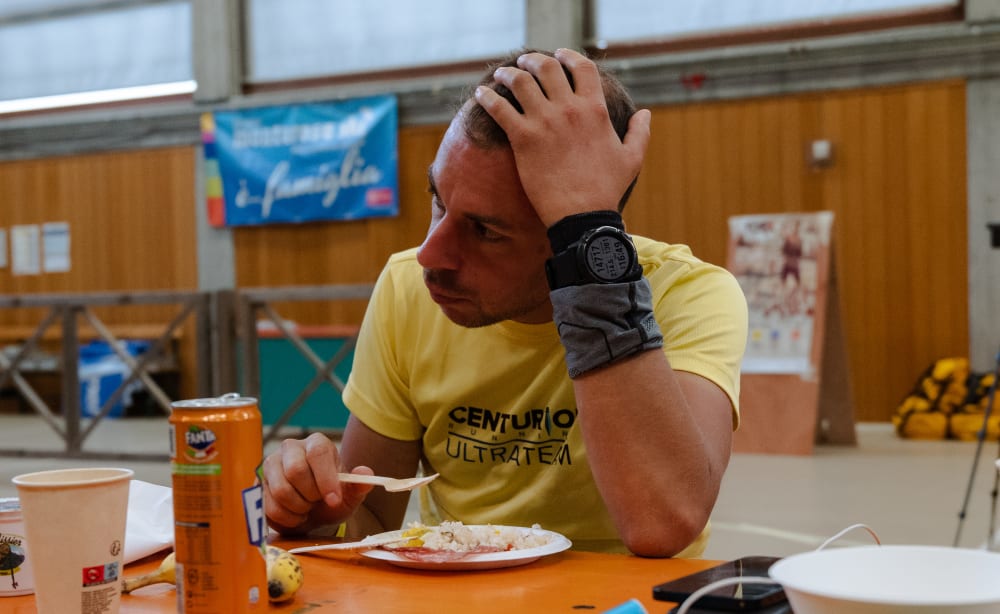 Meal Time at Gressoney. I remember being very happy about how things were going at this point, it just doesn't look that way. Perhaps because we'd finished a 19 hour non-stop effort to get there.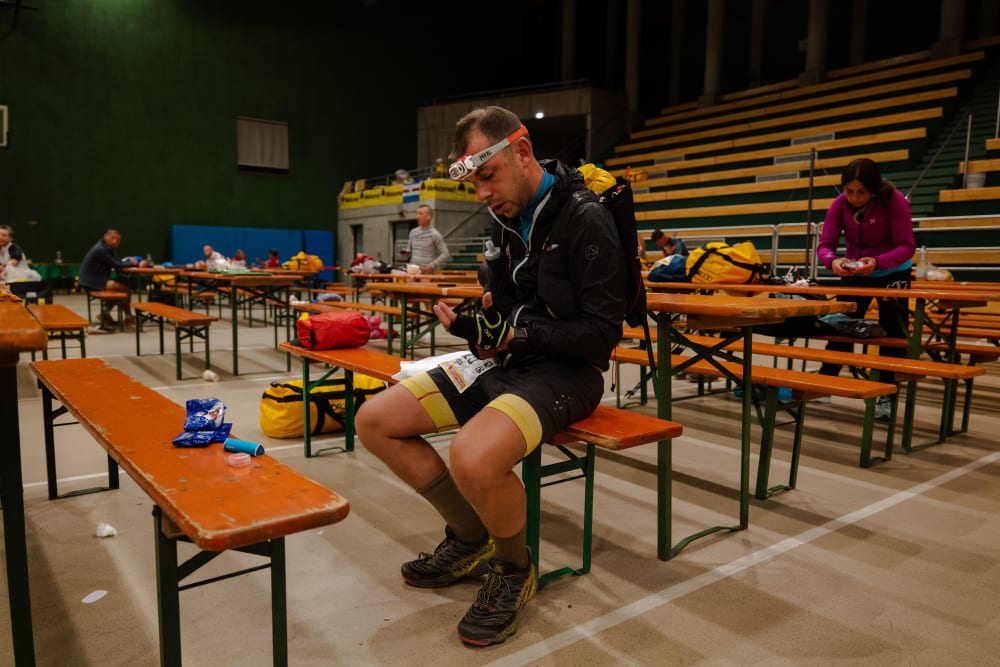 Getting ready to exit the Life Base at Gressoney. 220km down, 130km to go.
Out of Gressoney a couple of flat miles were pleasingly jogged at a decent clip. We ran through the Tot Dret start area, literally 20 minutes after it began and it was a strange sensation passing through this ghost town at night that so recently had been the centre of so much energy. You could almost still feel it in the air. Spectators were flowing back past us in the opposite direction. As we began the 5,000ft ascent of Col Pinter, we could see the train of headlights from the Tot Dret runners high above. But it wasn't long before we caught one. A Turkish chap on the open hillside was already lost and anxious. We pointed out the markers to him and he fell into a train of four behind us. But before we knew it he had sat down on a rock again. We persisted to the col where we found the Tot Dret sweepers promptly clearing the back of the pack. Pat informed them they had left a man a long way behind and they were adamant they had not. We were pretty robust with our point - they needed to go back, eventually they did yield. Hopefully he isn't still up there.
After this, is where my brain blanks out. It was turning to the small hours of the morning again and we had now been on the go for 65 hours. With maybe 90 mins sleep. We were both starting to see things in everything we passed. Faces in the rocks, people and animals in the trees. We essentially slept walked through most of the second half of that section. We tried another 2 minute dirt nap, it helped but more briefly. We then ascended Col Tourmalin and the Rifugio at the top was about 100 degrees inside. We had to just get out straight away, it was inducing sleep just stood there. What perhaps helped now was that it had started to rain. We had been warned the next section was slippery, exposed and had large drops which the rain would add some spice to. And Pat admitted to me just after this that he had felt that the terrain there, the dark, the rain and our state of mind had taken him to the edge of what he thought was safe and ok to pass. I just wanted to lay down and sleep. I couldn't always tell who Pat was. I knew that I knew him but I couldn't remember his name. I'd try to get close to the back of his pack so I could read the name printed on the bib but I kept reading it as Peter Rabbit instead of Pat Robbins. This is where being together, made a difference. We were both experiencing the same things, so it was amusing rather than worrying. We kept each other moving when it would have been easier to succumb to a sleep at a Refuge. Pat would start talking to me, get no acknowledgement, so would wave his pole grips in front of my face and I would snap out of it. He seemed to be coping slightly better with the sleep deprivation than me.
Our partnership was now forging deeper and deeper. Paddy's strength climbing, his superior fitness I could just about hang on to without over cooking it. I would move better on the descents, which have always been my forte. And our old 24hr days meant that any flat section got treated to the ultra shuffle that is second nature for us both.
DAY 3
We eventually rolled into Valtournenche and the second to last life base, with the sun just rising. For several days after the race I couldn't picture that Life Base. I still can't remember any of the descent to there. What we did there is a blur. I know we both lay down for our usual 90 minutes, but never got near that, with a snatched 45 for me and even less for Paddy, all we could do. It just feels so inherently wrong to be asleep in a race when the clock is still ticking, I guess. Next time I would go for 15 min Rifugio naps for sure.
So we pushed on out, and took on the section over to Ollomont. It was now that my watch just died on me. We then missed some markings and ran off down a side trail for quite some distance before we recognised we weren't seeing any signage. I thought we'd gone wrong by a few hundred metres but again Pat the voice of reason suggested it was way more. He was right. But the rest of the morning went well. We were bouyant, feeling ok and had a whole day of light ahead of us. Over to Rifugio Magia was rough, time consuming and heavy going but good progress was made. At Magia I had a two minute table nap, Paddy bought four ice lollies and ate three. I woke up had one and off we went. But the next section was I'm afraid to say it, some more total bullshit (just to caveat once again, these trails are out of this world beautiful, in fact this next section gave us the best mountain vista we saw the whole time, but the distance and elevation change were wildly different to the race profile, taking two hours longer than we thought - hence the bullshit). We climbed up to Rifugio Cuney and then spent an age rolling up and down at altitude, in rolling clag, before an almighty view of the peaks appeared before us at the top of the final descent to Oyace. Everyone says the descent to Oyace goes on forever. It is longer than that. The flags disappeared, we had to go off of intuition at times. We passed Tot Dret Runners who were already over cut off. A Danish runner was lost 'for six hours' in the woods (it could have been six minutes for all he knew). Before we got down to Oyace, only to have to climb again before the descent to Oyace. When we got there, Jack was parked up with a full pizza, chips, sandwiches, Fanta's, headlamp batteries. Basically making our lives about 400% better than 15 minutes before.
The next section was some total bullshit. Due to landslides there was a course change. Tierney said that the removal of Col Brison made the event basically redundant and it didn't count if we finished. But I am pretty sure I would rather we had just gone over that last climb to Ollomont. Every rock now looked like a dog or a cat.
I would wear one pair of shoes the entire event, my La Sportiva Akasha II's. They were cushioned, had decent grip and supremely comfortable with the breathable toe box. I had had zero blisters up until Gressoney. However now the terrain was loose, muddy, unavoidably making shoes wet and for the first time, causing blisters to start raising their heads. There was a lot of climb. Then a descent to a check point. Then a lot more climb, then an horrific descent on white slick rock, covered in water, with pine cones littered over the top. Pat's watch broke. Then he slipped and fell, ripping a hole in his waterproof with his pole. He told me to go on whilst he had a bit of alone time, so I did. Meanwhile Ollomont remained out of our grasp. A worst case two hour section, became four hours. And then we hit the black ribbon of tarmac up into Ollomont, Paddy jogged up to join me. The world was ok again. And we had just one section to go.
DAY 3
Our feet were in a state now and the rain was forecast to be heavy until around 0500. So we made the call to spend 3 hours here, get sorted and then leave at 0500. Pat got his feet taped and fell asleep having his blisters lanced, while I lay in a cot with my now elephant sized legs elevated on my drop bag. Then we swapped, and I also passed out as the woman sorted my blisters and taped my feet. Then we ate and pushed on into the last day. The last day! I would say we managed 60 minutes of broken sleep here taking us to 3 hours or so for the race. Plus the two minuters. But far more resting time. We did waste too much time no sleeping or moving, though I understand against most we were told we were pretty efficient.
A lovely 5,000ft climb straight out of the gate and most of the way up, we reached the most idyllic Rifugio so far. You drew back the curtain to a small stone room with wood burner and a few comfy seats. We could have stayed, but in went the soup and off we went to Col Champillon
Down the other side of the col to a farmstead, with the check point in the farmers kitchen. We tried the cheese he stated proudly was made on site. I slept for 2 minutes on the table. Refused some Ouzo and off we went. On a flat section to Bosses and the last town check point before the Finish. By now, Pat had a knee issue on the left side and I on the right. Running was still possible but with the inherent feeling that the knee could collapse at any time. It was frustrating, we ran plenty but it was just a bit slower than it could have been. So it was now we began to look at the clock and our 100 hour target, that had been there hovering throughout. With Pat having started two hours behind me, there was seemingly a possibility he could still aim for that mark. I felt he could move quicker without me but as he pointed out, on the descents he was giving the margin back again. With some maths, it seemed unlikely he could do it. We'd be on 100 hour pace for each section but the extra climb and distance plus the rest time, just seemed to edge it fractionally away from us. I think the extended break in Ollomont did for us and on reflection I wish we'd moved out of there quicker.
So we pushed on together. A bright sunny day, warm in the valley, we met Jack one last time where we catered for us in the usual way, an absolute star from first to last. Then we pushed on up the last big climb to Col Malatra. I had a wobble in Rifugio Frassatti just before it, where I felt the worst I had all race. Two minutes on the table now seemed to do very little and I was cold. So I borrowed a hat from Pat. And that seemed to do the trick.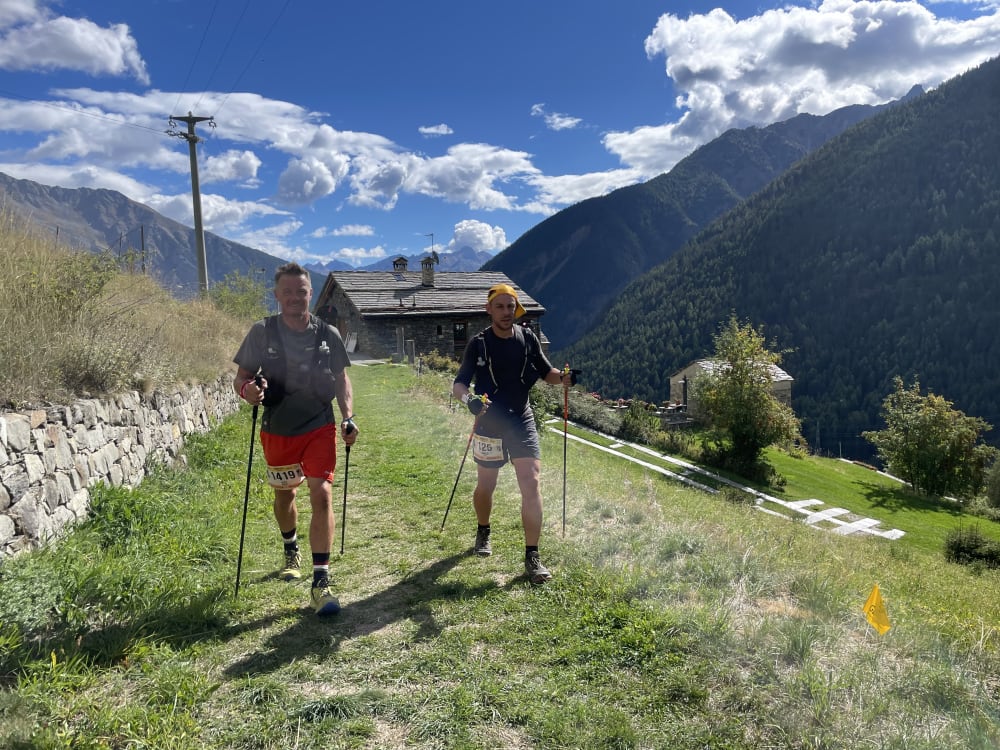 Starting the Final Climb. Photo c/o Gary Wang
Over the col we went, down, up again and then the extended gradual downhill to the last Rifugio at Bertone. This section went on and on and on. We were moving slower, knees being sore, blisters starting to shout again and just fatigued. Climbing, we were great. Flats, we could trot. But our descending was total bullshit. We were both in pain and co-ordination was failing. On the final drop from Bertone we took an age. But then when we hit the road, back came the 24hr runners and we ran well right across the finish line. 104 hours and 50 minutes later (102:50 in Paddys case).
Job done. Best trail race I've ever run. And I have done a few.
AFTERMATH
Tierney finished fourth in the Tor Des Glaciers, sublime running, a journey even we can't appreciate. Damo had gone wildly off course and valiantly made his way on despite it. Having led in the earlier stages, he was able to salvage 14th in 88 hours. Sabrina ran the race of the week and dominated the ladies race in a time of 80 hours. A new course record. Lawrence Eccles finished a place behind her for a stellar run. Sophie Grant finished third in 95 hours. Kim had to drop with a range of issues but I have to say if this course suits a man, it's Kim. I think we can expect fireworks from him here in the future. Natalie White finished in 101 hours. Paddy ended up 50th and I was 70th. A pretty good haul from our merry band.
Mentally I was over the moon. Physically, the swelling in my legs had also pervaded to other more private areas and my face. We drove back to the UK the following day, and all took turns in driving. We had to stop every hour or so for me to release huge quantities of pee as my body flushed through the excess liquid. We arrived back home around 2330 that Friday night and everyone crashed out.
At 0530 the next morning, the alarm went off and we travelled across to our Chiltern Wonderland 50. Where I promptly found out that the rest of the Tor had been cancelled due to snow fall on the final part of the course. I was simultaneously gutted for the people still out there who'd had their race called time on them and extremely grateful that we had been allowed by the weather gods, to pass without anything more than some moderate downpours.
A week on and the legs have returned to their normal size (and all other areas). The fatigue lingers, but it is countered by the sense of satisfaction at a job well done.
And thoughts begin to scan forward to the Spine Race....
KIT/ NUTRITION
All of the links take you to our Ultrarunning Store. Slightly shameless but in case you are actually interested this might be useful!
Footwear: La Sportiva Akasha II. One pair used throughout.
Socks: Drymax Golf, Active Duty, Trail and Max Pro Trail. Four pairs total.
Bottom Half: La Sportiva Ultra Short. La Sportiva Rapid Short (old). La Sportiva Drizzle Pants temperorarily on final climb.
Top Half: Regular Running Tees in the Day. La Sportiva Jubilee Base Layer for Warmth at night. La Sportiva Odyssey GTX Jacket in the rain. La Sportiva Blizzard Windproof on and off throughout the entire race.
Head: Various caps, plus Pat's warm hat for final climb
Headlamps: Two Petzl Swift RL's with spare batteries, on rotation. Everything you ever need in a easy to pack headlamp. Low beam for climbs, medium setting for descents.
Pack: An old Salomon S/Lab 8 Set, switched to a Sense Pro 10 for one section.
Waist Band: Naked band for additional supplies
Poles: Leki Ultratrail FX.One. Superb kit. Had to wear an additional glove under the hand grip on just my right hand due to blisters on my palm.
Nutrition: Approximately 200 S! Caps. Maurten 160 and 320 mix for all climbs. Gu Gels for the first 36 hours. Then moved to chocolate. Piles of aid station food. Zero stomach issues.
Watch: Garmin Fenix 6X Pro, failed at 60 hours.