Our 2022 season opener is here, the tenth edition of what has always been one of our most popular events - the South Downs Way 50.
Both of our mens and womens fastest 50 mile times have been set on this course. Tom Evans' 5:44 from 2018 and Julia Davis' 6:54 from 2019 stand as the times to beat. There is good reason to believe one or both could be under threat from the high calibre field who toe the line this coming Saturday.
Live Tracking is available here and the Leaderboard will update live through every checkpoint here.
Here's a quick snap shot of the likely key conetenders for the overall wins.
WOMEN
Anna-Marie Watson: The La Sportiva athlete has been one of the most successful British runners on the world stage over the last several years. She has finished Top Ten regularly at headline international events such as UTMB, Laveredo, TGC, Grand Trail Courmayeur, MDS (twice). On home soil she has won events on the SDW before and knows the trail.
Bethan Male: Bethan led the way at the Autumn 100 last October for the first 100km on a blistering pace before injury stopped her in her tracks. There is so much more to come over the longer stuff from her, this one being a stepping stone towards the SDW100 in June. Her biggest wins in the past have been against very large fields at both Lakeland 50 and the Beacons Ultra.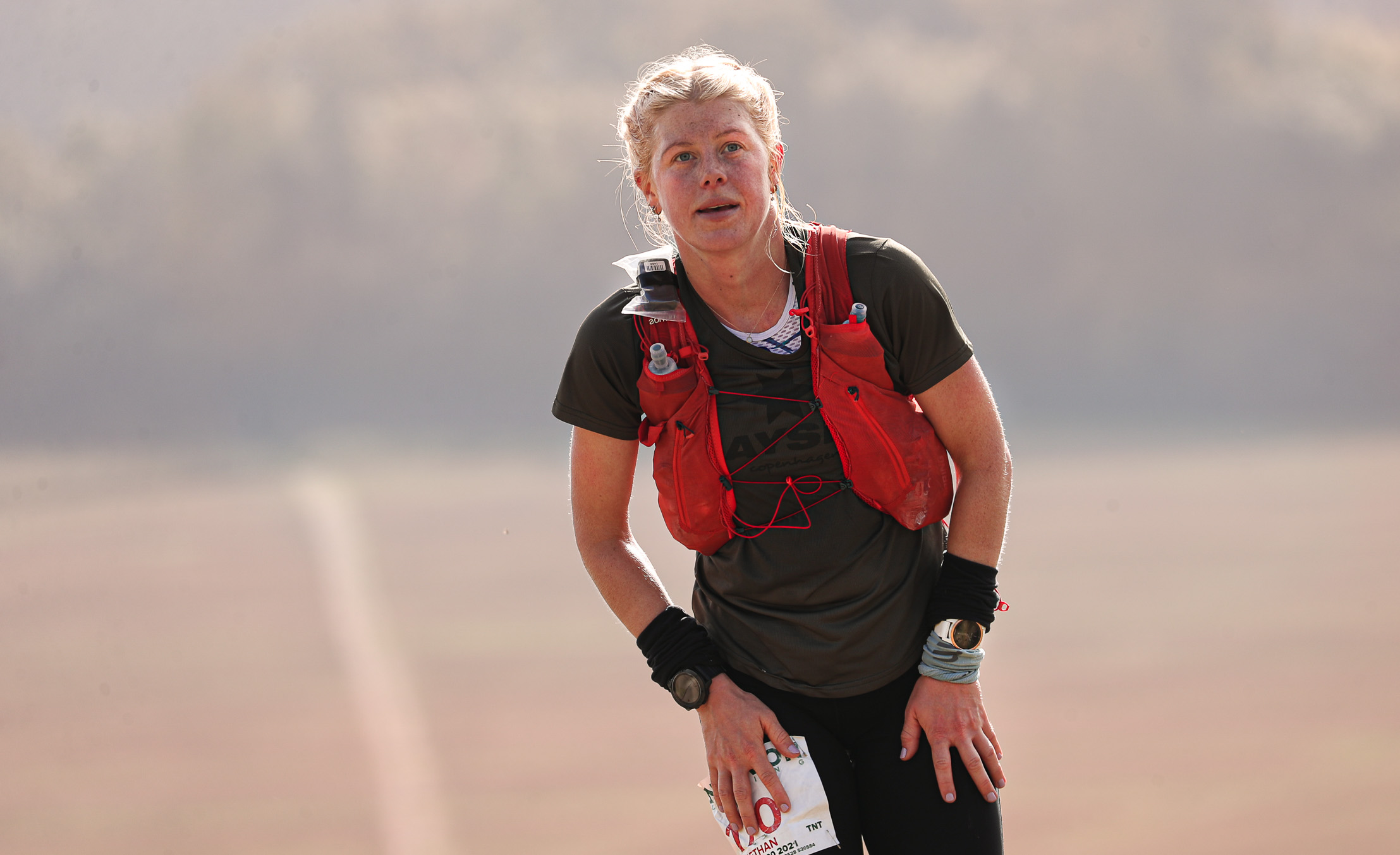 Bethan Male
Laura Swanton-Rouvelin: Laura has been one of the most consistent performers at events of all distances in recent years. Her list of accolades is long. Starting out in 2017 she went long quickly and won our Grand Slam in 2018 with 4 stellar races, three podium finishes culminated in a win at the Autumn 100. Since then she has gone on to set the course record at our Chiltern Wonderland 50, won the Arc of Attrition and the Ridgeway amongst others. She raced Bethan over a 100km on the SDW last June and Bethan came out on top so it will be interesting to see how the race unfolds this time - especially as Laura finished the Spine this past January!
Sarah Hill: Last years winner here she has quite the run of ultra victories including Race to the Stones and the Fox Ultra twice. Her time of 8:45 from last year will need to move up significantly one would think if she is to retain her crown.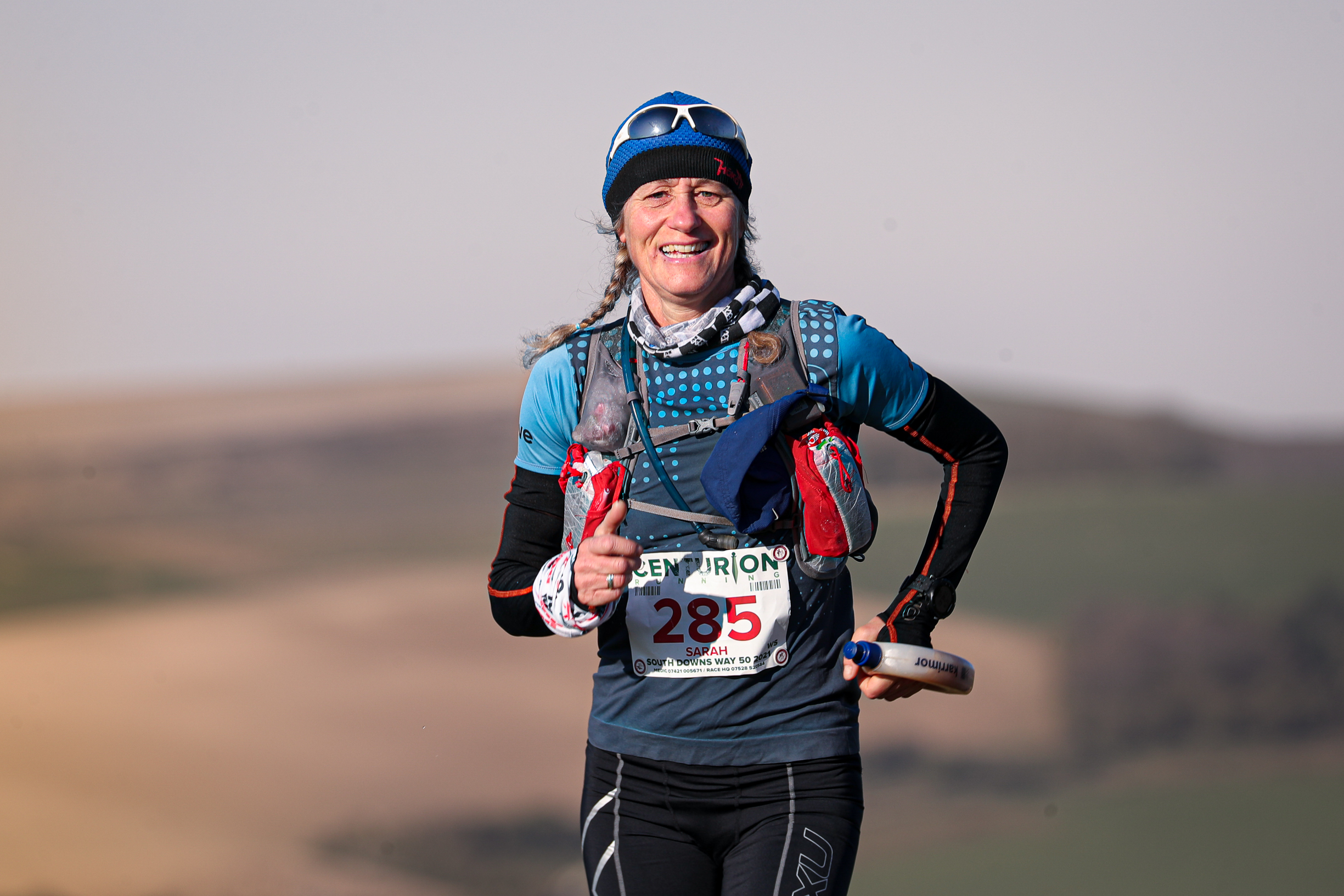 Sarah Hill on her way to winning the SDW50 in 2021
Claire Kanja: Claire finished second at both the Wendover Woods Night 50km and 50 mile in 2021. That followed a second at the Autumn 100 in 2020 - her third consecutive top ten there. Another younger runner like Bethan with a bright future ahead.
Rose Penfold: With a 2:48 marathon PB and an 82 minute Half at Cambridge earlier this year, on paper she is as fast as any other lady in the field and that could make for very interesting racing on a course as fast and runnable as this.
Liz Steward: Previous winner at Portsmouth Coastal 50km, CTS Dorset and the Druids Challenge.
Gemma Buley: Has a 2:59 marathon PB and a couple of top tens in 50 mile ultras including the CW50 and NDW50.
MEN
Harry Jones: The stand out athlete in the field by quite a stretch. The GB international has finished on the podium at many of the worlds leading ultras. With top ten finishes at TGC, Tarawera, CCC, Eiger Ultra Trail, Ultra Trail Australia and many more besides.
Lyndon Cooper: Lyndon took second at the 2021 NDW50 in 7:10 Previously also fourth at the Ridgeway Challenge and SVP 100km and fifth at Wendover Woods 50. Has a range of other UK ultra wins and podiums over recent years.
Seb Betouret: Our 2021 Wendover Woods 100 champion. A prolific racer this is likely a bit short and a bit flat for him to be competitive at the very top.
Jack Oates: 3:01 at Stort 30 and wins at a couple of other 50km events.
Luke Davis: 11th here in 2021 in 7:18. 2:33 marathon suggests he could go a lot quicker.
Andrea Fraquelli: Ran a 2:29 at London last year. He also finished second at the Lea Valley 50km in 3:16 and sixth at the Serpentr Trail 50km.
John Stoddart: Second at the Steyning Stinger last month and a strong marathon pedigree.
Tom Ridsdale: Winner of the 2020 Thames Trot in 6:11. 2:39 marathon from the same year.
Nick Williams: Has done well at CTS events in the past with a win at the Gower Ultra. In 2022 he has already scored a third at the South Devon event.
Stuart Farmer: 2:33 marathoner run at London last autumn but has only a few ultras to his name.
Stephen Peck: 2:40 marathon, looks like his first ultra.