This year marks the fourth edition of our Track 100 - the UK's only IAU Gold Label event. This race is really the only one of its kind, certainly in the UK and arguably globally. It attracts a very small, elite group of athletes looking specifically to set records - principally at the 100 mile distance but at other splits along the way including 50km, 6 hour, 50 mile, 100km and 12 hour.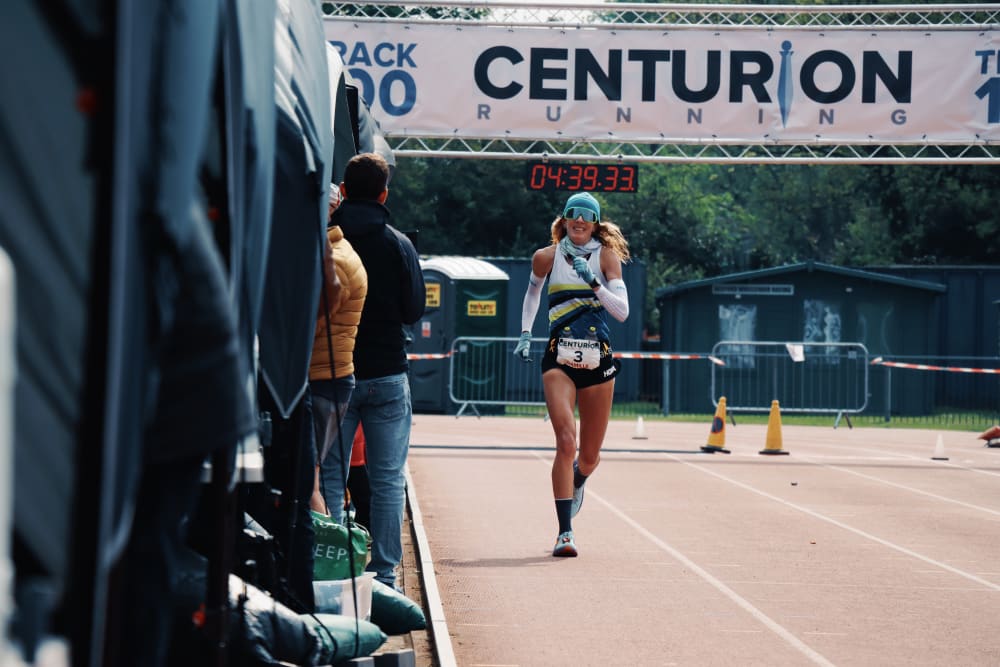 Camille Herron at the Track 100 in 2022 (Photo: David Miller)
In 2019, our first year, we weren't sure if the high standards and story behind the event would attract any interest at all, but eight athletes gave it their all. The mens race was won by Thomas Payn in 12:25 putting him 8th on the British all-time list. The womens race had only one finisher, Debbie Martin-Consani who pioneered the way for everyone to follow.
From there we decided to branch out. With several of our Centurion Ultra Team active members of the ultra set up with Team GB, we had the ability to reach out to other athletes in the 100km and 24hr disciplines to see if they wanted a shot at setting some National but possibly also Continental and even World marks.
We of course, lost 2020 to covid but got our second event away in April 2021, with a lot of covid restrictions still in place. And the event morphed into something much bigger. All of a sudden runners were shooting for open and age group records at various levels and in total, 14 new marks were set. Aleksandr Sorokin's laid down a new 100 mile mens world record of 11:14, before he decided to push on and set a new 12 hour record as well, running 170.309km in that time. And of course Sam Amend set a new British womens 100 mile record of 14:34.
In 2022, the ante was upped once again. This time we welcomed Aleksandr back to try to take on the world best 100km mark, having more recently taken the 24 hour world record too. And in the womens race, Camille Herron and Dominika Stelmach took each other on to try to shoot for several world marks, with Sam Amend back to try to improve her own British record. In the end, Aleks blew everyone away once again, running 4:53 for 50 miles he went on to break the 6 hour world record and then the 100km mens world record - coming home in 6:05.
For Camille and Dominika, it was a tough day, but Dominika was able to set a World FV40 50 mile record of 5:51 and a World Age Group 6 hour record too. Sam Amend did improve her British mark and won the 100 mile race in 14:10. The mens race was won by Alex Whearity but in a superb 12:42, but second was Mike Stocks who broke the World MV50 100 mile record in 13:41. We also saw a first as Claudia Burrough raced her wheelchair and set new World bests at every one of the six marks along the way.
So in 2023 with some late withdrawals, we welcome an elite field of six men and three women, once again all with different ambitions.
In 2021 and 2022 the focus from a number of athletes was on the lower distances and marks but this time almost all of the athletes are shooting for the big one, the 100 mile.
WOMEN
Ingrid Lid: Ingrid has a 100 mile PB of 15:10 set at Bislett in 2021. She finished second at last years TP100, a result she also achieved in 2019. Her target here will be the Norwegian record of 14:25 held by Therese Falk.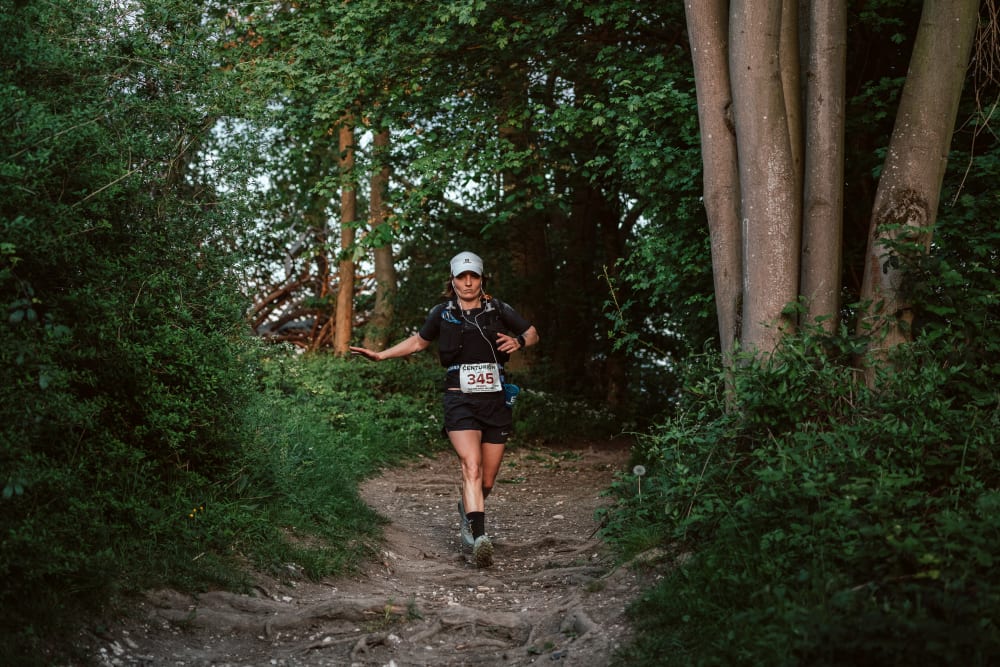 Ingrid Lid at the 2022 TP100 where she placed second
Chavet Hills: Chavet hails from Denver, Colorado and has been a prolific racer over recent years. Stand out results have been wins at the Prairie Spirit 100 (twice) and Pony Express Trail 100 where she came home in 17:31. Her 100 mile PB is 16:46 from Daytona 100. She has raced numerous 24hr races and had great results at that format including a win at FANS 24hr, but also plenty of shorter ultras too.
Sarah Sawyer: Sarah has taken on a wide range of ultras in her 10 year career, shooting at a range of different distances and racing in a variety of different environments and terrain types. On the road and track, her standout performances have come at Spartathlon where she was fourth in 2019 and her best 24hr in Germany in 2020 where she ran 208km. In 2021 she raced here and made good progress until the final few hours where her pace dipped just too much for her to make the final 17 hour cut off and she heartbreakingly had to stop within 5km of the finish. She finished 2022 by running a solid 17:40 at Daytona 100.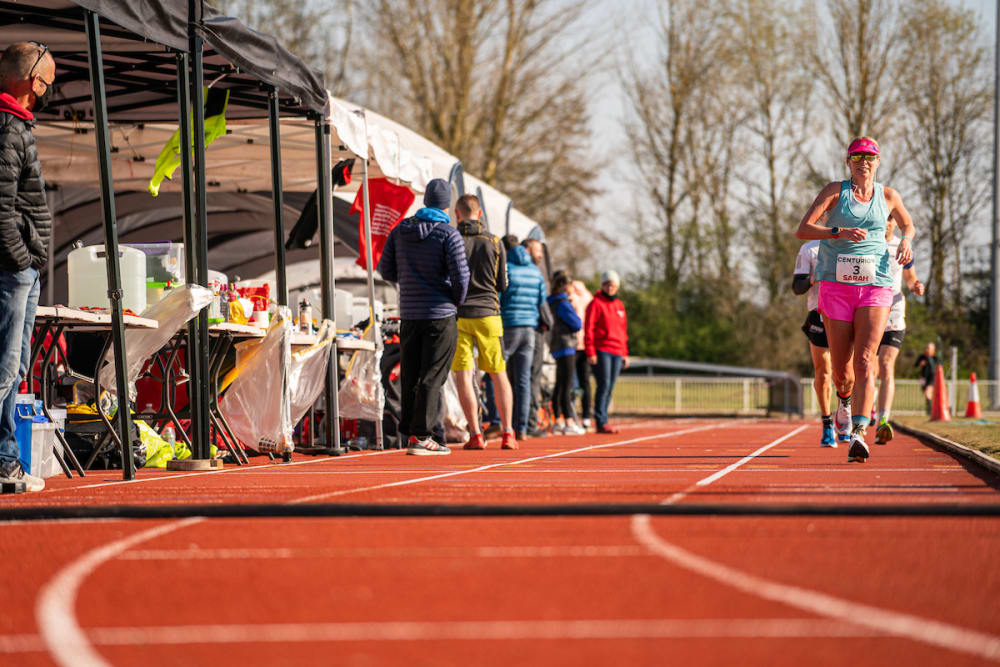 Sarah Sawyer
MEN
Dan Lawson: Perhaps the most consistent high level performer on the UK scene since the golden days of Don Ritchie, Dan really has done it all and at 50, is still getting quicker. In years gone by Dan has excelled at the long stuff and in formats most similar to this event, he was European 24hr Champion in Albi in 2016. But just last year he exceded his winning distance there by a whopping 12km, running 273km in Verona for fifth place in the same competition. His list of race wins and accolades are too long to mention really. Stand out wins and podiums some as course records on the road/ flat trail at Ultrabalaton, Spartathlon, Badwater, GUCR. He is no stranger to multi day either with his LEJOG record one of his most impressive runs of all. In the past year has has also brought his 10km, half and full marathon times down. A Vet 50 World Record will be the minimum aim and in reality he is capable still, of going for much more besides.
Dan Lawson
Robert Hajnal: Robert comes into the event as the only runner with a declared focus on the 100km distance, with his sights set on the Romanian National Record. He is a storied ultrarunner with incredible success dating back for a decade or more. 9th at UTMB in 2022 followed 7th at Laveredo and a win at 100 miles of Istria. He has countless wins behind him and top ten showings at many of the worlds most competitive long trail ultras. On the road and track, he has a 50km PB of 3:08 and in March he covered 87km in 6 hours in Barcelona as part of his preparation. The Romanian record and time to beat is 6:41:07, from Iulian Filipov back in 2021.
Mark Innocenti: Mark ran 12:34 at the 2021 event in what was a supremely well executed run, that on any other day would have received all of the plaudits, had he not been beaten by a world record run by Aleksandr Sorokin. The Tring runner has steadily brought his marathon best down to 2:27 in London, 2022. This year he's already run 54:09 for 10 miles too. So the speed is all there, but he has accrued much ultra success now too. A 3:02 50km PB, plus wins at the Autumn 100 and Race to the King are stand outs, as was a 7:00 flat 100km performance at the British Champs in 2022.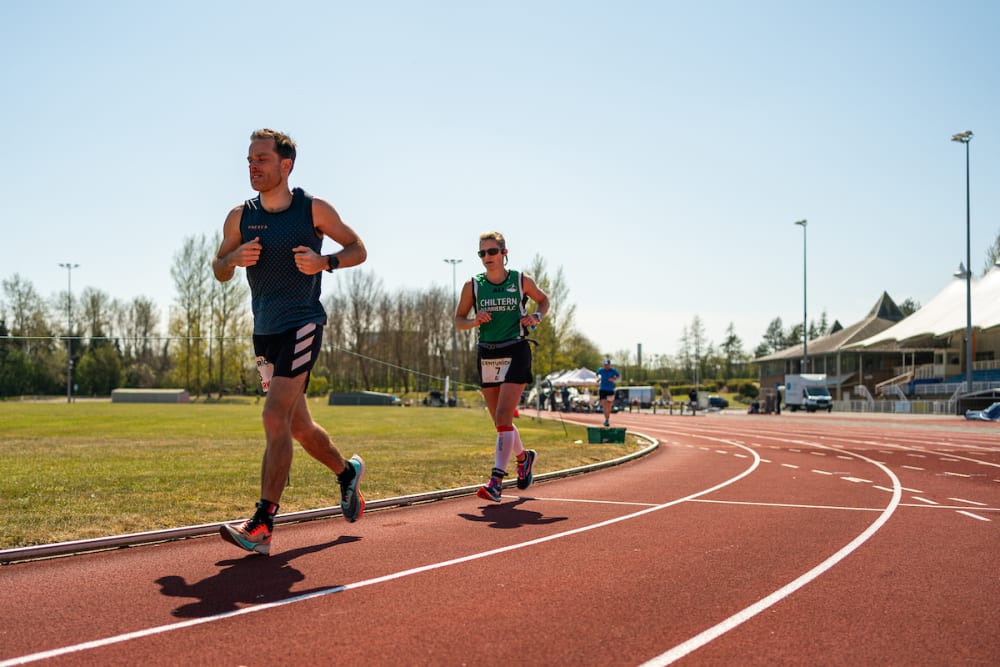 Mark Innocenti
Tristan Stephenson: Centurion Ultra Team runner Tristan, set the Thames Path 100 alight in 2022 when he ran home a clear winner in a second fastest all-time performance of 13:59. He has a second and third place at the Arc of Attrition 100 behind him. As well as wins at the South West Traverse and Serpent Trail 100km. His only other ultra distance track event ended early at Gloucester in 2021 but he is already off to a solid 2023 with a win at the EnduranceLife North Cornwall 50km and a big bank of training behind him.
Luka Videtic: Luka is truly a man of the road and track and has improved vastly over recent years. His 2022 season included a break through 265km performance at the IAU European 24hr Championships for 10th, where he recorded a 100 mile split of 13:39 along the way.
Ciaran Mcaneny: Relatively new to ultrarunning, Ciaran qualified for the event after running 80km in 6 hours on the track in 2022.
To follow the race live head over to our Live link here. Lap splits and a live feed will be available from race morning.