The 9th edtion of the North Downs Way 50 and a very interesting line up at the sharp end of both the mens and womens fields.
The race gets underway this Saturday, 18th May at 0800. Conditions will be rock hard underfoot and generally fast going, but warm weather and showers are likely to lead to high humidity and catch some out on the steeper climbs of Box Hill, Reigate Hill and Botley Hill as well as some of the later more exposed sections.
Before we look at the main contenders, two notable DNS's are Charlie Harpur who won our SDW100 last year and became British 100km champion earlier this year. And Ollie Stoten who ran onto the podium last year and is out injured.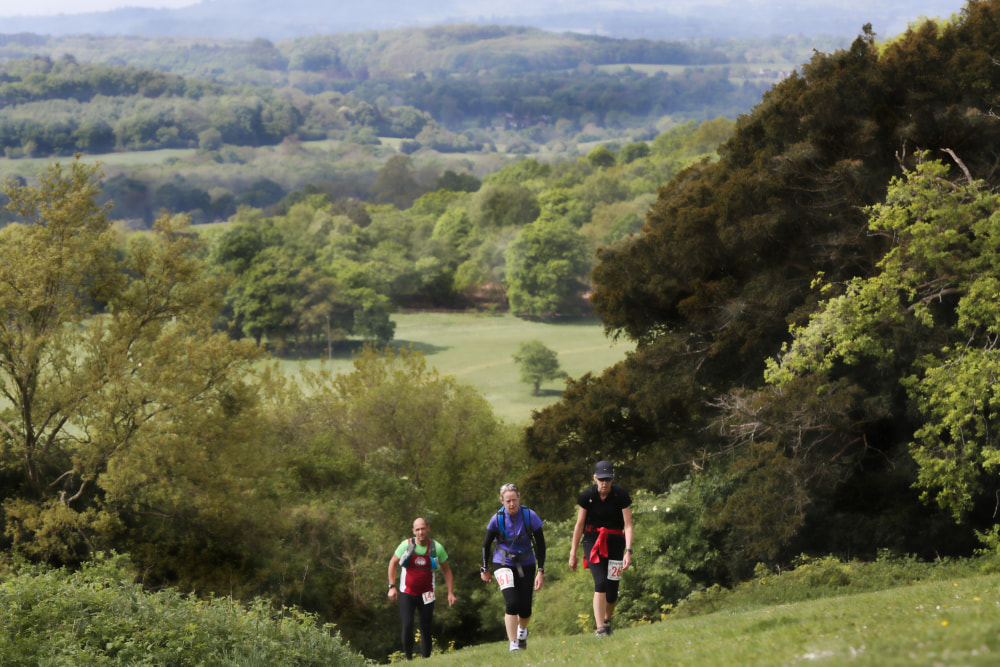 Runners tackle Box Hill at the half way mark
MEN
Stuart Leaney: Last years winner. Two time Wendover Woods 50 champion. His performance there last year was probably second only to Tom Evan's 2018 SDW50 as the best run we have seen at one of our 50s. And his ITRA ranking for that race of 800 concurs with that. That is only the third ever performance by a runner at our events to have achieved that mark. Mark Perkins' SDW100 back in 2014 being the third alongside Stuart and Tom. Last year, Stuart was on course record pace for the first half but he did struggle over the third quarter and will no doubt want to nail it all the way this time. If Stuart has a good day and conditions are favourable I think it's likely we will see the course record go here.
Ed Knudsen: It was Ed who pushed Stuart all the way last year, finishing second in 6:50. Since then he's gone on to win the Two Tunnels ultra, finished 4th at the Ridgeway Challenge and this year already has a win at the Imber Ultra.
Paul Russhard: Paul has produced some of the most exciting and mind blowing displays at our events over the years, particularly on the North Downs Way. In both the 50 and the 100 in the past he has gone off at an extremely aggressive pace with the clear tactic of running from the front and banking a gap early on. In the 50, it came so close to working in 2016, where he faded only in the final stages to finish 3rd. In 2017 he was 5th here as part of an excellent Grand Slam year. Last year he led the NDW100 for the majority of the second half, before succumbing to a charging Matt Dickinson with just 15 miles to go, going on to finish 2nd. This year he has already won the Pilgrims Challenge on this very route. It is going to be great to see if he can hold the magic all the way to the line this time.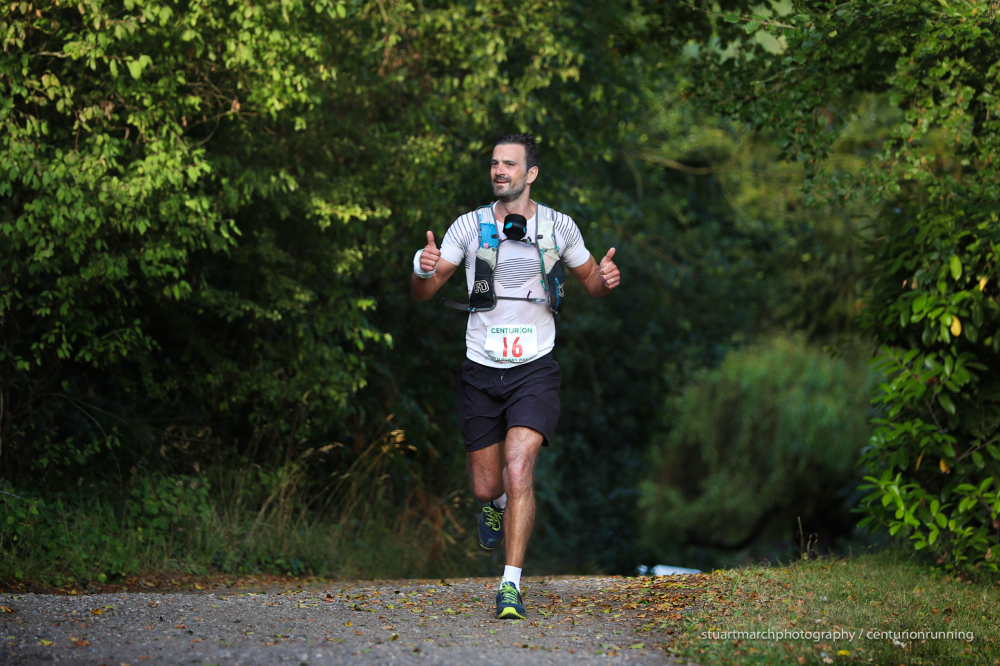 Paul Russhard on the NDW in 2018
Neil Martin: Neil started 2019 with a win at the inaugural Arc of Attrition 50. He then went on to 5th place at the SDW50 having struggled with cramp for much of the day. As a grand slammer he is off to a solid start but if he can run at his best here he will definitely feature in the overall standings within this event too. He currently leads the 2019 GS50 table by 23 minutes.
Justin Maxwell: Justin comes over from Northern Ireland to run the event. He has a Western States place so this looks to be part of his build up. In the past, Justin has represented Ireland at the Trail World Champs, taken 2nd at the Highland Fling and won a handful of shorter ultras over in Ireland. Whilst of late his performances don't look to be on the same level he's clearly got a lot of experience and it will be great to see what he can do on this course.
Ed Fisher: A string of solid performances over recent years from Ed. Perhaps most notably, 3rd at the A100 in 16:17 in 2016. He has finished Top Ten at a range of 30-50 mile ultras over the last couple of years, as well as gaining a Western States finish last summer, just over the 24 hour mark.
Rob Payne: Rob had a really solid 2018. 2nd at Country to Capital. A win at Dukeries 40. 3rd at SVP100km. 15th at the Fling and 2nd at Hardwolds 80.
Jack Bromley: Only 3 ultras so far but a notable 2nd place at last years Ultimate Trails 55km in a big field.
WOMEN
Beth Pascall: In Beth, we welcome a truly world class athlete to the starting field. Beth's achievements run so deep it is hard to know where to start. She represents Team GB on the trails, and has run in the British 24hr team also. On home soil she has won Lakeland 100 (course record holder), the Spine, Tooting 24hr (outright), the Highland Fling twice (course record holder) and the V3K amongst many others. Internationally she took home 4th place at the 2018 UTMB. Has finished 8th and 11th in two previous World Trail Champs. 4th at TGC and 2nd at MIUT. Beth is working towards this years Western States where she earned a slot courtesy of her Ultra Trail World Tour Ranking and recently won the Fling for the second time. Since Holly Rush's course record of 7:11 in 2016, we have seen winning times of 70-90 minutes outside of this making Holly's time stand out as one of the hardest to reach amongst our events. It is safe to say that if anyone can better this mark, it is Beth.
Rachel Fawcett: Each preview I mention Rachel, I talk about how there is going to be another break through podium for her again soon. She is so consistent. In 2016 she ran home 3rd at the SDW100 and won the Chiltern Wonderland 50. Last year she finished 4th at each of the four Grand Slam 100 milers. And this year already has a 4th at the SDW50. Will we see her back on the podium here? She heads the Grand Slam 50 table for 2019 so far.
Charley Jennings: Charley was 6th at this years SDW50, echoing her performance from 2018. In 2017 she ran the 50 mile slam and finished 3rd at this event along the way. She is slamming again this year and will no doubt turn in another consistent performance.
Gil bland: This looks to be Gills first ultra, but she has a marathon PB of 2:53 and is on form so far in 2019 with a 2:57 at this years London.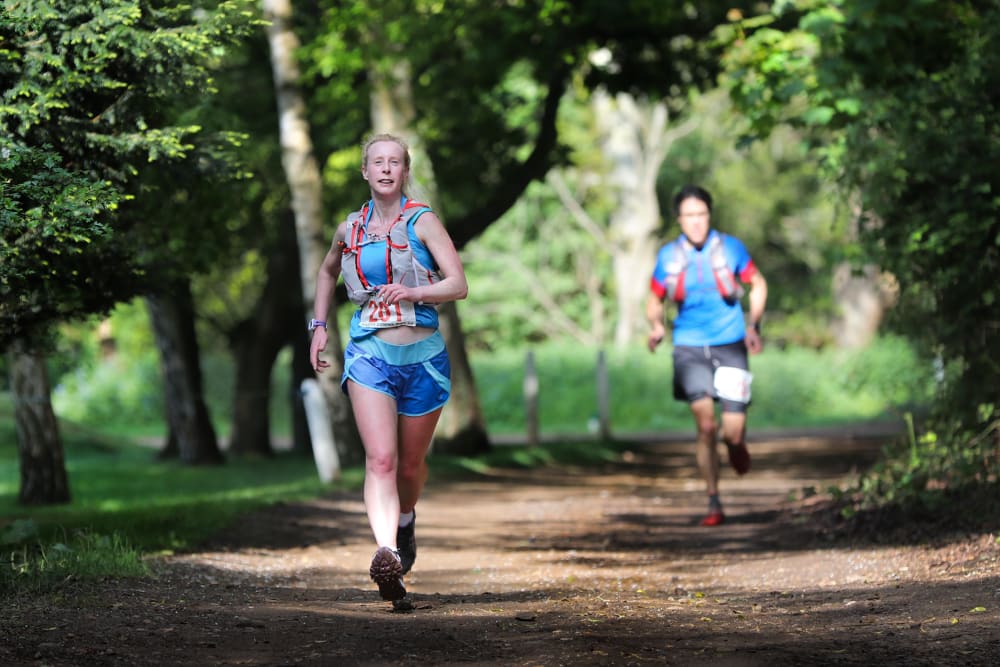 Charley Jennings leading the NDW50 early on in 2017. She eventually took home 3rd place.
Follow the race live via the home page from 0800 Saturday with updates from every check point with the exception of Caterham mile 38.