On Saturday 10th June at 0600, approximately 275 runners will start out from Chilcomb Sports Ground just outside of Winchester in the hopes of traversing 100 miles on the South Downs Way, looking to reach Eastbourne before midday on the Sunday, the 30 hour cut off for the race.
This race has yielded the most exceptional performance we've ever seen at one of our events, when Mark Perkins ran home in 14 hours and 3 minutes. His is the course record by well over an hour and the outright Centurion 100 mile record.
Generally speaking despite the elevation change being more significant than over any of the other events, the terrain is fast underfoot and allows for long stretches of clear running. The descents allow those who are capable, the chance to really open up and make back a lot of the time lost by runing or hiking the climbs at a sustainable effort. It is very much a runners course and a fast course for the well prepared as Mark showed that day.
This year, it's a pleasure to be able to say we have a really exciting ladies race in prospect. We feature the likely leading ladies first and then focus on the mens field.
LADIES
Mari Mauland: Mari comes in off of the back of a superb win at the TP100 just 6 weeks prior to this event. This was a significantly better run and vastly improved time from her 2nd there in 2016. This year, she is headed for the Grand Slam. So not only will it be the individual race position she is after, but the best possible time such that she can keep or even extend her gap over the cumulative Grand Slam record time held by Sally Ford.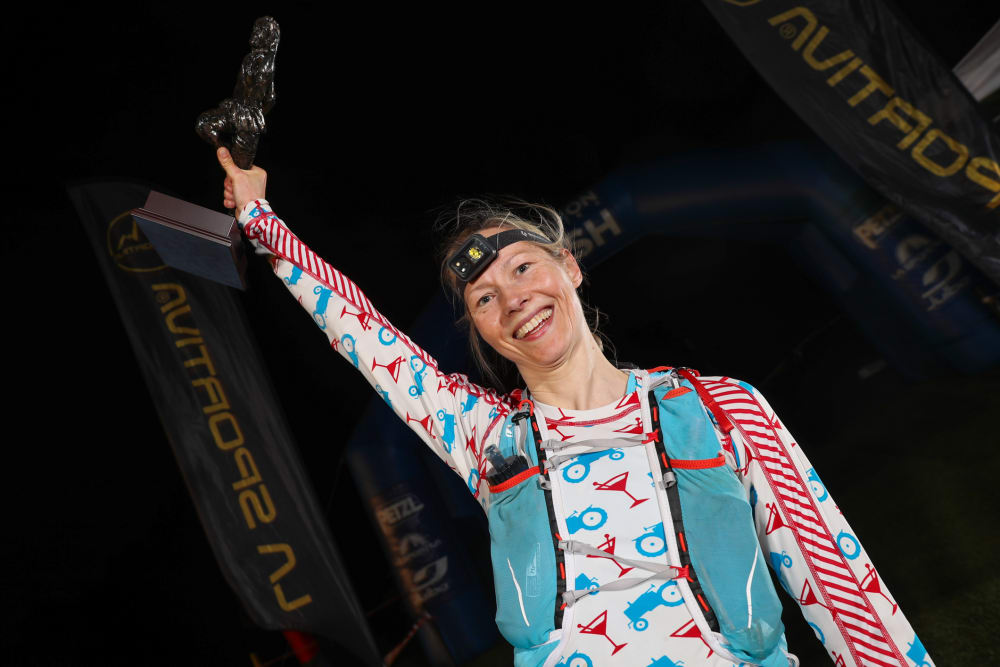 Mari post TP100 2017 win
Sarah Morwood: Sarah's 17:36 in 2014 was good enough to take home the trophy that day. What she has been through since is an unimaginable journey. First clocking some further stellar performances. Wins followed throughout 2014 and 2015 at the Winter 100, Autumn 100, SDW50, Race to the Stones, Lake District 3x3000 and les 24 heures de Ploeren. She earned her first international vest and represented Team GB at the World Trail Champs in 2015. In early 2016, she was knocked off of her bike by a motorist and suffered horrendous injuries including a broken patella. With multiple operations since, it's got to be close to the case that nobody has worked harder than Sarah over the past 18 months to get her running back. Things began slowly as she built strength, only to be set back with further necessary surgery. Over the past 4 months she has undergone more intensive rehabilitation and with the surgeries now seemingly behind her, she can at last look forward, though she still manages the pain every day. BUT. In the last couple of months, the old Sarah has begun, with a lot of patience, to emerge from the ashes and this May, she ran home back to back weekend wins at the Imerys Trail Marathon and then Eco Trail Oslo 80km. 100 miles will be the furthest she's asked her knee to go since the accident. If she does manage to finish and to pull a result together, her's will be the type of story the movies were made for.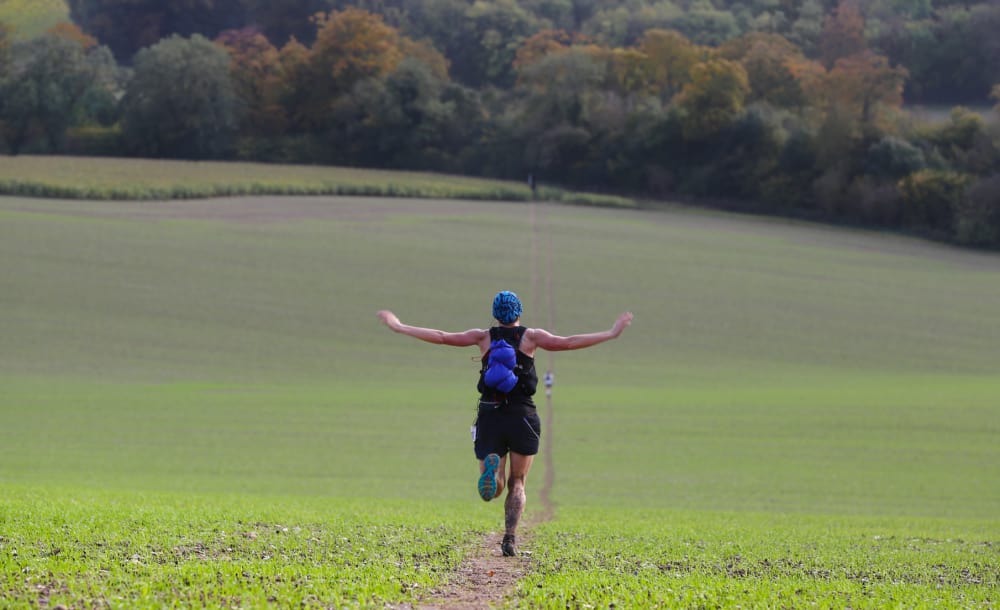 Sarah's iconic aeroplane image from the 2014 W100
Leanne Rive: Leanne brings a lot of experience to the party, both at Centurion events and elsewhere. At this event she has finished 5th, 4th and then 5th over the past three years, with a best time of 20:33. She also went on to finish Tor Des Geants last year and win Round the Rock 48 mile.
Alex Coomber: This looks to be Alex's first foray up to the 100 mile distance, but in her three other recorded ultras she's placed 2nd at the SDW50, 3rd at the NDW50 and 5th at the Stour Valley 100km, all in the past two years.
Annabelle Stearns: Annabelle holds the 7th fastest all time ladies time on the SDW100 course, with a 19:01 in 2015. She has a string of wins and podiums behind her, particularly at Centurion events. Beyond her 2nd at the SDW100, she's won the NDW50 and finished 2nd there another time as well as at the NDW100 - both in 2016.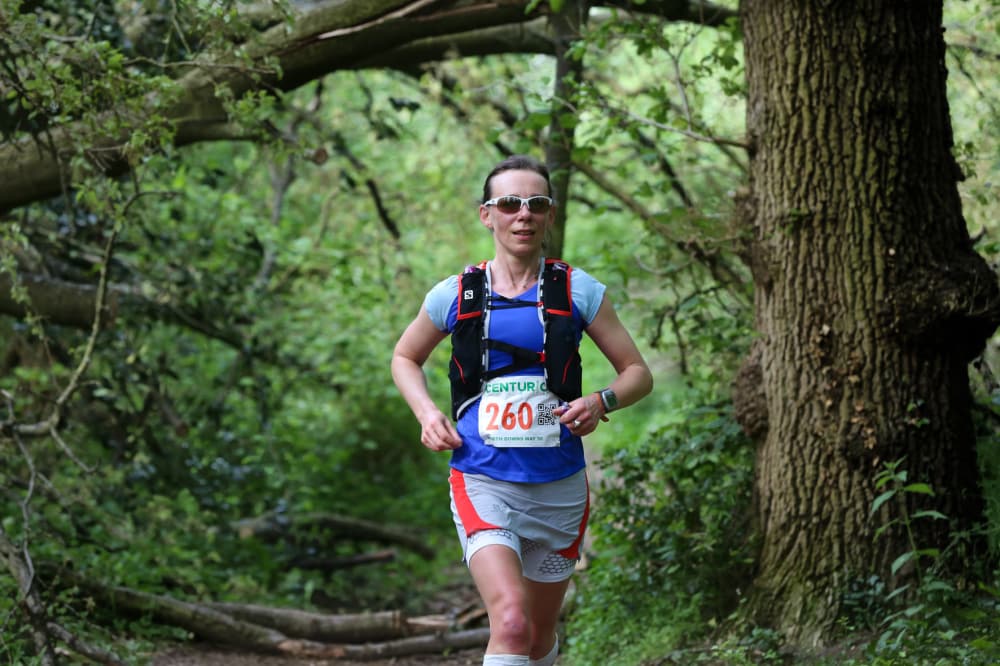 Annabelle at the NDW50
MEN
The Men's race is somewhat wide open. Lots of very solid guys with some super results across a wide range of events in recent years, but perhaps not one stand out candidate for the overall win.
Steven Lord: Steve cleaned up at the Hardmoors Slam in 2016, winning the 55, the 60 and the 110. He also clocked a 5th at the Lakeland 50. This year, he went out hard at the TP100, led in to a fast and furious race by Mark Denby. When Mark stopped early, Steve took the lead but quickly hit somewhat of a wall and eventually gutted out a 6th place in 16:56. That felt a long way short of what he would be capable of on a good day. He will be looking for retribution here and the smart money would be on him to better that result on a course which profile wise, suits him much better.
Dan Masters: It looks to be that Dan's career in ultra running began only last year. But he raced often and quickly racked up some good finishes including a 17:23 at the Autumn 100. This year he ran home a superb 2nd place to Michael Stocks at the TP100 in 15:30. He is looking for the Overall Slam Record and will fancy his chances after that start.
James Poole: James has put put a varied and exciting schedule together over his 5 years or so of ultrarunning. Perhaps his best result to date was his 2nd place at last years NDW100 in 17:20. Notably he has gone on to longer races such as Sparta and Transgrancanaria 360, both of which he finished. If he comes in to this fresh he would certainly seem a likely contender for Top 5, if not the podium once again.
Barry Miller: Barry's running continues to improve year on year. He's had some fantastic results over the last couple of years. Second at GUCR, a finish at Spartathlon and a recent win at the Viking Way. His Marathon and 100 mile times are coming down. If he is focused and fresh on the day, it will be really exciting to see what he can do.
Matibini Matibini: Mati is the guy you've seen smiling his way through every race he runs. However ugly it gets. His ultra career is not very long and contains perhaps only one stand out performance, his 19:11 for 6th at the 2016 NDW100. What's happened since then is that he's found new depths to his endurance and his speed. He's just clocked low 2:40 marathons at London and Edinburgh. He knows now what 100 miles entails and his training would suggest that we could be expecting something very much more top end here, IF he can pace himself sensibly from the start (this of course, however, also applies to everyone else!).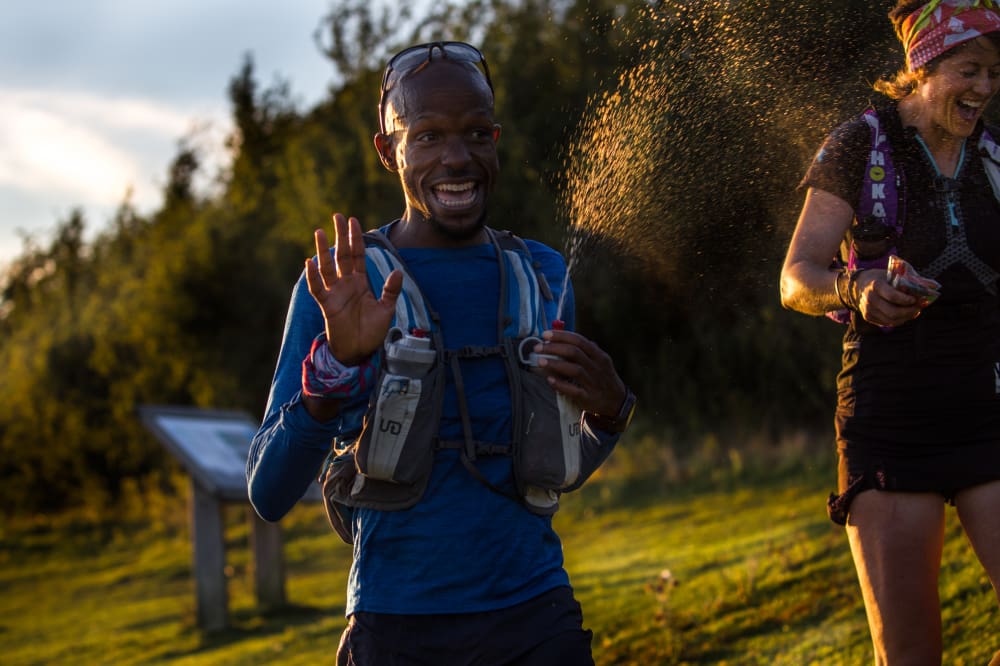 Mati playing it serious at the 2016 NDW100
Steve Speirs: Steve joins us from his ex-pat base in the US. He is a super experienced runner with literally decades of road running behind him, moving in to ultras in 2009 and subsequently running a huge range of distances, terrain types and conditions. He's kept his road running up and recently won the Cayman Islands Marathon. In ultra land he's won races such as Iron Horse 100 and walked off with a masters title at Rocky Raccoon in a 100 mile PB of 15:26. He should certainly find himself in contention here, again if he is rested enough from recent racing exploits.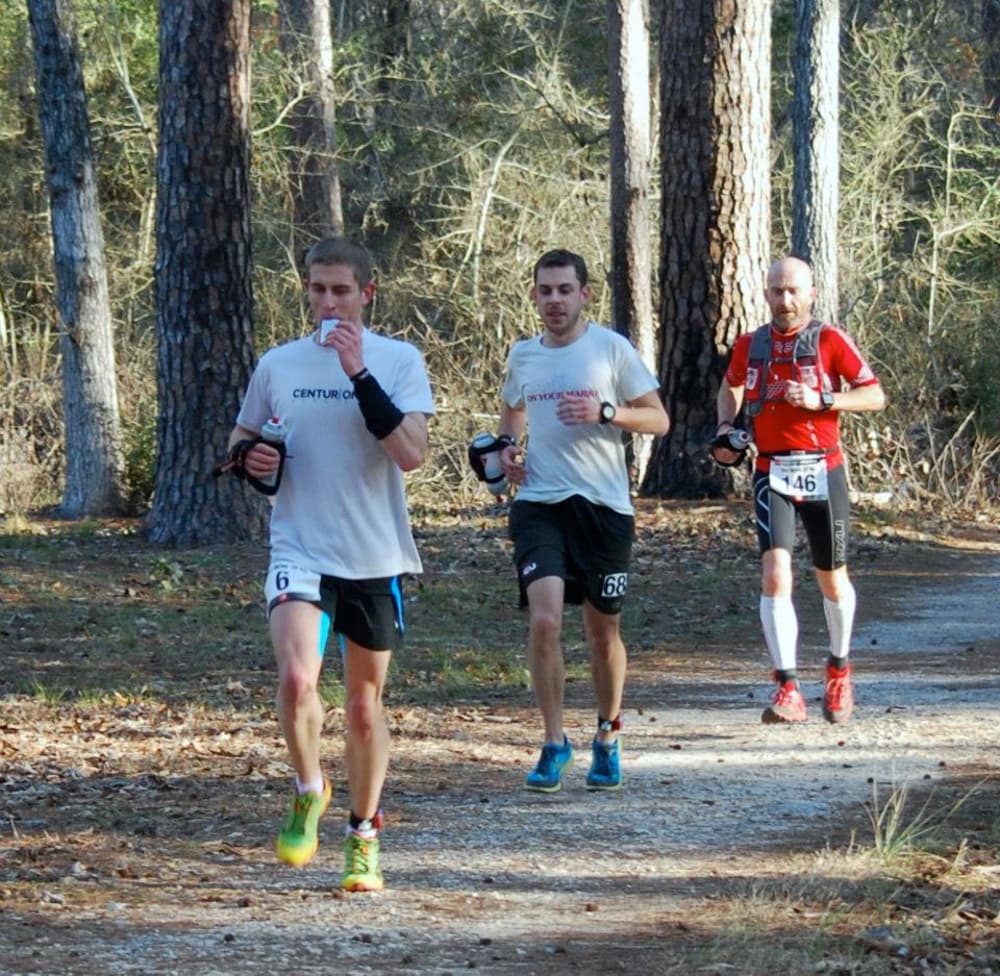 Steve with both the Author and Team Runner Paul Navesey at Rocky Raccoon 100 in Texas