The 2017 Wendover Woods 50 gets underway this Saturday 25th November at 0800. Runners have 15 hours to complete the 5 x 10 mile looped course which features 10,000ft of climb. Although that seems like a large number, the majority of the course is quick with some screaming fast descents. The ascents on the other hand are mostly short and very sharp. The below map which we commissioned artist Owen Delaney to create for the event, brilliantly captures the flow of the course as well as the individual segments that define the key sections. These are on strava as well as being sign posted for the runners on the day.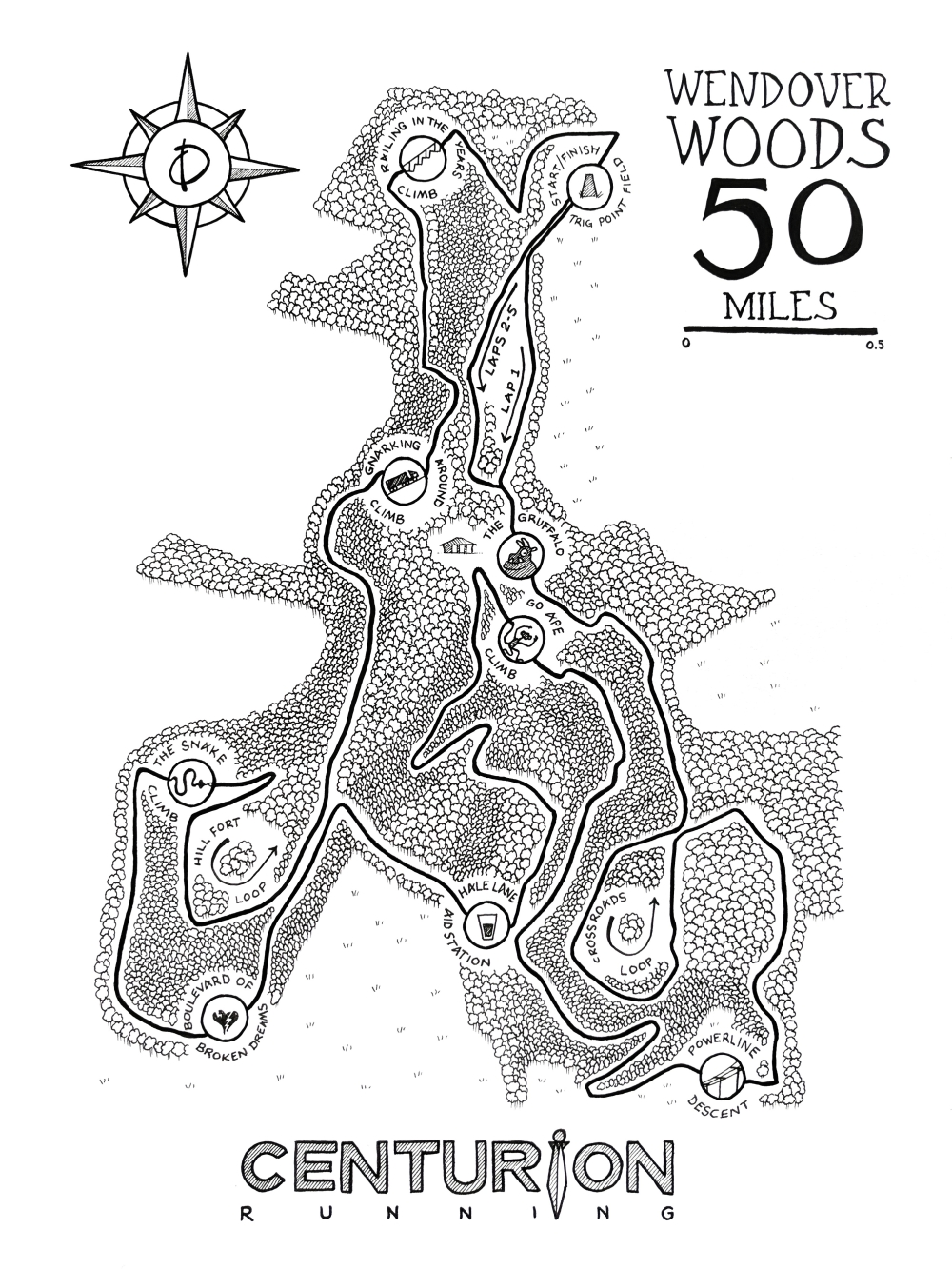 The usual focus on the front runners here makes for exciting competition in both the mens and womens fields.
MEN
Jon Ellis: Jon comes in to the fourth and final race of the Slam, having won all three previous 50 milers in 2017. He stands on the brink of becoming the first person to complete a clean sweep of victories in a Grand Slam of either 50s or 100s with us and of annhialating the 50 mile Slam overall record. In amongst that he also turned in a classy performance at Davos 80km in July. At this event in 2016, however, he dropped, having led early on. Whether that will be on his mind or purely fire him up even further is another question.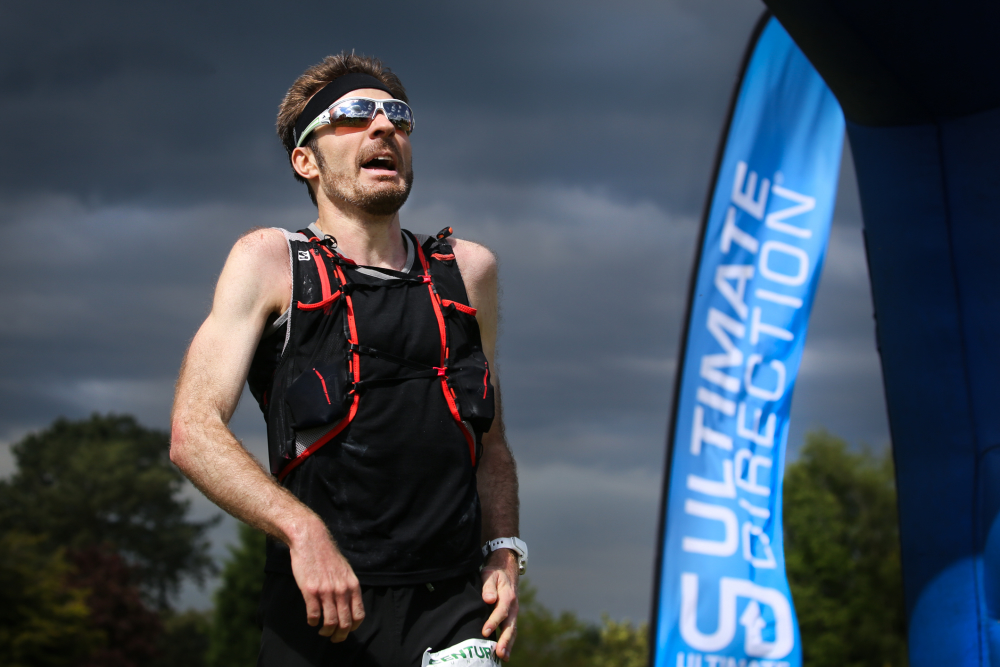 Jon running home in a new Course Record time at this years NDW50
UPDATE 21/11 Paul Maskell: Paul comes in as Autumn 100 Champion and having been missed in the scan of the entrants list! His 14:34 there put him in the Top 5 all time finish times for our 100 mile events, and followed a second at the NDW100 back in August. Paul is also the Arc of Attrition 100 mile record holder and ran home winner at this years classic quarter. His marathon time of 2:40 shows he's got speed and endurance for all distances. He will be one to watch here for sure.
Neil Kirby: Neil capped off an incredible 2016 with a 2nd place at this event, losing out only to Jeff Pyrah and then only by 3 minutes, coming home in 7:42. He has struggled with health issues in 2017 and has been forced to drop from a few of his key events due to chronic cramping. However. He finally tipped the balance back in his favour a few weeks ago at the Beachy Head Marathon, showing a return to his 2016 form with a 4th in 3:08. Everyone hopes we get to see Neil back on top form here and pushing all the way as he did in 2016.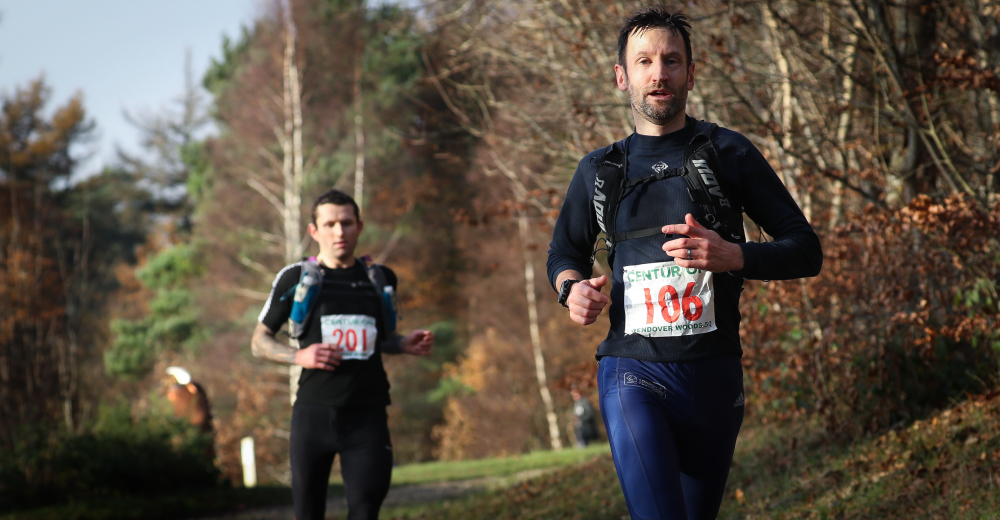 Neil and Jeff chasing hard at the 2016 event, a superb race where the top 2 were separated by only 3 minutes at the end.
Ry Webb: Ry has a 2nd at the SDW50, a 3rd at the NDW50 and a 3rd at the CW50 behind him so far this year. He's now pushing for his fourth and final podium in this years Slam, which would be a truly incredible feat. Of course, it should be noted that if Jon's race does not go to plan, he needs to finish 1 hour 45 mins ahead of Jon to take the overall Slam title.
Paul Russhard: Paul comes in off a 7th a 5th and a 5th in our three 50 milers so far in 2017. Superb consistency. Between the CW50 and this event he also posted a second both days (and overall) in the Pony Express New Forest Ultra. Can he run himself on to the podium in the final race of this years Slam.
Alistair Palmer: Another man with some stirling 2017 performances at our 50s to his name. 8th at the SDW50, 6th at the NDW50 clearly he can be competitive again here. Having finished 7th at the CW50 last year this is the only one of the 50s with us that he's yet to complete.
Jonny Suckling: Jonni has a range of ultras behind him across a wide variety of terrains and distances. He is unlikely to compete for top honours here but looks a good bet for a solid top ten finish. Pick of his past results a win at the New Forest 75km last year as well as 2nd at Hardmoors 110, and third at both the Ridgeway Challenge and Cotswold Century in 2015.
UPDATE 21/11 Stuart Leaney: We have Dan Afshar at xempo to thank for the heads up on Stuart. New to ultras with this seemingly being perhaps his first, he has a 2:27 marathon PB and according to his profile he set a 50km Treadmill World Record last year though we are not sure of the time.
Francis Bowen: Up until a week ago, there were two Kenyan runners on the startling list who had times for the marathon of under 2:10 to their names. Duncan Kibet has sadly withdrawn but as it stands we may still yet see Francis Bowen on the starting line for this years event, subject to obtaining a visa. We have been working with Adharanand Finn to try to get this to happen but it is still a 50/50 call. If we do see a sub 2:10 hour marathoner toe the line here it will clearly be fascinating to watch!
WOMEN
Gemma Carter: Gemma comes in with vast experience and a superb year behind her. This years SDW50 champ has also run home with top honours at Boddington 50km, Winschoten 50km and a 4th at Stort 30. Although this will prove a different type of challenge, she's shown she has the speed and endurance to go all the way this year.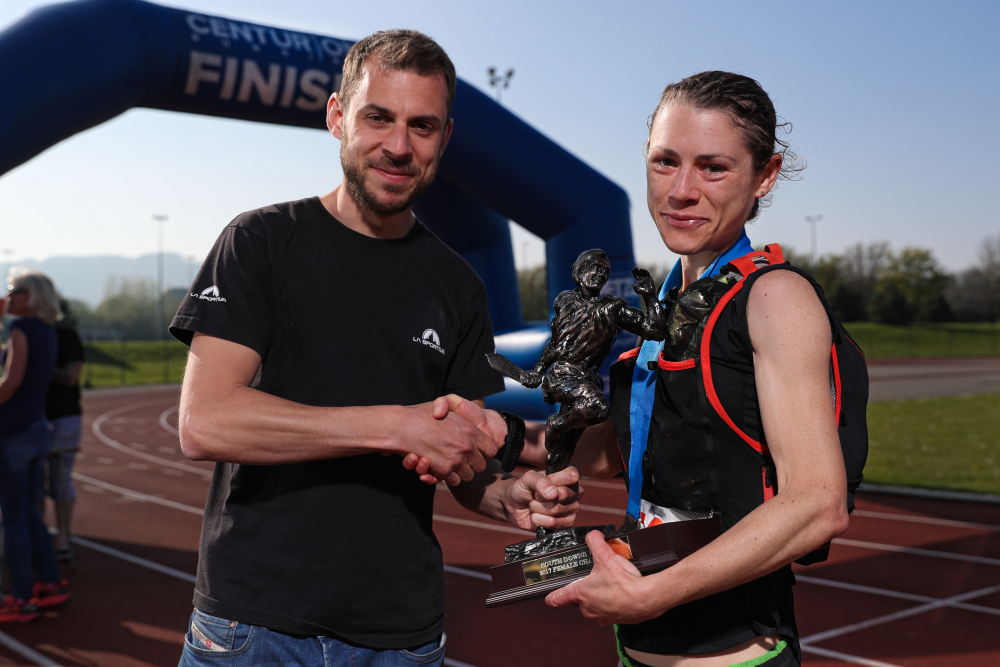 Gemma collects her trophy after winning the 2017 SDW50
Cat Simpson: This years Grand Union Canal Race Champ and new course record holder has proven this year that she can handle a wide variety of distances and terrain types whilst improving across the board. Things took off for her in 2016, when she ran home 2nd at the SDW100 and then ran a huge 100 mile PB of 17:24 at the Autumn 100 for 3rd. Following on from her breakthrough victory at GUCR, Cat has lowered her half marathon and marathon times as well as securing a solid 5th at the Beachy Head Marathon a few weeks ago in training for this event. She will be running her first ultra in the famous yellow shirt of the Centurion Ultra Team!
Cat on her way to the podum at last years SDW100
Charley Jennings; Charley ran home 2nd in Septembers CW50 just a second behind first in what was the third race in her quest for the 2017 50 mile slam. That followed at 12th at the SDW50 and a 3rd at the NDW50. As long as she finishes, and does so over 90 minutes ahead of Sarah Cooke who sits second in the Slam table, she will set a new Slam record and go home this years Slam champion.
Leanne Rive: Leanne finished 6th at this years SDW100 which followed a superb 2016 where she took home 3rd at the SDW50 before going on to finish the mighty TDG. Clearly distance and elevation change are not an issue for her - she could do very well indeed here.
Big thanks as always to our pertner sponsors for their support. Ultimate Direction, Injinji, La Sportiva, Petzl, Hydrapak, Tailwind Nutrition, Gu Energy, Beta Climbing and Lyon Equipment.
Follow from 0800 Sat 25th November at www.centurionrunning.com/live